Loudspeaker manufacturer Avantgarde Acoustic has been awarded Gold in the German Brand Award 2017. More »
When Hifi Pig heard that Loud & Clear in Edinburgh were having a roadshow showcasing a trio of Avantgarde horn loudspeakers along with Simaudio's Moon888 monoblock power amps, we had to go along for a listen. More »
Loud & Clear Edinburgh will play host to German manufacturer Avantgarde Acoustic and Zero and Uno range of horn loudspeakers, from the 5th of May this year. More »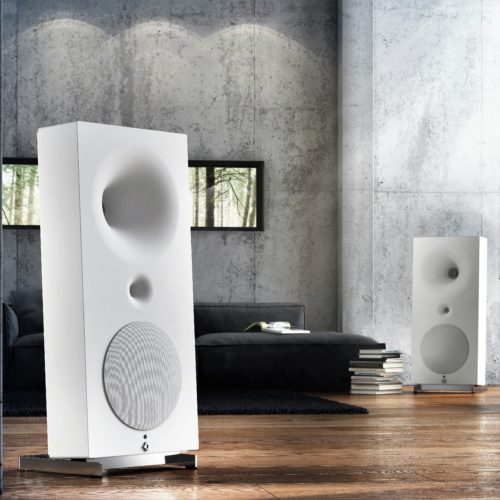 The Convert team got in touch to tell us that they will be attending the 30th Bristol Sound & Vision Show from the 24th to the 26th of February this year. More »
The Intimate Audio DS-108 back loaded horn loudspeaker is UK built and uses the four-inch Fostex FE108EZ driver. Ian Ringstead puts these £1595 standmounters through their paces for Hifi Pig.  More »
On Thursday, June 16th, Avantgarde Acoustic CEO Holger Fromme received the German Brand Award Gold statue from the hands of Lutz Dietzold, CEO of the German Design Council. The award ceremony was held in the DRIVE Volkswagen Group Forum in Berlin, and was attended by leading figures from such world renowned companies like Deutsche Telekom, ERCO Lighting, Kärcher, Kaldewei, NOMOS by Glashütte, Porsche, Siemens, Mercedes-AMG etc.
The jury of the German Design Council was very impressed by 'an excellent brand management of Avantgarde Acoustic based on two principle factors: uncompromising high tech technologies with true qualities driven by the aim to set new benchmarks in leading edge performance; secondly the jury honours that all this is combined with a stringent and lean design of the products and the communication tools to perfectly convey the puristic and powerful aesthetics of the brand'.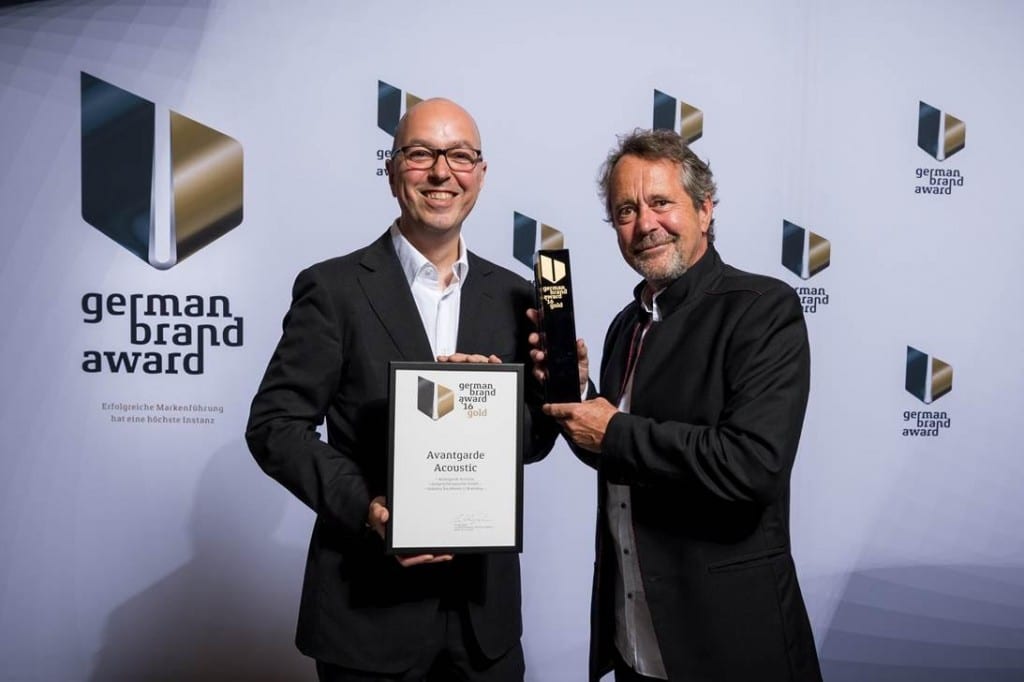 The German Design Council is an independent and internationally active institution that supports companies in efficiently communicating design expertise and also seeks to strengthen the broader general public's understanding of design. In 2013, the German Design Council celebrated its 60th anniversary. It was originally founded by decree of the first German Federal Parliament, the Bundestag, which had called for a committee of this nature to be set up to ensure the competitiveness of German industry and secure the best possible quality of German products. 
Hifi Pig would like to congratulate Holger and the whole team at Avantgarde Acoustic.
Harman's JBL announce the introduction of its S3900 loudspeaker, a three-way floorstanding tower that utilises
professional-grade drivers and components in a dual 10-inch-woofer design.
"We designed the S3900 to be slimmer and easier to fit into a wider range of rooms, yet still deliver high-quality music and theater reproduction," said Jim Garrett, Director of Marketing and Product Management, HARMAN Luxury Audio Group and Loudspeakers. "The S3900 shares technologies with our new flagship Project Everest DD67000 and Project K2 S9900 to offer all the classic JBL sonic strengths – effortless dynamics, exceptional clarity and resolution, a natural tonal balance and precise imaging of vocals and instruments in an expansive sound field".
Measuring 39.6″ high by 14.6″ wide by 14.5″ deep, the S3900 embodies a core JBL design philosophy of combining  dynamic (cone) woofers with horn-loaded midrange/high-frequency and ultrahigh-frequency compression drivers. The JBL S3900 employs two cast-frame 10-inch pulp-cone woofers each incorporating dual 3-inch voice coils and high-power neodymium-magnets.
The S3900 utilises a JBL 175Nd-3 midrange/high-frequency compression driver with a 2-inch AquaPlas™-coated titanium diaphragm, loaded into a 90 by 60 degree BiRadial® horn. "The AquaPlas treatment maintains the superlative transient response of titanium while providing added damping and rigidity for more natural midrange and high-frequency reproduction". The 138Nd 0.75-inch pure titanium ultrahigh-frequency compression driver, which extends to beyond 40kHz, is mated with a 60 by 30 degree Bi-Radial horn.
The S9300's bass-reflex enclosure has a rear-firing port and is rigidly braced and damped at critical points; all contribute to the speaker's high sensitivity, "neutrality and freedom from coloration".
The JBL Synthesis S3900 will be available in February 2013 at authorized JBL Synthesis installation specialists at a suggested retail price of $10,000/pair.
As we've mentioned in the introductory blurb to this series of articles, beauty is very much in the eye of the beholder
when it comes to Hifi equipment, but we think that the Avantgarde Trios will appeal to pretty much anyone with a passing interest in hifi and, dare we suggest, will also score highly on the WAF scale too. OK, they do look a little bit like something from another planet and they certainly don't conform to the minimalist approach to high-end loudspeaker design, but then we think they look all the better for this.
The Avantgarde Trio is a three way spherical horn 'satellite' which is then complimented below 100Hz with active subwoofers or by 2 to 6 Basshorn modules.
Low- mid Frequencies on the Trio are handled by the 38" horn, which is driven by an 8" driver, the midrange (down to 600Hz) is dealt with by a 23" horn and the top end by a 7" horn. With only 4 passive crossover components the system delivers a very healthy 109dB sensitivity.
The Trio, even without the Basshorn modules, is certainly no shrinking violet and stands a full 1.67m in height and
95cm in width. Each unit is also 83cm deep and so whilst the Trios are big, they aren't huge, though they do weigh in at an impressive 56Kg each.
The Basshorn is an active bass system with a frequency response of 18 to 250 Hz. Each Basshorn is driven by two 12 inch long excursion drivers with 600 watts RMS. The mouth area of each Basshorn module is 9 ft squared. With six Basshorns in the system this offers a colossal 54 ft squared.
Whatever of the specifications and measurements (that's not what this article series is about) the Avantgarde Trios certainly strike an impressive and impactful visual statement and they undoubtedly don't try to hide themselves away from passing glances. With the f
ull compliment of 6 Basshorn modules the Trios will certainly dominate any room in which the lucky owner chooses to place them, but we feel there is a certain stunning beauty about the ensemble.
Eleven standard colours are available to further enhance the appearance of the already striking loudspeaker – from 'Turmaline Vivid Black' to 'Ruby Brilliant Red'. The look of the Trios is certainly very contemporary, but we think that whether in an ultra-modern and minimalist apartment, or a more traditional living space, they are a statement piece that will get your visitors talking.
Now, there are options and the trio is available in either the standard 'one-on-top-of-the-other arrangement', or the curved 'Trio Classico' curved frame… though this is a $2400 option atop the, already not insubstantial, $68 000 for the standard Trio with the standard subs. Add the full compliment of six Basshorn modules and, let's face it who wouldn't want to do this, you get the price up to a bank-balance-busting $163 000…plus another $6000 if you want a customised colour. These are luxury items and luxury hifi comes at a price. Would they be on my short list if I had the money…oh yes!