After having a long lasting and unhealthy lusting for Decware amplifiers, news that the American company was to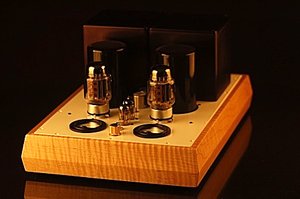 produce a flagship pair of KT88 mono amps caused a flutter of excitement at Hifi Pig headquarters.
The Zen Torii monoblocs are designed to be your final amplifier purchase and are made to order by the company, so expect a substantial waiting time, but they do come with a lifetime warranty.
60 watt class-A monoblocks.
2 Transformer Balanced XLR Inputs – selectable.
1 Single-ended RCA input.
Input level control.
Ultra cool bias adjustment – no tools required and can be done on-the-fly.
Large Simpson Meters – let you maintain perfect tube matching without effort.
Exotic parts – cost no object design.
KT88 Ultra-linear output stage.
Price is around $5500