The Chord Company
When we were initially discussing this review by Dave Robson with The Chord Company we wanted to see what the company's 'loom' would bring to the table 'off the shelf' and "untailored" to the specific system being used. Chord offer a service they call The Cable Doctor in which they tailor a combination of cables specifically to what they feel your system would benefit the most from. However, we wanted this first of two reviews to set a benchmark and in the coming weeks we will be conducting a second review using cables supplied by Chord after us using the Cable Doctor service. This will allow us to compare and contrast the bog standard, 'of the shelf' cables with a more bespoke set up. 
The Chord Company C-Line RCA (1M) (ARAY)
Yup, feels like Christmas!! I've been sent a full "loom" of Chord Companies C-Line and Clearway cables to review over the festive season. These consist of the C-Line RCA 1m (£45), Clearway Digital 1m (£100), C-Stream Streaming Cable 10m (£90) and Clearway Speaker Cable 2x3m pair (£10pm unterminated).
The C-Line RCA out of the box is a nice flexible cable; moulded pale blue RCA's cover a gold plated inner grip. These connectors look tough and hardwearing and there are little arrows on the cable showing that the wires are directional…one of those subjects that can get end in a heated debate when discussed but personally I believe it's good to know that the research has been done by Chord and a critical decision has been made. Even if you're not a believer then at least you can connect your RCAs the same way every time. The cables come separately which is a good thing as some electrical equipment connections are set wide apart and I have struggled in the past to get some joined cables to fit. The ARAY Technology has been used in the past on Chords high-end cables with great results. This uses very high quality copper fibres in conjunction with foil shielding incorporated within the construction of the cable with the intention of improving the sound quality of this relatively inexpensive cable. I was advised by Chord that the burn in would take approx 48hrs before the cables were fully settled. My past experiences with cables from around this price point is that usually they try too hard in one area or another, getting stuff "nearly" right but very rarely getting it completely balanced. I have seemed to accumulate RCA cables a bit like motorcycle gloves and compilation CDs  over the years and have far too many of them… I'm always willing to take a punt when something is reasonably priced!
Onward with the review. A bit of all round goodness in the guise of Dire Straits (as it's nearly xmas and I will be by January). On "Money For Nothing" Sting's vocal intro' comes out of the blackness followed by the famous drumming, bouncing from side to side. Well weighted drum slam followed by the clean guitar riff we all know. The separation of the instruments and vocals are clear and not congested or woody as I've heard Mr Knopffler's vocal to sound with other cables. Next up is "Walk Of Life" with the electric organ coming to the fore and with a good lively vibe to it. Again I hear good slap on the skins and kick from the bass drum. The tick tick of the cymbals could do with being a little more forward and crisp for me, but it's all there and it's not offensive or harsh in any way. These C-Line cables are foot tappingly rhythmical and detailed enough to be able to distinguish all the vocals and the instruments spread out in a nice arc over and across the speakers. The following tracks on the Brothers In Arms album show this cable to be quite capable of holding its own with offerings several times its price point. Whether this is good engineering, good luck or the ARAY technology at work, the C-Line puts in a good show.
Moving from the male vocals to the female side of things and "Relish" by Joan Osbourne is slid into the CD slot. St Theresa, the first track on the album, starts with thumping bass and clanky guitar sounds, the soundstage is wide and defined, each instrument in its own space forward of the speakers slightly. Ms Osbourne's voice central to the music, this track can trip up equipment as her voice can get quite painfully sibilant on the more powerful high notes but the C-Line holds the vocals within their grasp, not letting her get out of hand. These cables show definite control and grip on the music and on vocals especially. "One Of Us", Joan Osbourne's 1995 UK No.6 hit single, shows her vocals hold feeling and expression with her words hanging out in front of the speakers with good detail and weight, communicating well with the listener. I now change CDs to Duffy and "Rockferry" knowing that this album throws up several challenges. The first being on the CDs title track with the pseudo raw 60's sound which, if let to get out of hand, can sound a bit rough and amateurish – it seems to be recorded with a lot of distortion in place. The Chord C-Line is up to the job though, not letting the music become congested or too sibilant. The tambourine is kept quite separate to the music and to the far right of the soundstage and it's defined, crisp and clear.  "Warwick Avenue" to me has a "live" club style quality to the recording with Duffy's tuneful singing holding nicely in the middle of the soundstage. There is enough detail within the track and this is conveyed by the Chord cables to give the atmosphere of a personal concert in an intimate club scenario.
CONCLUSION
The Chord C-Line RCA's are a surefooted way onto the audiophile path. They are a rugged no frills cable. Holding its worth on the inside, the ARAY Technology works within the make-up of the wires and their construction. Soundwise they don't taint the music with anything untoward and are quite transparent. Bass lines are easily followed and treble never gets unruly and is held in check. Vocals within the midrange are weighty and detailed enough to carry through the emotion of the singer. Separation within the soundstage is good. Definition of instruments to the left and right is solid and precise. Depth front to back isn't massive but it puts in a good effort. The C-Line majors in rhythmical timing and will make your musical party bounce along and won't become tiresome or irritating. If you're looking to spend less than £50 on a cable, whether it's your first foray into the upgrade path or your looking to add one to a new bit of equipment, the C-Line RCA is a thoroughly safe bet.
Build Quality: 8.2/10
Sound Quality: 8.5/10
Value for Money: 8.9/10
Overall: 8.5
Chord Clearway Digital RCA 1m (£100).
This Digital version of The Chord Companies ARAY cable looks and feels like a quality item. Its flexible blue ABS outer casing feels like it would bend easily around your other kit or curl up nicely in your pocket if you were using it on the move. I like the fact that the cable is directional too as this gives consistency to your connecting up. This from Chords website describes it in detail:
"Fitted with Chord VEE 3 RCA plugs, including PTFE insulation between signal/return contacts. The ABS outer shell and direct silver-plating process improve signal transfer. The ARAY conductor design reduces interference and internal reflections. This new construction method prevents any direct compression on the signal conductor, eliminating changes to impedance. The cable also benefits from a solid core, oxygen free copper signal conductor, low loss, high performance, gas foamed polyethylene insulation, high density braided shield and ARAY conductor. The outer jacket seals and protects the signal conductor from mechanical interference. This cable is available in custom lengths and can be terminated with RCA, BNC and mini-jack connectors."… A far better description than I could assemble!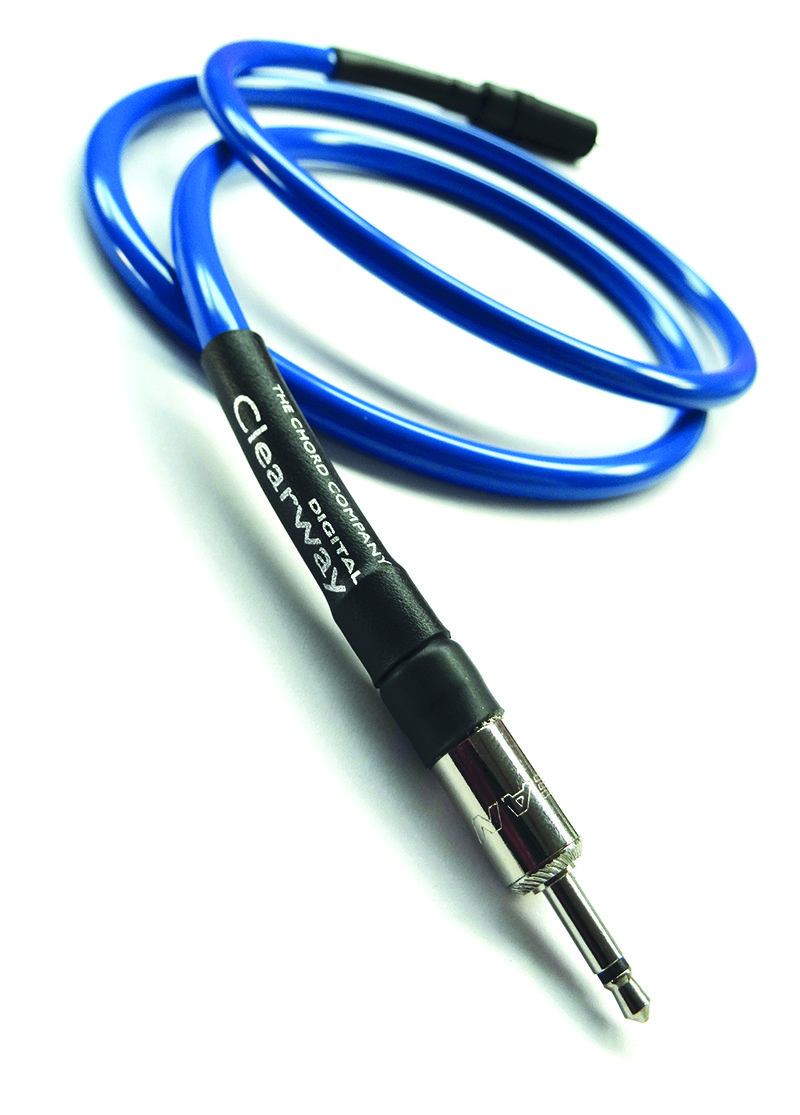 I let the cable bed in for 48 hrs giving it time to settle. I'm not 100% sure digital cable requires this burn in process, but as the connection has never been used on my test equipment I thought it best to let it breathe awhile.
Running through steely Dan's "Gaucho" CD I immediately feel at ease with this cable and first impressions are that it has quite a smooth sound to it. Playing "19" the track bounces along nicely and it's a detailed and quite neutral rendition, erring on the brighter side of things… not acidic or sharp, but (reviewers' cliché alert) like a thin veil has been lifted from the speakers. Spinning "Time Out Of Mind", the track itself lends itself to a great intro for getting the timing just right, bass drum tripping out, easily identifiable, electric piano with pronounced weight and feeling, cymbals carrying good detail and not becoming splashy and causing vocals to lose definition.
Swapping CDs to a relative newcomer to my collection of Supertramp albums is "Some Things Never Change" which is a great recording with plenty to keep you listening. The initial track "It's A Hard Life" starts with several sound effects to test your system, including a wobble board and chimes, then breaking into deep bass rhythms. The Digital Clearway bringing all these sounds very clearly and cleanly to the party. I note a big, wide and deep soundstage across my listening space giving each instrument plenty of room to make itself known, the trumpet towards the end of the track poking its rasp forward into the room. The other tracks on the album have a similar story. The Chord Clearway Digital is a very neutral cable with a signature of being clean and rhythmical and not colouring the music with any untoward effects. There is a slight hint of the silver construction giving a shimmering treble and tuneful deep bass.
Swapping back to a no frills digital cable for comparison makes the music sound like I've downgraded every component and renders the sound very amateurish and clouded. I also connected to a Pure i20 iPhone dock and apart from the obvious drop in the quality to the Mp3 files, the music remained uncoloured and as it should be.
CONCLUSION
The Chord Clearway Digital is the real deal. It seems to transfer the digital signal without fuss or colouration. This cable would be a good upgrade to a budget cable, or if you're going down the separate DAC/headphone amp route this will make your head-fi sing for you.
Build Quality: 8.8
Sound Quality: 8.7
Value for Money: 8.9
Overall: 8.8/10
Chord Clearway Speaker Cable 2x3m (£60 unterminated, + £40 for banana plug termination) = (£100)
Out the box, the Clearway cable is quite a thick and hefty bundle. There's a space age look to the Clearway with a clear plastic FEP (like polythene) derived from PTFE outer, with two contra wound silver foil sheathings beneath to eliminate interference with high frequencies. The cable has been designed with a lot of emphasis upon the insulation and shielding to give a neutral presentation. The cables sent for test were terminated with two banana plugs on either end, although bare wires or spades can be specified. Things didn't get off to a great start. The 4mm Banana plugs fitted to my test sample are a bit of a bug bear with me I'm afraid, being the type with a single sprung bar. I have found these to be quite fiddly to fit in the past and, out of the eight plugs I had to fit, three needed to be inserted with the help of a set of pliers. It didn't help that the shrink wrap holding the banana plug was quite small around the 14 AWG wires. If the round edge of the sprung bar doesn't go into its receptacle cleanly then it takes a good bit of pressure to insert them and nobody likes forcing things into their prized possessions. On the positive side once in then you know they are secure and to be fair it's not a connection that you have to connect or reconnect very often.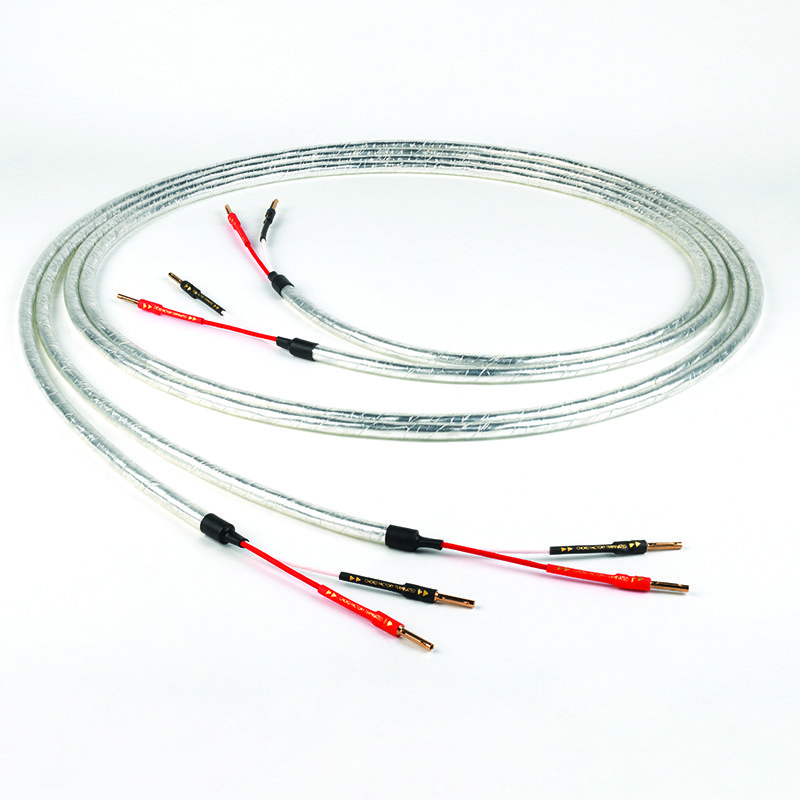 Chord recommended letting these burn in for about 24hrs but I felt that a little longer was required and I played these for about a week or so before I was happy that the sound had levelled out.
First up is Ben Howard's "Every Kingdom" CD. "Old Pine" starts with some nicely played acoustic guitar and the strings are clear and well weighted, with good detail and feel. The sound is powerful and room filling and there is a warmer tone to the music that gives it an easy-on-the-ear feel. On "Wolves" the initial haunting vocal demonstrates good sound-depth and clarity and the snare drum raps out with a clear crisp sound that is never harsh or too hard. Onto a faster paced track "The Fear" the bass drum again has good thump and I notice a slight rounding off to bass notes resulting in loss of a little detail. There is a similar effect at the top of the spectrum too and the rounding off of the treble sound is pushing the warmth outward. However it's not overly obvious as the midrange has feel and detail. These cables, like the others from Chord, have great timing and rhythm. Julia Fordham's self-titled album is popped in to see how the bass would affect a deeper female singing voice and I'm glad to say it remains sweet on tracks like "My Lovers Keeper" and "Cocooned"  with the vocals never becoming overly warm or reverberantly dull. The soundstage is a wide and expressive place, giving good atmosphere to all the recordings played and instruments are well placed. "Woman Of The 80's" bounces along with true pop verve, never getting harsh or muddled when things get complicated.
Heading for some 70's rock and Boston's self-titled outing, the classic "More Than A Feeling" hits out with concert like punch! Driving  drums and percussion, cymbals crisp and not too splashy, the classic vocals coming across with power and feeling. Considering the age of the recording it still has great detail. My favourite track from the album is "Foreplay/LongTime", a track of two halves with a pseudo prog-rock instrumental start and electronic organ and piano with heavy crashing drums. The Clearway speaker cable is doing its best trying to keep it all together, only letting the fast, loud drumming get a little muddled and confused, but at the rate the skins and cymbals are getting struck it's not surprising it lets slip a little. Part two of the track is more 70's classic rock with a bounding bass rhythm leading the proceedings and with Brad Delp's singing taking the lyrics to the fans. Soundstage with the Clearway has good width and depth with a nothing seeming out of place or un-natural.
CONCLUSION
This is a decent enough speaker cable from The Chord Company. It's sturdily built with the ARAY technology from its more expensive range added. My only gripe in its construction is the type of banana plugs used and the added cost of termination seems excessive given its moderate price unterminated. The sound of the cable is on the warm, rounded side and it can lose a little focus and detail when things get complicated and so may not appeal to the heavy rock fans out there.
Build Quality: 8.5 (ignoring the plugs I don't like)
Sound Quality: 8.0
Value For Money: 7.8 (as tested, terminated. Cost of termination seems disproportionate to cable cost)
Overall: 8.1
The Chord Company "Loom" Inc C-stream Streaming Cable
Adding the full selection of Chord Company cables to my system brought about the benefits of all the cables added together. Using all the cables ARAY technology in one hit gave the music great drive and verve.
Music from Jess Glynne's I Cry When I Laugh CD allowed the music to sing out with good timing and foot tapping rhythms, the warmer presentation doing wonders to smooth off the usual modern hardness I hear with many digital recordings. "Take Me Home" has great space around her fine vocal talents with instruments staying in the background, letting her voice project forward and giving the music an "alive" feeling. "Hold My Hand" pumps out with true disco diva bounce and funk – a powerful presentation, without becoming yobbish with the ARAY influence working together to bring about its benefits in timing and drive.
The C-Stream (10m) streaming cable was a bit of a conundrum for me to test properly. As I'm a bit outmoded when it comes to technology I don't "stream" as such. So best I could do was attach the C-Stream to my modem and Sony Blu-Ray player and connect it to my digital pre-amp via the Chord Digital coax. Playing various music videos and concerts via the  Amazon Prime Service, the connection stayed stable and music had a good level of detail, picture quality via TV was good, colours rich and deep as was the music. Although I'm sure this Ethernet cable would really show its worth via a better dedicated streamer and using a high quality feed from the likes of Tidal/Spotify/Deezer etc… I must add one of these weird futuristic devices to my Christmas list next time round!!
CONCLUSION
The Chord Company cables supplied are of good quality in their construction and build technology. The Phono RCA and Digital interconnects are possibly of a greater sonic quality than the Clearway speaker cable, although only for the fact that I believe both the RCA and Digital cable will suit more systems given their neutrality and I believe they would shine brighter with the next step up in speaker cables offered by Chord.
Overall. 8.2/10
David Robson

Designer's Notes
C-line RCA (1M) (ARAY)
The Chord C-line was developed to see if we could use an ARAY conductor configuration in an affordable interconnect.  The ARAY conductor configuration was developed around the same time that we were working on the Tuned ARAY configuration that we originally used on our – at the time – flagship Sarum interconnects.  Traditionally, most Chord interconnects adopted a pseudo-balanced design.  This means that rather than using a coaxial cable where the central conductor carries the signal and the return is made by the outer shield, the pseudo-balanced design uses two identical conductors – one for signal and one for return.  By doing this, we are able to take the shield out of the signal path and currently our Crimson VEE 3 and Cobra VEE 3 cables use this configuration.
The ARAY conductor configuration is different.  There are three conductor runs within the cable and quite how these are connected remains a company secret.  The reason for doing this is that during the development of the Tuned ARAY cables, we were quite astonished at just how coherent and musically involving digital music could be made to sound.  The ARAY version has a similar effect.  The big discovery with Tuned ARAY was really just how much cables got in the way of a system to produce properly coherent music.
The C-line is also the first analogue interconnect that Chord have had produced outside of the company.  Although the RCA plug is a moulded design, the gold-plated components are the same as the ones we use on our VEE 3 series plugs.  This means a direct gold-plating process.  Conductors are oxygen free copper and multi-stranded.  Shielding comprises of two over-wound foil braids.
Clearway Digital RCA 1m 
The Clearway Digital cable is another good example of how designs originally created for our high end cables can be used in more cost effective designs.  The Chord Prodac has been our go-to affordable digital cable for many years.  It was, like many digital cables, a coaxial design.  The Tuned ARAY conductor configuration was first developed as an attempt to reduce reflections and minimise noise within digital cables.  It was the success of the Tuned ARAY configuration that made us take the design principle and apply it to both analogue and other digital cables as well as power cables.  Once again, it's about coherence.
The Chord Clearway Digital is our entry level digital cable to use the Tuned ARAY configuration.  The design of the cable is outwardly relatively conventional.  Internally there is a high quality oxygen free copper conductor coaxial cable, featuring gas foamed polyethylene insulation as well as a combination foil and braid shield.  What sets it apart is the introduction of a Tuned ARAY conductor.  What it does mean though is that like all Tuned ARAY cables, the Clearway Digital has to be assembled by hand and because the application of Tuned ARAY is absolutely critical, we use specialist cutting machines to provide a consistent accuracy.
We think that the Tuned ARAY configuration is extremely profound because of the level of performance, particularly in a musical sense, which it brings to digital systems.
Clearway Speaker Cable 
Chord have been producing shielded speaker cables since 2003.  The reason for doing so goes back to the late 90s.  Back then, several things were happening.  First of all, switch mode power supplies were beginning to appear.  More and more homes were beginning to use personal computers and also connection to the internet was rapidly increasing.  This meant that homes and living spaces were beginning to fill with high frequency interference.  A combination of personal experiences and conversations with dealers led to the realisation that high frequency interference appeared to be having a detrimental effect on the ability of systems to produce really coherent and involving music.  What was particularly frightening about this was that whilst you can make a good argument that CD players of that time didn't do very well with producing coherent music, vinyl systems were also suffering.
The first response to this was to start experimenting with high frequency effective shields and the first cable to be produced using high frequency effective shielding was the Chord Signature.  At that point though, it felt like we should start experimenting with shielding on speaker cables.  Several early prototypes were produced and eventually we released the Chord Signature speaker cable – our first speaker cable to feature high frequency shielding.
The challenge then was to take the principle and apply it to other speaker cables throughout the range.  The Chord Clearway is a replacement for the Chord Carnival SilverScreen.  Carnival SilverScreen was a very successful cable and Chord Clearway is a fairly similar design.  The chief differences are that Clearway features a heavier gauge stranded conductor (oxygen free copper) and critically, FEP conductor insulation.  The choice of conductor insulation has a profound effect on the performance of any cable; perhaps more markedly so with speaker cable than with interconnects.
FEP is a variation on PTFE.  It has extremely similar performance characteristics.  Our experience is that the choice of insulation material doesn't just influence the ability of the cable to carry a signal accurately; it also has a pronounced effect on the tonal characteristic of the cable.  In truth, I suspect every cable designer sets out to produce a cable with as little tonal characteristic as possible.  However, the fact is that most cable designs do have some influence on the tonal characteristics of the speakers it is connected to.
There is an interesting point here.  When people change speaker cables, they often make judgements with a speaker in the position that had been optimised for the speaker cable they were using.  It is always worthwhile to experiment with the positioning of a speaker when a new speaker cable is introduced.  It is very unlikely that the speaker will need to be moved more than a couple of inches in either direction but experimenting with this will help to produce the most coherent performance.
The two FEP insulated conductors are then encased in a PVC jacket – the idea being to reduce the effect of mechanical noise – before a two-layer foil shield is added and finally a protective outer jacket.
It's often very easy to be pleased and excited about high end, high performance cables.  The really exciting thing though is to take the design principles used on high end cables and work out how to apply them to more cost effective cables where material choices are constrained by cost.  This we feel is what makes Clearway so special.
Nigel Finn