Linette shares a typical day in the life of Hifi Pig.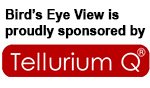 A couple of months ago Stuart gave you the story behind why Hifi Pig is called Hifi Pig, it is something that people always want to know. Perhaps the second most-asked question after that is 'so what do you actually do all day?'. Hifi Pig has grown from a little blog that was just something to keep Stuart occupied and out of mischief, to the globally read news and review site that you see today, which keeps both of us pretty busy.
So what do we do all day?
We usually kick of in the morning with a vat of coffee and a gazillion emails. We get a lot of press releases and because we deal with people all over the world, they keep coming whatever the time of day or night. First job is to start getting the news, that has come in overnight, up onto the site. We pride ourselves on being pretty fast at this, so you are likely to be reading the hifi news first on Hifi Pig. There will be reviews and articles to post throughout the day and a lot of time on the phone and email to various contacts around the world.
Stuart keeps an eye on the site stats to see how we are doing. I always find this really amazing. When we first started out we used to get very excited if there was one person reading Hifi Pig. I remember the first time there was over one hundred people on the site in a day…we went out and bought a bottle of fizz to celebrate! Now that the visits are in the thousands every day it is still just as fascinating to see what people are reading and where they are from. You can literally watch the world wake up and go online, there will be a jump in the stats and we'll look at the clock and go 'that's East Cost America just got up' and a few hours later the West Coast follows. We love to think of audiophiles the world over getting up and reading Hifi Pig along with their morning coffee.
Social Media is a big part of the day.
Its a fantastic way to connect with those people reading the site and helps us to understand what they are looking for in an online Hifi magazine. It has helped us virtually meet people the world over and make new friends. Its really cool to then go on and actually meet these people at the various shows that we visit. It is kind of down to social media that I ended up with hair of various hues. I used to dye my hair bright pinky-red when I first met Stuart, he always called it 'Student Red'. When we were about to go to our first High End Munich we were not sure how people we had just met online would know who we were. So Stuart suggested I died my hair again and he could tell people to look out for a woman with bright pinky-red hair…it worked a treat.
There is a lot of behind the scenes organising and admin that goes on.
From arranging reviews to booking advertising and sorting out travel logistics, there is constantly something that needs doing. It is very interesting to speak to brands and distributors around the world and it just shows you how buoyant the hifi industry is right now. From long established brands celebrating their 30th or 40th anniversary year, to new start-ups with fascinating new products that they are getting crowd funded, there is never a dull moment and always something new to spread the word about or arrange a review of, it is probably one of the most interesting industries there is. Our reviewers are incredibly important, in fact it is safe to say, its not just Stuart and I that make Hifi Pig what it is…its down to our small, wonderful team. We are very lucky to work with people who are extremely dedicated and knowledgeable and very passionate about hifi and music. Our little band of merry men and women want to share their knowledge and opinions with the general public and we are incredibly proud of what they do. It really makes our day when we get a comment back from a reader about how a review helped them make a decision about what to buy and we know our reviewers feel the same. We get that warm fuzzy feeling when an advertiser lets us know how well their campaign is working. When someone says that their website visits have increased along with their sales because of their Hifi Pig ads it means a lot to us.
We travel a lot to get to hifi shows and that usually involves various modes of transport, so a lot of time is spent planning and booking. We have become very familiar with certain airports, Charles De Gaulle Paris has perhaps our least favourite place to spend a few hours as we usually end up in the circular hell of terminal 1, Munich on the other hand is an absolute delight as far as airports go. If we are travelling to a show then the work comes with us and we can often be spotted on ferries, trains or in airports writing up articles and reviews. We don't really take holidays as such, if we are going somewhere then it is usually hifi related, but we enjoy what we do and if it wasn't fun we wouldn't do it.
We get a lot of deliveries from CDs to Pallets of speakers to review.
The house often resembles a hifi shop; we have had to give up a room just to store the boxes in and right now the dinning room is full of loudspeakers…resembling Aladdin's cave! If the delivery driver can find us then it's a bit like Christmas most days, however, being out in the sticks and at the mercy of third party couriers, our day might involve frantic phone calls from delivery drivers who can't find us, despite having delivered the week before, or a trip to the local delivery office to pick up a parcel that they just didn't bother to try and deliver! Possibly the worse delivery fail we had was from a well known courier company (who shall remain nameless). The delivery guy thought that it was perfectly acceptable to leave a note on the front door saying 'Because you are out I've left your parcels in the back garden.' Thanks for that! The parcels were of quite a high value and were in the garden lovingly protected by plastic envelopes draped over them. Some manufacturers are wise to the ways of the couriers so they bring the gear personally and we cook them dinner and ply them with fine wine for making the effort.
Of course what it is all really about is listening to music.
During the day this tends to be critical listening on the main or one of the smaller systems, depending on whether we are reviewing hifi components or Stuart might be doing music reviews. There is generally a pretty eclectic mix of sounds! We have what some people might think is a rather mad hifi, it's not run of the mill or conformist in any way. The whole point of it though, is because the music we love sounds great on it. When it really comes into it's own is when we are listening to music for pure pleasure, not listening critically for a review. When we have friends round for drinks or dinner in the evening, tunes get put on and people always end up dancing…I think that is the sign that you have got the hifi just right!
So really, as you can see, running Hifi Pig is no different to running any business We don't really lounge around all day drinking wine and listening to music…even if that's how it sometimes comes across! It's busy, it can be hard work but it is still fun and we are always excited about what Hifi Pig will do next…we hope that you, our fabulous readers, enjoy reading what we do as much as we all enjoy writing it for you.
Linette Smith
Read more of Linette's Birds Eye View