Akiko Audio, whose Tuning Sticks Danny reviewed last month, have introduced a new power block called the Powerbase Quattro. It's built from high quality aluminium and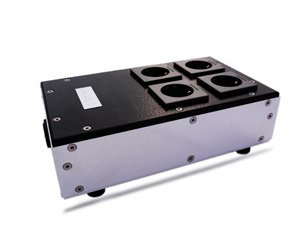 stabilised with block connections, whereby the Furutech inlets are firmly anchored to the base.
Akiko's Aerostar wires made from eight runs of silver plated copper wire and isolated by air and PTFE with a shielding for the ground is used throughout but Akiko also add their own tuning in the form of a black resin that is designed to stabilise and prevent vibrations.