Diffracting through a greenwood canopy, the poetic words and music of vocalist/violinist/pianist Alice Zawadzki illuminate her unique artistry and the concept behind new album
Within You is a World of Spring
– the follow-up to acclaimed Whirlwind debut release
China Lane
. Zawadzki leads an inspiring band of musicians and improvisers in realising her extraordinary, often moving, occasionally droll, original songs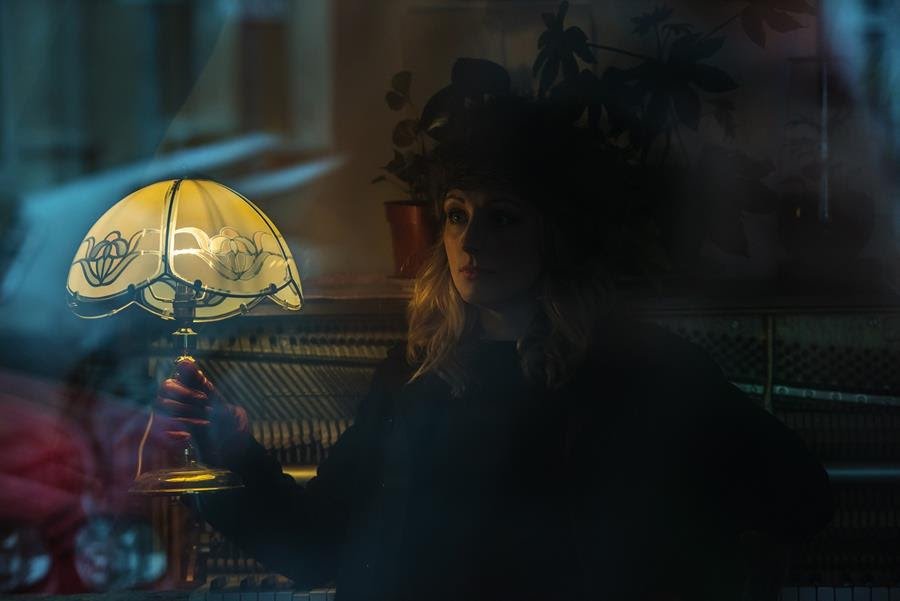 "The title represents the journey that many of us can go through", reveals Zawadzki, whose striking bodily transformation for the front cover was painted by artist Charlotte Mann. "We get to a certain age and begin to understand more about the brutality and turbulence of the world, experiencing heartbreak, social injustice, etc. My songs focus on the idea of remembering, during those times, that there's a seed inside us which carries the life force to help us blossom again. We can change."
Portamento strings and intense drumming powerfully energize the title track, its words ('When I feel done and done, your Spring returns to heal') inspired by an Emil Aarestrup poem. Working in the 'Calais Jungle' proved life-changing for Alice, witnessing the resilience, dignity and goodness of many people there. So 'God's Children' asks us not to forget their plight ('Do you dare to dream? Are dreams not for all men? Let me ask you again – are dreams not for all God's children?') through diaphanous, tumbling phrases and anthemic affirmation. "Tears can act as a conduit between us", explains Zawadzki, "building the foundation for understanding." Near-operatic 'Superior Virtue' recalls a beautiful, unfulfilled encounter, as violin, guitar and piano textures twinkle, while tongue-in-cheek romance 'Es Verdad' jigs with infectious, whimsical abandon.
Bamboo taegum (Korean flute) evokes Zawadzki's woodland discovery as ambient swirls cushion her path through a love poem to one who could not cry, yet finally… 'The tears running down his face are more rare and precious than jewels'. Sumptuously soulful 'Keeper' emphasizes the thread of 'change'  described as "those moments where the passage of time refracts and bends, where the end is the start and the start is the end" – heightened by blissful blue guitar. Sinewy violin in 'Twisty Moon' announces a scintillating imagined overture to a detective movie; and in elegantly traditional style, with Buenos Aires backdrop, 'O Mio Amore' speaks of heartbreaking separation across the Atlantic.
Sometimes I try to court a kind of naivety when writing, at least at the start", says Zawadzki, "to follow my curiosity or instinct without an agenda of what the piece should end up being. It keeps things fresh. All these musicians are brilliant and unique improvisers, so the spirits of jazz and folk are here, both sonically and in the themes of consciousness, humanity, and love"
More About Alice :
Alice Zawadzki is a vocalist, violinist, songwriter and composer based in London. Her work as a performer, collaborator, composer and speaker, has seen her gain considerable repute as "a genuine original" (The Guardian), and a distinctive and individual presence on the creative European music scene.
Anglo-Polish Alice's rich musical background and "whimsical hypercreativity" (MOJO Magazine) converge into artistry which draws upon her early exposure to New Orleans jazz and gospel with the legendary Lillian Boutté who took Alice under her wing and on tour as a teenager, an extensive classical training as a violinist, and a continuous exploration of improvisation, poetry, and folk music from diverse traditions, "all propelled in a voice of velvet suppleness and gutsy emotional power" (The Arts Desk). She performs extensively as both a soloist and as a collaborator, with headline performances at the major UK alternative and jazz venues and festivals, including the Royal Albert Hall, Ronnie Scott's, the London Jazz Festival, the Vortex, Celtic Connections, and internationally at festivals from Taipei International Jazz Festival (Taiwan) to Coventry Calling (Massachusetts, USA) to Sűdtirol Jazz Festival (Italy), Ottawa Chamber Music Festival (Canada), Musicá Impopular (Brazil), and many more. She also performs and collaborates at underground venues in the London scene and on unexpected platforms, with a keenness to nourish music at its roots, and to support inclusive community-wide music making.
Her forthcoming release, 'Within You Is A World Of Spring', features a who'swho of celebrated players, including guitarist Rob Luft, bassist Misha Mullov-Abbado, pianist, drummer and producer Fred Thomas, Korean taegum player Hyelim Kim, and the Amika string quartet.
She released her debut solo album China Lane (Whirlwind Recordings) in 2014, a collection of original songs and arrangements infused with modern, ancient and invented folklore. China Lane was met with widespread critical acclaim, being made Album of the Week by BBC Radio 3, and making the The Guardian's Best Albums End of Year List, described as "beguiling, unorthodox and pure" by The Independent, and "a real force to be reckoned with" by Jamie Cullum, who invited Alice and her band to perform live on BBC Radio 2 at Maida Vale. The success of China Lane also led to her nomination for British Vocalist of the Year by both Jazz FM (2015 and 2018) and the Parliamentary Jazz Awards (2015 and 2017), and she was selected to take part in Take Five, the professional development programme run by international music producers, Serious Ltd, sponsored by the Performing Rights Society and Arts Council England.
As an in-demand interpreter of new and unusual works, Alice has had the privilege to premiere several new large-scale pieces, including Daniel Cohens 'Reciprocity' at the Ottawa Chamber Music Festival, Alex Roth's 'Arvoles Lloran Por Luvia' at Battersea Music Hall, Alya AlSultani's 'Two Sisters: An Arabic Opera' at the Ahbab Festival in Cambridge, Peter Wiegold's 'The Third Orchestra' at the Barbican, as well as performing exciting virtuosic works for the voice including Osvaldo Golijov's 'Ayre' and Arnold Schoenberg's 'Pierrot Lunaire' with the Orquestra Filarmonica de Goias, Louis Andriessen's 'M is for Man, Music and Mozart', with Sinfonia Viva at Nottingham Symphony Hall, and many more. She has performed extensively on live BBC Radio in association with the London Jazz Festival, BBC New Generation Artists programme, and many others.
Her striking ability to perform across and transcend genres whilst retaining her own expressive and intelligent musical style gives her a unique accessibility, and her distinctive voice can be heard on numerous film and television scores, including Disney's major motion picture African Cats, written by Nicholas Hooper, Charlie Brooker's Black Mirror (BBC). She also performed live throughout Germany as the vocal soloist with the Prague Philharmonic for George Fenton's Planet Earth Live in Concert arena tour, and as the vocal and fiddle soloist in James Horner's iconic score of the film Titanic, performed live internationally with the Kansai Philharmonic, (Taiwan) Osaka Symphony, Tokyo Philharmonic, (Japan), Moscow City Symphony Orchestra, and the St Petersburg State Symphony Orchestra (Russia).
She has performed on acclaimed albums for labels including Whirlwind Recordings (China Lane), Babel (What Do You See When You Close Your Eyes? – The Moss Project), Chaos (Impossible Things – Corrie Dick), Odradek (Lela – Dan Whieldon), Boombetter Records (Lifecycles – Engines Orchestra), and Ubiquity Records (The Myth of the Golden Ratio – United Vibrations), and has enjoyed regular radio play from BBC Radio 2, BBC Radio 3, Jazz FM, and Resonance FM, including live session features for BBC Radio 2 and at Jazz FM with her solo project, and as a speaker on vocal practices for programmes on BBC Radio 3.
She trained in jazz singing and composition and gained an MA at the Royal Academy of Music, with a scholarship from the Musicians Benevolent Fund, after completing undergraduate studies in classical violin at the Royal Northern College of Music, where she also won the Hilda Collens Prize and the Cove Park Emerging Artists Residency, supported by the Jerwood Foundation and the Scottish Arts Council.
Alice has held several higher education posts as a teacher, and delivered vocal and improvisation programs for the RNCM, Salford University, the University of Kent, and the Engines Orchestra. She has worked extensively for Live Music Now, a charity which takes live music into places where it is hard to access, including special needs schools, hospitals, care homes and prisons, and is currently a member of Play For Progress, an organization who provide music workshops and friendship to unaccompanied teenagers who have or are seeking refugee status in the UK.