ARCAM AVR5 ENTRY-LEVEL AUDIO VIDEO RECEIVER IS DIRAC LIVE READY
The new entry-level ARCAM AVR5 decodes 12-channels of Dolby Atmos and DTS:X, and is compatible with Dolby Vision up to 4K, Apple AirPlay2, Bluetooth aptX HD, Chromecast, MQA, and Roon.
ARCAM has unveiled the ARCAM AVR5, bringing the Cambridge maker's AVR performance to a new, lower price point, plus it is Dirac Live ready.
ARCAM AVR5
The ARCAM AVR5 becomes the HDA range's entry-level receiver, easing in alongside its fellow Class AB AV receivers, the AVR10 and AVR20, and the range-topping G Class AVR30.
ARCAM OF CAMBRIDGE
Since its 1976 launch, ARCAM has built a reputation for creating musical sounding products. The AVR5 maintains this philosophy, natively decoding 12 channels of immersive audio from Dolby Atmos (with upmixing from Dolby Surround) and DTS-X (with upmixing from DTS:Neural:X), delivering a musical and cinema-like experience from a 7.1.4 speaker array.
8K VIDEO
Compatible with Dolby Vision and HLG, the AVR5 is the perfect machine for those playing the latest content from the likes of Disney+ and Netflix, as well as the Xbox Series X/S and compatible Blu-ray players. The ARCAM receiver's HDMI sockets enable 4K HDR passthrough, with its eARC support making it possible for a suitably equipped TV to send back lossless audio. The AVR5, like all other current ARCAM AVRs, can be upgraded to support HDMI 2.1 for completely uncompressed 8K video on all inputs and outputs.
ESS DACS
Components include a brace of ESS ES9026PRO DACs (as used in the AVR30). The ARCAM design team's implementation of this ESS HyperStream II DAC maximises the performance of this component, resulting in low noise. The bedrock to the AVR5's musicality is its seven ARCAM Class AB amplification channels, driven by a custom in-house designed linear supply fully capable of sustaining 1.5KW of total power consumption.
ARCAM AVR5 STREAMING
Ease of use is central to all ARCAM designs. AVR5 users can stream from smartphones and tablets using Apple AirPlay 2, Bluetooth aptX HD, Google Chromecast built-in, and Spotify Connect. The 2021-updated Harman MusicLife UPnP app enables playback and control of the AVR5 on Android and iOS and facilitates internet radio, music streaming, and podcast listening. The new ARCAM also fully supports MQA meaning TIDAL HiFi subscribers can experience TIDAL Master recordings. And its Roon Ready status enables Roon members to use the system's interface when surfing Qobuz, TIDAL, and locally stored music libraries. The AVR5 can also form part of a Roon-driven multi-room system, seeing it slot into even multi-brand home systems.
DIRAC LIVE
Additionally, ARCAM primes the AVR5 for Dirac Live room correction system. An optional extra, to activate the system, users should download the Dirac tuning tool to a Mac or PC and purchase a licence. For a limited time, AVR5 owners can benefit from a 50% discount available via ARCAM's website.
"Consumers continue to demand ever-higher quality audio, and not just people we might traditionally consider enthusiasts. Mainstream home theater consumers have begun to appreciate the role digital signal processing plays in creating better sound," said Erik Rudolphi, Dirac's VP of Home and Pro Audio. "With Dirac Live available for ARCAM's new AVR5, more consumers than ever before can experience audio the way they were meant to — regardless of the space they're listening in."
Using patented phase co-optimization technology powered by machine learning, Dirac Live Bass Control supports an unlimited number of subwoofers; delivers spatially consistent, high-quality bass; ensures users hear clear, accurate bass throughout a listening area; and allows for flexible subwoofer placement.
SPECIFICATIONS
ARCAM AVR5 PRICING AND AVAILABILITY
The ARCAM AVR5 will be available towards the end of Q4, 2021 priced (RRP):
£1,999 (GBP)
€2,199 (EUR)
$2,000 (USD)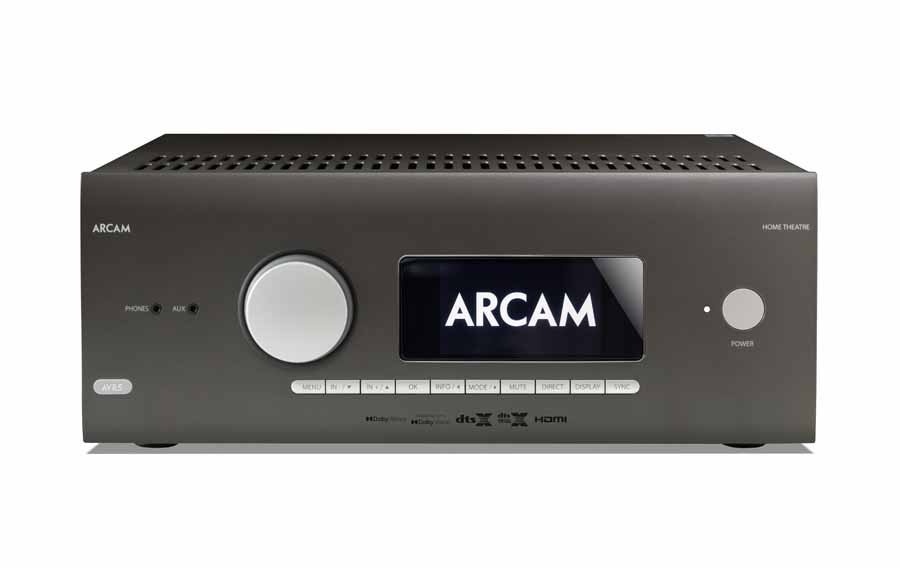 HiFi Pig Says: Arcam look like they have delivered a huge amount in this new entry-level AVR making the latest Home Cinema tech within reach of many audiophiles and AV aficionados.