Atlas Cables has announced the launch of a new range of USB cables for computer audio applications.  Available now,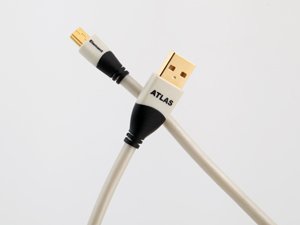 the Atlas Element USB comes in either A/B or A/B Mini form in multiple lengths from 0.5 meters to 5 meters.
Made up of parallel lay twisted-pair silver-plated high-purity OFC copper conductors encased in a high quality foamed Polyethylene dielectric, Atlas has paid particular attention to ensure that every conductor is identical in length.  Using precision equipment to measure and micro-cut each conductor "ensures there is minimal time difference between each pair".
To combat crosstalk between the twisted pair, the ground and the power conductors, Atlas uses a triple shielding technique that isolates the differential data, power and ground conductors from each other as well as providing an integral shield around the entire cable to help reject noise.  In addition, the 95% outer screen prevents unwanted noise getting into the signal conductors, with its low inductance providing excellent transfer impedance at high frequencies.
The metal plug and head-shell connector has been designed to keep the characteristic impedance of the cable as stable as possible "to reduce jitter even further".  
Commenting on the new Atlas Element USB, Kevin Kelly, Managing Director of Atlas Cables said, "Every aspect of our new USB cables have been designed to enhance sound quality by reducing the jitter issues normally associated with USB cables. By stripping away the problems inherent with USB and overcoming those issues with applied engineering, we feel we have developed a product that will re-set the bar to which premium USB cables will need to be judged."  
0.5 metre  £35.00
1.0 metre  £37.50
1.5 metre  £42.50
2.0 metre £47.50
3.0 metre  £57.50
5.0 metre  £77.50