Audience has announced the introduction of its Hidden Treasure Cat7 Ethernet Cable, designed to deliver improved sound quality and performance in streaming, networked and professional audio applications.
Audience says: "Audio over Ethernet applications require high data transfer speeds and superior noise rejection. Audience's Hidden Treasure Cat7 cable facilitates a 10 gigabit per second transmission rate, ensuring reliable, uninterrupted streaming with no data loss or dropped connections. The cable features four twisted pairs of 23 AWG solid copper wiring and an outer wire shield for maximum rejection of EMI (electromagnetic interference), RF (radio frequency interference), system noise and crosstalk".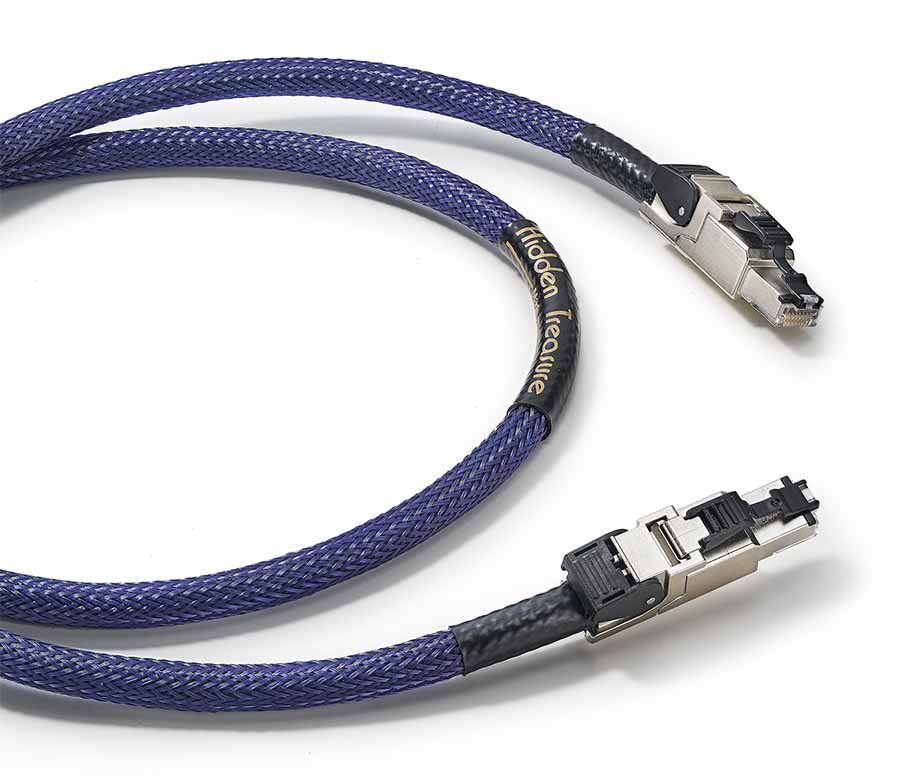 RJ45 Connector
The Hidden Treasure Cat7 cable has a quality RJ45 connector, which provides a secure, heavy-duty locking connection to ensure maximum signal transfer. The cable features a braided outer jacket that is flexible and durable.
Jitter
Audience claim that the Hidden Treasure cable provides better audio quality by lowering the noise floor, reducing jitter and using superior internal wiring and connectors. The result can be improved sound for streaming and networked audio when used with music servers, D/A converters, preamps, integrated amplifiers, professional audio products and other components with Ethernet connectivity.
"As networked audio continues to evolve, equipment designers, audiophiles and astute listeners are finding that, just as with analog, there are subtleties of networked digital audio implementation that definitely affect sound quality," noted John McDonald, president of Audience. "By removing noise and jitter to provide better data transfer, the results can be clearly heard in a more natural sonic presentation with better resolution and clarity and the ability to hear more deeply into the music."
Price
The Audience Hidden Treasure Cat7 Ethernet cable is currently available with suggested retail pricing starting at $500 for a 0.5 meter cable.