Cary Audio of North Carolina have announced the new Constellation tube preamplifier from Audio Electronics by Cary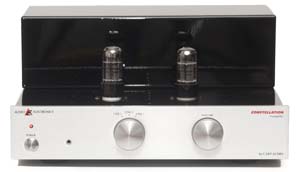 Audio. The Constellation uses the 6SN7 tube running in Class-A triode mode which is coupled to a fully-regulated power and heater supply.  The transformer is a custom R-core power device designed to Cary's own specifications. The preamplifier was built with as a simple signal path with sonic purity in mind.
The Constellation preamplifier is currently available for purchase through Audio Electronics by Cary Audio's online store or through your local Cary Audio dealer.
Weight: 22 lbs.
Dimensions: 13" L x 14.25" W x 7.5" H
Retail price: $1,495