Teufel Audio's recent collaboration with hülsta has given us an interesting concept that we at Hifi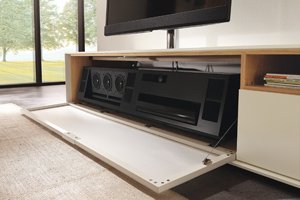 Pig thought was rather cool in its design and concept.  Basically this is nice looking furniture that has the audio already built in to it.  The new designs are called Scopia and Xelo.
"Our cooperation already began in the product design phase," explained Teufel CEO Edgar von Velzen. "The Teufel components were custom-designed for the hülsta furniture units and imperceptibly integrated without acoustic compromise." 
"When developing the furniture, we took the acoustic and technical requirements into consideration and worked them into the design without compromising the overall look," hülsta's managing director Heiner Goossens added. "In this way, the inherent qualities of both hülsta furniture and Teufel sound were mutually promoted." 
The complete sound system in the SCOPIA and XELO media lowboards are concealed behind a fabric front. So while you won't see the audio technology within, you'll hear a "true-to-source, natural sound with movies and music".
All of the high-end micro speakers are positioned in such a way that they create a perfect sound image at the listening position. A compact, high-performance subwoofer brings "amazing precision and dynamics" to the lower range. An integrated control unit for a Blu-ray player, game console, or other playback device has been mounted on tracks so that the user can easily access a total of nine connections. With contemporary features for 3D video and high-resolution audio formats, the control unit makes the system compatible with all standard playback devices and future-proofs it against new developments.