John Scott takes a listen to the Audio GE Sincerus 80 loudspeakers from Lithuania which cost 1300 euros  with eco leather finish and with natural wood veneer 1990 euros
Audio GE is a fairly new speaker manufacturer from Lithuania.  Managing Director and designer Gediminas Racevicius grew up surrounded by music; his father Rimvydas was a composer and pianist as well as chief sound engineer for Lithuania's national television and radio network.  As a child, Gediminas would spend many happy hours sitting on the floor of the recording studio in front of orchestras and big bands, providing him with an unique perspective of the sounds they produced. Gediminas' love and appreciation of music was further nurtured by weekly visits with his father to to opera or ballet.  After studying engineering and electronics at university, Gediminas began to build speakers for friends as a hobby, finally expanding this into a business with the aim of producing speakers that could faithfully reproduce the quality of sound that he heard in the studio during his childhood.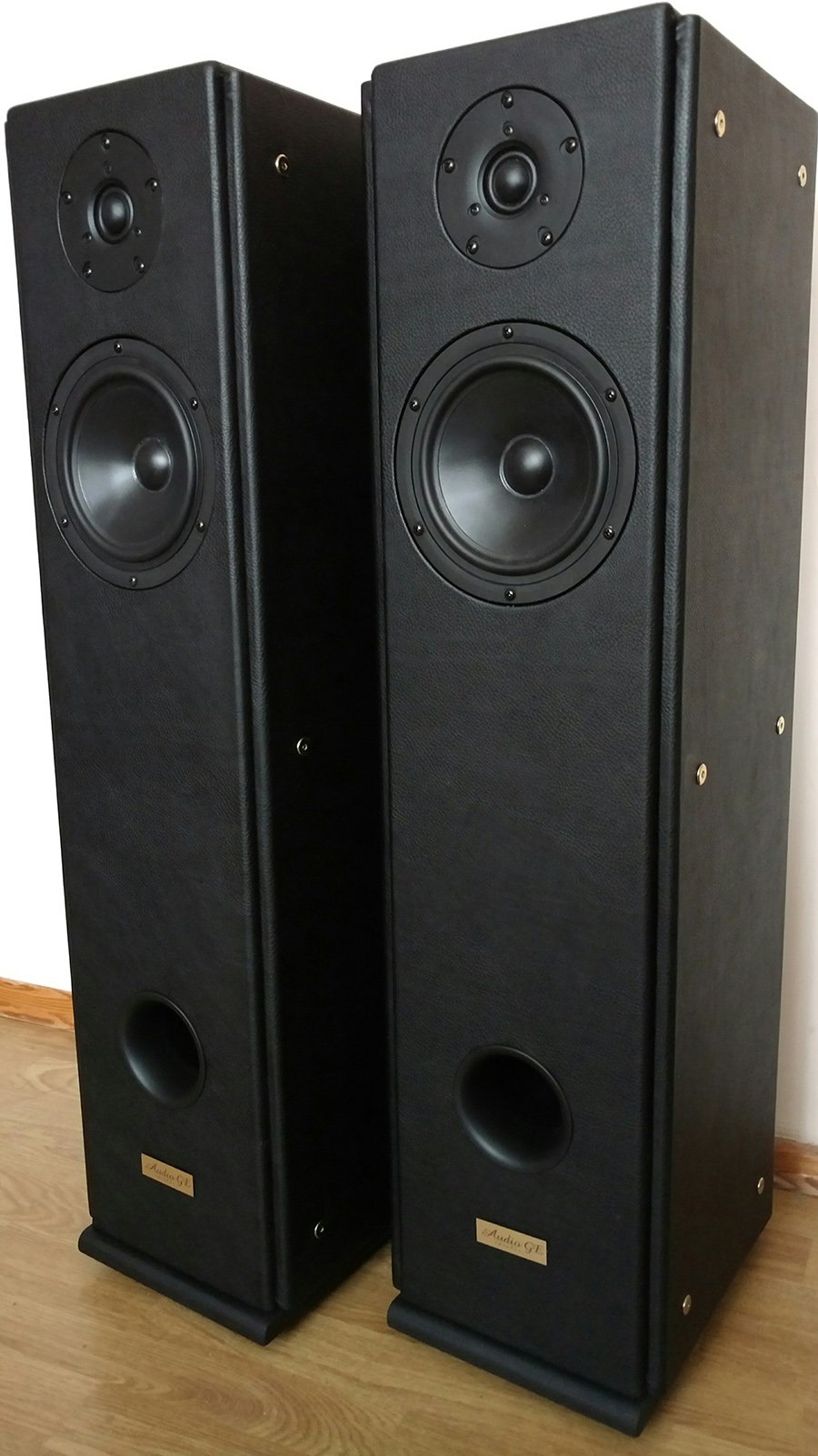 Technology can be both a blessing and a curse.  When Gediminas emailed me to let me know that a pair of his Sincerus 80 floor standing speakers were on their way to me from Lithuania, he included a link to an online tracking service so that I could monitor their progress.  It was a great pleasure to watch them wend their way inexorably westwards through Lithuania, across the width of Poland, into Germany then Belgium and France.  Finally they traversed the Channel and slowly inched up the length of England before crossing the border into Scotland and arriving at my doorstep.  The curse here of course was that I felt compelled to check on their progress around every 90 seconds or so – hands up if you would have done any different.  No, I don't believe you.  I hovered over the on screen map with fascination  as the courier pulled in to a service station to refuel and tutted with increasing frustration as he deviated from the motorway presumably to make another pick up or drop off.  I knew, of course, that no matter how many times I checked up on their progress, I wasn't going to make the speakers turn up any more quickly but I was hooked.  This was like some new drug and not even my wife's increasingly fraught exhortations to "put down that bloody iPad" could stop me.
UNBOXING AND APPEARANCE
Their arrival brightened up a mundane Sunday teatime and I immediately set-to, unboxing them and getting them into position. The thick cardboard boxes and internal foam protection ensured that the speakers had arrived safely and as the bases were pre-spiked, there was nothing for me to do apart from manhandle them into position and cable them up.  I did get one slight surprise though.  On the basis of a couple of photographs I had seen on Audio GE's Facebook page, I had been expecting the speakers to be veneered in wood.  This particular pair were wrapped in black "Eco leather" (leatherette).  She Who Is Correct In All Things described them as being quite masculine looking.  At risk of undermining my own masculinity, I thought I would probably prefer the veneer versions, but their rugged elegance  did grow on me during the time that I lived with them.  I think my chest may have got slightly hairier as well.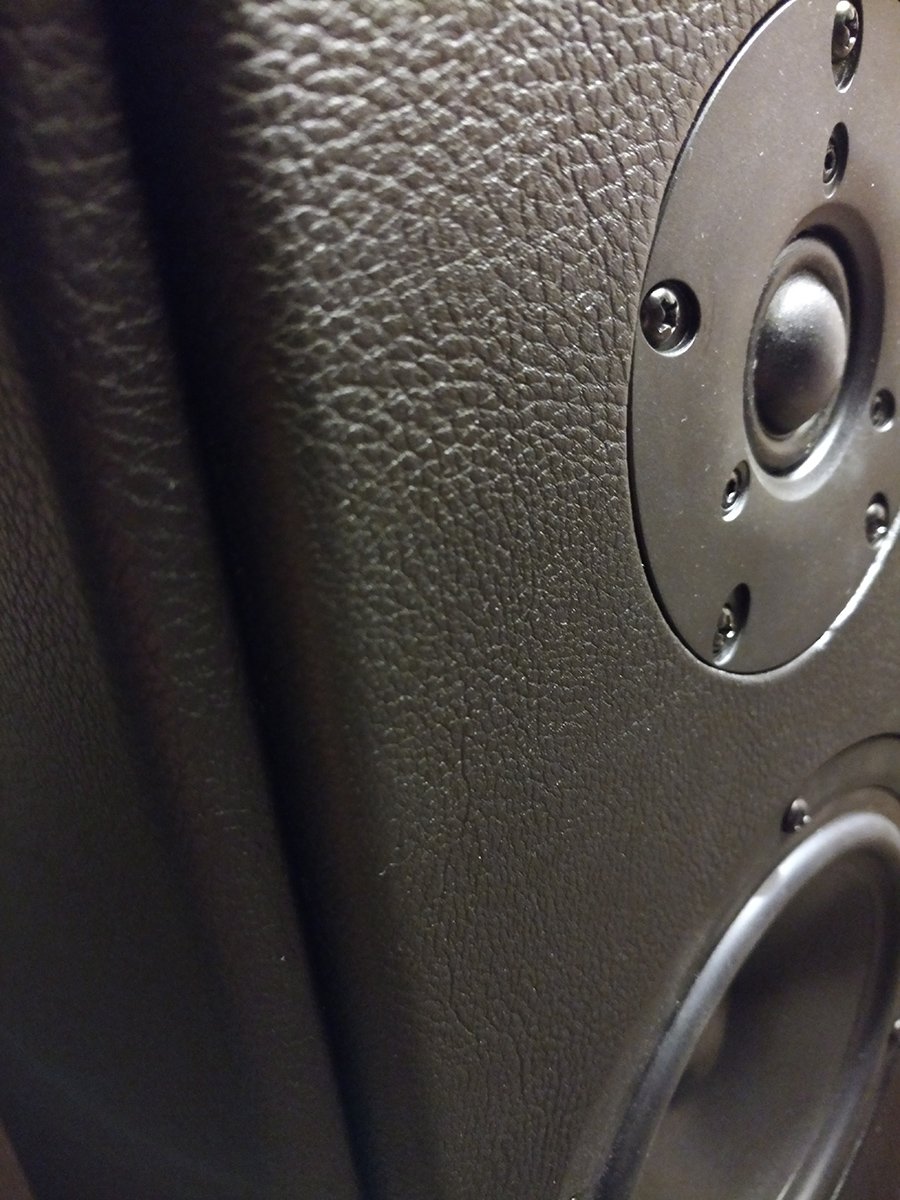 The Sincerus 80s are floorstanding loudspeakers with a tuned quarter wave design.  The speakers are front ported with treble and mid/bass drivers. The tweeter is a 2.5 soft dome unit and the mid/bass driver features an 18cm aluminium chassis with a glass fibre cone.  Both drivers are manufactured by Scanspeak.  To aid smooth internal airflow, which Gediminas feels is key to the success of the quarter wave design, the crossover, designed personally by Gediminas and using high quality components by Jantzen and Mundorf, has been removed from the internal cabinet and mounted in the loudspeaker plinth. The crossover is originally designed and the components used in the crossover are audiophile quality, manufactured by Jantzen and Mundorf.
SPECIFICATIONS:
Dimensions (HxWxD) : 940mm x 220mm x 260mm
Dimensions with spikes (HxWxD) : 956mm x 220mm x 260mm
Weight : 15 kg each
Sensitivity : 89 dB
Power handling : 100 W rms
Nominal impedance: 8 ohm
Front ported
Crossover 2nd-Order
Crossover frequency : 3300 Hz
Frequency response (in-room environment) : 37-25000 Hz ± 3 dB
Recommended amp.: 20-200 W
Drivers : Scan Speak 2,5cm silk dome tweeter, Scan Speak 18cm aluminium chassis fibre glass cone midwoofer
Main finishes: eco leather (black, white and bordeaux)
Optional finishes: natural wood veneers (sapelle and walnut)
SOUND
I connected them to a Naim Superuniti that I have here for review and my initial impression was one of…disappointment.  John Martyn's Solid Air album is one that I know like the back of my hand.  When I play the title track I am accustomed to hearing the music hang between the speakers like a smokey haze.  On this occasion the music seemed closed in like it was struggling to escape the confines of the boxes.  I tried a range of tracks from folk to classical, rock to reggae and I was left feeling dissatisfied.  It then occurred to me that if I had spent three days in the back of a van trundling across Europe in near to frozen temperatures I probably wouldn't be at my best either so I decided to give then a couple of days to acclimatise.  An exchange of emails with Gediminas also revealed that he had recently put new drivers into this particular pair of speakers and that they had not had the usual amount of running in that he would normally have given them prior to dispatch.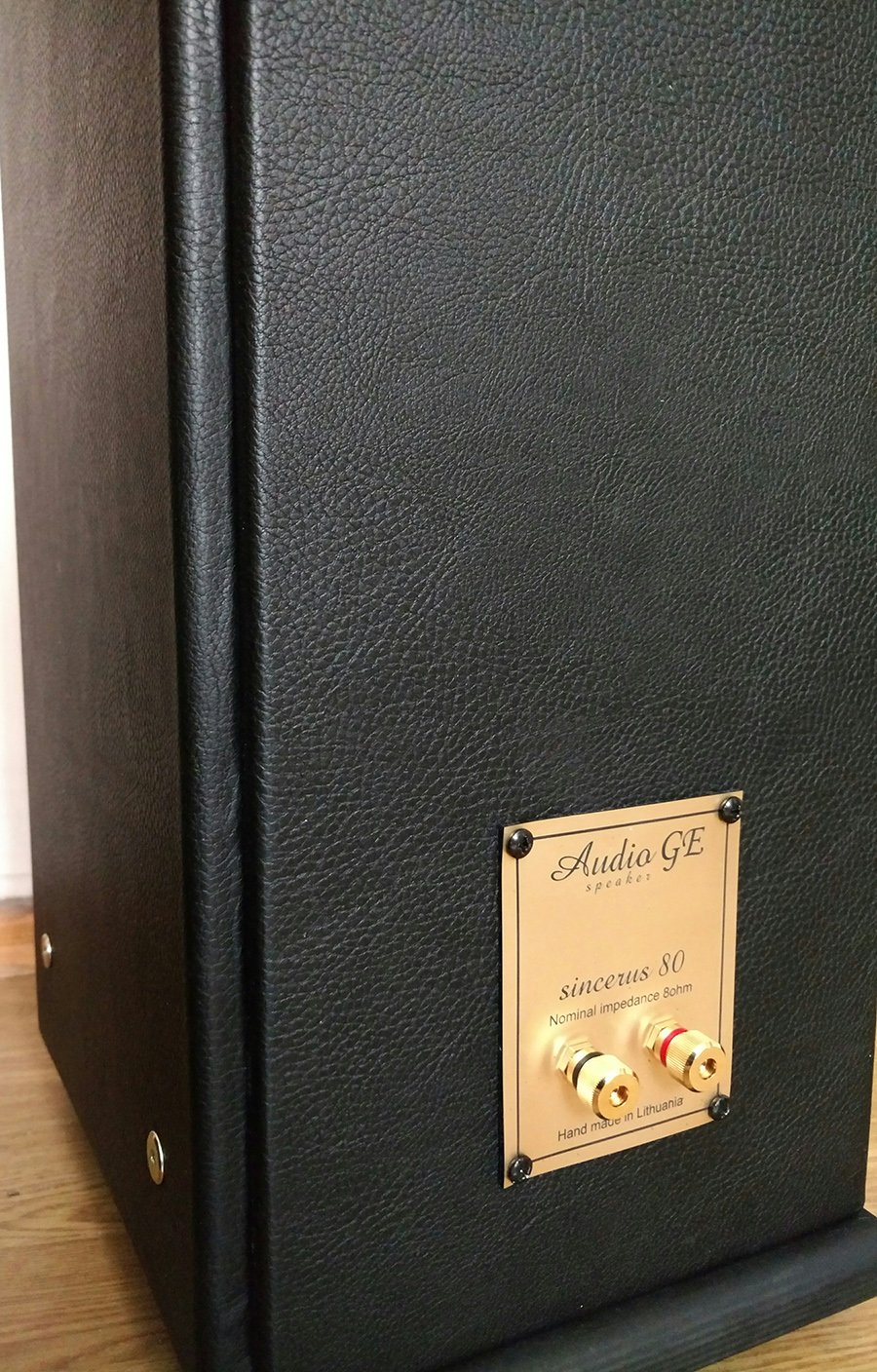 I decided to suspend any critical listening for at least a week while I let them run in.  It was clear from casual listening however that things were improving.  Revisiting Solid Air, the soundstage was greatly enhanced and following Gediminas' recommendation to extend the distance between the speakers, further improvements were achieved. My usual listening position favours the left speaker slightly and some gentle toeing in and a very tiny adjustment to The Superuniti's balance control helped to address any imbalance.
And so to some serious listening.  My initial instinct – I was unaware of Gediminas' background at this point – was that these would be speakers that were suited primarily to acoustic and classical music, although that wasn't going to stop me from throwing a bunch of other stuff in their direction.  I started off fairly gently with Richard Thompson's Acoustic Classics album. This is an excellent recording and the Sincerus 80s showed it off really well. On I Want To See The Bright Lights Tonight, the attack of Thompson's pick on the strings was tangible and it was easy to appreciate the contribution that the body of the guitar was making to the sound.
Time for a bit of classical and one of my favourite orchestral pieces, Mussorgsky's Pictures At An Exhibition. I have a few versions of this and this time I chose Herbert von Karajan's recording with the Berlin Philharmonic.  This piece makes really good use of all the instruments of the orchestra in various combinations and the '80s allowed me to envisage the position of each set of instruments from trombones to triangle.  In the brassy fanfares of the Great Gates of Kiev I've sometimes found that the supporting instruments get lost behind the wall of horns, trombones and trumpets but this time each instrument held its own.
Changing the mood completely with Smoke On The Water from Deep Purple's classic Made In Japan live album I was impressed by the sense of the hall's acoustic but slightly disappointed at the entrance of Roger Glover's bass.  There was plenty of detail there in the texture of the notes but it lacked a certain grunt in the really bottom end. I was, however, impressed by the way that the 80's allowed me to follow his playing all the way through the performance along with all the other instruments. Ian Paice's ride cymbal rang out clearly and I could hear each thump of the bass drum regardless of how busy Blackmore or Lord got on their respective instruments.
As I spent more time with these speakers, I found that their roll off at the bottom end was my only cause for concern but one that I became more comfortable with, the more time I spent with them.  Top, midrange and upper bass were all highly detailed and it was only when I wanted that feeling of moving air, that thud in the chest, that I was left feeling disappointed.  Having said that, the Tidal stream of Sorry from Beyoncé's new album Lemonade still grooved like a joiner's chisel and had the floorboards rumbling, and my go-to bass monster track, Why So Serious from The Dark Knight soundtrack, still had plenty to offer.
CONCLUSIONS
All in all, the Sincerus 80's are well-built, insightful (as I write this I've just noticed a xylophone detail in St Alphonso's Pancake Breakfast from Frank Zappa's Apostrophe album  that has previously eluded me), detailed and musical.  If you are a fan of heavy rock, dub reggae or dance music then you may find them to be just a little refined for your tastes.  Otherwise, they offer excellent value and I'll certainly be sorry to see them leave.
Pros:
Natural, detailed sound
Work well across a broad range of musical styles
Cons – Not bass monsters. If this is a priority, you may have to look elsewhere.
Price €1990
John Scott