Audio Research has introduced the latest component to the Foundation Series, the VT80 Power Amplifier. From the same engineering and design team responsible for the Reference Series, the Foundation family of vacuum tube components has been created, say Audio Research "to provide incredible musical experiences. Spatial definition, dynamics and detail abound while providing the most natural musical experience". 
Introduced earlier this year, the first three Foundation components include the LS28 line stage preamplifier, the PH9 phono stage, and the DAC9 digital-to-analogue converter. The new VT80 is the much-anticipated amplifier that allows the Foundation series to be shown as a complete system. Combining a new aesthetic with simple operation the VT80 is a vacuum-tube amplifier that will "open doors to a new listening experience". Audio Research go on to say: "Since 1970, High Definition has been more than Audio Research's trademark; it has been the guiding principle for all products. The Foundation Series continues this passion and philosophy, offering the listener stunning playback, great value, and unparalleled long-term support".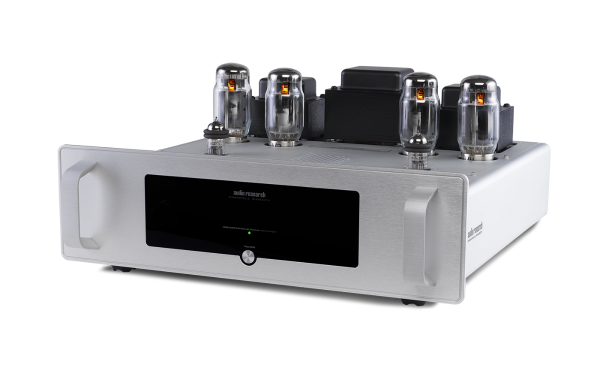 Technical Specification
POWER OUTPUT
75 watts per channel continuous from 20Hz to 20kHz. 1kHz total harmonic distortion typically 1% at 75 watts, below 0.05% at 1 watt. (Note that actual power output is dependent upon both line voltage and 'condition' ie if power line has high distortion, maximum power will be affected adversely, although from a listening standpoint this is not very critical.)
POWER BANDWIDTH
(-3dB points) 7Hz to 60kHz.
FREQUENCY RESPONSE
(-3dB points at 1 watt) 0.7Hz to 80kHz.
INPUT SENSITIVITY
1.4V RMS BAL for rated output. (25dB Bal gain into 8 ohms.)
INPUT IMPEDANCE
300K ohms Balanced (150K ohms SE)
OUTPUT POLARITY
Non-inverting. Balanced input pin 2+ (IEC-268)
OUTPUT TAPS
8 ohms, 4 ohms
OUTPUT REGULATION
Approximately 1.0dB 8 OHM LOAD TO OPEN CIRCUIT (Damping factor approximately 8)
OVERALL NEGATIVE FEEDBACK
15dB
SLEW RATE
10 volts/microsecond
RISE TIME
4.0 microseconds
CHANNEL SEPARATION
112dB
HUM & NOISE
–112dBV no signal, input shorted
SIGNAL TO NOISE
115dB
CONTROLS
Power on/off, auto shut-off on/defeat, Input BAL/SE, RS232, 12V trigger
AMBIENT AIR TEMPERATURE
30° C (86° F) maximum ambient air temperature
POWER SUPPLY ENERGY STORAGE
Approximately 350 joules
POWER REQUIREMENTS
100-125VAC 60Hz (200-250VAC 50Hz) 410 watts at rated output, 500 watts maximum, 230 watts idle. Sleep power < 1 watt
TUBES REQUIRED
2 – Matched pair KT120 – Power Output; 2 – 6H30 Driver
DIMENSION
width    19" (48.3 cm)
height    10.33" (26.2 cm)
depth    18.45" (46.8 cm) to chassis , 19.40" (49.3 cm) to terminals
WEIGHT
45.7lbs. (20.7 kg) Net; 60.5 lbs. (27.4 kg)