Hand-made in Sussex, and designed in conjunction with graduates of Imperial University and the Royal College of Art, Audio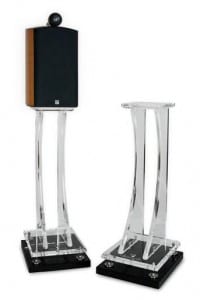 Suspensions Brunel Speaker Stands are the latest design in their search for the ultimate combination of aesthetic beauty and audio clarity.
The stands are made from the same 20mm acrylic as used on the ASU-100 turntable wall mount. The acrylic is hand flame polished to give a mirror surface and each stand has an inbuilt spirit level. Unlike many stand manufacturers who use metal pipes as the main component of their Audio Suspension has stuck with their favourite material of choice, heavy duty acrylic. "This low resonant material is perfect for reducing the effects of unwanted micro-vibrations and rumble that can muddy audio quality" says their press release. The spikes on the legs are Track Audios.
Price and availability
The Brunel Stands will be available from mid-January with a price of £550 a pair.