Part 4 of Stuart's photo report from the Audio Video Show in Warsaw, Poland.
This is only the second time Hifi Pig have attended the Audio Video Show in Warsaw, Poland but I for one think it on a par with the best of the best. Warsaw itself is a wonderful city that is easy for us to get to, easy to get around and full of open and friendly people…it's also very inexpensive to eat and full of vegan and vegetarian restaurants which goes a long way to making our particular visiting all that more enjoyable.
Historically Warsaw was pretty much razed to the ground and rebuilt from the ground up and only came out of communist rule in 1989. There is a real passion for music amongst the Polish people and that passion runs through the Audio Video Show. There is still a thriving DIY culture in audio and this DIY culture is moving to the main market and presenting commercial products to consumers. Some of these products represent some of the very best in the World (think Lampizator) whilst others are still very much a work in progress and personally I feel would have been better off taking the time to refine their offerings rather than presenting a product that sounded we below par. However, perhaps I am being a little unkind in dampening enthusiasm because, after all, how does a brand learn and grow if they do not present their product and open it up to criticism.
What I love about the Warsaw show is that aforementioned enthusiasm. Perhaps some of the rooms are not as slick as at some shows and there is certainly some room for improvement in the way a tiny minority of the rooms present their wares: a pair of boots lying at the side of a room presenting very high-end Japanese gear springs to mind, as does a pair of mattresses being used down each side of the room by way of room treatment. These are small irritations that can and will be improved as people become slicker and by far the vast majority of exhibitors really understand how to present their products.
The Warsaw show is split over three venues: The Radisson Blu, The Golden Tulip and the National Stadium.
Adam and his team do a fantastic job putting the show on and really must be congratulated. If you have the opportunity to visit The Audio Video Show in Warsaw then you really should make the effort. Personally, I can't wait until next year.
We do try and visit every single room and publish pics from every room but a small mishap, me deleting every picture we took and having to do a file recover has meant that one or two may have been missed out and for that I apologise.
Based in Poland Cube Audio make a range three full range drivers and three built loudspeakers, each using the appropriate driver. The loudspeaker shown is the Cube Audio Magus using the F8 Magus driver. The speaker is 94dB sensitive, a metre high and has a quoted frequency response down to 36 Hz. There is certainly something about a full range driver loudspeaker and the Cubes sounded very nice at the Warsaw show.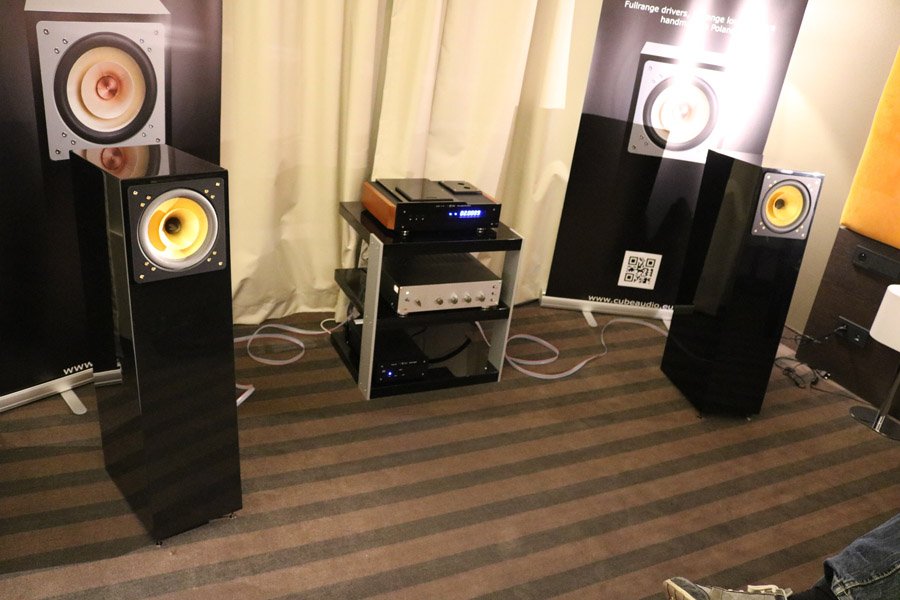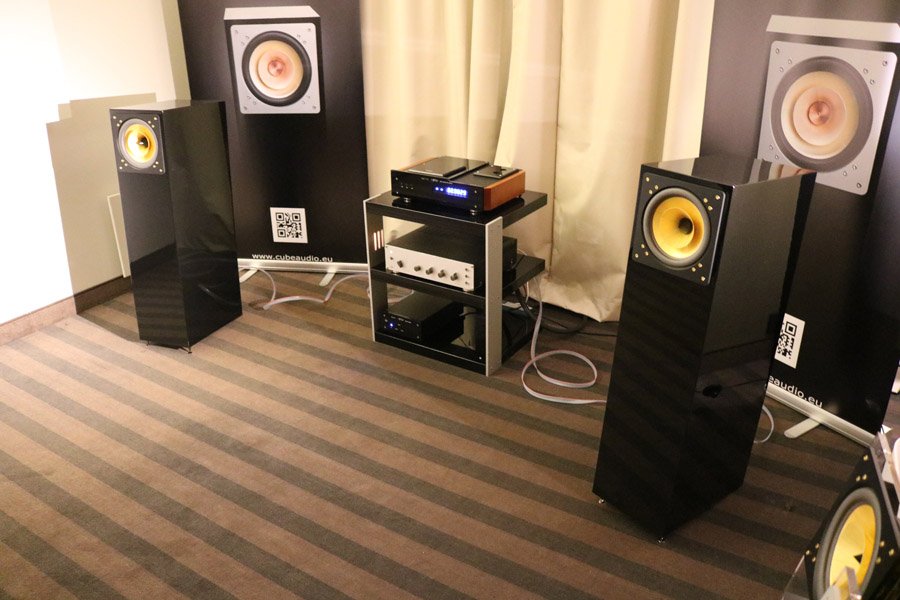 Sonar Audio had a very interesting set up including Shan loudspeakers and turntable made from concrete. The turntable is called the Shan Vertigo, has a 60mm acrylic platter, has a Clearaudio Satisfy arm and a Benz Micro Ace cartridge. Its cost is about 7500 euros. Personally I love this concept and it did all sound very nice indeed.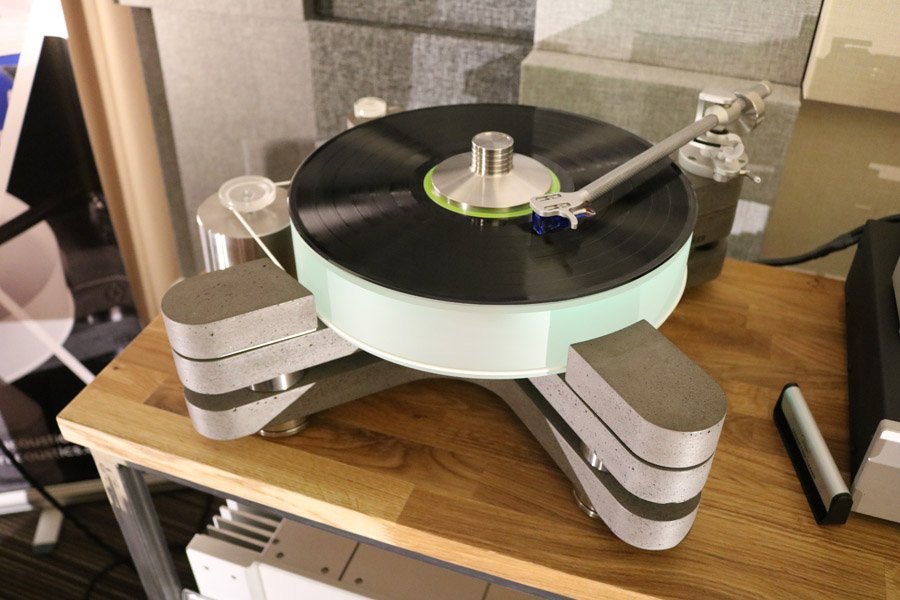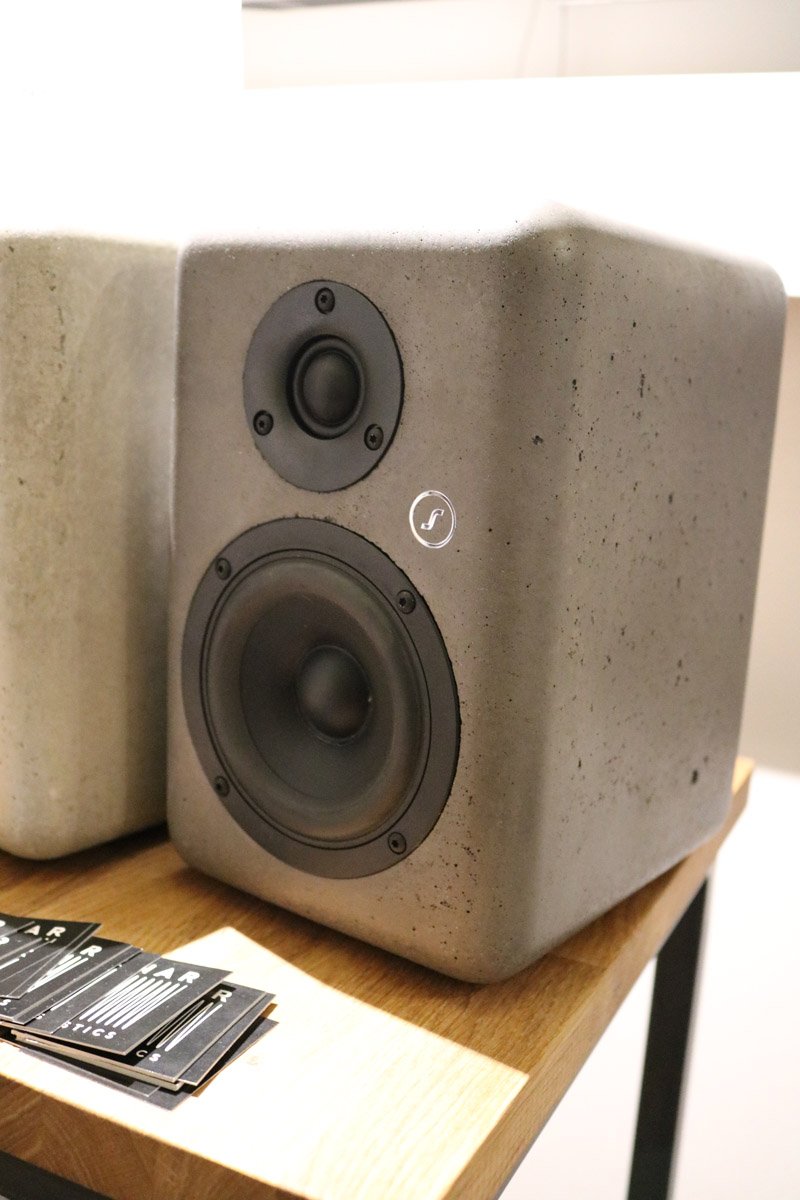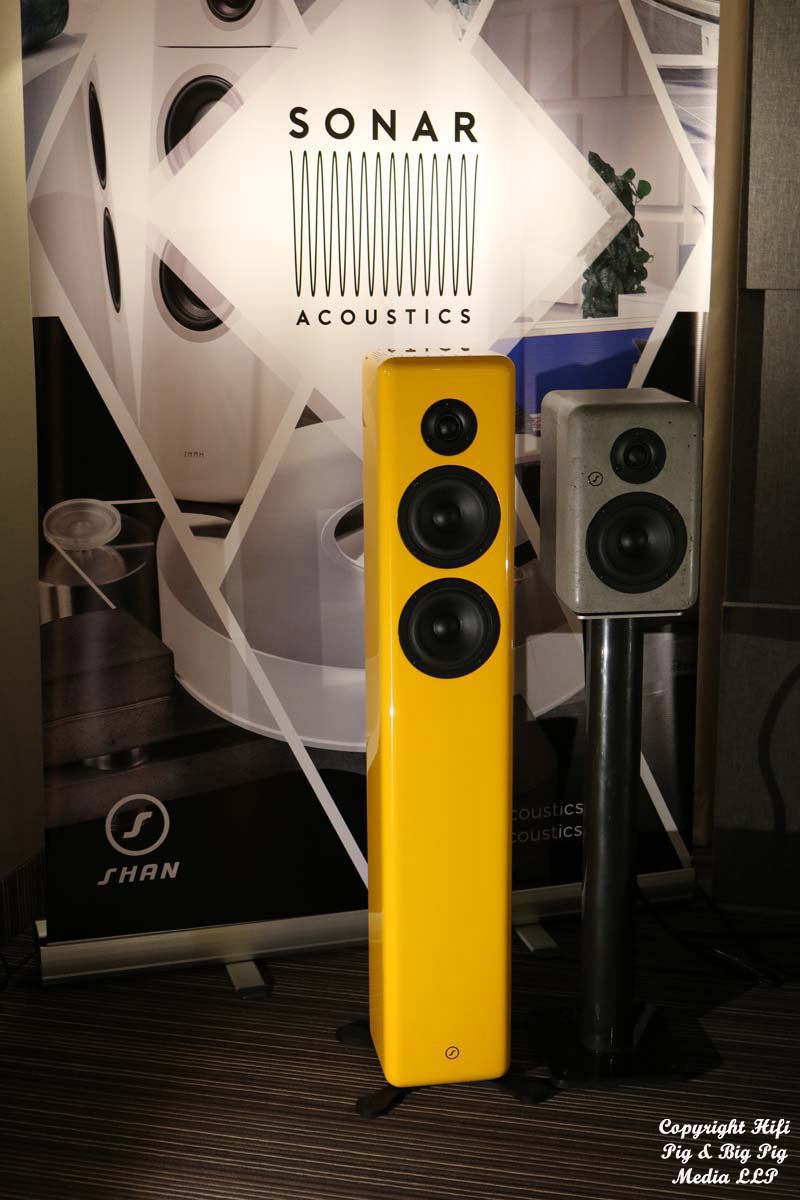 Now this was a lovely sounding room using Trilogy Electronics, Fidata speakers, Tellurium Q cables and the Lampizator DAC. We use the Big 7 DAC from Lampizator and Tellurium Q cables in our reference system so perhaps the sound we were enjoying was something to do with that.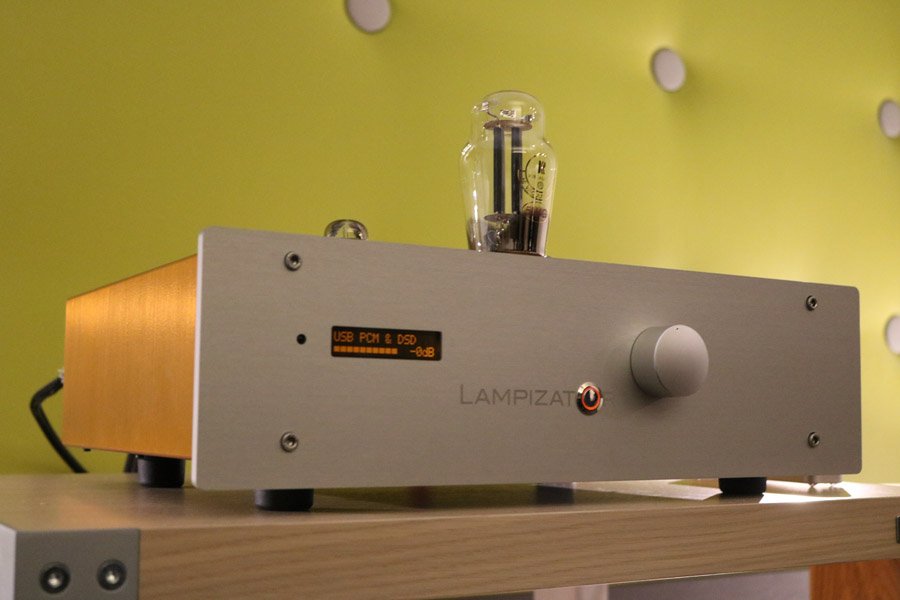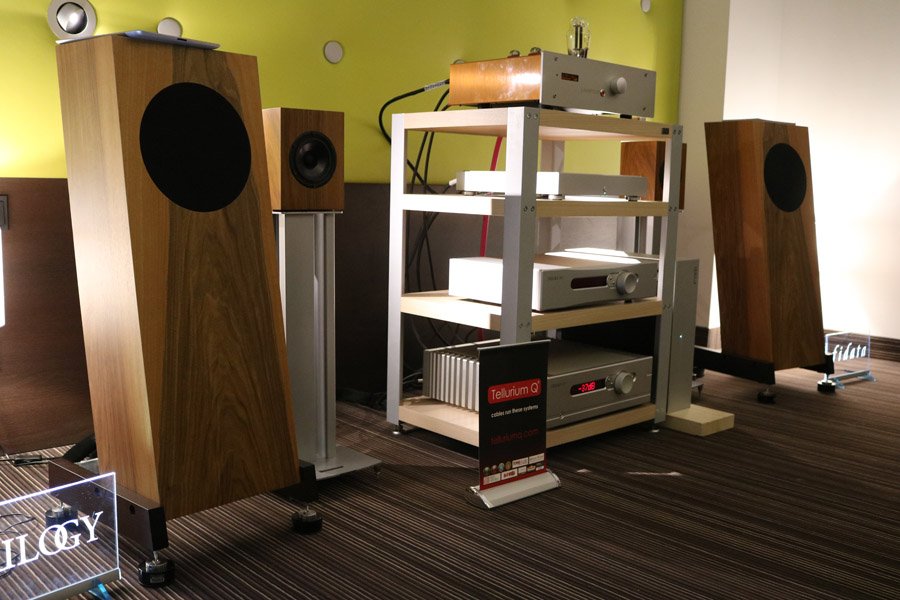 This room is Ancient Audio but the star of this particular show was the Fram loudspeakers they make. They are made from a solid block of aluminium come in three sizes and are active. The largest of the speakers has two small drivers and four passive radiators with a price of around 2000 euros which we thought was very reasonable for the build quality and sound. I can see these being a very popular loudspeaker for those wanting a simple and stylish solution.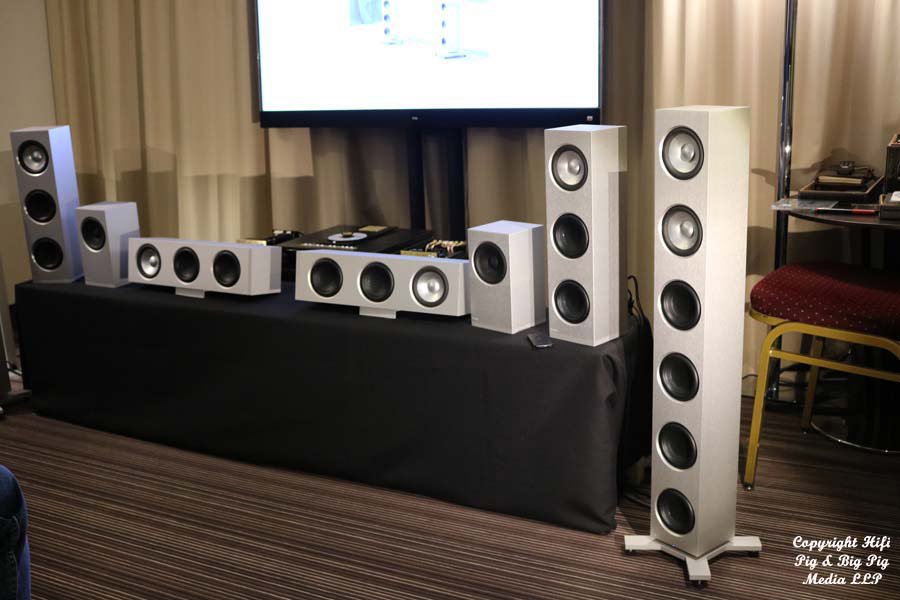 Metaxas and Sins room oozes simple sophistication and Kostas who designs for and owns the company can only be sen as a genius of design. The Macrophone loudspeakers on their Sticks stands. They use the amazing Accuton drivers and are designed to be a monitor loudspeaker for playback, but I can see them finding favour in the design (and sound) conscious home…likewise the amplifier you see on the table. Kostas designs a whole load of none audio products too from fountain pens to clocks and all look exquisite.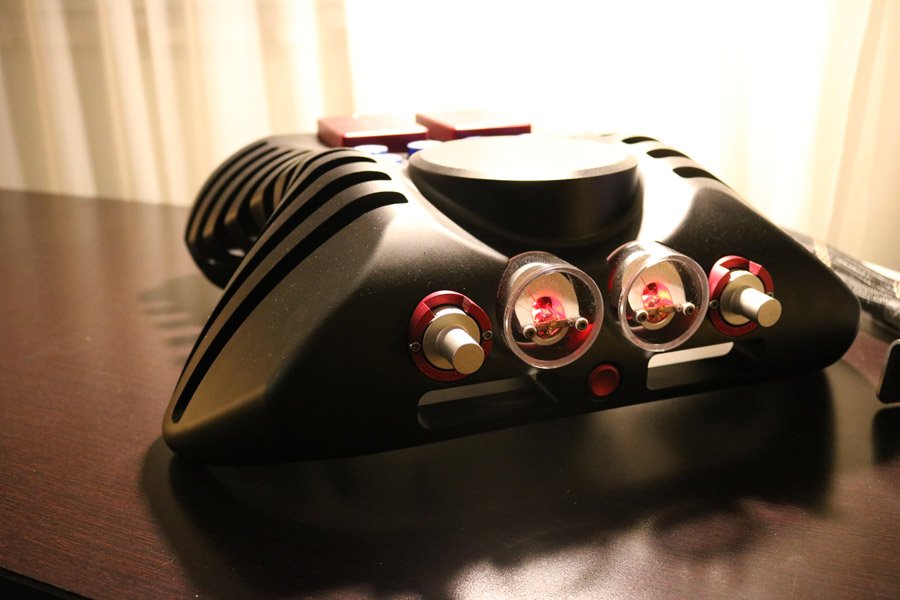 This is Sky Audio and the monobloc amps you see are their OTL (Output Transformer Less) design.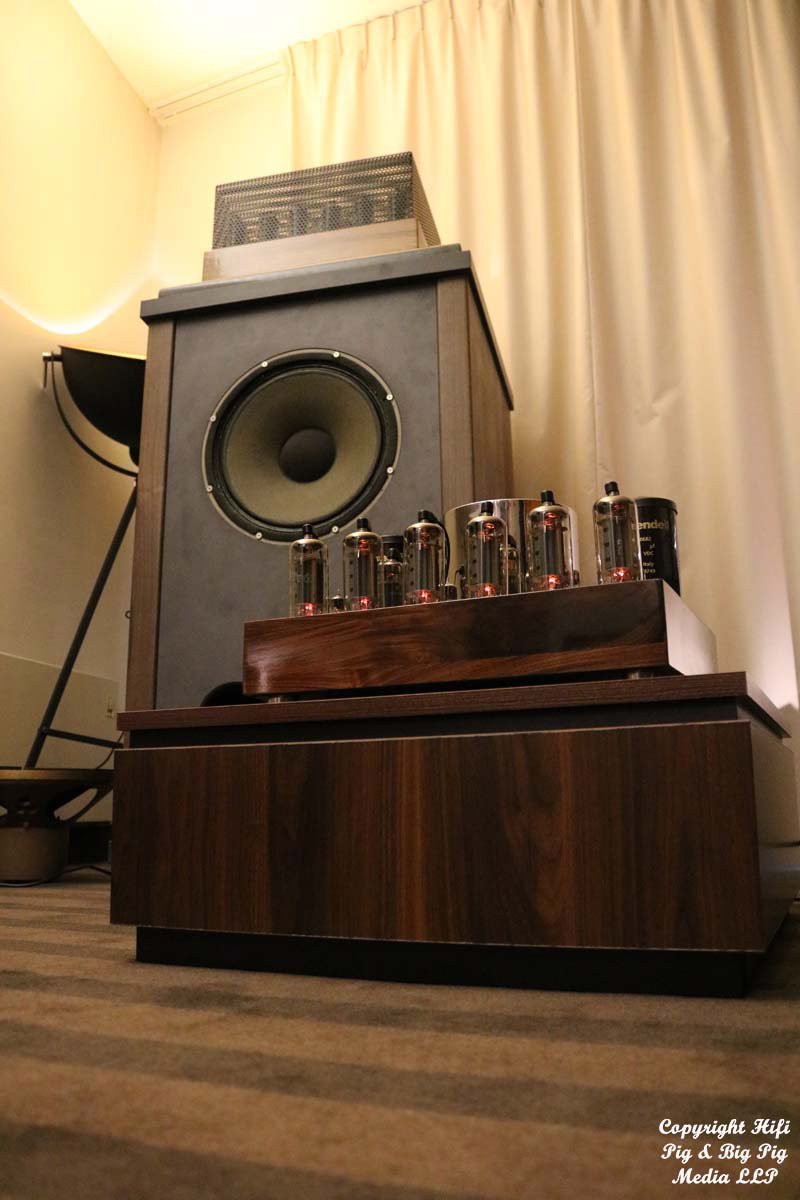 Bang and Olufsen are the name that is likely to trip of the tongue of many a none audiophile if you ask them what is the best hifi brand. Left to right we have their BeoSound 2, BeoSound 1 and BeoPlay M5 speakers which all connect wirelessly. The things on the wall are the BeoSound Shape wireless loudspeakers of which you can buy as many as you like. I have to admit to not being a fan of Bang and Olufsen as a rule but the sound coming from the Shape was pretty impressive, though likely very expensive.

Jamo loudspeakers

Good to see British brand Neat Acoustics in Warsaw.

Woo Audio, Auralic and Fostex loudspeakers.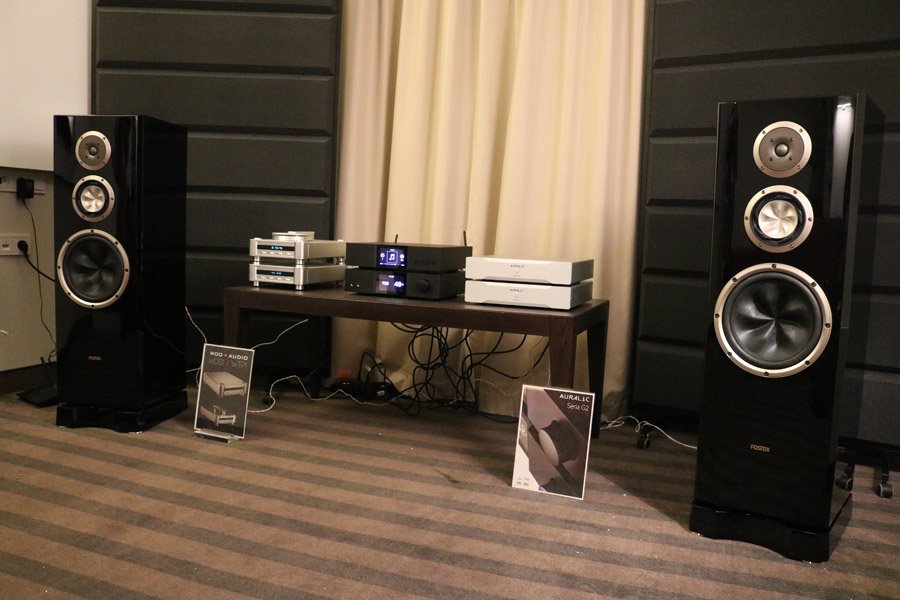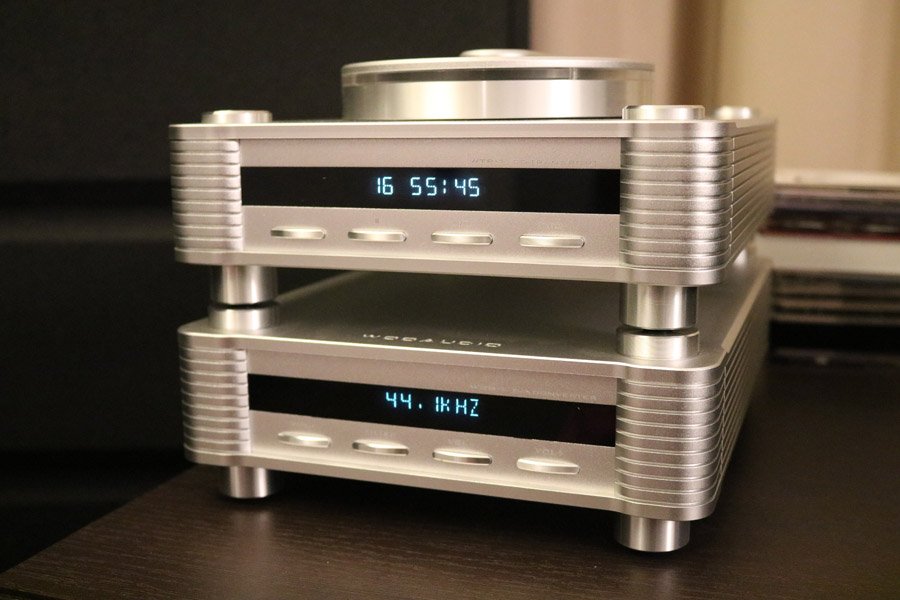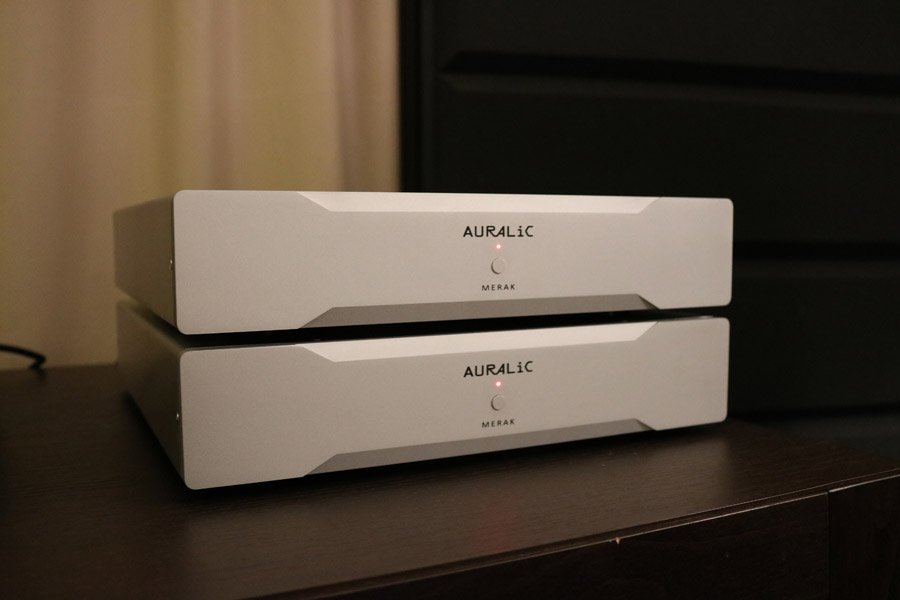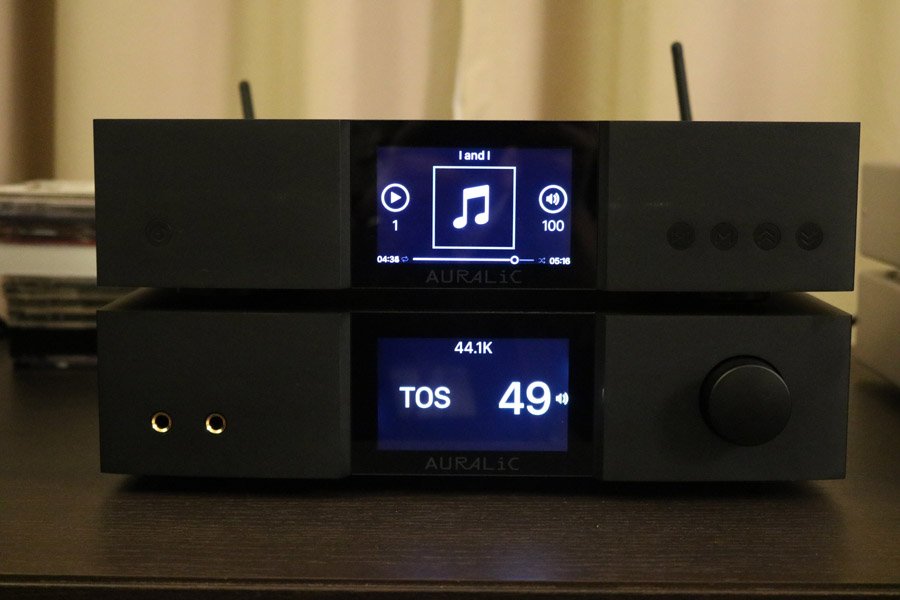 Closer Acoustics was one of our favourite rooms at this year's show. The bigger of the loudspeakers you see, and we heard, are the company's Vigo in EX specification and using the EMS LB12 EX field coil drivers. The 300B amp you see is their Provocateur and both it and the speakers were making their premiere at the show. The turntable is Thorens TD 124 MKII in a plinth made by Closer and with 12" Schick tonearm and Denon 103 R cartridge in aluminium Midas body. The phonostage being used is the Closer Acoustics Stelvio MC/MM balanced. This really was a stunningly natural sounding system and we could have stayed a lot longer than we did.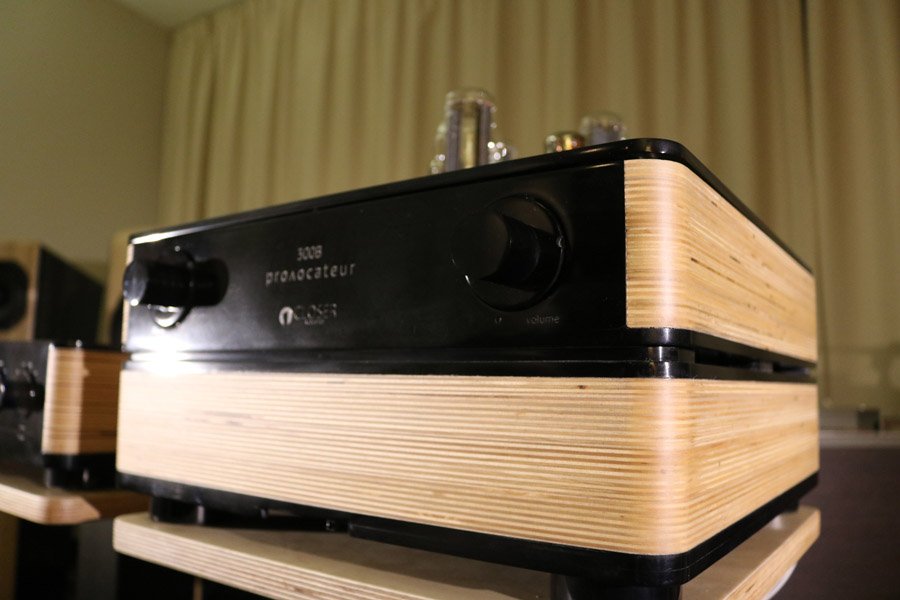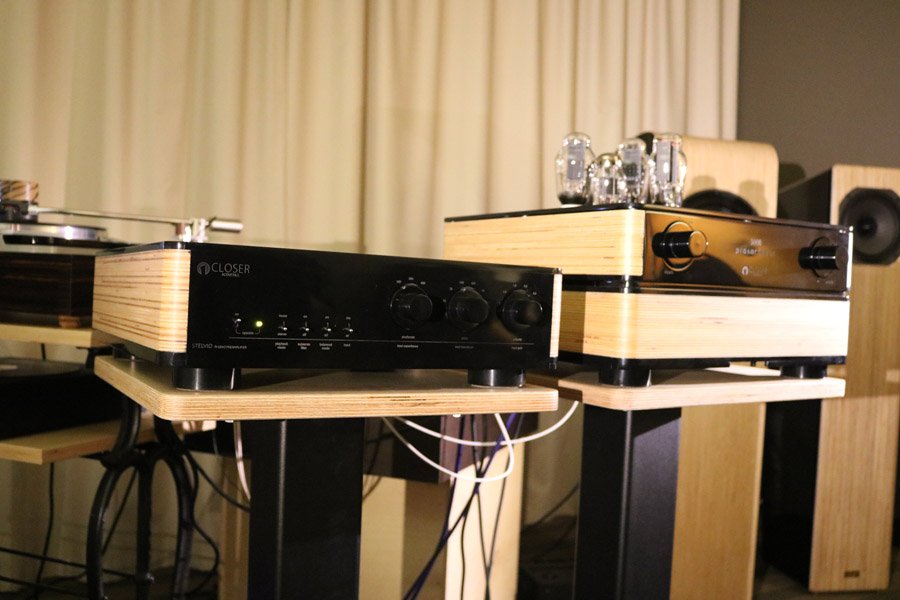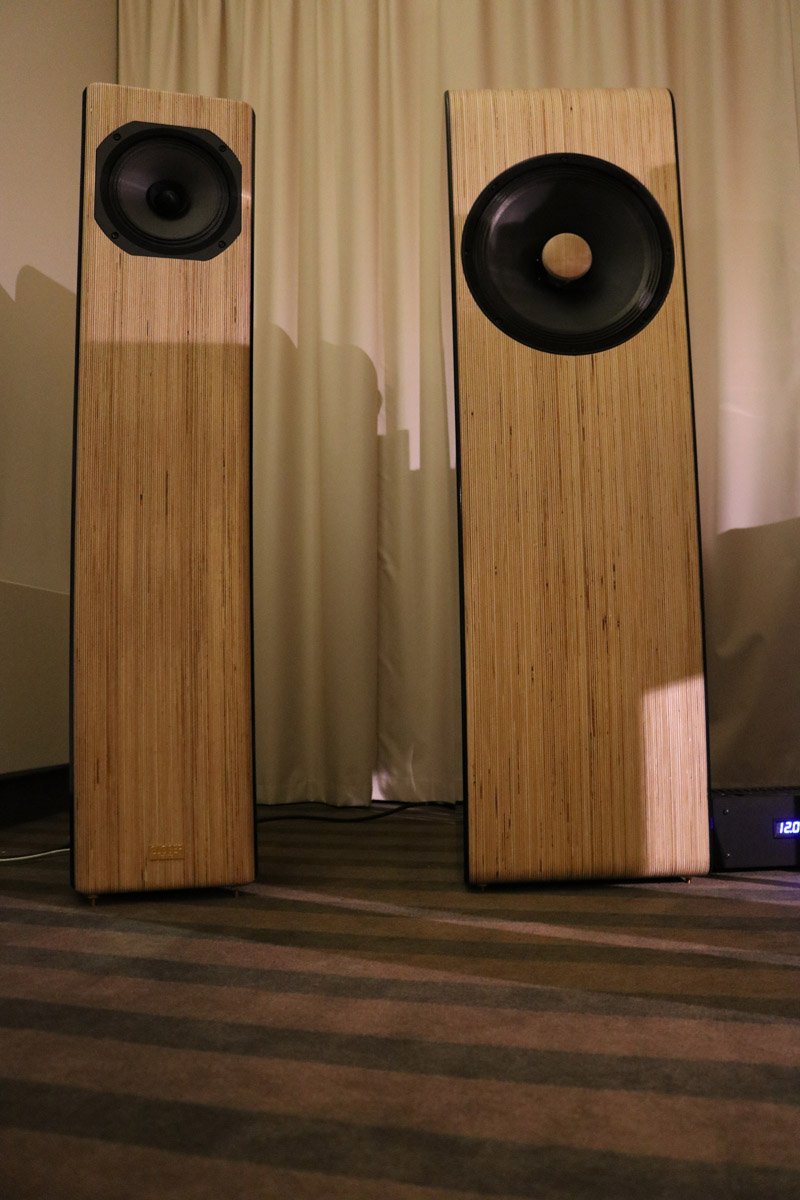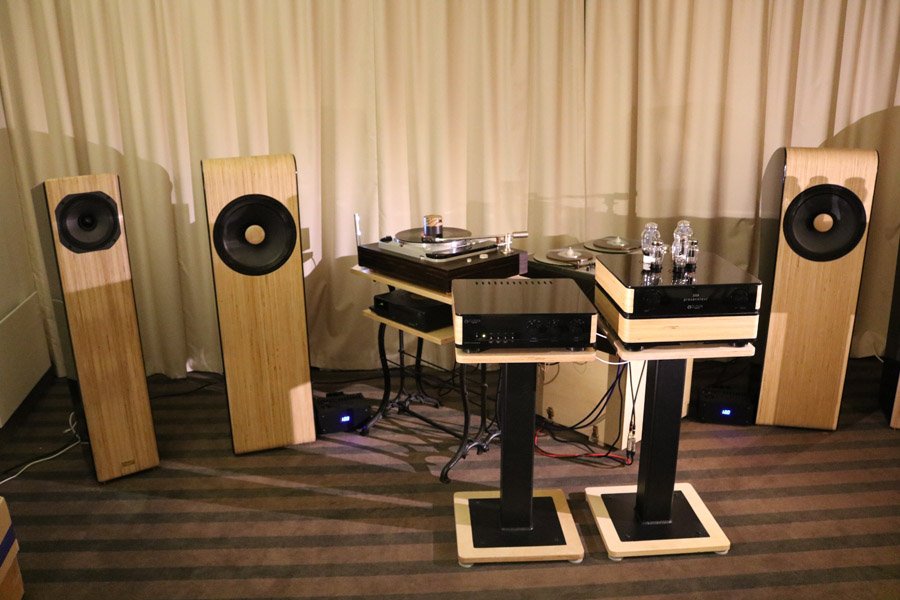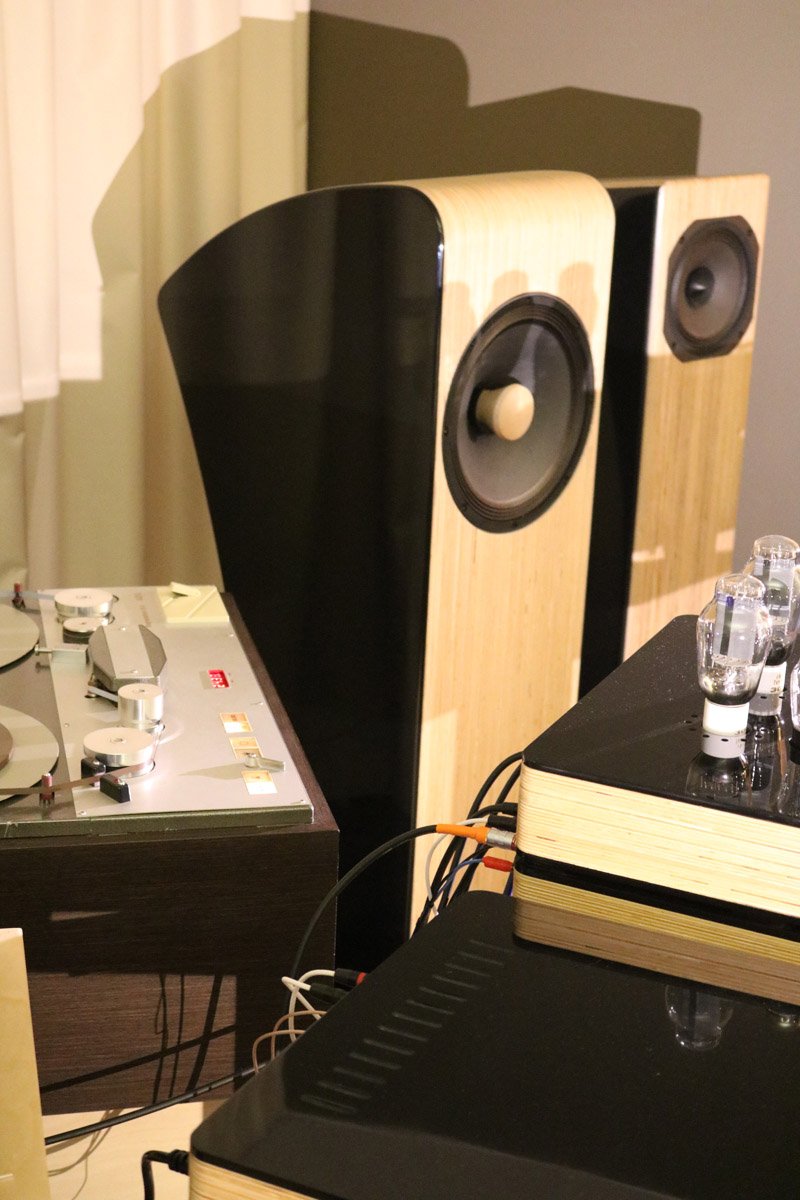 Eco Box are a Bulgarian brand based in Sofia. They make a whole load of gear from the loudspeakers you see here to turntable clamps, amplifiers, room treatment and a whole lot more. The amps are their Red Raze model and the speakers are their new A Priori . The speakers are particularly interesting in their design being an open baffle ribbon design with an interesting solution for bass.

Polish brand Akkus and their Monolith F1S LE loudspeakers and Redwine amplifiers. Good to see British brand Music First Audio and their preamplifier being used in this system.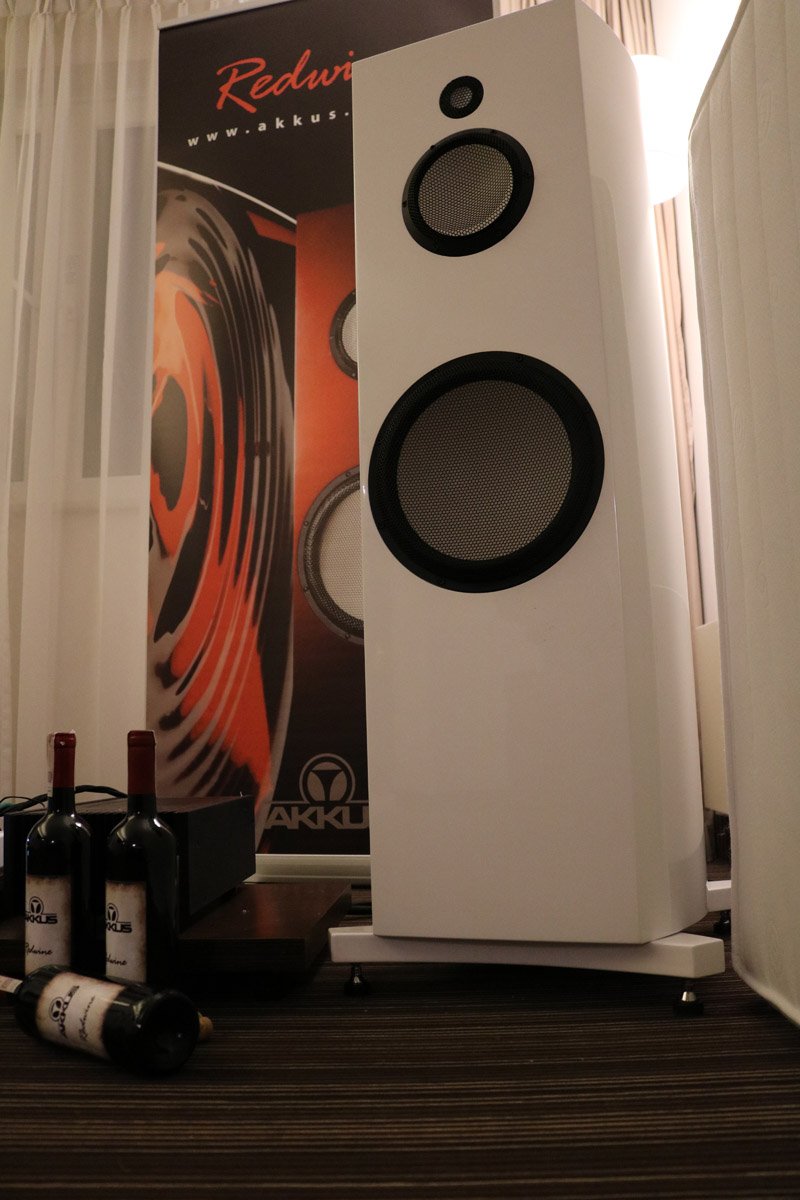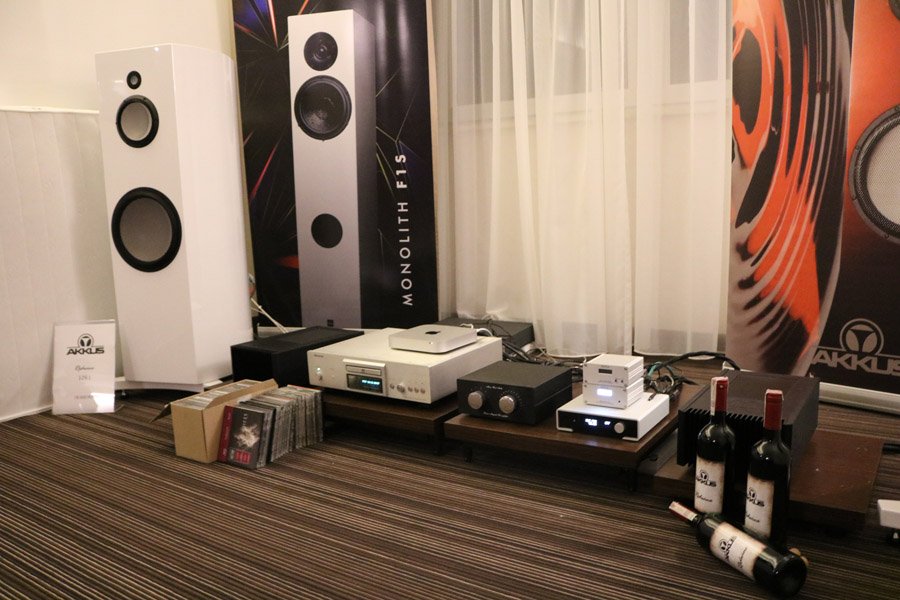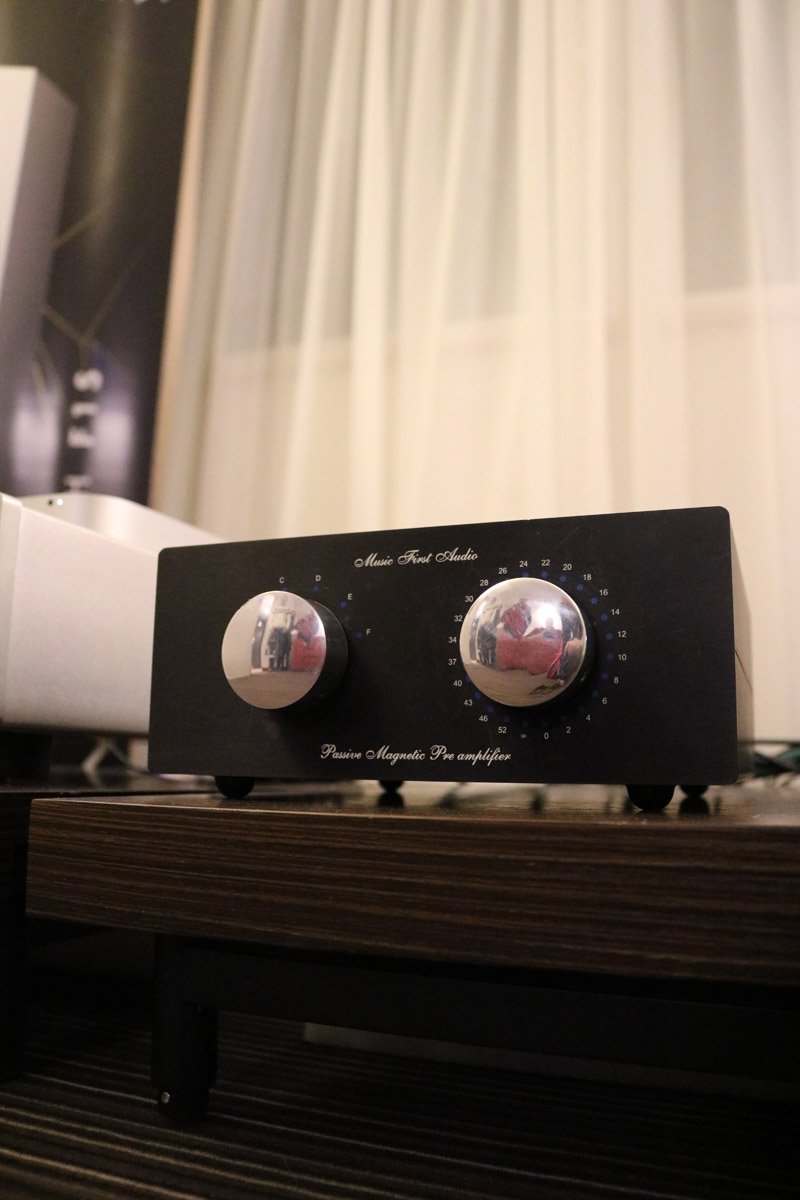 RD Acoustics had a very nice room and it was good to see them at the Warsaw show. Hifi Pig had the pleasure of reviewing both their Evolution and Euphoria loudspeakers and were well impressed. Making their debut was a new DAC and amp. The diffusor at the back of the speakers are also made by the company.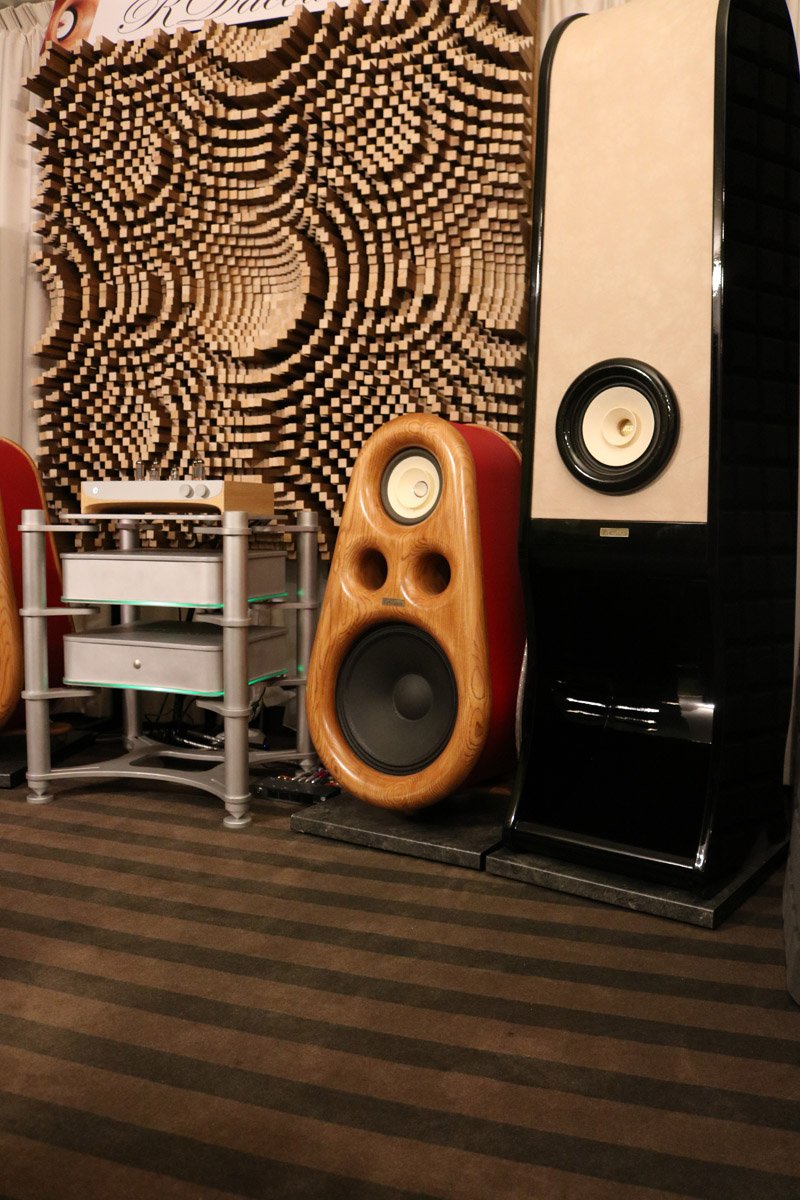 Norma Audio from Italy were another room using Tellurium Q cables in their room.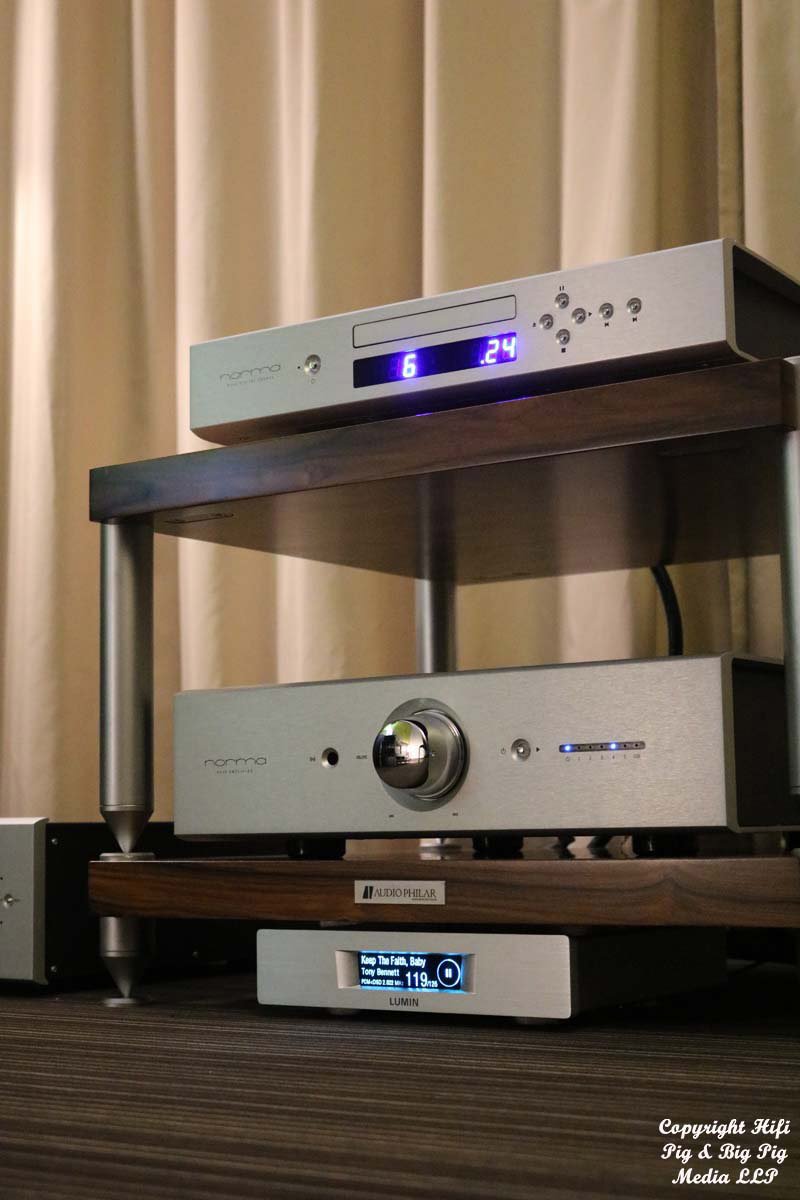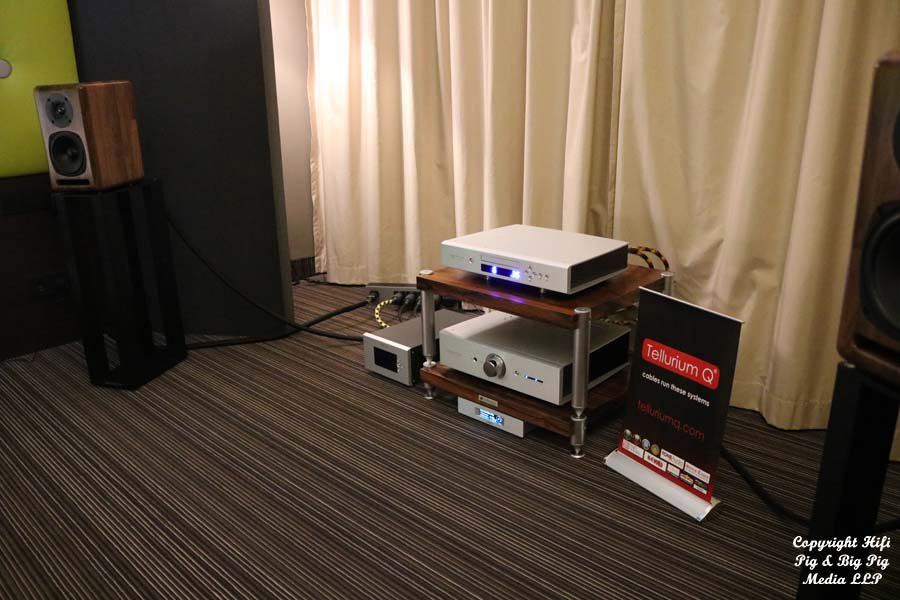 Alpin Line racks certainly looked the business.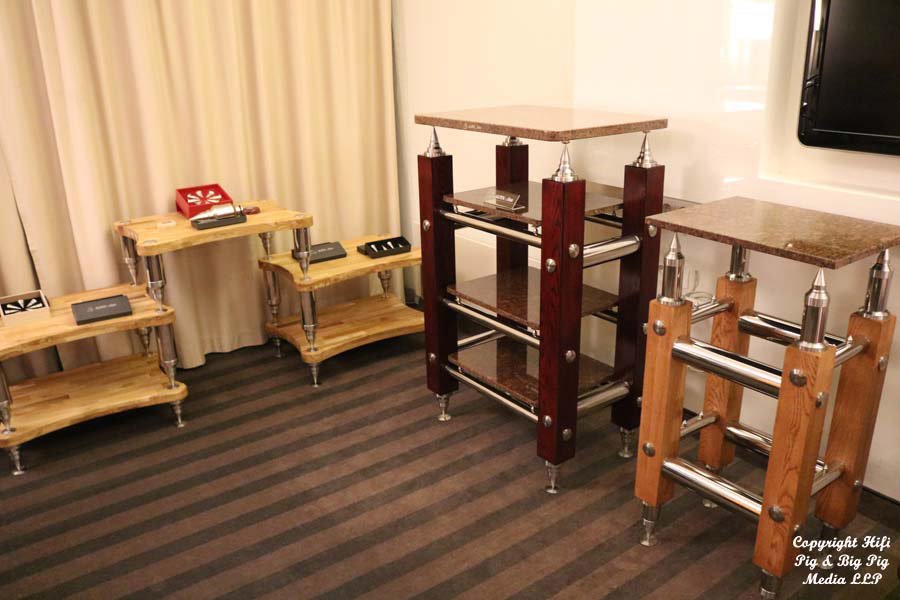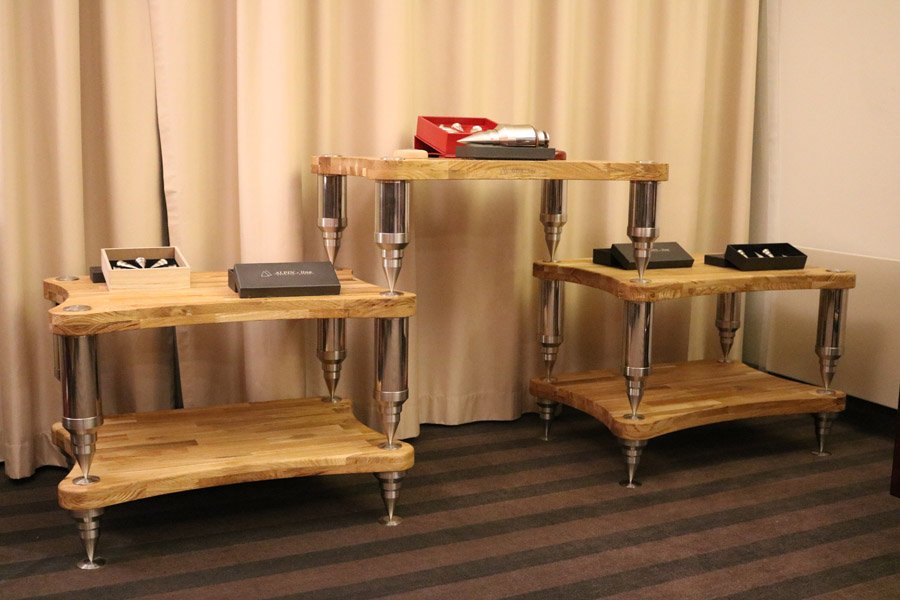 Hegel will be a name many will recognise and the company seem to be making a bit of a comeback. Another room using Tellurium Q cables.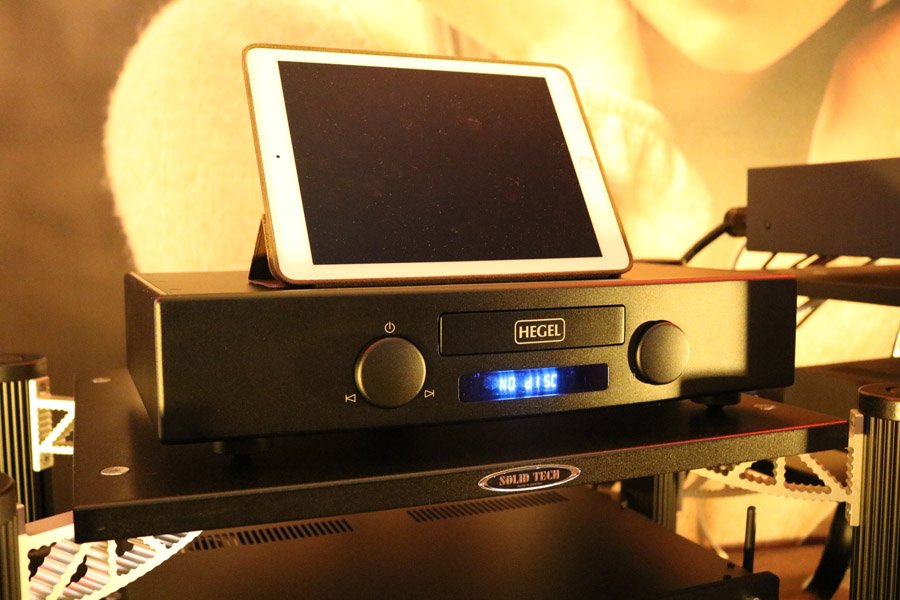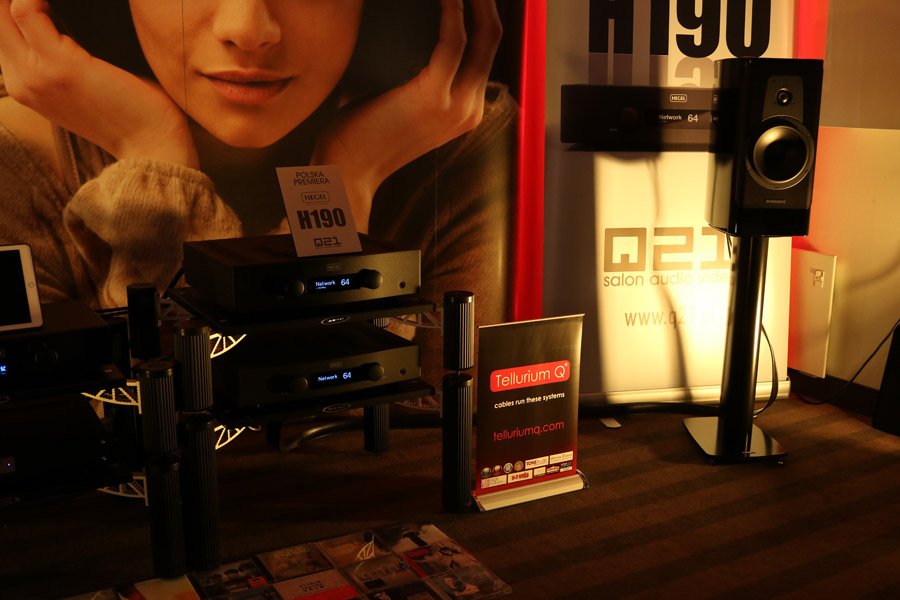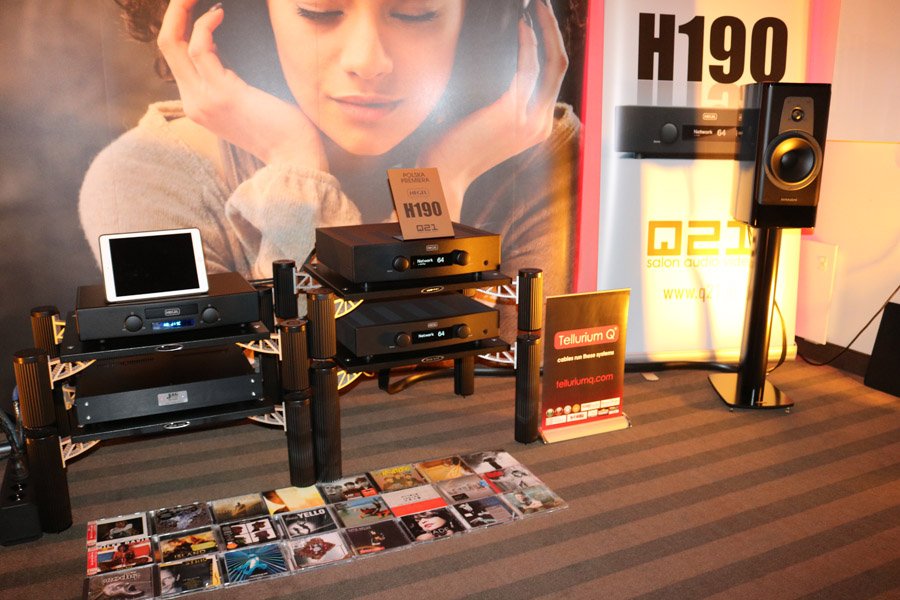 Horn Acoustic showing off their speakers and new monoblocs.

The Bad Wave panels look very similar to the GIK panels but are in fact made of foam. Another room using the SoulNote electronics. We've had and owned SoulNote in the past and they do punch well above their weight in terms of sonics.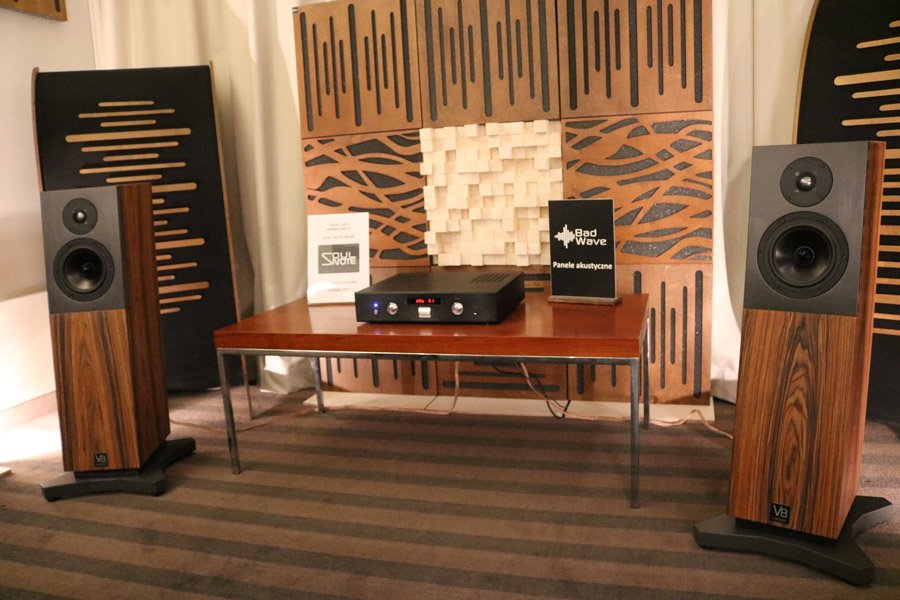 Jean Marie Reynaud speakers from France with Aqua DAC and Transport. Cables are by Albedo.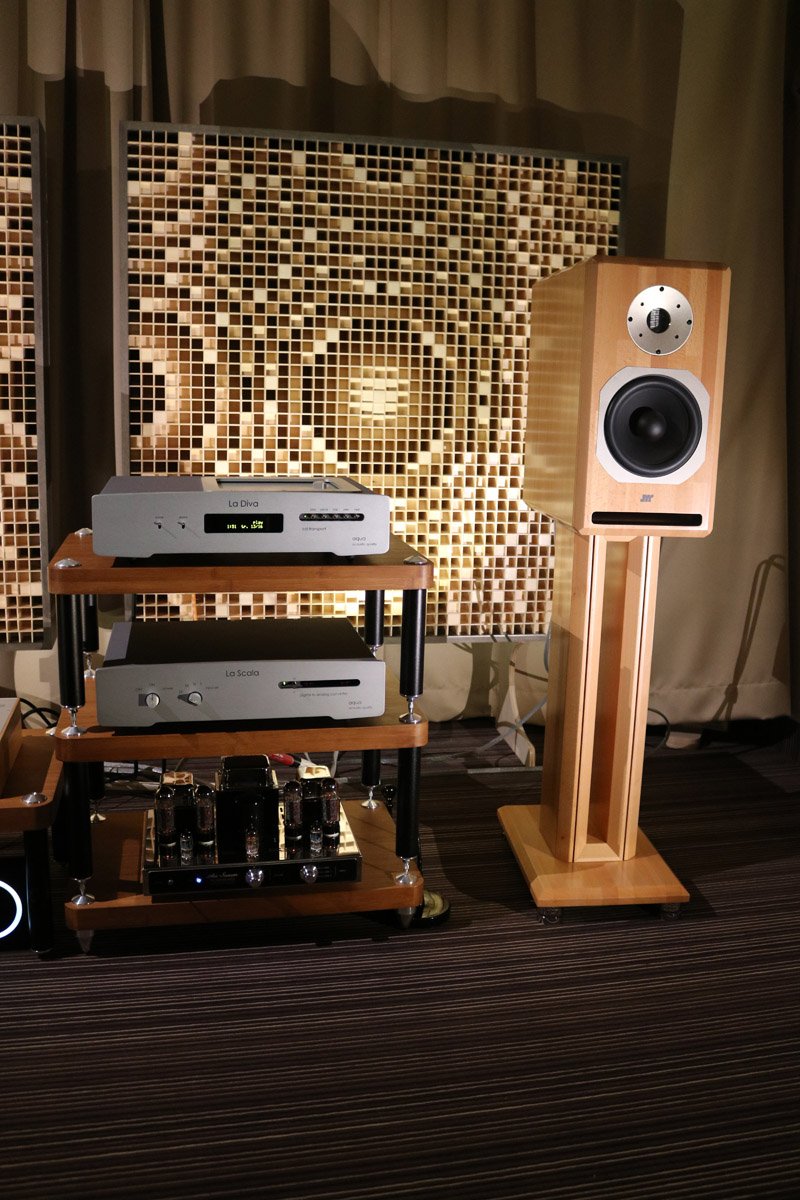 More Aqua Audio and Albedo but this time with Diapason speakers and a Wells Innamorata amplifier costing $7000 and hailing from California.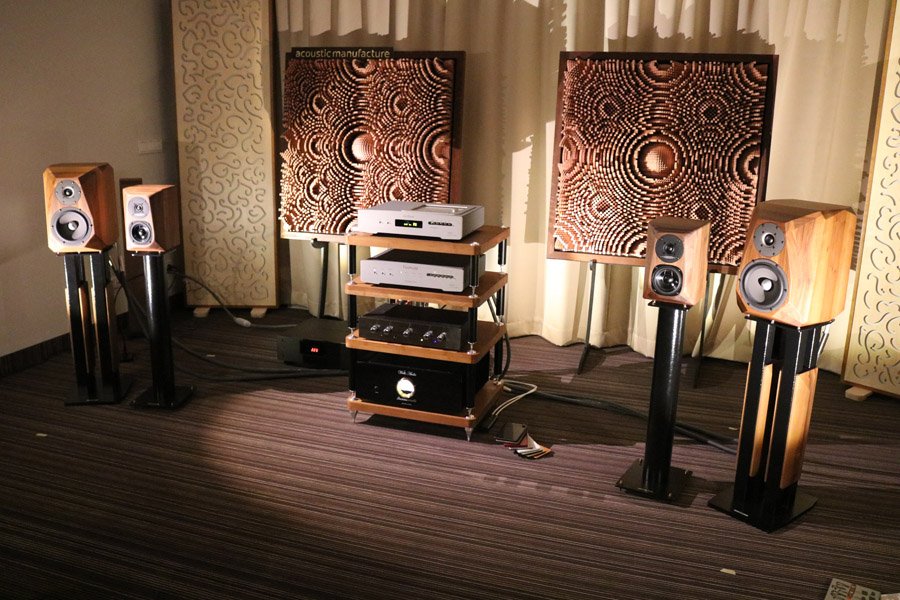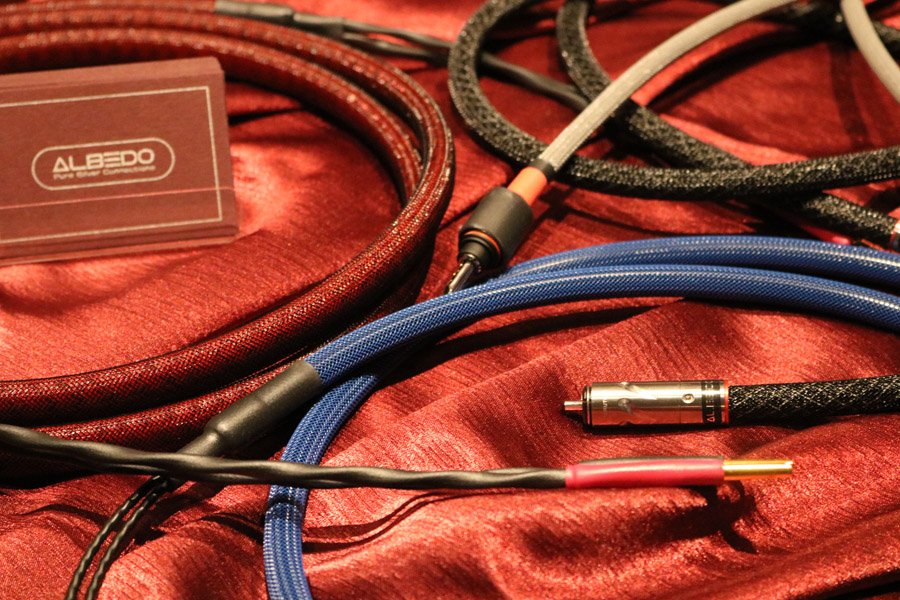 These were a nice sounding loudspeaker powered by Naim amplifier. The brand is Aurelia from Finland and the new model is the Suomi 100.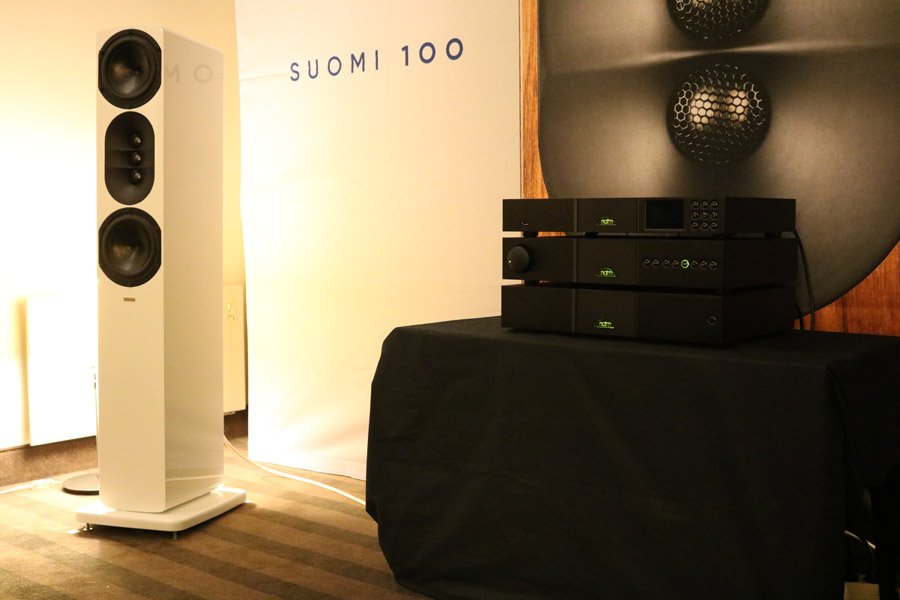 French stablemates Focal and Micromega. The amp is the Micromega One and it is very interesting. It features MARS room correction, has an on-board phonostage, on-board DAC and a whole host of digital inputs. Speakers are the relatively new Kanta.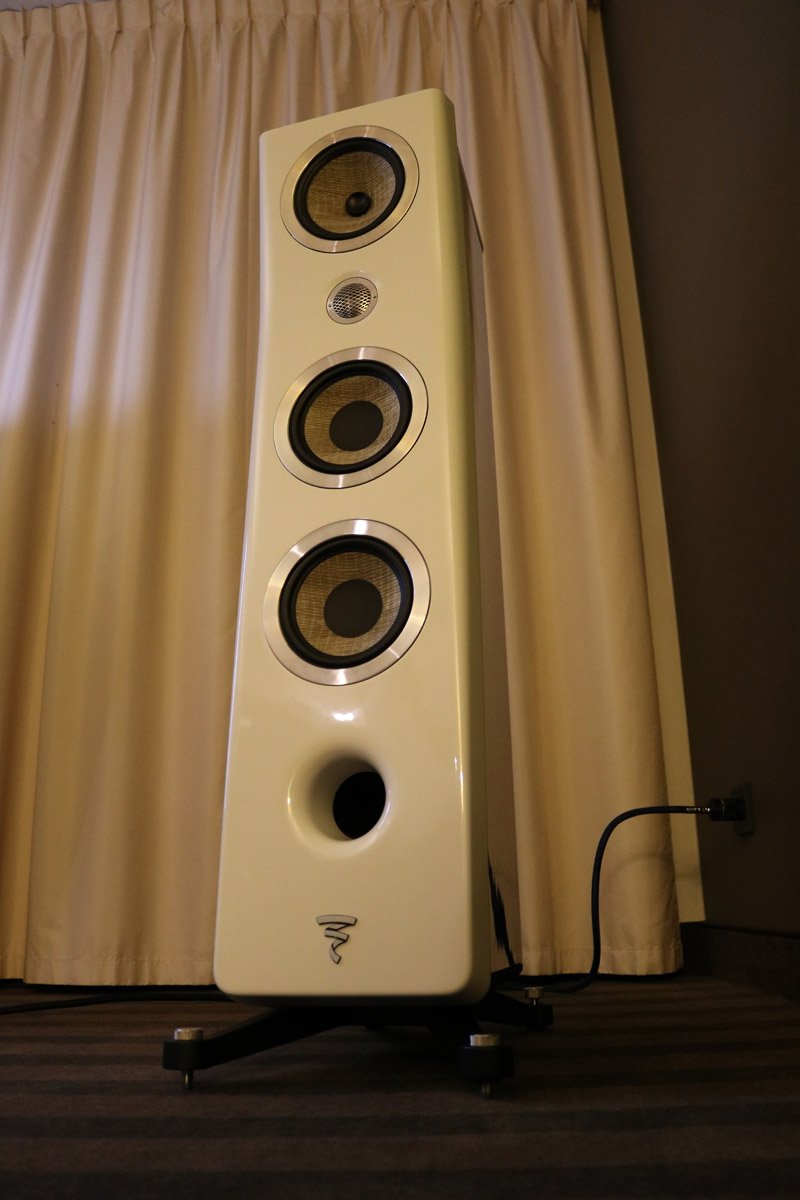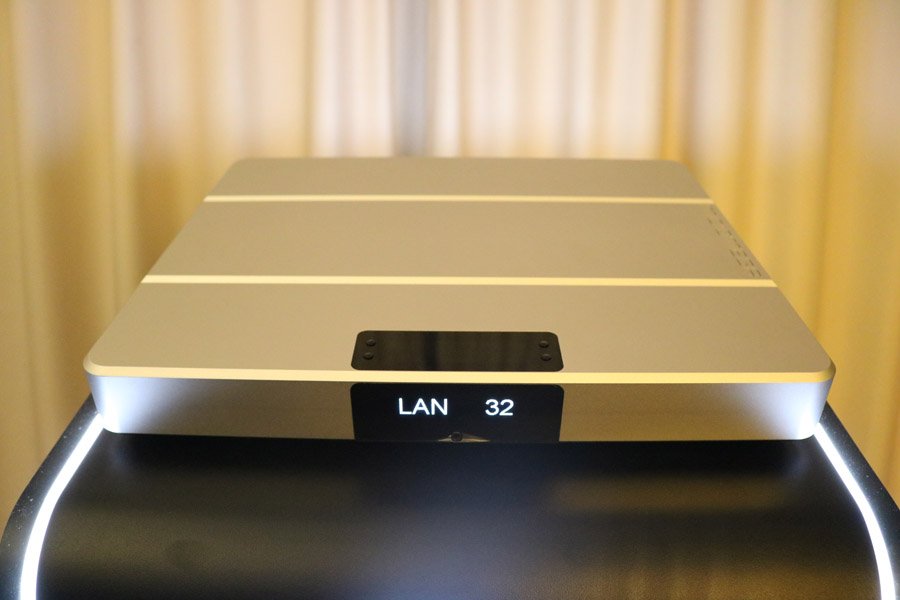 Amare Musica from Poland and their Diamond music server, Tube DAC DSD on the bottom shelf and Diamond amplifier.

The Super Sound Device from Poland.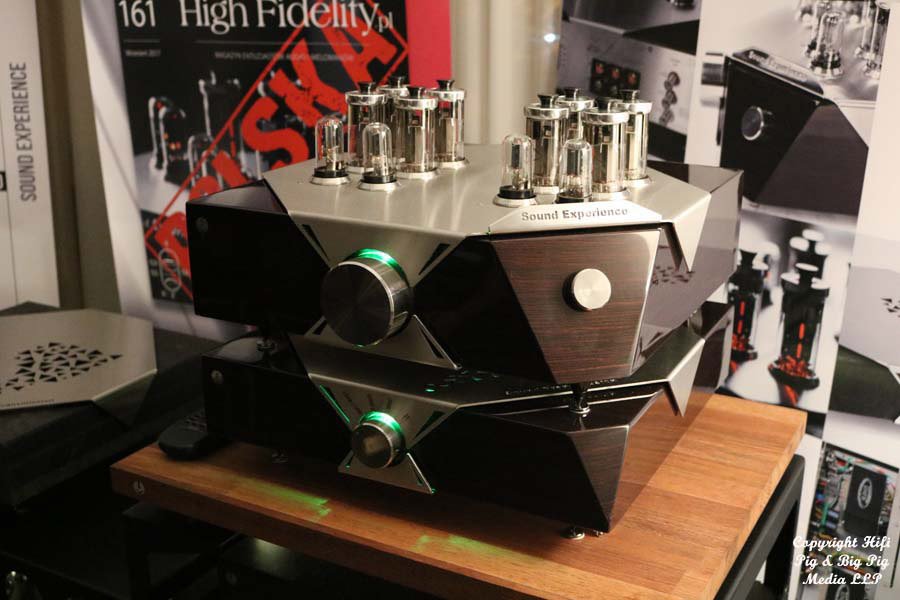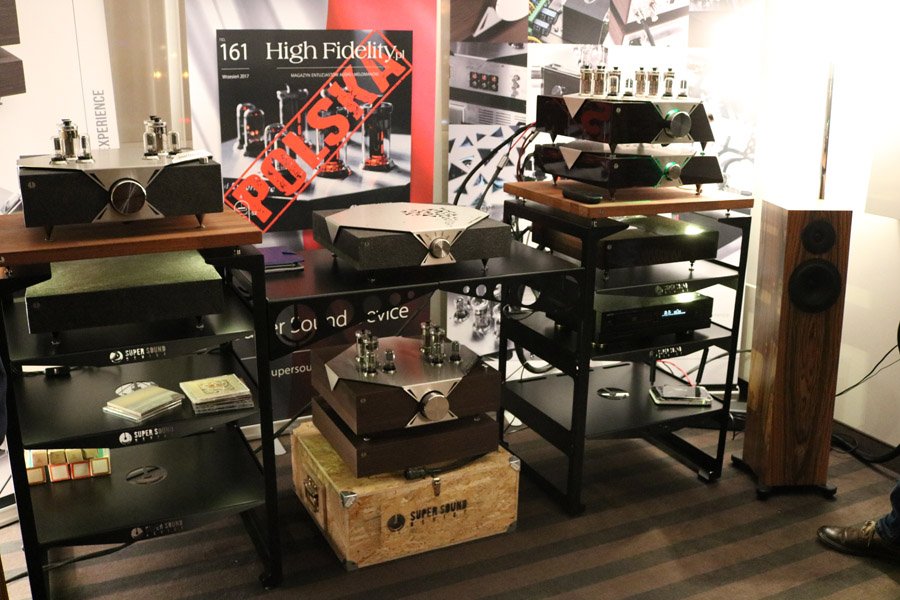 Nomos Audio Vintage.

Qualiton and Audio Hungary. Very nice valve amps these…we have one.  Speakers, if they need any introduction, are Kef Blades.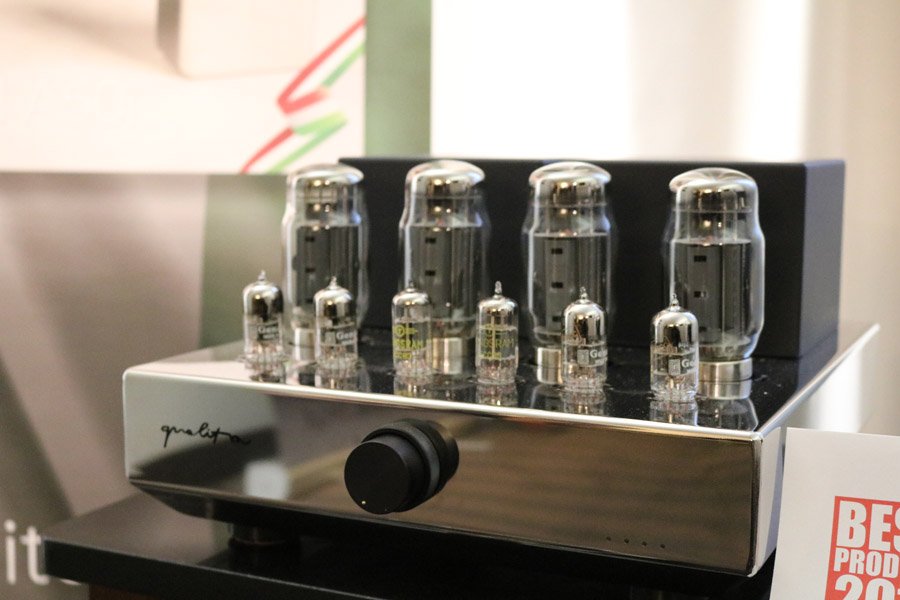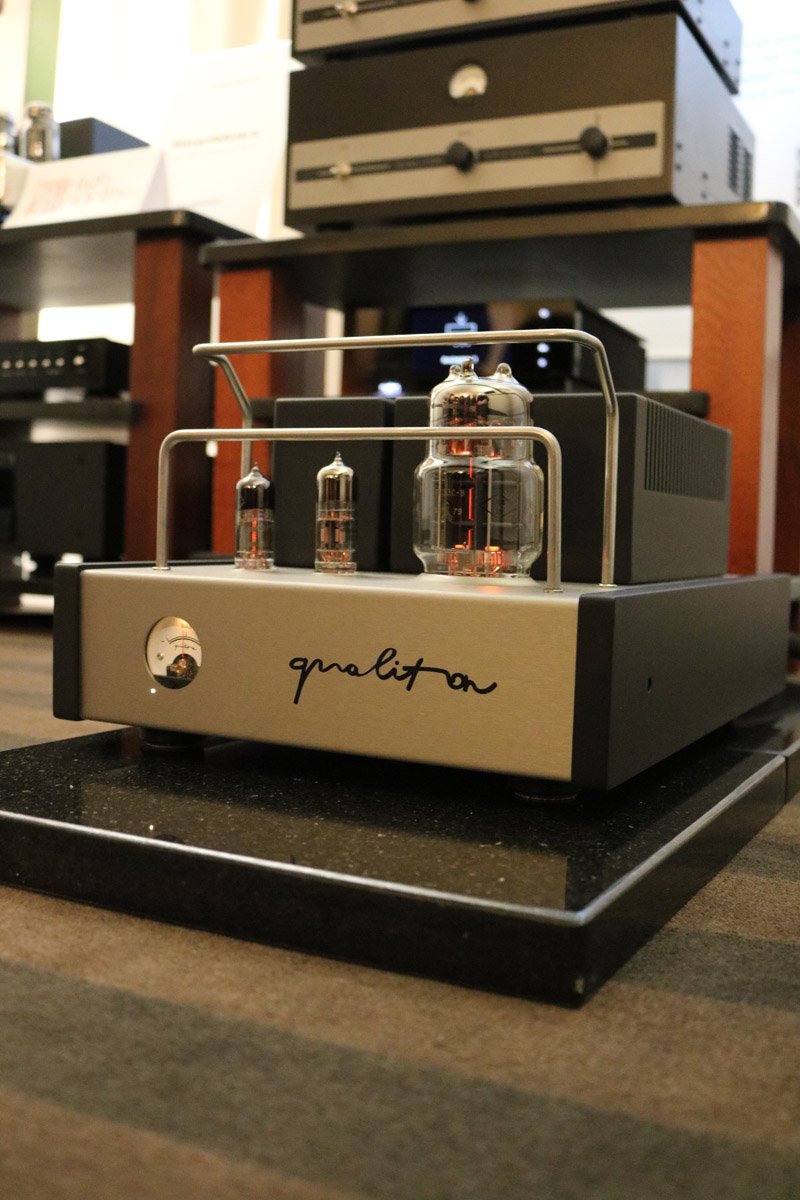 Audio Note UK.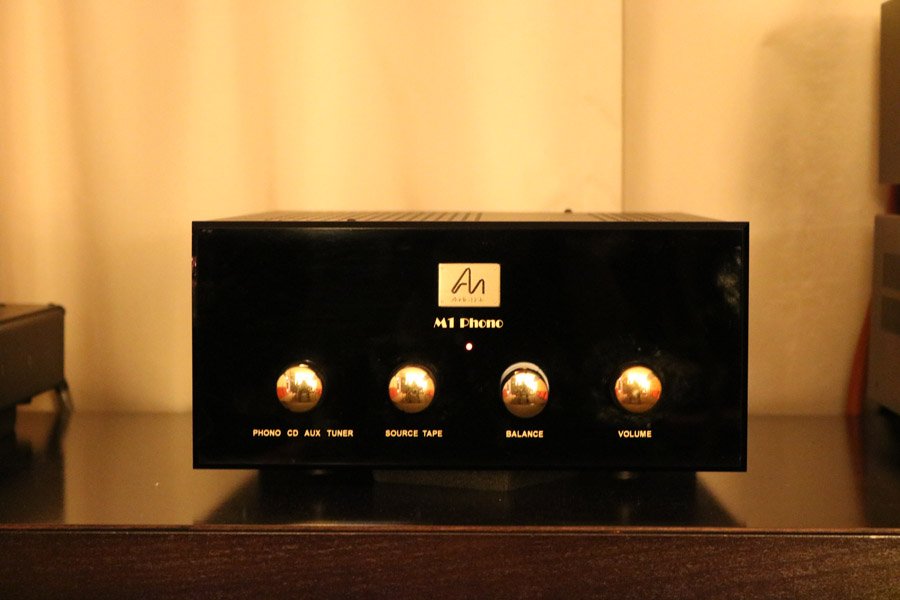 From Germany Genuin Audio are another new brand to me. Their Drive turntable using their own Point tonearm and Sting cartridge is an interesting design that uses their "Torsion Bar Concept". Speakers are their own Pulse and the server their Tars. Amplifer is their Nimbus and al cables are their own.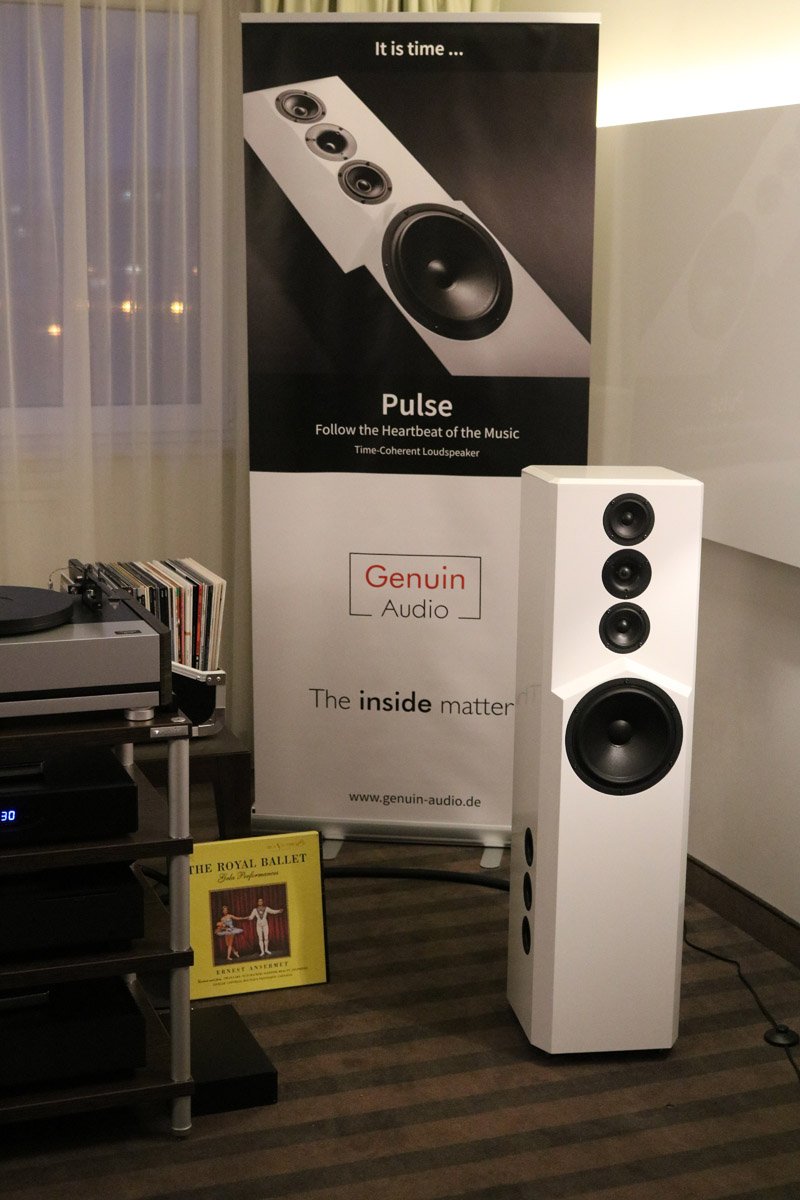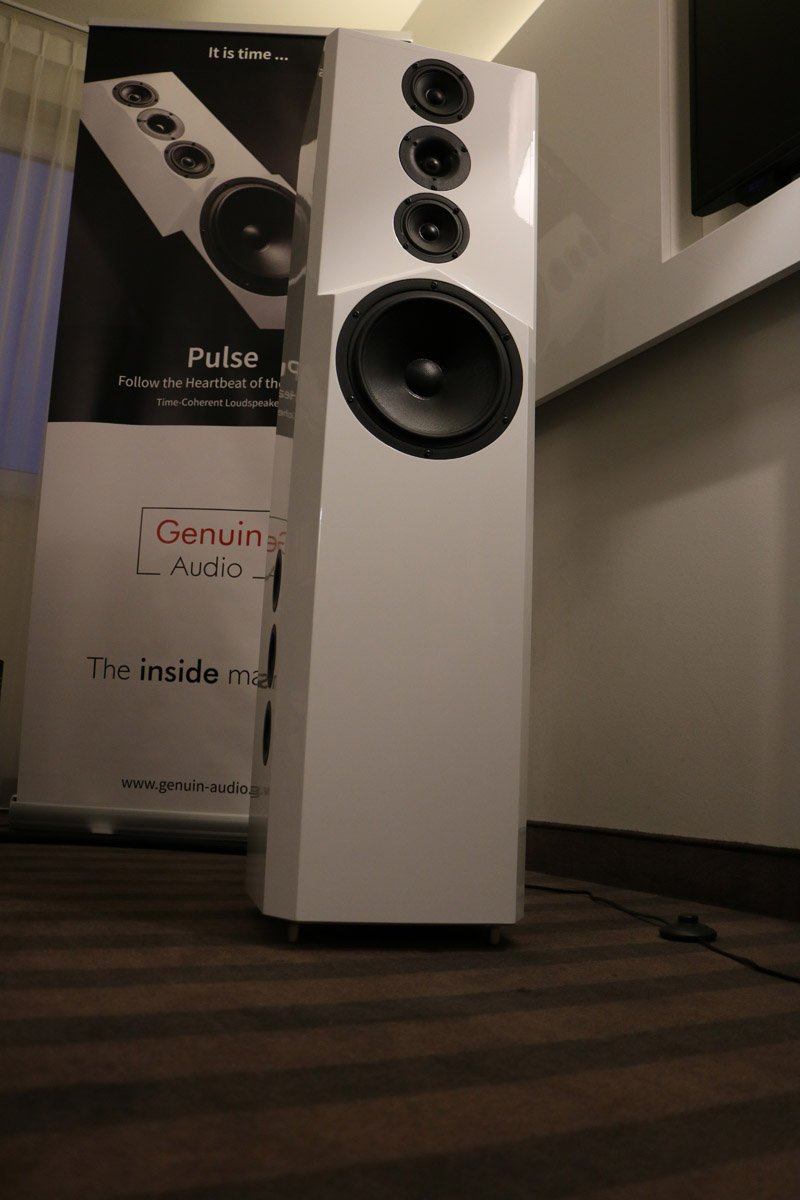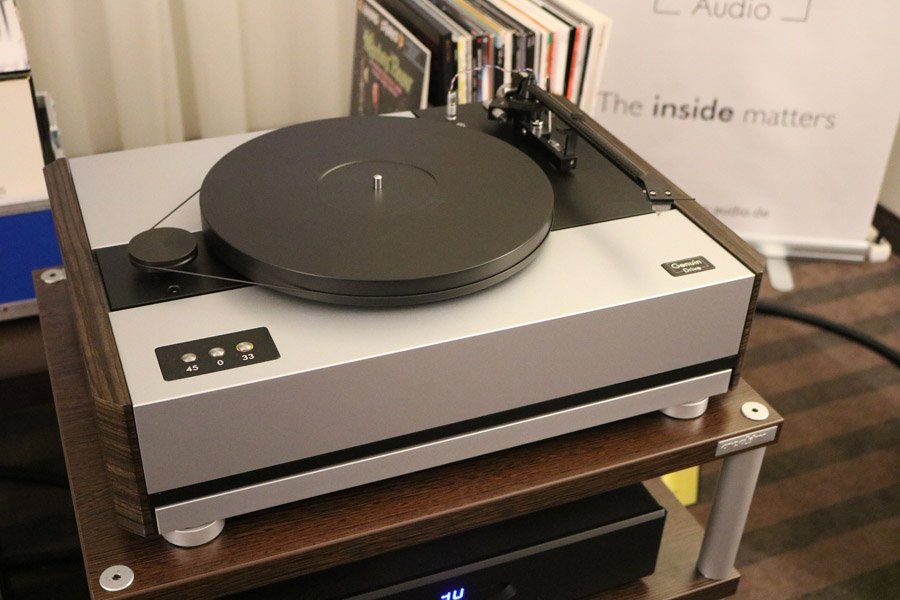 Luxman and TAD.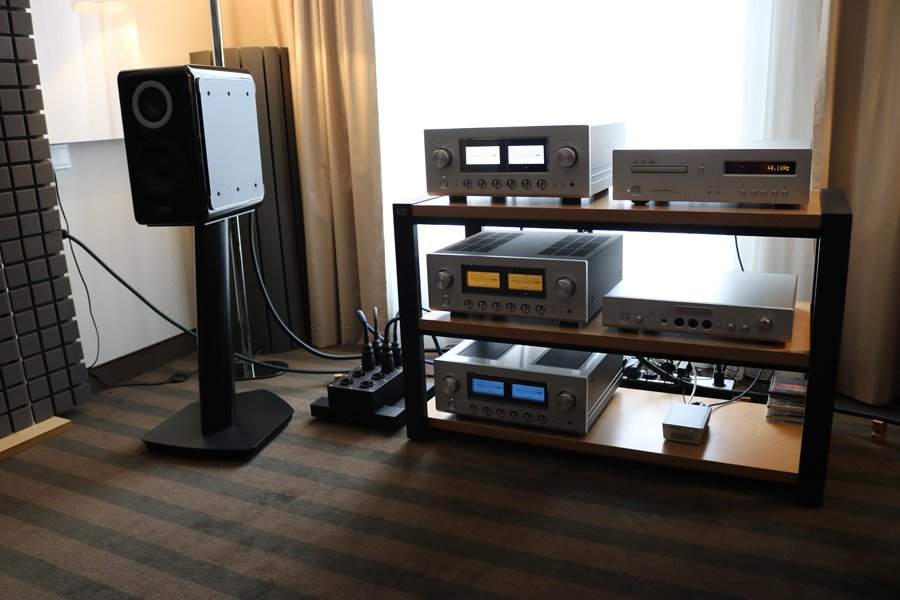 Resonus Systemy Audio, another Polish brand. Altum is their little amp and they also produce a converter called Dictum. The speakers are Studio model.

This was and interesting dem by Bjorn from Isotek and clear proof that having clean mains can make an astonishing difference to your system.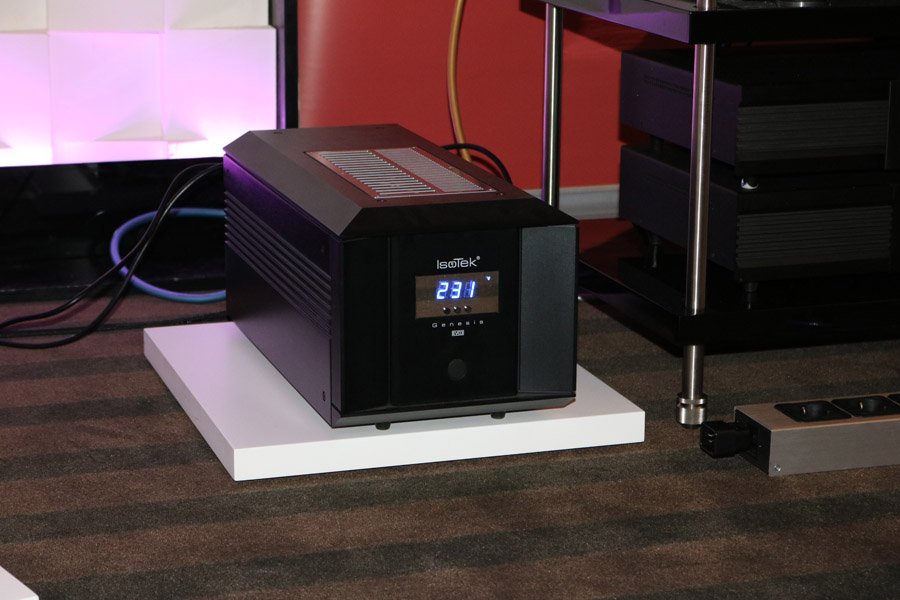 This was a great room and the Tentogra turntable is a stunning piece of work. Megalith Audio speakers and Wile electronics.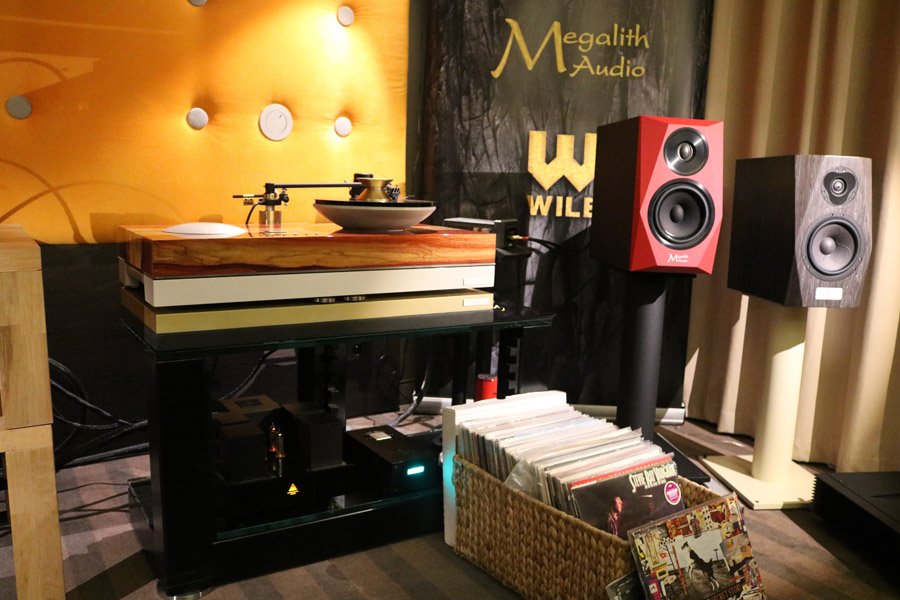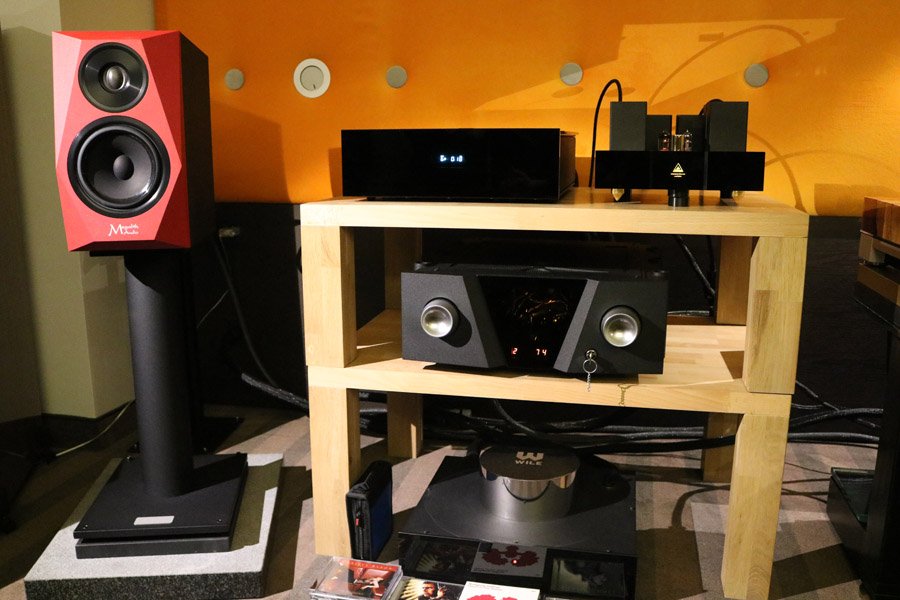 Paradigm from Canada was a very busy room.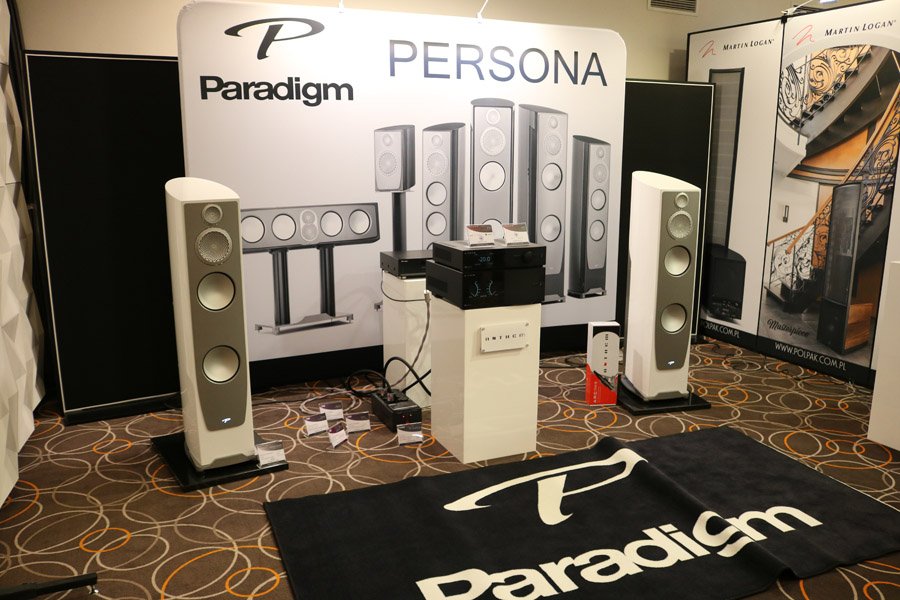 More Polish hifi this time from Avatar Audio. The big speakers are their Number 1 costing just over 15000 euros. They are also using their own streamer and cables.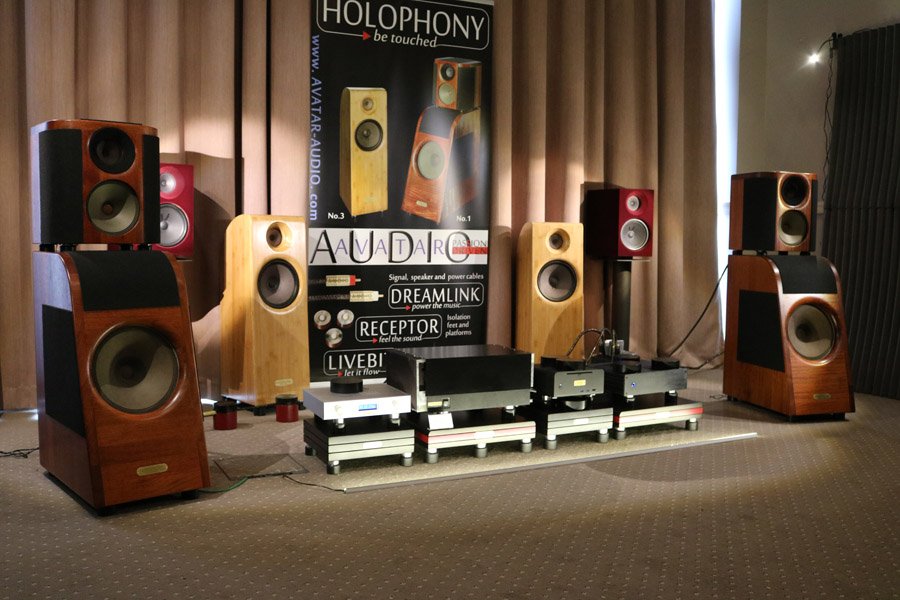 Advance are from France and have huge VU meters.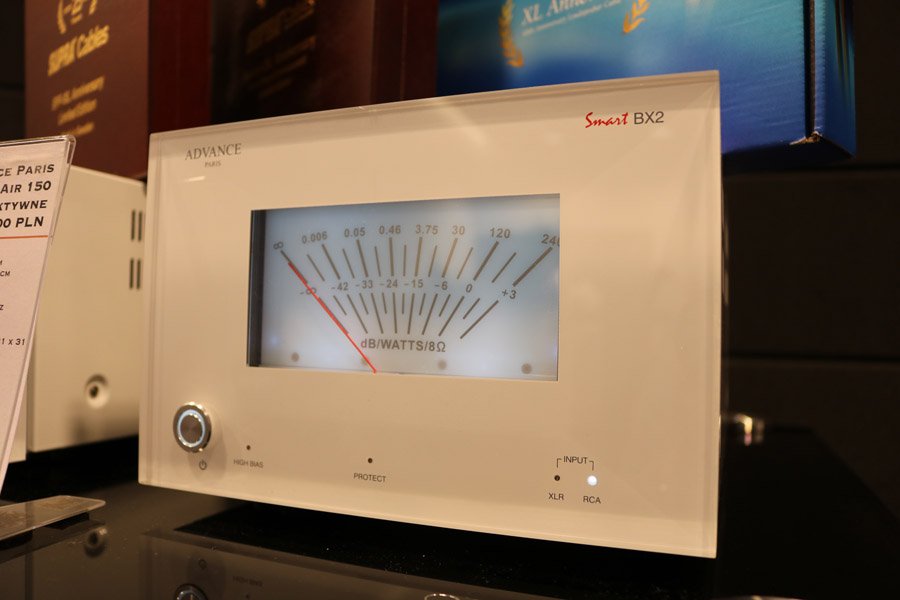 Loudspeaker manufacturer Neat from the UK.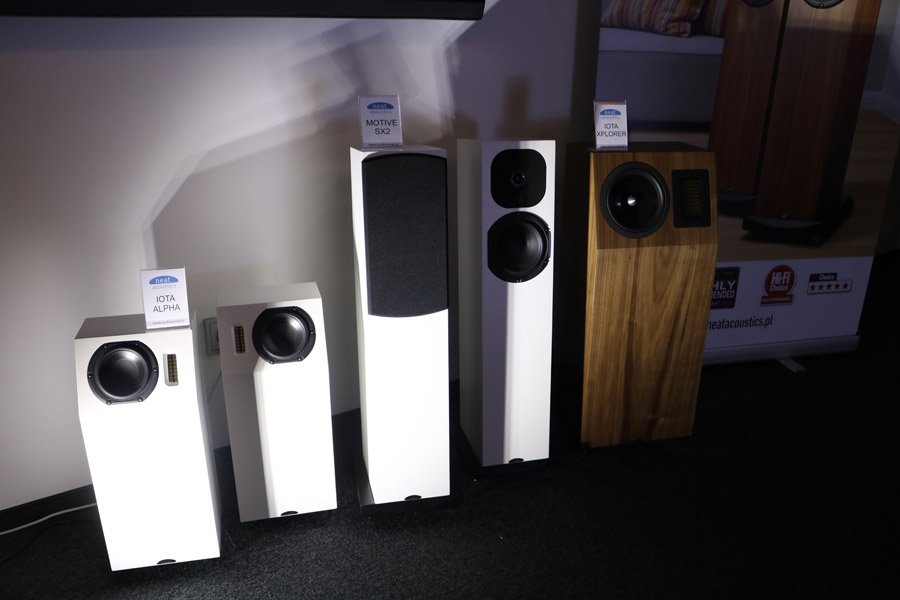 Arcam.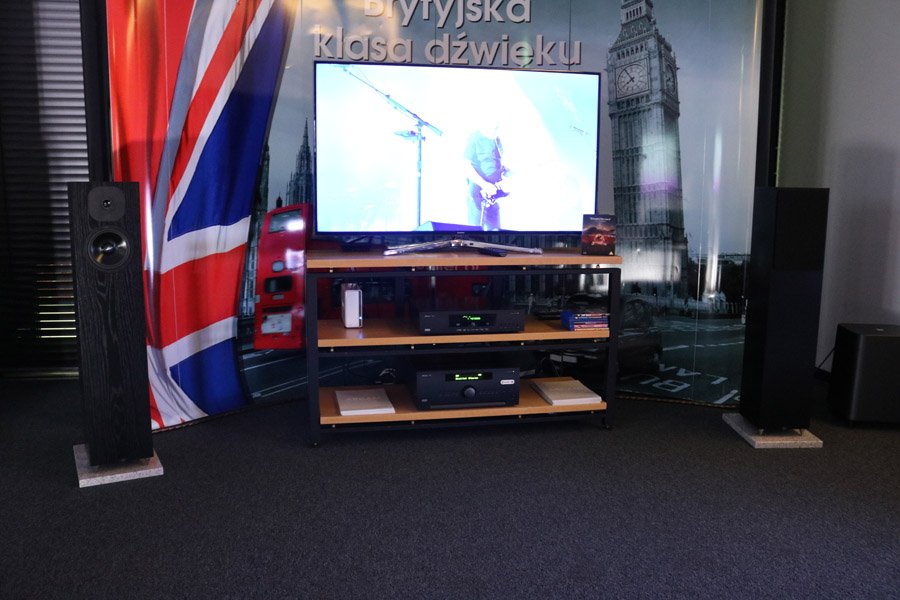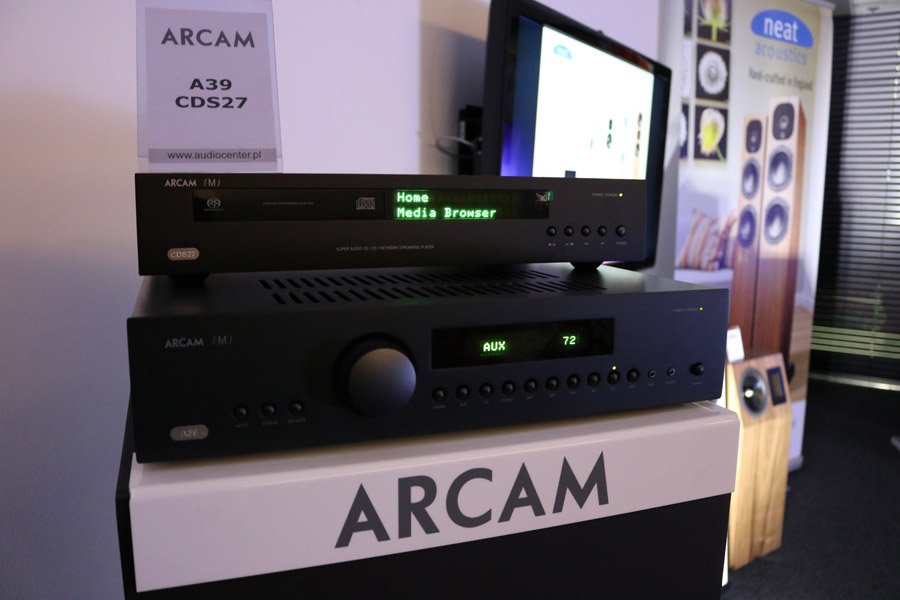 Cambridge Audio are still making very affordable hifi.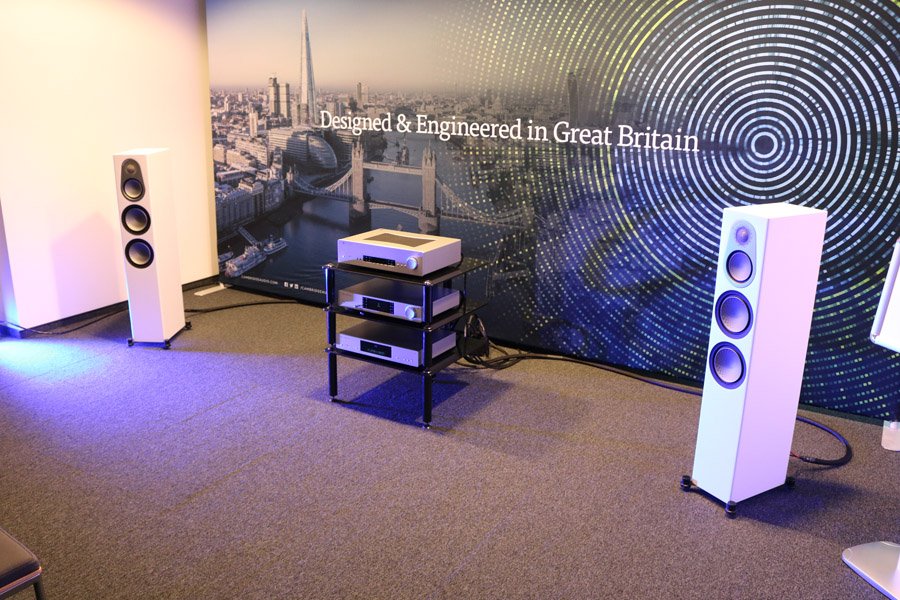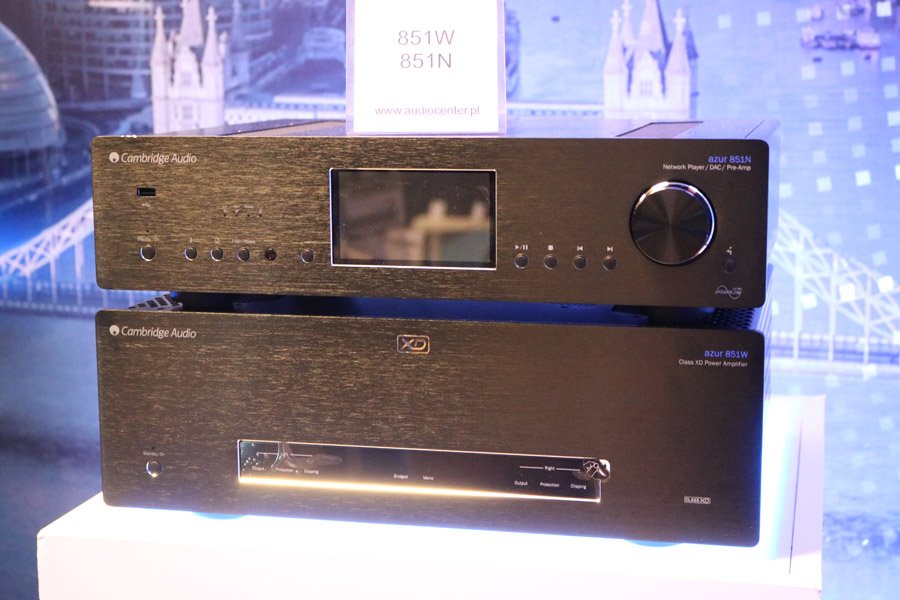 Musical Fidelity and Polk Audio speakers.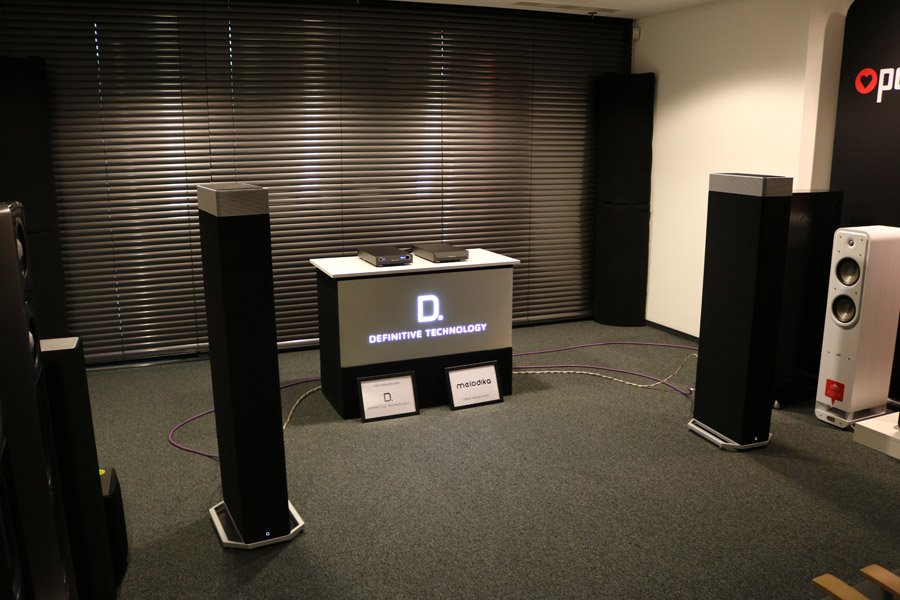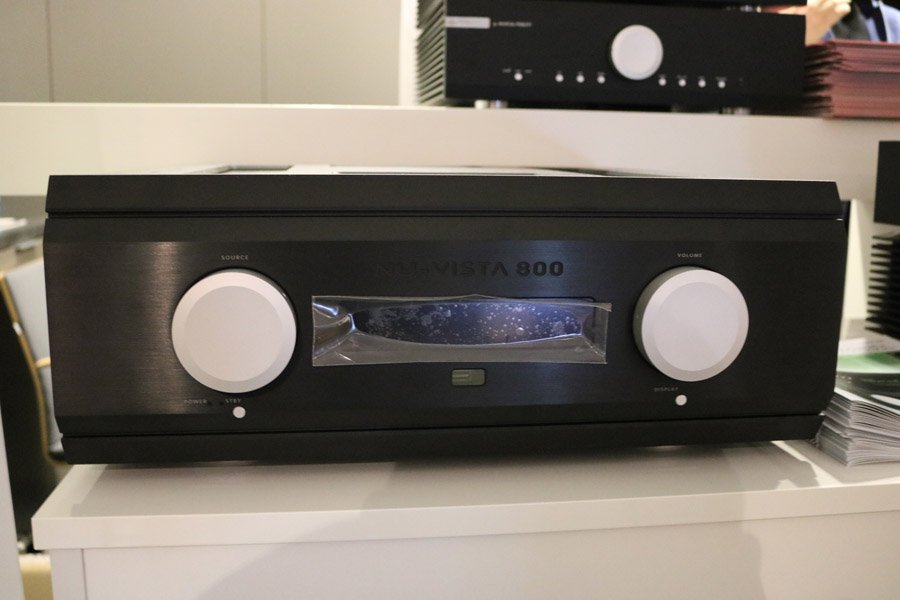 Emotiva is another brand making very affordable hifi equipment.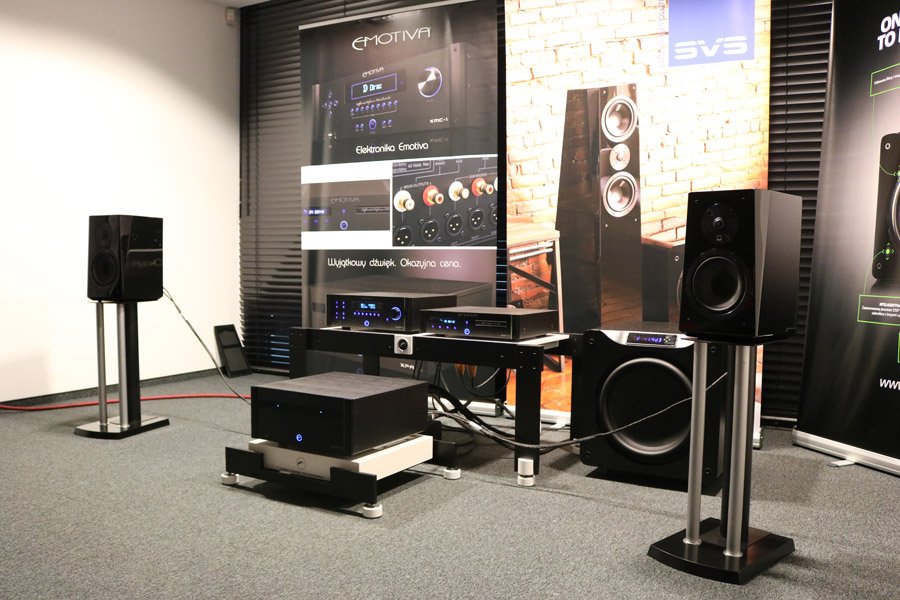 Dali.

Denon.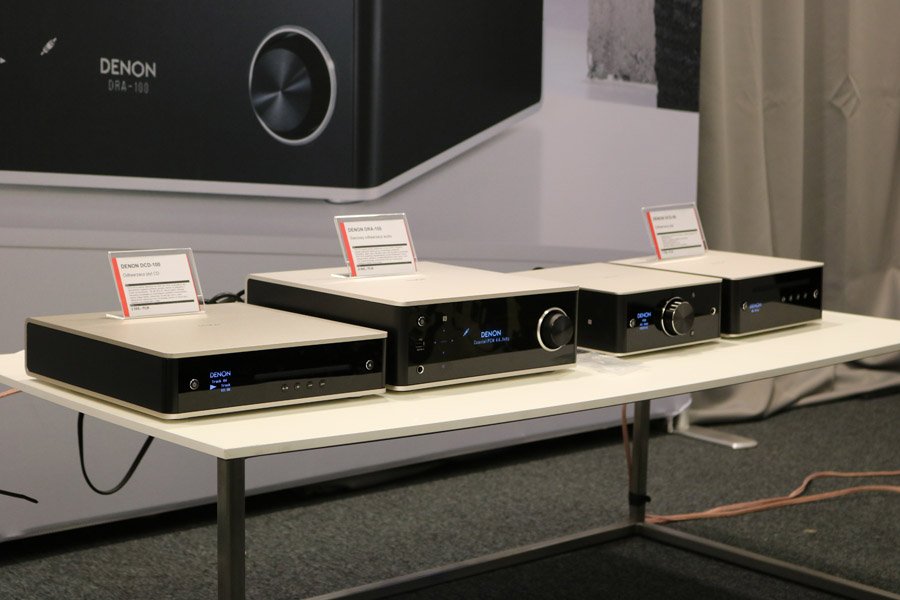 NAD, Yamaha, Indiana Line speakers and Elac

More Dali, this time the Callisto wireless speakers. Really interesting design with the speakers been fed their signal wirelessly from Dali's Sound Hub. This new for 2017 system really impressed and will be of interest to those wanting to keep hifi clutter to an absolute minimum.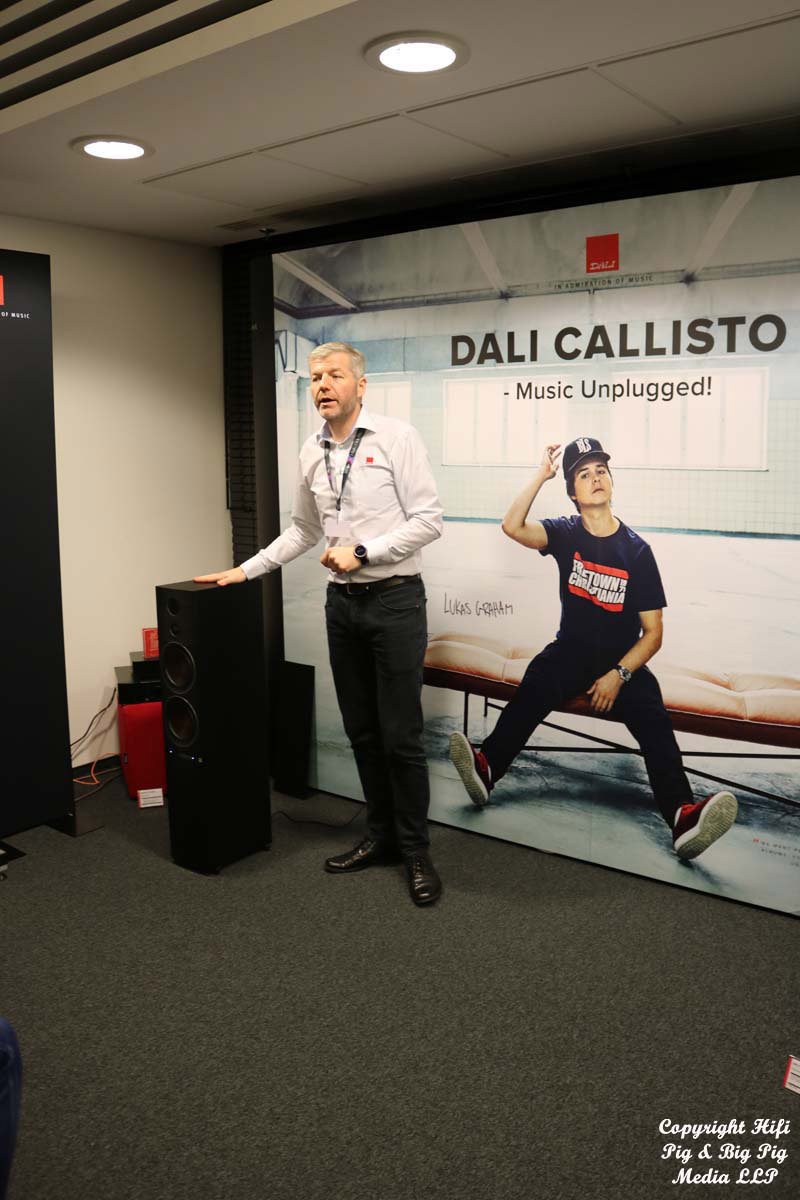 Audio Physics and Primare.

Klaster Audio. The amp at the bottom is by Encore Seven.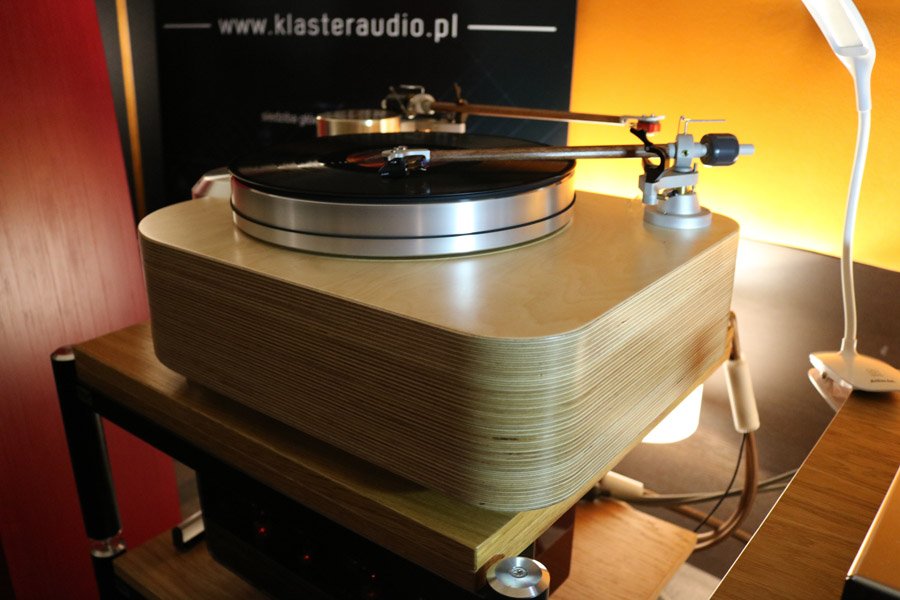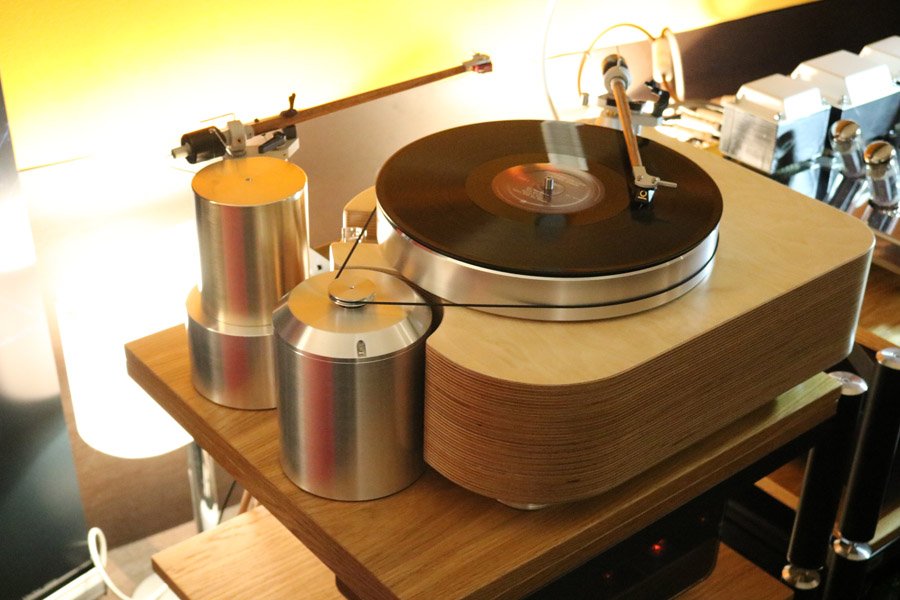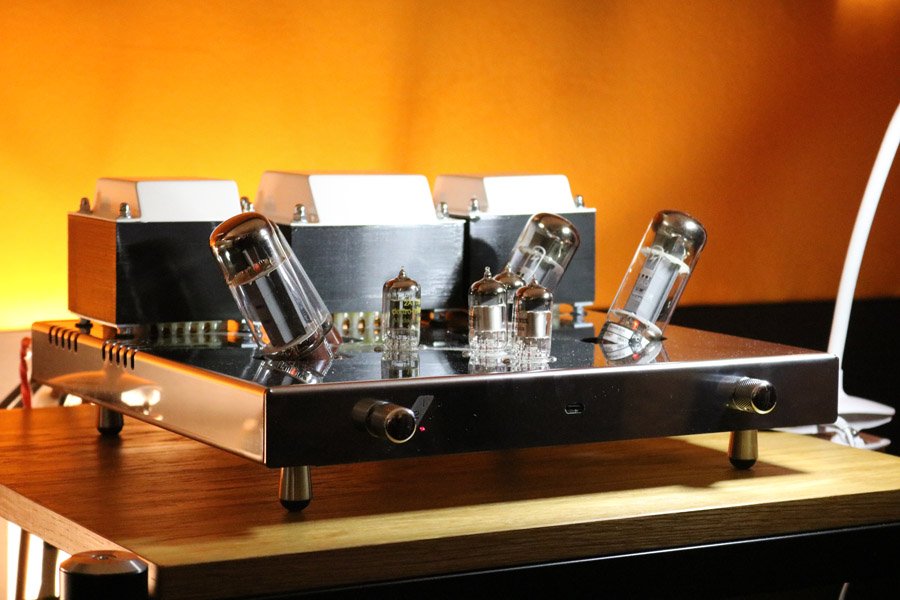 JAG Electronics with their Nirvana loudspeakers. The wideband driver used is from audio Nirvana. Very nice room this.

Reiymo amps from Japan and Encore loudspeakers.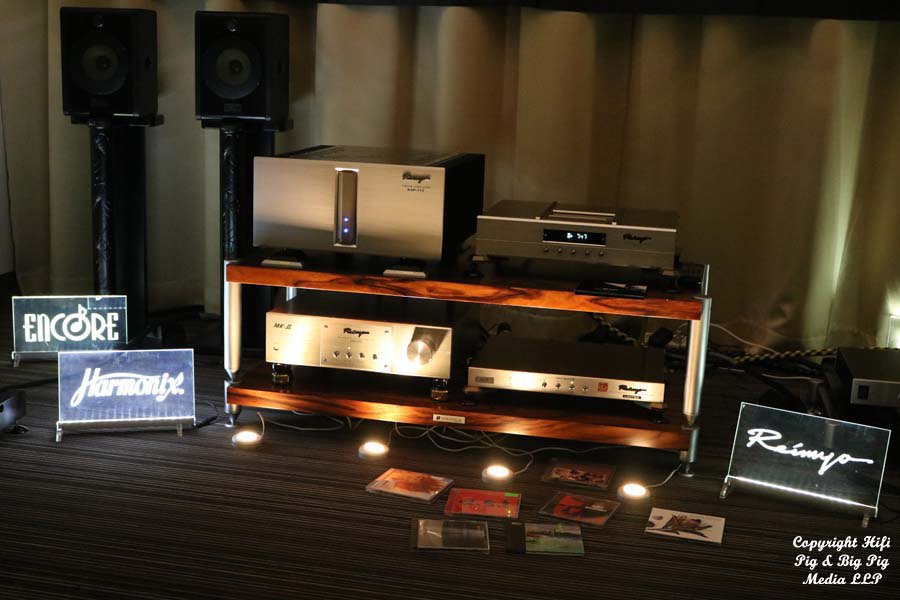 Audio Analogue from Italy partnered with PMS loudspeakers from the UK. Cabling by the sponsors of our coverage of the show, Tellurium Q.

Zeta Zero loudspeakers.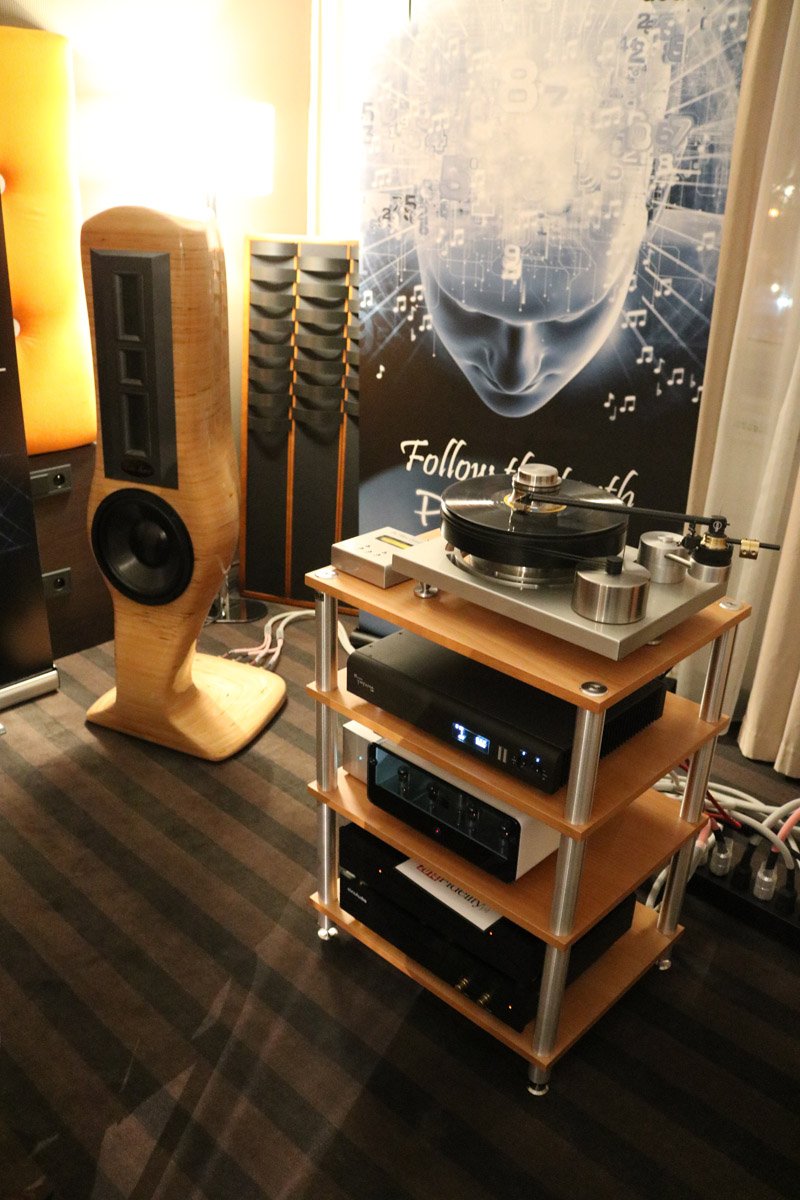 Acoustic Dream.

Soulution electronics and Merten Mingus Quaartet speakers.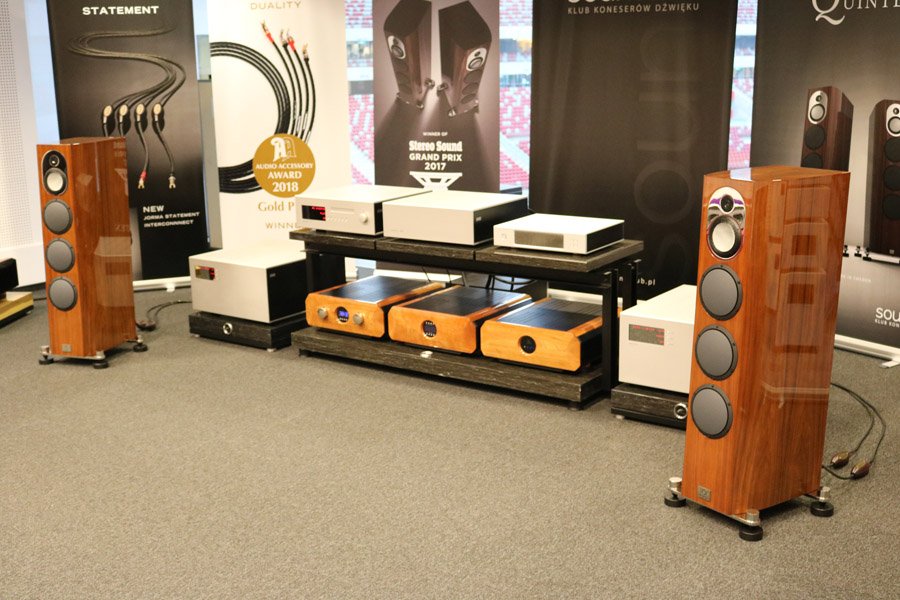 Sulek Audio from Poland showing off their cables and speakers.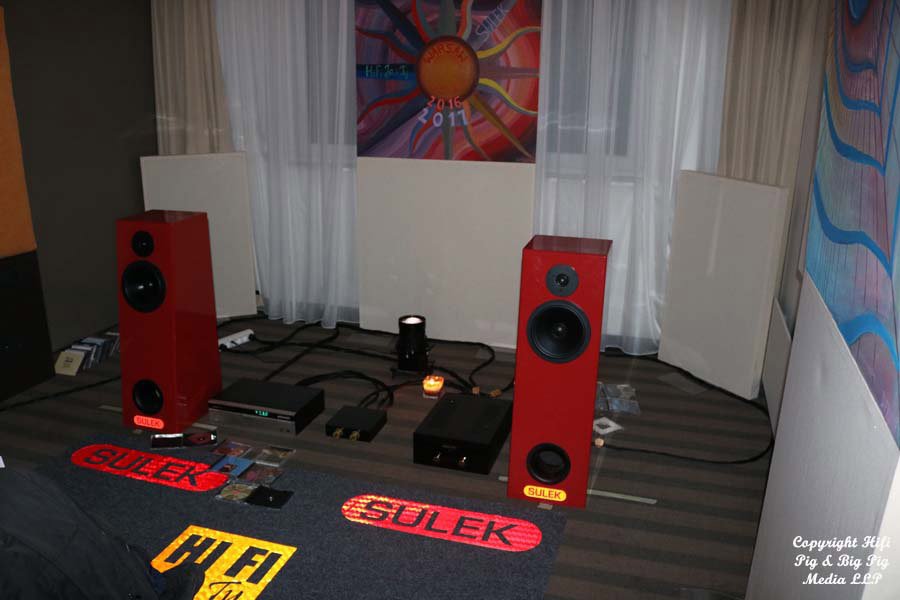 Until next year.