Audio4Soul, whose digital amplifier we reviewed some time ago, has announced global distribution of its new Reference 50 True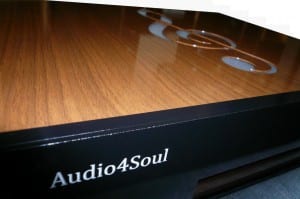 Digital Amplifier. The new amplifier is said to be "A new breed of Reference amplifiers that has been designed on the basis of ultimate performance".
They also have a new paying scheme called "Pay What You Need" so that end users can build the amplifier, without paying for features you will never use. You can now add or remove inputs or features (like the optional battery PSU) at will, keeping your amplifier up to date with the latest technology available!
The amplifier is available in many colors, allowing you to match its aesthetics to your personal décor.
The world debut of the Audio4Soul Reference 50 will be at T.A.V.E.S. held in Toronto, Canada, room no 363 and in HiFiExpo in Helsinki, Finland, room no 305, both held from Oct.31st -Nov.2.
Reference 50 Specifications:
Power: 125w@8 Ohm & 66w@4 Ohm.
S/N:>112dB
Distortion: <0,01%, 20hz-20Khz @ 90% of full power
Consumption: <380w at full power, both channels driven.
Shipping weight: 22kg (approx. 44lbs).