At £900 for the amplifier and £995 for the CD player these two units from Audiolab are relatively inexpensive but well specified. Ian Ringstead plumbs them into his system and rather likes what he hears. 
Those of you who are old enough to remember the original Audiolab 8000A and 8000CD player from the 1980's will have fond memories of what a highly regarded pairing this was. I sold many of them and remember excitedly awaiting delivery of the original 8000A amplifier when Philip Swift told us about it and brought a demo model to try out. The rest as they say is history. I even went on a factory tour in the eighties to see them being made in Huntingdonshire. 
TAG McLaren then came along in the nineties and decided to buy Audiolab out and develop the brand further. With mixed success TAG pulled out after a few years and so it was IAG who came along to rescue the brand name and resurrect a great product with a proud background. What I like about IAG is that they are a company who understand the hifi business very well and they were adamant that the Audiolab brand name would not be besmirched and the brand would be brought back to the fore.
The 8300A amp and 8300CD player/processor/pre amp are an evolution of the previous 8200 series that has proved popular over the last few years, but as Audiolab state in their promotional video they didn't want this series to be just a tweaked and cosmetic change. A lot of research and development has gone into this new series and Audiolab have listened to customer feedback to provide new useful facilities and improvements.
FIT AND FINISH
I received the review pairing in the very smart and clean looking silver option, but you can buy them in black  if you prefer. The units were very well packaged in good strong boxes and come with a good instruction manual, mains lead and a quality remote control each which will work with both the amp and CD as it is identical. The build quality as you would expect from a company like IAG is excellent and both the amp and CD are beautifully put together looking very clean and simple on the eye. The front panels are kept straightforward and although the back panels are busy they are clearly and logically laid out with excellent connections.
The 8300A amp only has three controls on the front for input selection, mode of operation and volume. To the right of these is a standby power switch. The centre of the front panel is dominated by a smart looking oval OLED display panel which tells the user what is selected and the various settings.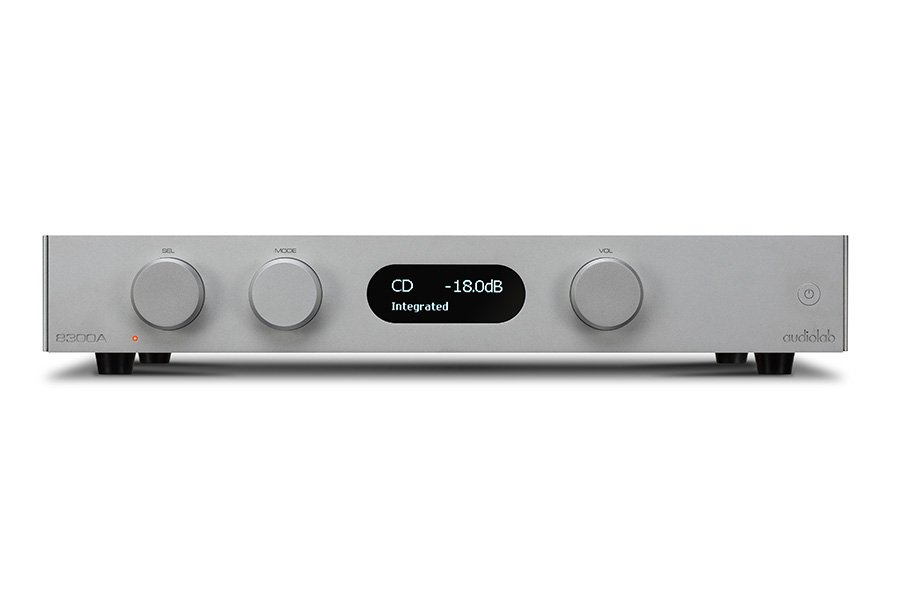 On the 8300A Engineers have developed a new phono stage catering for the resurgence in vinyl records with MM and MC configurations accessible via the front panel controls. This was very useful as I major on vinyl use and having facilities for MM and MC was great.
As well as standard RCA unbalanced connections the amp also has a set of balanced XLR's which I used with the 8300CD to great effect.
12V remote trigger loop feature on all units so as one device is switched on, paired units are switched into or out of standby mode – working as one system for quick operation.
The 8300CD is a deceptively complex unit under the clean and simple exterior with a new slot loading motorised disc mechanism as you used to get in car players. The new mechanism also reduces the occurrence of disc rejection and it was able to play CDs that other CD players may reject for being imperfect from dirt or damage. Its digital buffer circuit is a perfect mate to the asynchronous input of the DAC, improving even this area of performance. A final benefit is increased disc stability and reduced susceptibility to resonance, which additionally contributes to the overall improved sound quality. 
Connectivity options have been further expanded on the 8300CD with the addition of an AES/EBU digital input and XLR digital output. These join a full complement of inputs/outputs retained from the 8200CD: 2x coaxial digital inputs; 2x optical digital inputs; 1x asynchronous USB input; 1x coaxial digital output; 1x optical digital output; single-ended RCA and balanced XLR analogue outputs.
The 32-bit ESS Sabre DAC used inside the 8300CD continues to have a reputation as the best-sounding DAC chip available, and most CD players that use it are much more costly designs. In terms of the way it measures, its distortion figures are extraordinarily low. Around the DAC there are extensive measures to reduce jitter to very low levels. The new 8300CD can accept and process data up to 32-bit/384kHz; this is a far higher specification than that required even by current hi-res music formats, ensuring the 8300CD is fully equipped for future advances in ultra-high-definition digital sound.
The USB input now also accepts DSD data, as well as PCM.
The uprated digital processing associated with the increased resolution at the USB input delivers additional sonic benefits, for both CD replay and other connected digital sources, whatever the resolution of the file. As digital audio reproduction technology has progressed, the importance of the characteristics of reconstruction digital filters has become more appreciated. The Audiolab 8300CD features user-selectable digital filters for optimal listening. These filter settings allow the user to tune the 8300CD's performance to suit their preference, depending on system configuration and musical taste. These filters are available for CD and PCM audio via digital inputs.
• Optimal Spectrum
• Optimal Transient
• Optimal Transient XD
• Optimal Transient DD
• Sharp Roll Off
• Slow Roll Off
• Minimum Phase
The 8300CD also adds four DSD filters that progressively attenuate the out of audio bandwidth noise floor.
As you can see an awful lot of design and technology has gone into these two products, but that would all be wasted and irrelevant if the results weren't good.
SOUND 
Fortunately, the sonic outcome is excellent.
I used the amp and CD as a pair for my review purposes as I felt the synergy between the two was spot on. The designers would have spent many hours honing their skills to perfect this pairing and although you can of course use them separately, my instincts tell me they are a marriage that works best as a couple. I have read elsewhere criticism of this pairing with complaints that the previous models, the 8200 series, had more magic about their sound. I am in no position to be able to compare with the older series, but what I heard over the couple of months I had this pairing impressed me mightily. Let's be honest, all opinions are subjective and I as a reviewer make my views on personal experience. Having spent the last 40 years in the business as a retailer, and now as a reviewer, I respect the hard work and passion that is put in by companies and designers to create a product they are proud of. Audiolab is no exception and have done a fine job here.
The 8300A is certainly muscular in its sound portrayal and although its rating is only 75 watts per channel it easily exceeds that on peaks. I tried the amp with several pairs of loudspeakers I had for review at the time ranging from £400 a pair right up to £4000, and it worked very well with all of them. I know many listeners and dealers find certain combinations of electronics and speakers can either work brilliantly or be a disaster as a pairing, and I for one agree with them. As it was with the 8300A when it had run in over a few weeks and I had got my thoughts settled on its performance, I was happy with its overall sound. 
As always I used a wide variety of musical genres to test the amp and was particularly keen to try the phono stage with my resident Project Extension 9 and Ortofon Quintet Black cartridge. I'm pleased to say it worked very well with no gain issues and low hum, giving a good solid sound with plenty of depth and detail over the entire frequency range. This was the case with all three speaker pairings I tried and the detailed layering in recordings was very well portrayed. Now the Project and Quintet Black are rather good in my humble opinion, but they still require a good phono stage and amp to show what they are capable of. A case in point was a Joe Sample MFSL record "Rainbow Seeker" which I have owned and cherished for over thirty years. This type of contemporary jazz (later known as smooth jazz) is a favourite of mine and I know this record inside out, but whenever I try it out on a new component it intrigues me when I hear something new or had missed on a previous listening session. The detailing was all there and the brush strokes on the cymbals and nuances of Stix Hooper's sublime drumming were easy to pick out and a joy to experience. Although purists may well prefer a separate phono stage, the built in one does a great job for the money.
The same was true when I tried the 8300CD which I chose to run via the balanced XLR inputs as my preferred option. The single ended inputs are fine and what you would find on most amps, but I liked the solid sound that the balanced input gave. The 8300CD has the option as mentioned already of being used either as a plain CD player or a sophisticated DAC with several input options and finally as a pre amp where you can use it directly with a power amp. I ran the CD player as an integrated unit with the 8300A and the combination performed really well. Again I tried all types of music and they all sounded clear, detailed and the soundfield had a good depth to it. As mentioned earlier, the 8300CD has several filter options which I scrolled through on the menu via the handy remote, but like my resident Sony CD player that has switchable filters this all comes down to taste, musical type and one's mood, so I stuck to the optimal spectrum rather than constantly experimenting as I was happy with the presentation.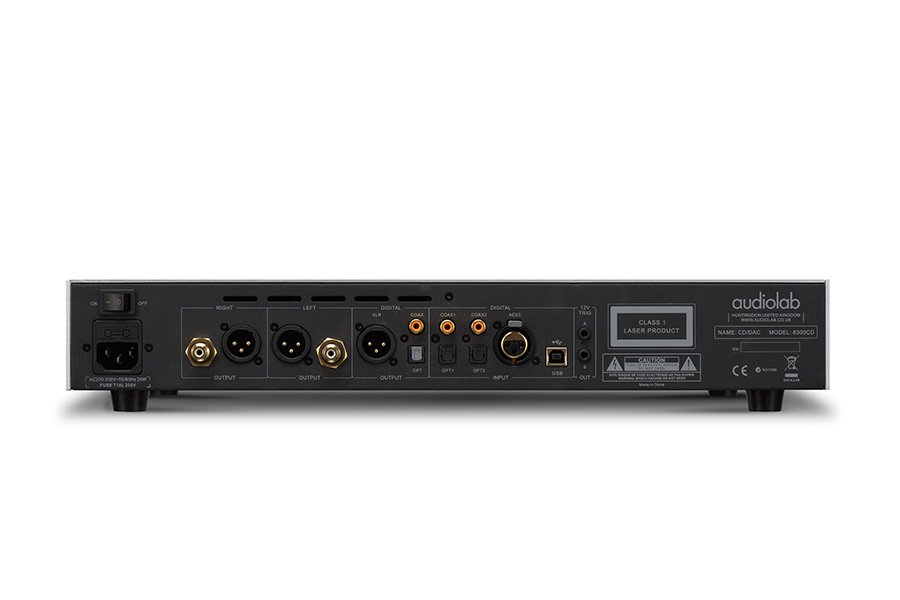 The CD mechanism worked flawlessly with all my discs and I must admit I liked it as most drawer trays can be flimsy unless expensively engineered (I owned a Yamaha CD-S1000 some years ago whose drawer and mechanism were sublime in build and operation, but that was an expensive machine). I confess I didn't experiment with the DAC inputs due to lack of digital files and sources as I major on CD and still think there is life in the old dog yet. I wasn't disappointed as the CD player was excellent with the 8300A and over the time I used the combination felt no need to change it. Yes, a more expensive machine may well outperform the 8300CD but at what cost?
As you will have gathered I rather liked this combination and for the asking price they are great value.
AT A GLANCE
8300A          

Build Quality:  Excellent for the money.
Sound Quality:  Detailed, muscular sound.
Value for Money:  With a price of £900 this is excellent value.
Pros:
Great musicality and detail
Minimalist good looks and ease of use
Good built in phono stage with mm/mc options
Remote works well and easy to use
Cons:
No headphone output, but with so many good external units on the market I don't see this being a problem.

Price: £900
8300CD   

Build Quality:  Excellent for the money
Sound Quality:  Detailed, musical sound
Value for Money:  With a price of £995 this is great value
Pros:
Musicality and detail
Minimalist good looks and ease of use even though it is a sophisticated unit under the hood
XLR output as well as RCA
Nice slot loading mechanism
Pre out option to drive an external power amp directly
DSD and most of the latest digital formats covered to a good level
Remote works well and easy to use
Cons:
CD maybe less popular as a format now and nearly a grand isn't cheap, but there is a lot on offer here and the build is excellent
Price: £995
SPECIFICATIONS
8300A Amplifier
Design philosophy and core technology: Dual Mono Power Amp Design
Display: OLED 128×64 pixels 2.7″
Controls: Logarithmic Ladder Volume Design
Finish: Fine Textured Aluminium (Black / Silver)
Standby Features: Yes
12V Trigger: Yes
Phono: MM/MC
Balanced XLR Input: Yes
Pre-amplifier Section 
Inputs : CD, Video, Tuner, Aux 1, Aux 2, XLR (Balanced) & Phono
Outputs: 2 x RCA
Input sensitivity (Phono RIAA): 50K // 100pF
Input impedance (line inputs): 50K // 100pF
Input impedance (phono inputs): 47K // 100pF (MM), 100R // 1.5nF (MC)
Output voltage: 2.3V max. (< 0.02% THD)
Output impedance: 120 ohm
Frequency response (Line): +/- 0.1dB (10Hz – 20kHz)
+/- 3.0dB (1Hz – 100kHz)
Frequency response (Phono RIAA): +/- 1.0dB (20Hz – 20kHz)
Channel Imbalance : < 0.2dB (10Hz – 20kHz)
Total harmonic distortion (THD) Line: <0.001%
Total harmonic distortion (THD) Phono: <0.002%Signal-to-noise ratio (Line)      dB
>109dB(A-weighted)
Signal-to-noise ratio Phono (MM): > 73dB
> 78dB(A-weighted)
Signal-to-noise ratio Phono (MC): > 68dB
> 73dB(A-weighted)
Crosstalk: < 80dB (L-> R & R->L @10KHz)
Power amplifier Section
Gain: 29dB (20Hz-20KHz)
Input Sensitivity: 840mV (Power Out = 70W into 8ohm)
Input impedance: 15K // 100pF
Rated max power output THD:  < 1%   2 x 75W RMS (8 ohm) , 2 x 115W (4 ohm)
(Vmains = 230V , THD < 1%)
Peak output current: +/- 15A
Frequency response: +/- 0.1dB (10Hz – 20KHz)
+/- 3.0dB (1Hz – 100KHz)
Channel Imbalance:  < 0.2dB (10Hz – 20kHz)
Total harmonic distortion (THD): <0.002% (Power Out= 50W @ 1KHz, BW = 20Hz – 20kHz)
Signal-to-noise ratio: > 107dB (BW = 20 – 20KHz )
>109dB(A-weighted BW = 20 – 20KHz)
Damping factor: >100 (8ohm Load @ 1kHz)
Inputs: 1 x RCA
Outputs: Speaker Binding Post Terminals
Dimensions 80 x 444 x 330.3mm
8300CD Player
General Description: CD Player, Digital-to-Analogue Converter
Finish: Fine Textured Aluminium (Black / Silver)
Display: POLED 128×64 pixels 2.7″
Standby Feature: Yes
12V Trigger: Yes
CD Mechanism: Slot-Loading
DSD Compatible: Yes (DSD64 / DSD128 / DSD256)
Disc Compatibility: CD/CDR
DAC: ESS Sabre32 9018 chip
Resolution: 32 bits
Sampling Frequency: Optical,Coaxial, AES: 32kHz – 192kHz
USB:32kHz – 384kHz(PCM) / DSD64, DSD128, DSD256
Maximum Sampling Frequency: Optical,Coaxial, AES: 192kHz
USB: 384kHz (PCM) / 11.2M (DSD256)
Digital Input: 2 x Coaxial, 2 x Toslink Optical, 1xAES/EBU, 1 x USB for PC USB,
Digital Output: 1 x Coaxial, 1 x Toslink Optical,1 x AES
Output Voltage: 4.2Vrms ±0.1 (Balanced)
2.1Vrms ±0.1 (Unbalanced)
Output Impedance: 10Ω
THD (1kHz 0dB 20Hz – 20kHz A wtd): <0.002%
Frequency Response: +/-0.2dB        20Hz – 20KHz (± 0.2dB)
Signal-to-Noise Ratio (S/N) A wtd: RCA:<-98dB ,XLR<-100dB
Dynamic Range (A wtd.): RCA:>98dB ,XLR>100dB
Crosstalk @1K: RCA:<-120dB , XLR <-130dB
Gain Error: <0.5W
Dimensions (H x W x D): 80 x 444 x 317mm