Audiolici is a Portuguese audio company based in oPorto. The company was founded in 2007 and specialise in the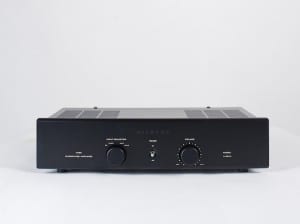 design and manufacture of valve based pre and power amplifiers.
Their latest product is the Audiolici A-25 valve amplifier which is an integrated valve amplifier. The input selector of the A-25 is designed around four pairs of low power miniature relays with all processes being controlled by electronic circuits to reduce crosstalk between right and left channels.
The input stage of the amplifier uses a double triode 6SL7 and the push pull output power stage is based on one pair of 6L6Gc in the A1 models and EL34 in the A1/25 models.
The amp operates in class A.