Auralic's Aries G1 Wireless Streaming Transport costs £1899 in the UK and is, surprisingly enough, a wireless (and wired) streamer, Stuart Smith puts it into the Hifi Pig mid-priced reference system and gives it a listen.

I've had my eye on the Auralic G1 for some time now and even more so since Hifi Pig reviewer Alan McIntosh got one and has been raving about his love for it ever since. So, finally, I bit the bullet and got one ordered from the ever-helpful Steve at Ultimate Stream. Of course, I've been to the presentations at Munich where new Auralic products have been launched and I've heard this unit in lots of systems at shows as it's a pretty popular choice with a good number of brands who exhibit regularly at shows – I've even interviewed the designer of the unit, Xuanqian Wang. In essence, the Aries G1 does what it says on the tin, but basically it allows users to stream their music from wherever it is stored either wirelessly or by ethernet wired connection via n iOS app or web browser.
FEATURES
The Auralic G1 features include allowing pretty much all file formats you can think of to be played and that includes AIFF, ALAC, APE, DIFF, OGG, WAV, WV, AAC, MQA (which Auralic interestingly label as "lossy") and MWA. Sampling rates are PCM 44.1KHz to 384KHz in 32 Bit and DSD up to DSD 512 (22.57892MHz)…so the G1 pretty comprehensively covers most bases on that front. It will allow integration of Tidal, Qobuz, VTuner, Spotify, Apple Music and Deezer so those who like to stream from an external service are also pretty much comprehensively covered too. It will serve Tidal and Qobuz natively, offers access to internet radio stations, AirPlay, Bluetooth, Songcast and it is Roon ready, though you will, of course, need a machine running Roon core.
Onboard you have Dual Femto clocks with one taking care of digital outputs and the other regulating the USB output to allow for extremely low-jitter playback. It has a "Smart-IR Control which allows you to map it to any remote you fancy, though I didn't need or use this functionality. The power supply is taken care of by two "Purer-Power" units with the first feeding the processing circuit, the LCD display and storage (whether internal or connected via USB) and the second unit feeding components that Auralic deem to be "sensitive audio components" such as the USB audio output and the Femto clocks. These power supplies are both galvanically isolated from one another which Auralic says ensures zero EMI interference between the two. Auralic has also included something they call "Active USB" (now second generation) which bypasses the USB's power to use the G1's Purer-Power linear PSU instead, with the aim again to be to reduce EMI and "dirty" USB power are not affecting playback.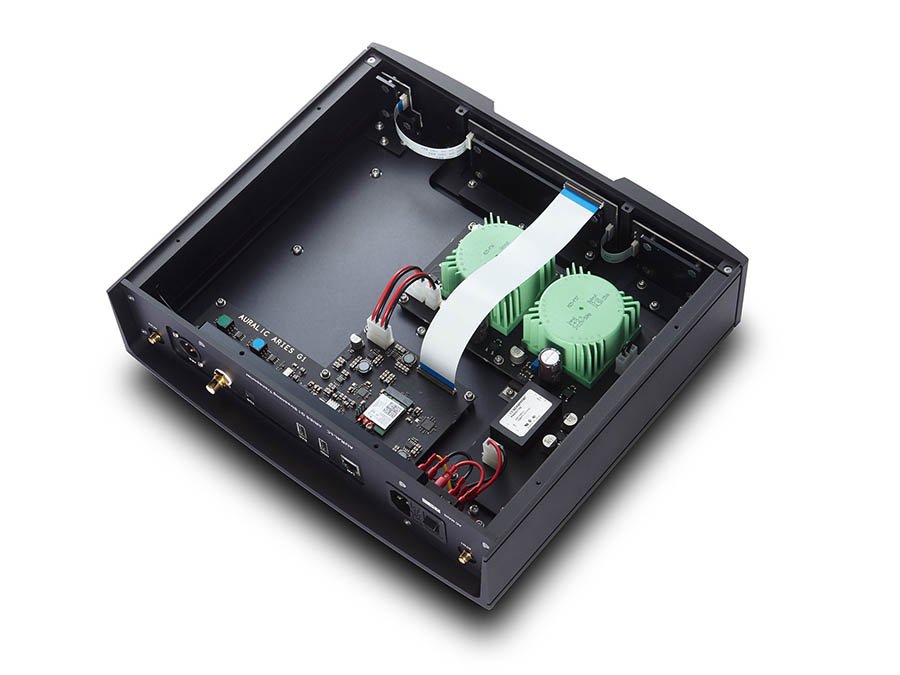 As I said you can choose to wire the Aries G1 via a Gigabit Ethernet connection but two antennas on the back of the unit allow for 802.22b/g/n/ac Tri-Band Wi-Fi and in honesty, this latter wireless solution is all I have used on the G1.
To help playback fidelity and stop any dropouts there is an onboard 1 GB buffer into which tunes preload and playback.
CONSTRUCTION AND SET UP
The unit arrives very well packed and with everything ready to go. The Aries G1 is a compact unit measuring 34cm x 32cm x 8cm (WDH) and it weighs a surprisingly hefty 7.2k. It feels solid and well put together and looks great on the rack.
On the front left of the G1 you have an on/off button and then on the right of the unit four buttons for playing tunes and navigating the menus. The main feature and I love it as its plainly visible from my seating position, is the 4inch true colour in-plane switching display that has a resolution of over 300ppi and allows you to see playback status, settings and configuration, and a library view so you can scroll through and choose your tunes, though I used Lightening DS throughout. Obviously, the display shows the artwork of the record playing at any one time.
Round the back of the unit you get a couple of antenna plugs in which to plug the two included antennas for WiFi, the power input and switch and then inputs for LAN and external USB storage. Outputs include USB, Toslink, coaxial and AES/EBU so whatever your DAC's inputs the G1 will surely accommodate.

Taking the G1 out the box and getting it on the rack is simple and so is set up…but set up brings up my only real gripe I have with the Aries G1 – to use the Lightening DS server app you have to have iOS and so off I trotted to buy a refurbished iPad Mini. This may seem a bit of a moan, but not all of us are Apple fanboys and having to go out and buy what is essentially an expensive remote control seems a bit excessive to me. I would MUCH prefer to have been able to use my current Android devices to control the G1. Anyway, I bought the iPad Mini and was ready to get going. Now, this is the bit in reviews of this kind of thing that I absolutely dread because myself and streaming, or anything that involves messing with apps/networks and HiFi, do not get along and the whole thing mostly ends in shouting, shortly followed by tears. Really, is it that difficult in this day and age to create a setup process that is both intuitive and gets things done properly? Well, it appears Auralic think it is well doable and in practice, I can honestly say I have never had a setup process of this kind of product take so little time. Technophobes, you will embrace the simplicity of this product!
One thing that did ring bells in the set-up guide was the fact that it states "The attached DAC needs to be compatible with Linux without installing additional drivers" and I had no idea if my DAC ticked this particular box or not, but I cracked on with installation anyway.
Turning on the G1 gives you the welcome screen on the device itself and from there you can navigate using the aforementioned buttons which are perfectly intuitive. Press any of the buttons on the front right and you then get taken to the Home Menu where you have: Playing (tells you what is playing, its playback mode and volume), Queue (Shows you what tracks are in the queue to play), Library (lets you browse and play from your library, System (for hardware setup, network info, output channel and display language etc), Streamer (holds the settings for the G1's streaming software, and finally Processor (where you can access the processor's settings). Again, all pretty obvious.
In fact, following the very simple setup instructions I was able to connect to the home network and have Lightening Server on the iPad Mini search and populate all the libraries ready for playback in a matter of a few minutes, though the population of the library obviously took a little longer. Lightning DS is like the rest of this product, well thought out and easy to navigate so now all I have to do is open the iPad Mini, open the Lightning DS App, choose my tunes and I'm ready to go. Picking the output device DAC is quick and simple and thankfully my old valve DAC was seen immediately by the G1.
The G1 will play Qobuz natively (my preferred online streaming platform) and set up takes seconds – input your Qobuz username and password and away you go.
I have struggled in the past with the setting up of kit like this but I can honestly say this was the most pain-free set up of a streaming device as I've ever experienced.
SOUND
So, set up was a doddle but that's all well and good but what does the Aries G1 actually sound like in use? I slotted the G1 into our mid-priced reference kit and fed straight into our now getting on a bit VAD DAC via USB. Connection was immediate and there was no messing about with drivers or anything else. I didn't bother with the other digital outputs as my thoughts are that you will find the one that works for you and stick with it, though to me USB is the obvious choice as this is where you can access the higher resolution files.
First off what I liked about the G1 experience was the Lightning App; it's simple to set up, intuitive and well laid out, making it instinctive to find what you wanted. One issue I did encounter was when adding the Melco library (it's wired to the network in the downstairs system) was that the meta-data doesn't really correspond to the meta-data you would expect. I have pretty much everything we own ripped both to the Melco and to a NAS drive so I just streamed from the NAS and ignored the Melco library in this case. If you don't want to use the Lightning server app (if you don't have an iOS device for example) you can use BubblupUnp or other DLNA apps but I wanted the full-on Auralic/Lightning Server experience and hence the going over to the Darkside and buying an iOS device specifically for use with the G1 and which is actually a joy to use.
It took me a while to get the whole idea of why it is useful to use a dedicated streamer over and above a computer, but now I have experienced quite a few servers I can't see me going back to a computer-based system. Speaking specifically here about the G1, I have found that the sound that actually comes out of the speakers seems to be cleaner in some kind of way. Like many things in audio and HiFi, this cleaner sound is difficult to actually nail down with just one word, but hear it and you will know what I mean; quieter background, a little more detail (particularly on hi-res files) and an overall feeling that the G1 is actually doing very little other than acting as a conduit through with the files on the NAS get served to the DAC. I guess this cleanliness is in large part down to the buffer and the isolated power supplies that lurk inside the box. And I suppose that is what you want from a bit of kit whose job it is just to give the DAC as clean a stream with which to work with as possible. Now, I know for a fact there are going to be folk out there reading this and saying "It's a standard is USB and so whether the zeros and ones come from a computer or a server makes no difference", but that's not my experience and so I'm not going to toe the party line in that respect. I suppose one way of looking at this is to say that the computer (and it only does music) adds more nasties to the mix than the G1, though I realise that's a very simplistic way of looking at it.
Music does just seem to flow with the Aries G1 in place and I have spent many an hour, and a lot late at night, just sat in the second listening room and listening to tunes, exploring new music on Qobuz and really enjoying the experience, whereas before I found it a bit of a chore to drag myself away from the main system and listen to this system. That's not to say it's not a great system; it's been put together meticulously to be a tool for reviewing new kit as well as getting immense pleasure from our tunes, but it is upstairs and well…stairs. I remember David Solomon of Qobuz saying the following at a talk we did with him at Rocky Mountain Audio Fest "If you are not sat in the early hours and losing yourself down the rabbit hole of new music then there is something wrong with you". I like that saying and since the G1 has been plumbed in that is just what I have been doing. Music has become an absolute joy on this system and in no small part I put this down to the inclusion of that innocuous-looking black box with the big screen on the front. On the screen front, it is easy to read from my listening seat and I really like that touch, but in fairness really only took much notice of the Lightning Server App I was using.
Look, this is a really tough review to write, what do you actually say about a product that to these ears at least has no real sonic signature in itself? I could ramble on about having listened to this tune and that tune and describe what I was hearing, and I think this approach is very useful when reviewing most kit, but in reality, I'm finding it difficult to hear what the G1 is adding to proceedings in and of itself. Yes, I can hear the character of the DAC and the CD transport we use, the amps have a bit of their own flavour and speakers have probably the most effect on the overall sound, but the G1 just doesn't seem to have a sonic signature at all as far as I can hear and is as clean as the Melco library going straight to the DAC, only a little more flexible in use, though it doesn't have the storage the Melco has, though other products in the Auralic range will cater to this need.
I played every kind of music we own through the G1 and not once did I feel that I was getting anything other than a pure feed to the DAC. I did experience a couple of drop-outs in the first couple of days of set up, but, and I have not changed anything else in the system makeup at all, these seemed to disappear after a couple of days and I have not had one drop-out since. I can't explain this at all and assume it was one of two things; either it was the Auralic and the network getting to grips with each other (doubtful) or our network was playing up in some way (much more likely).
The lack of an Android app for Lightning Server is a bit of a pain and something I really do think that Auralic should address.
I mentioned earlier that I felt the music "just flowed" and that is how I experienced it; files into G1, zeros and ones into the DAC and lovely, clean music coming out the speakers. I can't talk to you about bass response, I can't talk to you about sparkling tops or indeed mellifluous mids because I genuinely don't believe that the G1 has any effect on these parameters other than what was on the original file and the rest of the kit make music from. I know that probably makes for a boring and lack-lustre review, but it's easier to write about something you hear over and above something you didn't hear if you catch my drift.
So, to recap: The G1 doesn't do much at all whilst doing loads. That's your lot.
CONCLUSION
The Auralic Aries G1 is a difficult beast to come to terms with and describe effectively because it does very little in sonic terms, despite being packed with this and that tech' wizardry. To me it is streaming a file from one place in the house to the DAC without adding anything of its own make-up to the final sound. Now, that to me is a very good thing in the pursuit of a high-fidelity sound and one that is the curate's egg for many.
In use the G1 is a bit of a fit and forget item in that your main interaction isn't going to be with it, it's going to be with the iPad or whatever you use to control it with, though you can control it independently, of course. I found the Lightning App a real joy to use and intuitive to get my head around. My one criticism of the G1 is the lack of an Android app which would have made it absolutely perfect.
Like I said at the start of this review, I bought the Auralic G1 on the recommendation of a fellow reviewer and I'm so glad I did. I heartily recommend it to anyone looking for a stylish, easy to use and neutral sounding server. I can't see mine going anywhere soon, though I would have liked for it to play better with the metadata generated by the Melco unit…though I'm sure those cleverer than myself will know of a workaround to this issue.
AT A GLANCE
Build Quality: Reassuringly solid bodywork and a good standard of finish throughout. The Lightning Server app is well laid out and simple to use. In and outs are plentiful.
Sound Quality: I don't really see this unit as having a sound quality as such. The G1 serves up files cleanly and efficiently to the DAC which then does its own thing.
Value For Money: I can't fault this unit at the price. It looks good, sounds neutral and does the job it is supposed to do without any fannying about.
Pros: Easy to set up and use. Neutral sounding.
Cons: Need an iOS device to use Lightning Server – no native Android app. The issue with Melco library metadata.
Price: £1899, €2276, $2699
Kit List: VAD DAC, Lab 12 Preamplifier, Merrill Thor Amps, Jern loudspeakers and REL Subs. Atlas Cables throughout other than USB by Computer Audio Design.