Auralic refer to the Aries as a "bridge"; basically a digital device which refers to a networked music library from the likes of a NAS drive, or by use of an external USB hard drive, connected directly to the Aries. What we have come to know more lovingly as a streamer – although you could argue that they are usually an all in one device, often with an on-board hard drive and with analogue outputs from it's on-board DAC. Dan Worth takes this £1495 box of tricks for a whirl. 
The difference between the Aries and a standard build streamer is that it has only the ability to output a digital signal – bridging the gap between library and DAC. The Aries boasts dual FemtoClocks, for the USB audio input and the digital outputs, a low noise internal design to eliminate jitter and Auralic Purer‐Power™ based 10uV low noise external linear PSU. A whole host of supported music services are available and a fully featured and easy to use App for Android and iOS devices – necessary for operation of the Aries as opposed to the included remote, which controls more basic features of playback.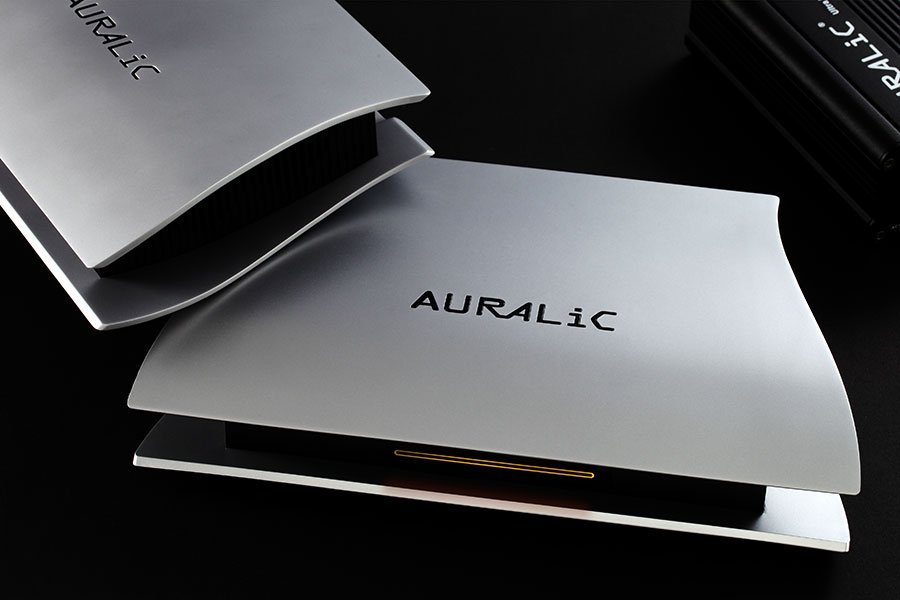 Aries is powered by Auralic's own Tesla hardware platform that includes a Quad-Core ARM Coretex-A9 processor running at 1GHz, 1GB DDR3 onboard memory and 4GB internal storage…for those who are interested. For the workload that the Aries has on its plate the specifications are overkill and the system runs very smoothly, although startup is fairly lengthy, allowing the ARIES to simply go to sleep when not in use is the most sensible way to use it day to day and with extremely low power consumption…so not a worry as far as  energy bills are concerned.
The Tesla platform has a calculation ability of 25,000 MIPS, more than enough to decode a vast spectrum of audio formats, including AAC, AIFF, ALAC, APE, DIFF, DSF, FLAC, MP3, OGG, WAV, WV and WMA. Auralic has chose this platform for a long term supporting consideration, the feature planned include DSD upsampling, room acoustic treatment and other acoustic DSP function.
By using OpenHome structure which is adopted by UK-based streaming solution manufacturer Linn, ARIES, as well as all other Lightning based products, supports several advanced functions such as on-device playlist that allow control software to turn off during play and the complete supporting of a multi-room system. 
Streaming Services Available
Local uPnP/DLNA library content from NAS or PC/MAC
TIDAL, Qobuz and WiMPonline streaming
Internet Radio
AirPlay and Songcast
USB hard drive files
RoonReady
Media Server Compatibility
Built-in Lightning Server
Minimserver, Twonky, Asset UPnP, JRiver
DLNA/uPNP compatible server software 
Inputs
RJ45 Gigabit Ethernet
Dual-Band WiFi connection
USB 2.0 High-Speed for external disk
Outputs
USB 2.0 High-Speed for compatible DAC**
AES/EBU, Coaxial, TOSLINK
Though larger than its little brother (the 'Aries Mini) Aries is still a wonderfully compact device at 25cm x 20cm x 7cm and weighs a mere 0.8kg (in no small part due to the off-board linear power supply), this allows ARIES to be easily implemented into any system. Pop it in a cupboard, under a rack, behind another piece of equipment or simply throw a towel over it, many options are available – so you don't have to look at it! Now I'm not saying that it's going to make you cry when you open the packaging, but beware, it's not going to win a 'sexiest at show' award (although we have given Auralic the 'Hifi Pig Loves You' award at Bristol this year).
Removing the Aries from it's packaging and feeling it's sumptuous plastic body won't get the juices flowing either. The half router, half freeview box design has a lot to live up to if you shop with your eyes but be patient, the best is yet to come, this Hunchback of Auralic has a generous heart. 
The Sound
The sound of the Aries is remarkably clean, remarkably detailed and remarkably sincere. From the outset with the already well run in review circular, the Aries will grab you, seat you and firmly glue you to your listening chair for substantial amounts of time.
Its musicality has an honesty about it. With the noiseless, grainless and clean sound, poorer recordings won't get the benefit of a coloured glow to round the rough edges, but anything better than adequate will engage the listener wholeheartedly.
Listening to Prince's 'Purple Rain' gave me a notion of complete envelopment, far more accomplished than the already musically satisfying Aries Mini I reviewed a while back and during any out of phase, widely dispersed tones and layers the centre stage maintained incredible focus. Front spread was also very good and promoted excellent dynamics to the boundaries of the room, which my speakers are around four to five foot on each side away from the walls.
Bass response is equally as satisfying, in fact I am scratching my head as to how the lightweight, plastic, adorable only from a certain angle in the correct light, Aries can really sound this good. Given that Auralic purposely used a plastic enclosure in order to use a high powered aerial, I'm forgiving the exterior due to its endearing sound quality. If first impressions can be deceptive then the Aries is the epitome of the popular phrase.
The bottom end received by the listener is intuitive, controlled and very detailed. Playing either London Grammar's 'Hey Now' or Urban Species' 'Blanket' allowed me to easily discern each and every subtle change in note. Good extension with tempo driving the music along combines this detail with good flow and bouncyness.
Delving up into the midrange, the tighter detailed upper mids pave way for vocal extension to be beautifully pure, conveying a good representation of natural range. A very slight forwardness in the midrange allows for these vocals to be very well pronounced. Well tuned and versed, the Aries is somewhat of an accomplishment at its price. Whilst vocals stand true, the other elements of the midrange behave as I would have liked from a unit of this price. Transparency in the midrange gave good structure and depth to live performances, involving me deeply into the music.
Climbing up the frequency ladder the upper midrange only ever became rough and etched when listening to a few bad recordings, which I enjoy very much for their lyrics and am happy to accept. Overall a very clean and open upper midrange, with enough control to keep the vixens of vocals tamed and busy music well separated.
Top end air is wonderfully apparent in the Aries, I remember the top end of the Aries Mini being a tasty plate; if not refined or as airy, it had personality. The Aries has bags of personality, along with the additional refinement and inner details that two properly implemented Femto clocks should produce. A more accurate display up top gives the listener the experience of hearing all the fine delicacies and acoustics in their music. More can be obtained in higher-end products, but unlike some other high-end products sometimes more is less, leaning towards a more stringent and analytical performance. The Aries gives enough detail that the listener feels well fed and at the same time the music is tastier and easier to digest.
I've been using an Innuos Zenith 2 for some months now after producing a review for it which will be live in conjunction with this review CLICK HERE. My reasons for mentioning this is that one feature of the Innuos is that it has an onboard 'Streamer' LAN Output. Basically an Ethernet internet connection output which allowed me to plug the Aries into and use the Innuos as the router, switch, internet passthrough for my streaming services and a directly link to my music library saved on the Zenith's internal SSD. All of this covered by Innuos' triple linear PSU offers an incredibly strong platform for the Aries to work with.
Coincidently Auralic UK set the Aries up piggybacked off the same Zenith in demonstrations, at shows and dealerships and the combination of the two takes each unit to the next level with a combined price of £4000. So how does the Aries sound now? Even more accomplished!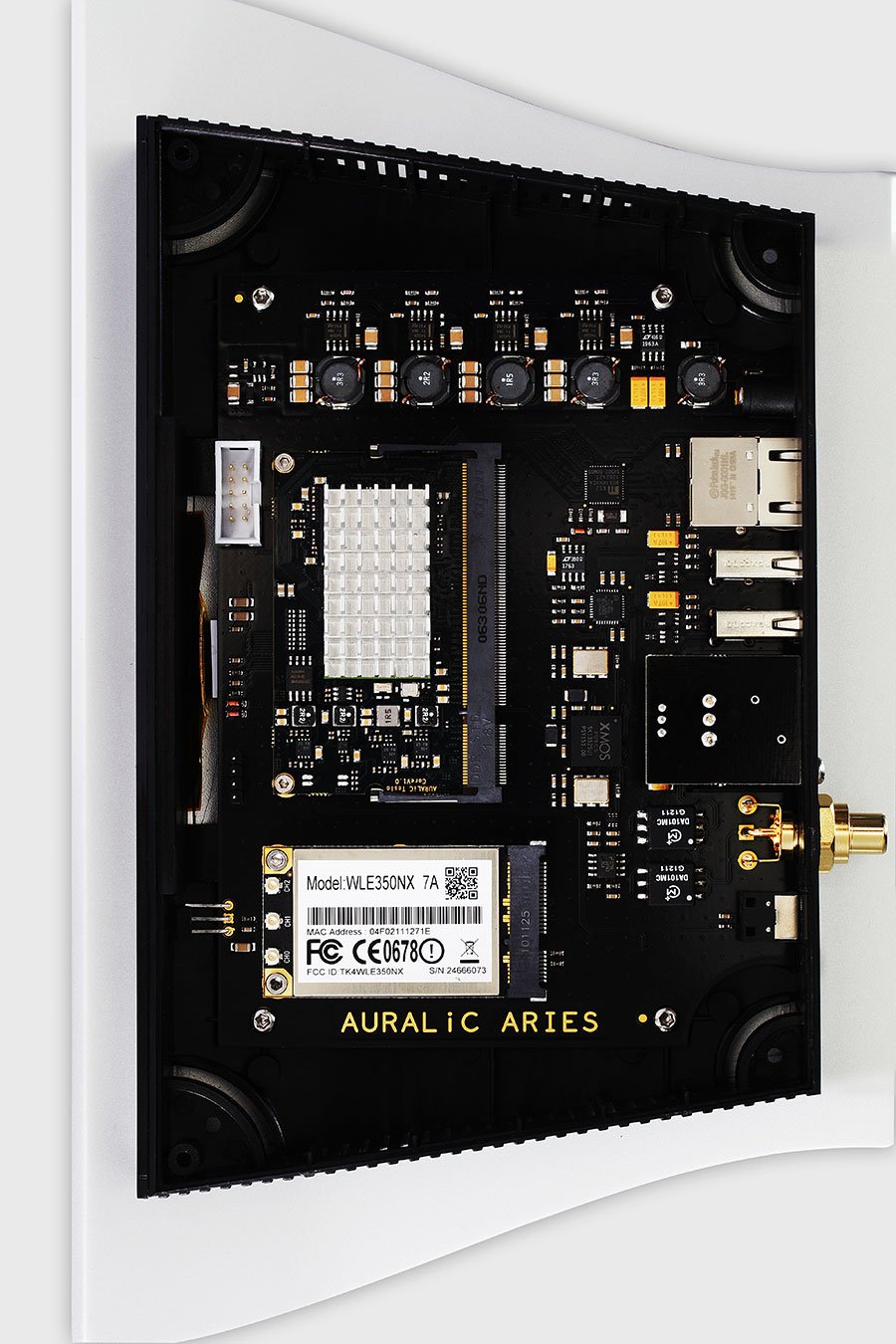 I'm now hearing more detail, with a far blacker background. Taking all the noise out of the chain of command with standard routing options gives a confidence to the Aries whether playing Qobuz or Tidal – and from the direct onboard library of the Zenith, this is where things really get serious. The sound gains more resolution and bass premise, the tightness of the Aries alone gains a little more weight with it's umbilicalled partner and dynamics get a nice helping hand also. But for me the most stand out attribute of the combination was the soundstage.
Everything is more easily discernible and vocals become more expressive, adding a nice touch of emotion along with standing more confident in the mix. What really engaged me was the additional structure of the soundstage, where depth was good before it was now more complex. During Fleetwood Mac's live version of 'Big Love' the way the guitar moved throughout the left rear of the stage and forward again during the solo was incredibly smooth and concise, sort of in film where there is a higher frame rate which allows the viewer to to see more of what's going on in a more detailed and fluid manner.
Studio mixed Pop Music and Electronic music is always a fine test for how well an item can stage around the listener and into the rear of the room simply due to the way it's recorded. The Aries already showed good detail encapsulation in this area and with the addition of the Innuos this area gained additional strengths… it's a shame that Auralic don't build a Universal Player because music and films would work exceptionally well with their digital expertise in a 2 channel system, which for most of us who prioritise Hifi look towards in most situations where a theatre system cannot be accommodated or wanted. I could imagine sitting here watching some of my favourite movies with a 2 Channel sound quality so strong.
Conclusion 
Auralic seem to be creating a bit of a trend here – they are producing some digital equipment which is just so well voiced that wherever in the range your budget gets you feel assured that what you will receive is a musical piece of equipment that won't disappoint for the price.
Retaining musicality whilst extracting more accuracy and detail retrieval is not the easiest of tasks. Reducing jitter, laying out circuitry, planning out PSUs, choosing components etc all have dramatic effects on a digital signal which is not as robust as some people may believe. Approaching this without care and plenty of R&D could make for the cleanest sound ever, but without personality it's nothing short of a flop.
The charisma the Auralic products seem to obtain speak volumes about their designers and how measurements alone cannot produce music with heart and soul, so to the Auralic team I salute you for never putting the music second.
Build Quality : A bit plasticky and not so pretty. Looks better from a few feet away
Sound Quality : Wonderfully clean, and beautifully musical
Value For Money : I would be very satisfied of the price it's this level of performance 
Pros:
Strong detail
Excellent vocals
Great dynamics
Huge soundstage
Above all musical 
Cons:
Plasticky build
Not the most appealing visually
Remote looks basic and bland (most will only use an app) 
Price: £1495
Dan Worth