Based around Auralic's Lightning DS Streaming Platform, which is one of the most intuitive and responsive software systems around for devices of this type, Polaris incorporates a wired/wireless streamer, a music server – via additional HDD/SSD, a DAC, a moving magnet phonostage, a preamplifier and a stereo power amplifier. Dan Worth tries out this £2875 box of tricks.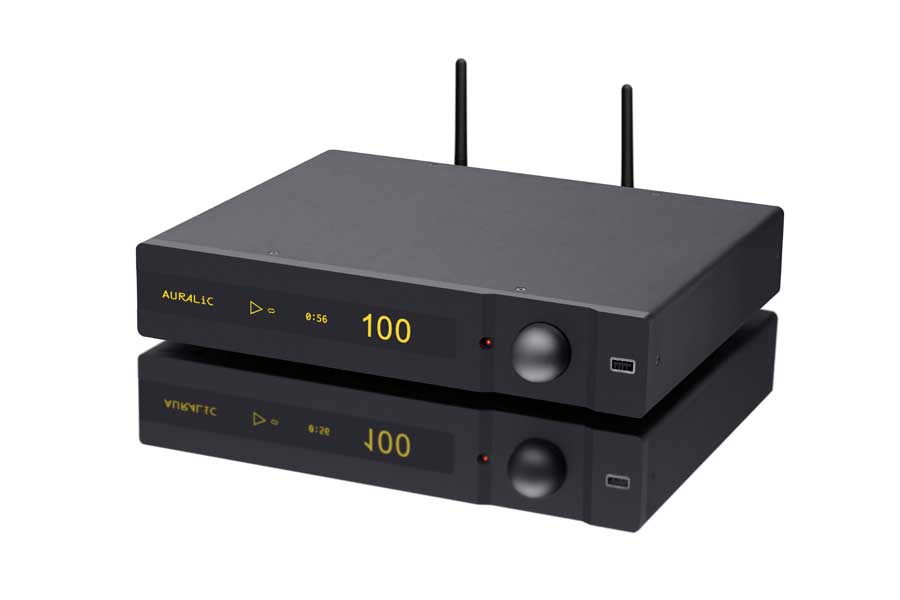 Polaris utilises AURALiC Flexible Filters and Femto Master Clock, supports quad-rate DSD and PCM up to 32 bit/384kHz. The powerful internal stereo amplifier module can deliver a continuous 120 watts per channel into 8 ohms or 180 watts per channel from its on-board, high power, high efficiency Class D modules.
The diminutive 33cm x 26cm x 6.5cm Polaris is packed with enough connectivity to make even most separate systems feel vulnerable in the flexibility stakes. Boasting a vast range of digital inputs including AES/EBU, Coaxial, Toslink, USB device to computer, 2 x USB host to storage and DAC, RJ45 Gigabit Ethernet and 802.11b/g/n/ac Tri-Band WiFi along with two pairs of analogue inputs and one pair of analogue outputs.
Streaming options aren't overlooked by Auralic either – as well as having the option for an on-board HDD/SSD storage, USB drives can be added and support for Tidal, Qobuz, Roon, Network Shared Folders on PC/Mac/Linux or a Network Attached Storage Device (NAS), AirPlay, Bluetooth, Songcast and Internet Radio are all supported. There is no support for Spotify but by now most of you will indeed have migrated to Tidal or Qobuz I'd imagine, and remember that if you don't already use an iOS device then you will require one for Lightning DS to control any Auralic product and all of its features.
Fit and Finish 
Being dinky, very well constructed and having a little bit of weight to it makes the Polaris feel substantial and its cosmetics are great too in either of the two finishes – black or silver. I remember having a little jab or two at the Aries for its looks, calling it the "Hunchback of Auralic" but the guys have really made up for it with the Polaris with it's all aluminium chassis which falls in line with the Altair Streaming DAC and Vega DAC – exuding quality and putting it into a more lifestyle category of products but with a Hifi pedigree to boot. I really like the design a lot. 
Setting Up 
Auralic's product setup is a cinch! I hooked up to my Ayon loudspeakers, a power cable and an Ethernet cable to complete the oh so tricky task of physical setup and as long as you have an iOS device on hand the initial software setup takes 5 minutes or so, with each consecutive use from there on taking a mere few seconds to enter you into the Lightning DS portal of features. It's incredibly easy to flick between streaming options, local radio and onboard or off board storage , leaving you stress free and eager to listen to some music.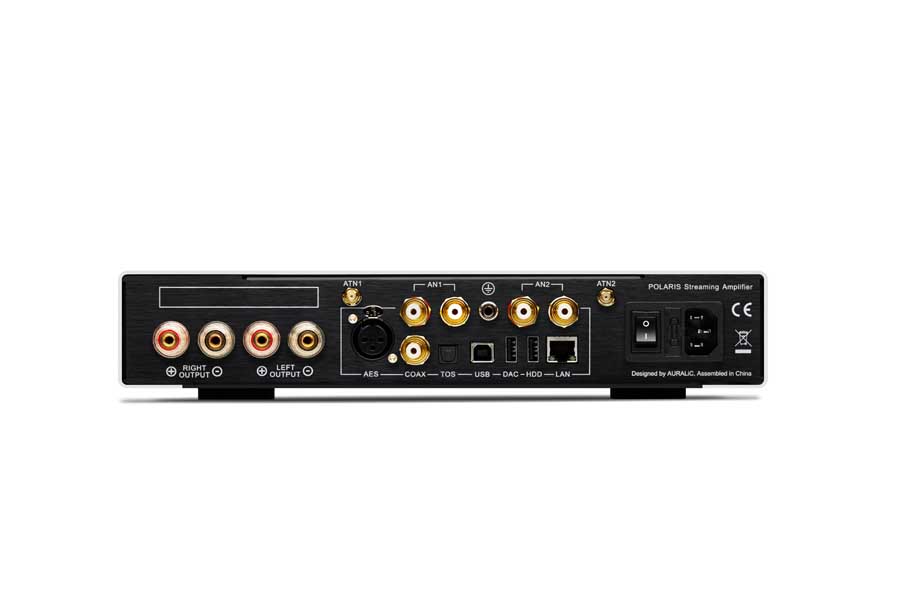 The Sound 
With any Auralic product, the sound quality for the cost is quite generous – along with its feature packed design. Using the onboard amplifier offers a clean, distortion free sound that even at higher volume levels remains very stable and engaging.
The unit gives a good impression of transparency and resolution as my first pieces of music proved. I generally start by playing some acoustic and vocals and both female and male vocals to gauge a balance of the sound and these were dealt with very well indeed, giving me a strong projected vocal that sat slightly forward of the accompanying band members. A very powerful female vocal may at times suffer from a lack of absolute body, offering a more detailed texture over colour tonality in the lower end of the midrange but this is not a criticism, rather an observation of the sonic implementation of the class d amplifier and if you have ever spent a great deal of time with class d you will understand this this is a sonic signature of the technology. Upper midrange which can make or break a lot of designs in my experience was very well controlled, allowing soaring vocals to stay away from any harshness or grain whether I was streaming locally or via the Internet.
Nils Lofgren's playful guitar work conveyed great precision and leading edge sharpness from the strings was very accurate and polished, with decays well rendered into the acoustic space. When things speed up the Polaris keeps up, it can do intricate and complicated passages justice and with the correct speaker will flesh out accordingly making for a very pleasing listen.
Having everything at your finger tips with the Polaris is a joy – apart from vinyl playback, which is what it is and something that I don't use so I cannot comment on the onboard phonostage.

I did however use the radio feature a fair bit and although the sonics are dependent on the station listened too. I find that when we accept that there are going to be limitations on certain aspects of sound we stop criticising them so much. In turn I did find myself enjoying radio playback as more of a background thing and often turned the volume up more when a song I liked came on and admittedly had the odd little bop or two listening to a few stations I like.
120 watts per channel from this small box of tricks has the ability to push out beat driven music from most speakers very well, with a soundstage that has good strong width and a very good front to back presentation. I played a substantial amount of electronica through the Polaris that gave great energy and weight to the sound, punchy and detailed in the bottom end that had me turning up the dial more than usual as the in-built amp is just so clean and distortion free.
I've heard many class d amplifiers to date now and always champion them in subwoofers and although I enjoy them very much in their own rights I still prefer a good A/B for myself, in a main system – especially with my current speakers which are clean in presentation themselves. What Auralic have to offer from the Polaris is the ability to tonally match the amplifier to a better degree as the unit is an all in one, taking away the user's own trial and error matching equipment and in my case primarily being a streamer of local and internet based files is the perfect match.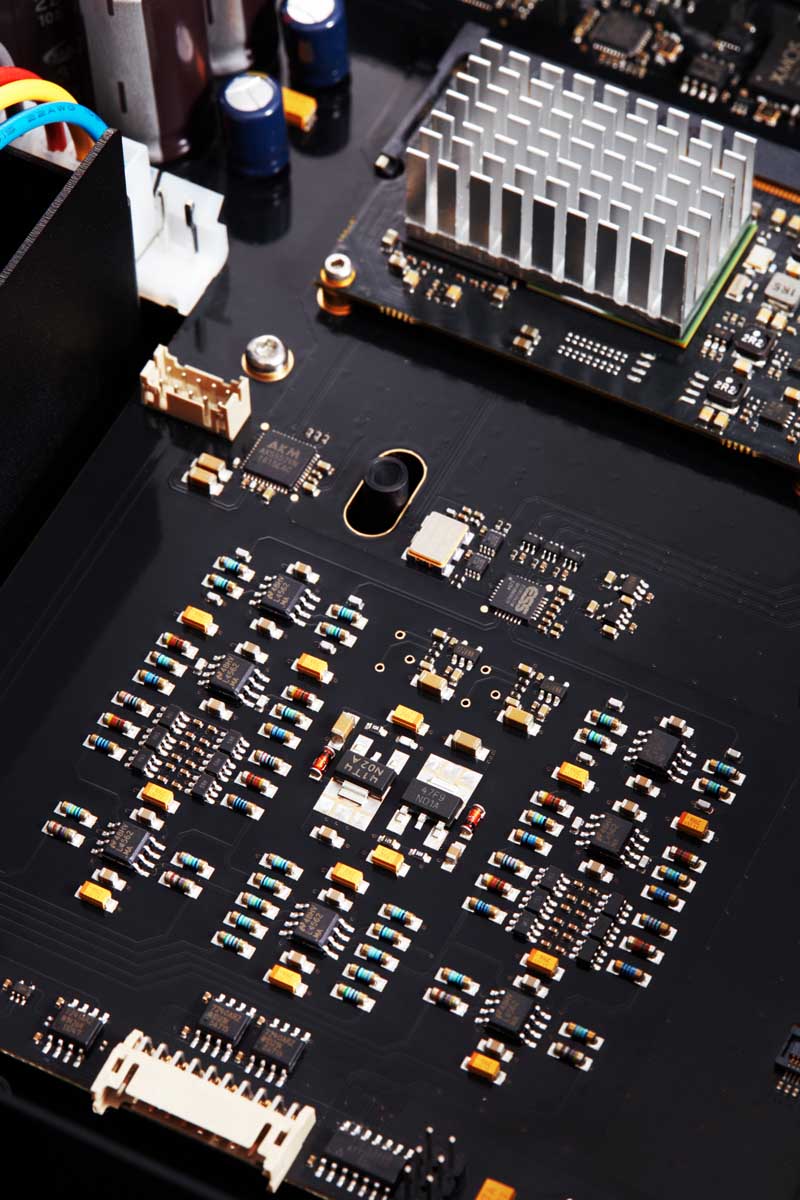 I actually ended up keeping the Polaris for longer than I normally would a piece of equipment due to this and used it fairly often. For me this was key to adjusting and appreciating the unit more. Oh so often we can fall into the trap of hearing something and passing judgement too quickly on its sound, whether it's an initial wow and then a subsequent let down over time or a rash decision based on different imparting an impression of not being correct. I liked the Polaris from the outset but I must admit it really did grow on me further the more I used it. A smoother speaker cable and some good paper cones will exploit the abilities of the Polaris to a greater degree, retaining all of its detail and transparent poise but allow for a little bit more of a warmer tone – if that's something you want from your sound.
AT A GLANCE
Conclusion

The Polaris is an agile sounding and rich feature packed piece of equipment from Auralic – who over the past couple of years have really stamped their own mark on the market. Combining their Lightning DS app with carefully implemented electronics and almost a fail safe, ready to use every time switch on and go unit, it just makes you feel that Auralic have cared for you in every aspect of simply enjoying your music without any faffing about.
The sound of the Polaris is very informative and detailed – class d may not be to everybody's tastes but Auralic do their implementation of the technology well and just like any other piece of equipment synergy is key to getting the best out of a product. I'd say as far as all in one diminutive designs go the Polaris is a terrific piece of kit that should be considered as one of your list's leaders when looking for a unit of good pedigree, overall design, features and ease of use.
Build Quality – Very well made, with a lovely laid out rear panel and small easy to integrate size
Sound Quality – Expectantly clean, informative and distortion free
Value For Money – Really quite generous, offering a plethora of features for the price
Pros – Good clean sound, agile, detailed with a great amount of features and of course the great Lightning DS app
Cons – Requires a little care for ultimately matching speakers if you outdo like a richer warmer tone
Price – £2875
Dan Worth
Specifications: 
Type: integrated amplifier, streamer & DAC
Power output: 120W/180W (8ohm/4ohm)
Frequency Response: 20Hz – 20KHz, +/- 0.5dB (precise filter mode)
THD+N: <0.01%, 20Hz-20KHz at 1W
Streaming Inputs: Network shared folder, USB Drive, Internal Music Storage (with optional 2.5-inch HDD or SSD), UPnP/DLNA Media Server, TIDAL and Qobuz streaming, Internet Radio, AirPlay, Bluetooth
Digital Inputs: AES/EBU, Coaxial, Toslink, USB device to computer, 2x USB host to storage and DAC, RJ45 Gigabit Ethernet, 802.11b/g/n/ac Tri-Band WiFi
Analogue outputs: Single-ended RCA(6mV @0dBFS), loudspeaker binding posts
Supported File Formats: AAC, AIFF, ALAC, APE, DIFF, DSF, FLAC,
MP3, OGG, WAV, WV and WMA
Supported Digital Formats: PCM from 44.1KS/s to 384KS/s in 32Bit, DSD64, DSD128, DSD256
Control Software: Lightning DS for iOS, RC-1 remote handset, OpenHome compatible, uPnP compatible control software, Roon
Power Consumption: Sleep – <10W, Playback –  450W at max.
Dimensions WxDxH: 330 x 260 x 65mm (13 x 10.2 x 2.6 inches)
Weight: 4.5kg (10lbs)