The AVID HIFI INTEGRA represents this British company's entry-level integrated amplifier, yet costs £7000. Janine Elliot takes a listen to assess if this represents a solid investment.

AVID HIFI, based in Kimbolton near Huntingdon, are not new to creating heavyweight audio. They have been designing and making products since 1995 that invariably need strong muscles to move them, but boy are you in for a nice surprise when you get to listen. I have followed the company for a number of years and have reviewed their turntables and speakers in the past. Now I have a chance to listen to their entry model integrated amp, though at £7000 it isn't cheap, but much much more on price later. CEO Conrad Mas is very passionate about making the very best products, with cost not an option. His interest in HiFi extends, like mine, to his youth, buying a Connoisseur BD1 turntable and Acos Lustre arm at the age of 16 and spending much time on improving it. This led, appropriately, to him forming AVID HIFI in 1995 with his first turntable and then extending manufacture over the years to loudspeakers, preamps, power-amps, phono-stages, arms, cartridges and racks. His company has also in the past done metalwork for other HiFi manufacturers and even the automotive industry, but now his burgeoning AVID HIFI empire is occupying every bit of his time. More recently the company introduced the first integrated amp, the SIGSUM ('The SUM of two SIGnal's….SIGSUM') cascading down the extremely high-specification components found in their Reference electronics; including the phono-stage coming directly out of the PULSUS. This amplifier comes in at £13000 and is powered with a 1.1KVA mains transformer and tons of smoothing capacitors. The new INTEGRA (yes, short for Integrated), at £4000 cheaper, is none the less of an amplifier with a 750VA mains transformer, 88,000uF storage capacity, phono-stage taken directly out of the PELLAR, bespoke Samwha capacitors and an ALPS RK27 volume control.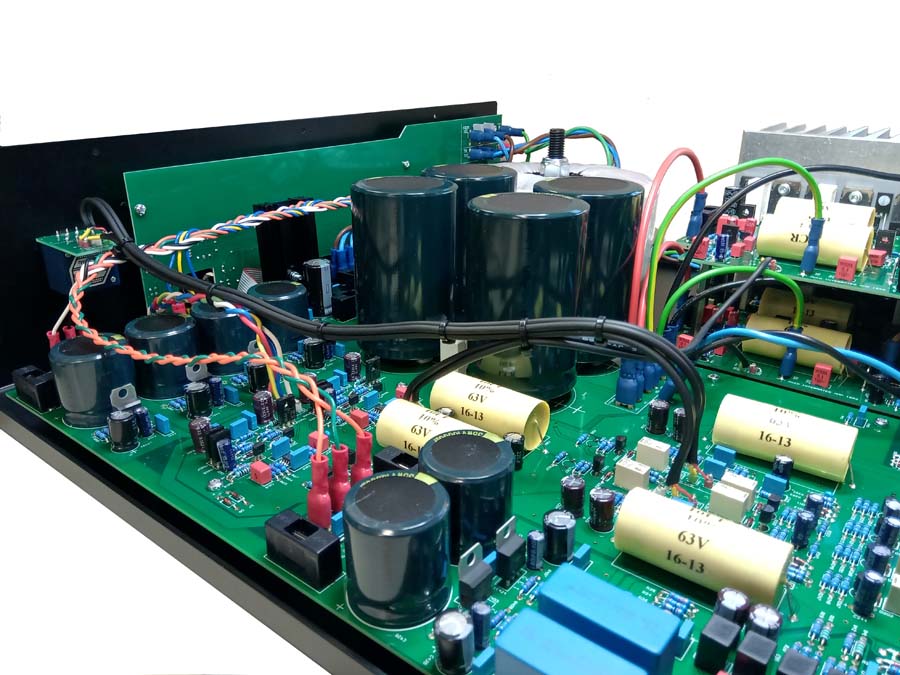 CONSTRUCTION
The INTEGRA is almost identical in appearance to the SIGSUM with a well-endowed 19mm thick aluminium fascia with the iconic big "A" machined in the front plus an etched "INTEGRA" on the top. You certainly know who makes this product with the word "AVID" appearing on the top and sides formed within the air-vent holes and designed to cool down this Class AB 90W amplifier.  Build quality, as always, is indeed exemplary. One would expect nothing less.
The front has the volume control and matching selector knob for four 'line' and one 'phono' input. This is sheer quality and feels great in use, unlike many knobs that don't have recesses for your fingers to fit on. This is a particular AVID HIFI shape that is seen on many of their products; even used for the feet of turntables and the turntable record clamps. The selector knob operates reed switches on the PCB, so you will never have dirty contacts or degradation of sound as the audio signal does not go through the knob. Similarly, sound is muted as you change inputs, making for a classy selection of source; I really found fun in operating it. The volume control is the excellent ALPS RK27, not quite so good as the RK50 appearing on the SIGSUM, but still top quality. As in the more expensive model there is both a mono and a mute switch either side of a headphone socket. There is no remote control. I'm so glad! No worries about sound degradation caused by such things and there's only a little blue light on the front to tell you the INTEGRA is raring to go. Oh, and the on/off toggle switch is hidden underneath the front, so that means there is easy access to it rather than having one stuck at the back next to the mains socket. Just as well because the amplifier is very deep measuring in at just under 50cm. The INTEGRA is available in silver and black. The model for review came to me straight out of the box so I needed to spend a good 24 hours running it in. No worries there.
As in the SIGSUM and as previously mentioned, the phono-stage is taken directly out of one of their stand-alone models, in this case the PELLAR. It is a passive RIAA unit with Neuman HF correction.  As in the PELLAR there are two dip switches at the back of the INTEGRA to select Moving Magnet and low/mid/high output Moving Coils, plus a pair of RCA sockets next to the inputs for you to connect resistive loading plugs to refine connection to your specific cartridge. As the default loading is 47kΩ which is ideal for a Moving Magnet cartridge, should you wish to utilise MC cartridges you need to add the supplied 500Ω plugs, or you can request you own loading for your specific cartridge, at £50. My Audio Technica AT33sa works best above 100Ω, so the 500Ω plug was fine for this review.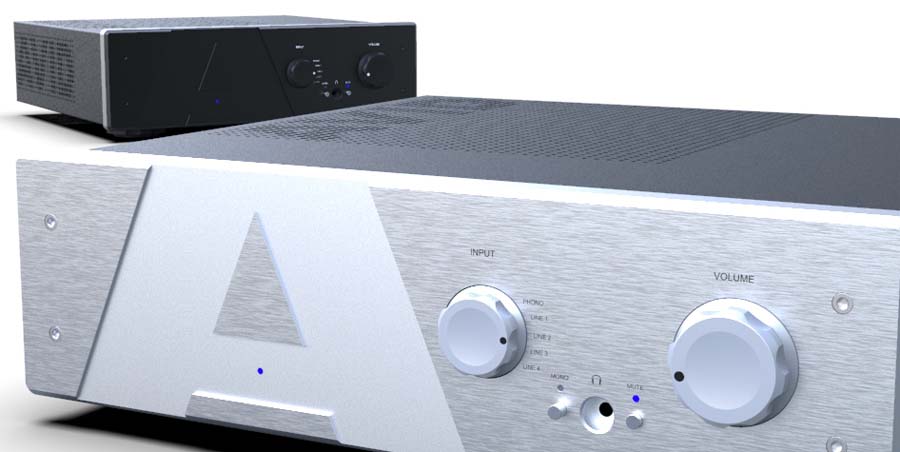 SOUND QUALITY
My first disc to be played was Kate Bush's 180g vinyl remaster of 'Hounds of Love', released in 1985. I love this album not just for its musical prowess but also for the engineering. This album is ideal for using in reviews to test out the soundstage and transients. The second side is a sound theatre drama with everything from thunder to vox pops and jigs. Through the INTEGRA the sound was both detailed and inviting; it grabbed my attention immediately. My Wilson Benesch Arcs had never sounded so good, particularly in the bass frequencies. Transients were equally impressive; so much so that the start of the last track made me jump up out of my seat. That second side of the album is all about someone drifting alone at sea at night with no idea where they are going. This amplifier had no problems in "knowing" what the music was doing, always being confident, though still sensitive to the needs of the music. The music was full of detail and clarity that would make my Leak Stereo20 valve amp appear quite lethargic. The INTEGRA was a very detailed and positive performer, but don't misinterpret this as being too assertive;  I never felt any fatigue listening for hours, something that amplifiers as detailed as this one can often make you feel.
The next disc to play was Patricia Barber's 'Live. A Fortnight in Paris'. This album was particularly detailed and vigorous, just as it would have been up on stage. The INTEGRA personified detail and speed at all frequencies, showing its power and grip over the music I played This was no slouch, and it certainly warranted its place in the AVID HIFI line-up, sharing characteristics with the more expensive amplifiers. Yes, £7000 for the baby of the family might seem steep, but this amplifier was by no means a watered-down member of the AVID HIFI line-up. This was very much a star performer and deservedly priced at 7K. AVID's design philosophy is to design the best product that they can then trickle it down to cheaper models in the series. Hence there are many ideas, components and technologies that come from models higher up the chain appearing in the INTEGRA. This might be the entry model but it still is a top-quality product from a company that only makes top quality products, just as even the entry model Ferrari or MacLaren wouldn't ever be sneered at, and that's sort of how I see the INTEGRA.
Pink Floyd's 'The Division Bell' has an airily quiet start on "Cluster One" that gradually builds up as ideas develop. The INTEGRA is equally quiet in operation, particularly that phono-stage. The next track "What Do You Want" turns up the wick and has some great guitar playing from David Gilmour. Here the INTEGRA was very precise in its performance, leaving nothing untold; all the instruments, the reverbs and distortion pedals were clear. Only that the precision could perhaps be misread as clinical; If you want an easy listening glossy performance, then look elsewhere. The cymbals are very precise and clear, and the guitar and vocal lines are expressive, and there is no chance for you to become uninterested in the performance. The amplifier might be just 90 Watts but at no time did I find the amp sounding short of power. Indeed, the Alps fader very rarely got past 9 o'clock in my daytime listening sessions, though the clock made it past 10 o'clock every evening I listened!
Turning to Mike Valentine's Espana, an album full of gorgeous Spanish tunes including Bizet's Carmen and Rimsky-Korsakov's Capriccio Espagnol, the INTEGRA had my full attention, or rather the music did. There was so much detail and I felt I was there with the musicians. The cello and violin solos seemed to move away from the speakers and come alive in my living room. This is a great album once you come to terms with the narrow soundstage of the recording; it is more the soundstage you would hear if you were in the audience of a hall. Turning to mono albums, this would have to be done with the "mono" switch pressed; that not only makes stereo crackles mono but also reduces their interfering output. For this I played my favourite 'The Other Side of Dudley Moore', an album with his trio playing famous tunes plus some of his own. Such a shame this 1965 album was in mono when stereo was past its inauguration, and they really needed to tune that top Ab on the piano! Never mind, after playing a few bars you forget and simply enjoy the brilliant performance. Even in mono this is an excellent amplifier that is hard to find fault in.
Yes, this amplifier really was so good I didn't want to give it back.

Turning to the line inputs I decided to play the Hemiola Records 15ips reel to reel sampler I obtained at the Munich show, using my rebuilt Ferrograph Logic 7. Such a brilliant recording and performance. Similarly, the INTEGRA excelled; a clear and transparent vocal and extended hi-hat on "May This Be Love" (Davide Pannozzo Trio 'A portrait of Jimi Hendrix). The guitar's distortion a fitting contrast to the purity from the other instruments. The clarinet and guitar duo from Mirabassi and Traufic in "Aria de Opereta" was a pure delight; only spoilt by the slightly off-set reverb, largely due to the fact that the clarinet was left of centre and having its own reverb signal slightly greater than that of the guitar's. The clarinet's melodic lines were very clear and crisp, slightly overriding the guitar.
Playing the excellent 15ips Chasing the Dragon 'Big Band Spectacular' further showed off the talents of the INTEGRA. Only the clarinets positioned central in "Little Brown Jug" gave a sense of mid-frequency muffling. The piano solo, however, was as good as I had heard it live at the Air Studios when this was being recorded. The 'Avril Chorus' had lots of power and showed off the INTEGRA for its speed and verve. Initial transients were powerful, and the top end was as clear as it gets.
As it stands for a £7000 integrated this was still a remarkable machine. Indeed, the INTEGRA played any music I fed it with near perfection. I regularly use TVC preamplifiers as they don't leave their own signature on the music, and the preamp stage on this amplifier was similarly invisible. It was also good to see a headphone socket and playing most of the same tracks on headphones as I did on speakers gave me more reason to love this amplifier; the sound was just as clear and accurate.
So, let's look at the contents; a very able pre-amplifier, an excellent power amplifier with 2 individual power amp boards as in the SIGSUM, a £900 phono stage, a totally dedicated headphone amplifier, plus quality components. Now, £7000 doesn't seem that bad now, does it?

CONCLUSION
This is a cracking integrated amplifier that sits very comfortably in the £7000 price bracket. The sound is energetic and detailed making it an ideal performer for the home, with a particularly good bass end and a clear and precise top. The phono-stage is particularly good making an excellent package. It was hard to find fault in its performance, which is, therefore, a good reason to try it.
AT A GLANCE
Build Quality: Excellent and solid construction, typical from AVID HIFI; thick front panel with the big "A" etched across it, plus excellent components and gold-plated plugs.
Sound Quality:  A very detailed and powerful presentation ideal for those who don't want to miss anything.
Value for Money: £7000 might seem a lot, but this is masses of amplifier, phono-stage and headphone amp in one heavyweight box.
Pros: Excellent dynamics. Excellent bass end. Detailed and exciting presentation.
Cons: None, not even at £7000
Price: £7000
Janine Elliot
Review Equipment: Pre-Audio GL-1102N/AT33sa and AVID Ingenium P&P (turntable); Krell KPS20i (CD); Ferrograph Logic7 (reel to reel); Wilson Benesch Arc and Graham Audio LS5/9 plus Townshend Supertweeter; IsoTek mains conditioner, Townshend rack; Other cables used; Tellurium Q, Ecosse, Townshend and Nordost.
INTEGRA Specifications
| | |
| --- | --- |
| POWER | |
| Output | : 90W 8 Ohms |
| Harmonic distortion | : 0.003% (80% power 8 Ohms 1kHz) |
| Loudspeaker Impedance | : 4-16 Ohms |
| | |
| FRONT PANEL CONTROLS | |
| | : ALPS RK 27 2 Gang Manual Volume Control |
| | : Selector Switch |
| | : Mute Switch |
| | : Mono Switch |
| | : Headphone Socket |
| | |
| INPUTS | |
| PHONO | : 2x RCA |
| Gain | : 48dB – 60dB – 70dB |
| Input resistance | : 47k – Custom (500 Ohm Loading Plugs Supplied) |
| Input capacitance | : 100pF |
| Distortion | : Less than 0.001% |
| RIAA Accuracy | : 5Hz – 70kHz +/-0.5dB (Neumann HF correction) |
| Noise (A weighted) | : MM –81dB       MC –67dB (high setting) |
| Channel separation | : < -85dB 5Hz – 20KHz |
| | |
| LINE | : 4x RCA Line Inputs |
| Nominal sensitivity | : 340mV Volume Full 100W |
| Input resistance | : 82 kOhms |
| Maximum input | : 11 Vrms |
| Frequency response | : 5Hz—over 80kHz ± 1dB |
| Signal/noise ratio | : 100 dB (Awtd) 50 W, ref. 1V input |
| | |
| OUTPUTS | : 4 x Gold Plated High Current |
| Line level output | : 2x RCA |
| PREAMPLIFIER OUTPUT | |
| Nominal output level | : 11 V |
| Output impedance | : 47 Ohms |
| HEADPHONE OUTPUT | |
| Maximum output level into 600 Ohms | : 10 V RMS |
| Output impedance | : 1 Ohm |
| Load range | : 20 — 600 Ohm |
| | |
| POWER CONSUMPTION | |
| Input voltage (region dependent) | : 115V or 230V AC |
| Power Consumption (Max) | : 59 Watts No Signal Idle |
| | : 800 Watts Clipping 4 Ohm Load |
| Mains input Socket | : IEC C14 Type |
| Mains input Cable | : IEC C13 Type |
| | |
| DIMENSIONS AND WEIGHTS | |
| Dimensions (including output terminals) | : 470 x 495 x 155mm (WxDxH) |
| Net weight | : 22.9kg (50lb) |
| Packaging | : 630 x 630 x 260mm (WxDxH) |
| Shipping weight | : 25.5kg (56lb) |