Ron Gruber tells us all about his day at AXPONA 2016.
I had the pleasure of attending, for the third consecutive year, AXPONA (Audio Expo North America) 2016.  AXPONA is the audio equipment show held annually for the past six years in Rosemont, Illinois, a suburb of Chicago.  If you live in the U.S. Midwest and are interested in audio or hifi, AXPONA is the show to attend – featuring 400+ exhibitors, in over 110 interactive listening rooms, on over eight floors of the Westin O'Hare Hotel.  In addition to the listening rooms, special events, seminars, and marketplaces were also held throughout the expo. 
One of the special events was a Manufacturer's Showcase that featured cutting edge technology, and brand new, yet to be released products.
Live performances were held in the evenings after the shows closed and featured jazz organist Akiko Tsuruga, up-and-coming artist Noah Wotherspoon, and Chicago Blues Legend Lurrie Bell.
Vinyl lovers were treated to a Turntable Set-Up seminar featuring Michael Fremer, Stereophile Contributing Editor and analogue guru.
The Legends of High-End Audio Panel, featured four of high-end audio's greatest designers and company founders including Dan D'Agostino of Krell and Dan D'Agostino Master Audio Systems, Kevin Hayes of Valve Amplification Company, Paul McGowan of PS Audio, and Frank Van Alstine of Audio by Van Alstine who talked about how they started their companies, invented new technologies, and created their iconic products. This panel was a rare gathering of the industry's most legendary figures.
Additionally, daytime acoustic performances were held in the Music Lounge featuring pianist Jim Ryan and the Roy McGrath Duo.  Saturday and Sunday patrons enjoyed classical pianists and Jazz groups throughout the day from local Chicago Universities.
One of the most popular 'extras' is the Ear Gear Expo.  This dedicated area is specific to anything 'Ear' related – from high quality IEMs to top-of the-line headphones, ear electronics, plus ear gear extras and add-ons.
The Marketplace gave show attendees the opportunity to look carefully at and to consider purchasing literally thousands of parts, components, gear, cables, turntables, accessories, vinyl, and more; all in one place from a variety of different manufacturers.
Prudence Farrow Bruns, of The Beatles "Dear Prudence" fame, weaved an interesting tale as she took listeners through her turbulent teenage years which led her to meditation and the teachings of the Maharishi in India. It was during that time that her path crossed with the Beatles, like so many others from the era who sought new spiritual guidance and explored meditation.  Prudence discussed her journey, exploring how the quest for spirituality shaped the Sixties, and we heard the story behind the famous song "Dear Prudence".  At the end of the talk, her book was available for purchase.
As with turntables, what is old is new again, and except for a diehard minority, audio tape is enjoying a renaissance.  A seminar was held discussing how easy it can be to have a studio quality tape machine playing back Master tape copies in your Living room.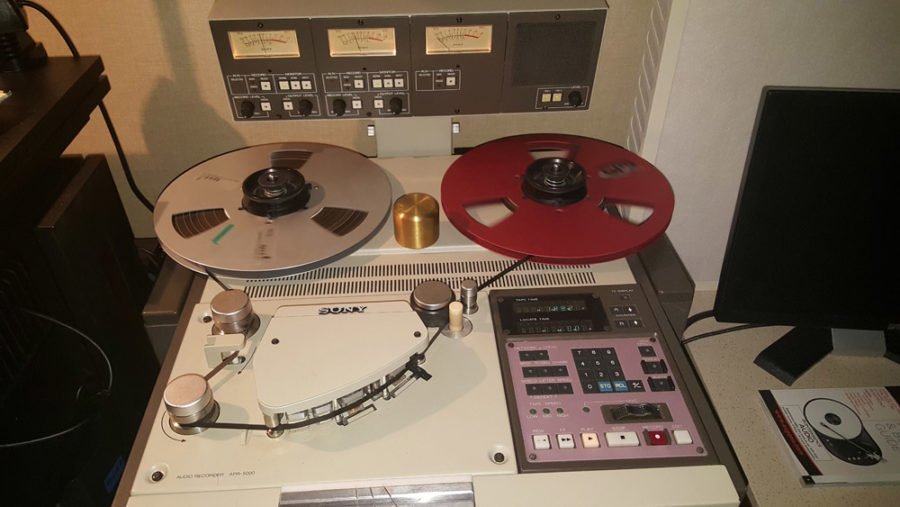 So you can see, even if you got bored visiting the 110 plus listening rooms, there were plenty of other options to consider.
On to the listening rooms…The primary reason for attending AXPONA 2016.  I will start with a disclaimer: I did not judge any loudspeakers or any equipment critically.  At best, my visits were to see if something sounded good enough to warrant further investigation.  There were too many people trying to fit into a space designed for half of those crowded into most of the rooms.  People were conversing, walking around, standing in front of loudspeakers, talking on the phone, scratching, and doing most anything else you can imagine in the listening rooms.  I am a Mechanical Engineer; technical things interest me more than anything else.  Sound quality matters more to me than price.  End of disclaimer.
I went with my wife, her brother and sister-in law to look for a first 'new' system for them with a total price of about $1,500.00usd for a new AV receiver, two speakers, a subwoofer, and appropriate cables.  What my brother and sister-in-law have owned in the past have been used hand-me-downs.  This was their first time attending such an event, and from our discussions, they were stunned with the sound quality of what they heard.  Before we did anything else, and while our ears were still fresh, we went listening to loudspeakers.
First stop, the ELAC room, and a very entertaining Andrew Jones leading the discussion.  ELAC had two speakers featured, the Debut B5 ($229.00usd/pr) and the Uni-Fi UB5 ($499.00usd/pr).  I'll not go into great depth regarding design and build – there are enough reviews out there to search if you're interested – but I will say both loudspeakers sounded fantastic despite their relatively small size.  Andrew wove his story about KEF, Pioneer, TAD, and now ELAC.  He gave us background regarding the design, played several bits of songs on one speaker, swapped them out for the other pair, and then played several bits of music on the other pair.  He answered questions along the way, and discussed the ELAC subwoofers in some depth.  The new subs have built in room equalization, all run through your mobile smart phone, and you can make adjustments using the app while sitting in your listening position.  A very clever, well thought out design feature.  I specifically asked about the Debut B6 ($279.00usd/pr), which falls in between the B5 and the UB5, and Andrew said the sound is very similar to the B5, but with a bit more low end.  The sound is excellent and very involving for a small loudspeaker; not quite up to the quality of a loudspeaker costing a few thousand dollars as I have read in some reviews, but easily worth more than the suggested price.  Highly recommended if you are in the market for a bookshelf sized pair of speakers.  My only caveat is that the cabinets are ported on the back and need proper placement for best sound quality.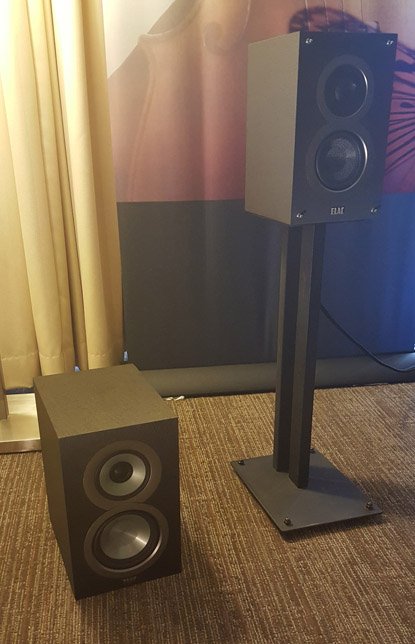 The next room we visited was one featuring Ryan Loudspeakers, where we listened to the Ryan R610.  Ryan Speakers will be introducing their top-of-the-line Tempus III to Europe in May at the High End Munich 2016 audio show.  The R610 ($2,000usd/pr) has received good reviews and I recommend you search them out for information on design and sound quality if you are so inclined.  The Ryan speakers were paired with auraNAS equipment, and the sound just wasn't engaging.  The treble was quite good, but the midrange lacked something, and the mid-bass was just adequate.  The sound just wasn't what I had expected after reading a few reviews and watching a video review.  The Monday after the show I spoke with Joe Galanti, owner of Superior Audio Systems, the Chicago Ryan Speakers dealer, and he invited me for a second listen to the speakers at his shop with different front end equipment. He assured me what I heard was either an equipment or a room anomaly.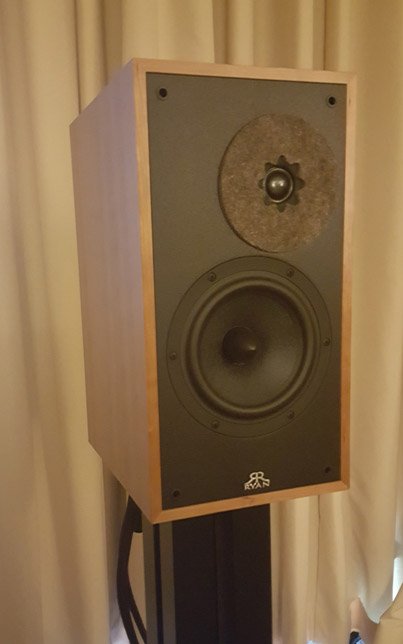 I visited a second room featuring Ryan Speakers, with the top-of-the-line 'R-Series' R630 ($5,000usd/pr).  It was quite crowded when I stuck my head in, but the sound coming from that room was very good.   Associated equipment included Aurender and ModWright Instruments gear.  The R610 and the R630 have essentially the same tweeter and 6.5" driver, with the R630 using an additional 6.5" driver and a 4" midrange in a larger cabinet.  I promised myself to return to the room for a second listen, but I ran out of time.
On the fourth floor, ATC Loudspeakers were demonstrating two of their loudspeakers – the SCM19v2 ($4,300usd/pr) and the SCM40v2 ($7,000usd/pr).  Entering the room, the SCM40's were making excellent music.  I listened to bits of numerous recordings, and one track by country artist Lee Ann Womack really caught my ear with sublime vocals and minimal instruments that sounded like she was in the room with us.  After several songs, the speaker leads were switched to the SCM19's.  The sound of the 19's were essentially the same as the SCM40's, with just less bass as was to be expected.  They had the same clarity of treble and midrange, excellent mid-bass, but not as much of the full range sound of the 40's.  Once again, there are numerous reviews of both speakers, and these are definitely worth taking the time to listen to.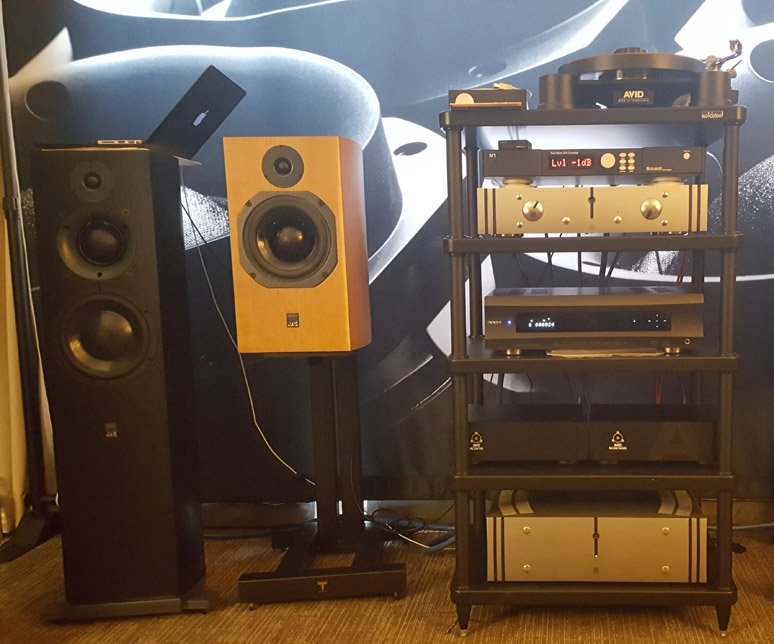 The biggest problem with ATC Loudspeakers in the US is a lack of distribution.  There are currently eight dealers throughout the country and for a speaker brand so popular and well-liked throughout the UK and Europe, it does present a problem.  Fortunately, ATC Loudspeakers does have a dealer in the Chicago area, but remember; you can drive eight hours and not leave the State of Illinois.  Within eight hours you can travel through three or four countries in Europe.
My hope was to have my brother and sister-in-law listen to the ELAC B6, Ryan Speakers R610, and ATC SCM19v2, all with a 6.5" mid-bass driver and a 1" tweeter, and give me their impressions without knowing the price.  Unfortunately, ELAC messed up my plan a bit by having the B5 on display and available for listening.  Nonetheless, the winners were the ATC SCM19v2, followed by the ELAC B5, and finally the Ryan Speakers R610.  The Ryan's – at almost 8.75 times the price – just weren't engaging enough to warrant the extra cost.  The ATC's were definitely superior, and at 18.75 times the price, I would expect them to be.  Once we discussed pricing, the ELAC speakers were the winners. 

At this point, I gave my brother and sister-in-law a list of rooms and equipment to look at and consider, while my wife and I went off to check out things on our own.
We stopped in to room 438 featuring GamuT Loudspeakers.  On display and sounding excellent was The RS Superior RS7.  I've been noticing that more and more loudspeaker companies are using an elastic banding as grille material.  It looks good and certainly doesn't appear to affect sound quality.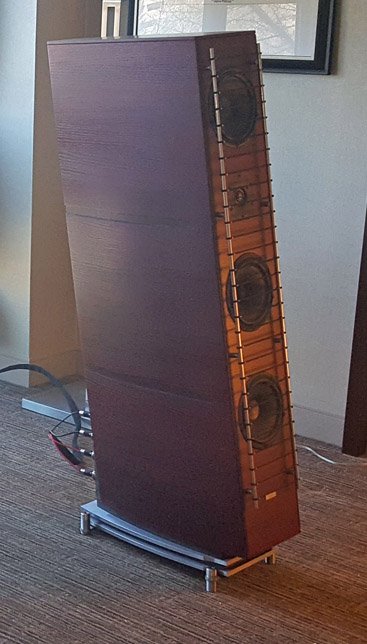 Next, we looked at and listened to two different models of speakers by Avantgarde Acoustic –  the Zero 1 and the Uno.  The Zero 1 is atypical for what people expect from Avantgarde.  These speakers were essentially a large, somewhat flat box.  No horns protruding on this model as is typical for them.  The Uno XD was a more 'normal' looking model for Avantgarde, yet very unusual to those people that are used to box speakers.  The music playing on the Uno XD was flamenco guitar; each note was distinct and crystal clear, and then suddenly a very deep bass note that shook the room.  I was not expecting to hear such good quality sound from a speaker in a hotel room.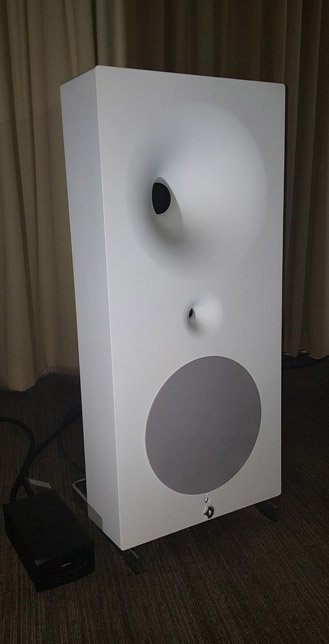 I always tend to look in on the Reference 3A room if I'm passing by and sure enough, this day I did.  The Reference 3A MM de Capo BE Monitor Stand-mounted Loudspeaker was there, although the Reflector Monitor was their featured loudspeaker this year.  I still am intrigued by the de Capo speaker and its non-reflective Nextel finished cabinets.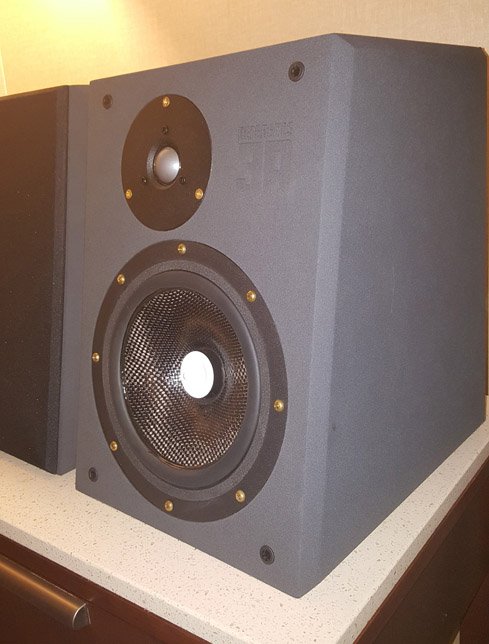 The next room we searched out was 642 and Magico Loudspeakers.  On display in this room were the superb sounding 190lb. (86kg) S5 loudspeakers.  At the entrance to the room, was the very shiny metal frame used in the construction of this loudspeaker, which is then covered in ½" aluminum panels.  Magico is one of the loudspeakers that you always read about, and if you have the opportunity to search them out at the next Audio show you attend, I highly recommend you take a listen.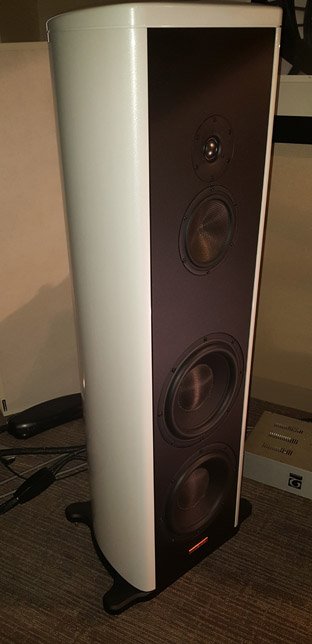 A few doors down from the Magico room was the Amadeus Philharmonia Loudspeaker. This speaker was introduced for the first time in the US at AXPONA and will also be introduced to Europe at the High End Munich 2016 audio show.  If you're not familiar with this massive stand-mounted loudspeaker, it is comprised of 547 layers of veneer creating a two-way designed speaker with its own built-in amplification.  The cabinet looks stunning and the speaker sounds as good as it looks.  I do not have any idea what it weighs, and the specifications give no indication, but I was assured that it is amazingly heavy.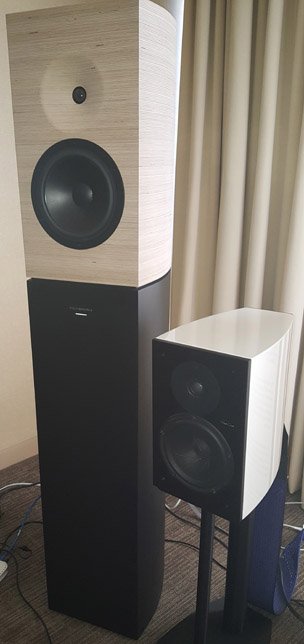 We saw more turntables than you can imagine.  It seems that every high-end room contained at least one turntable.  There were 24 different turntable manufacturers represented at the show, and I saw the same brand of turntable in more than one or two rooms.  Some of the brands represented included Acoustic Signature, AMG, Audio Note, Bergmann Audio, Clearaudio, Graham Engineering, Kronos Audio, SOTA Turntables, Transrotor Turntables, Triangle Art, VPI Industries, and Well Tempered Lab, along with another dozen brands.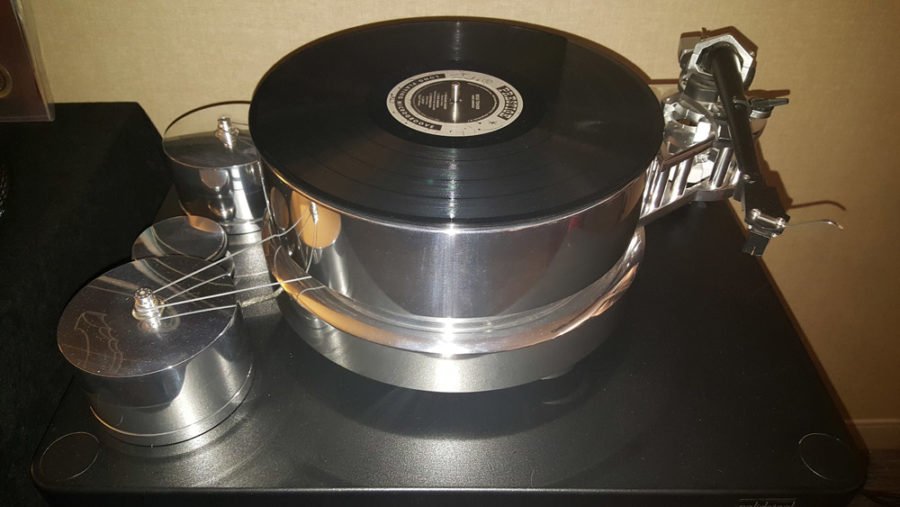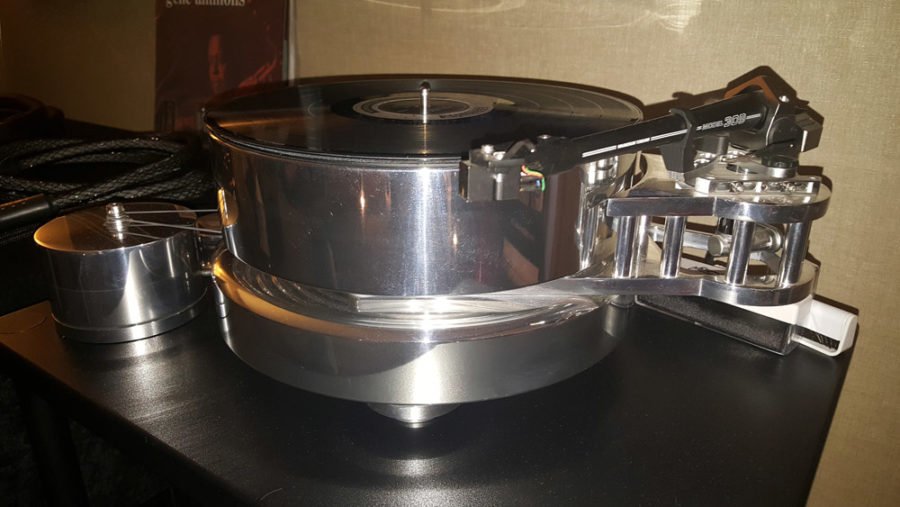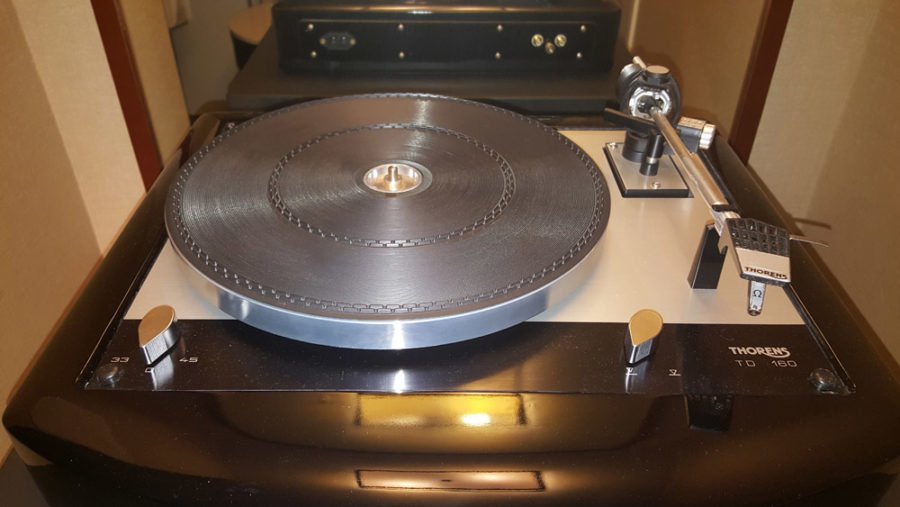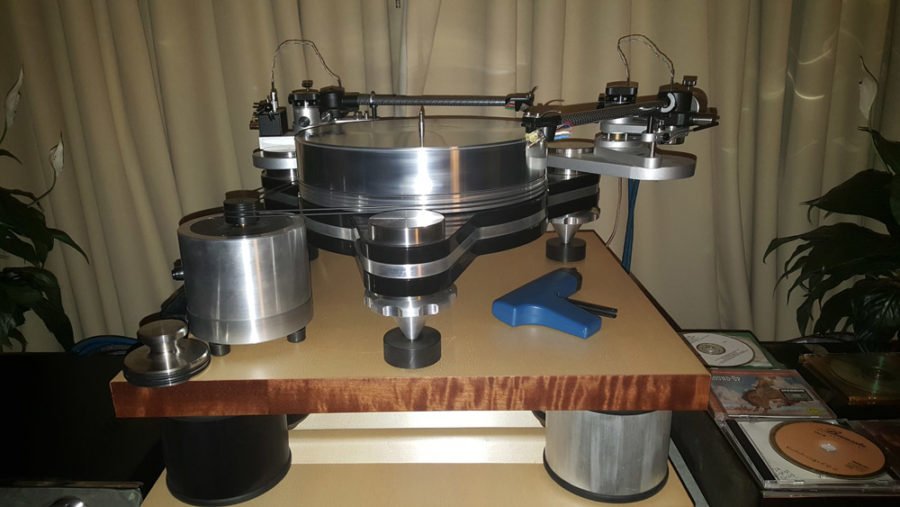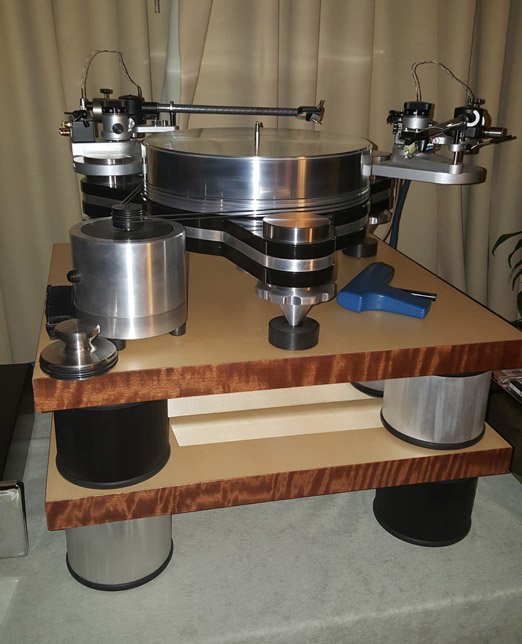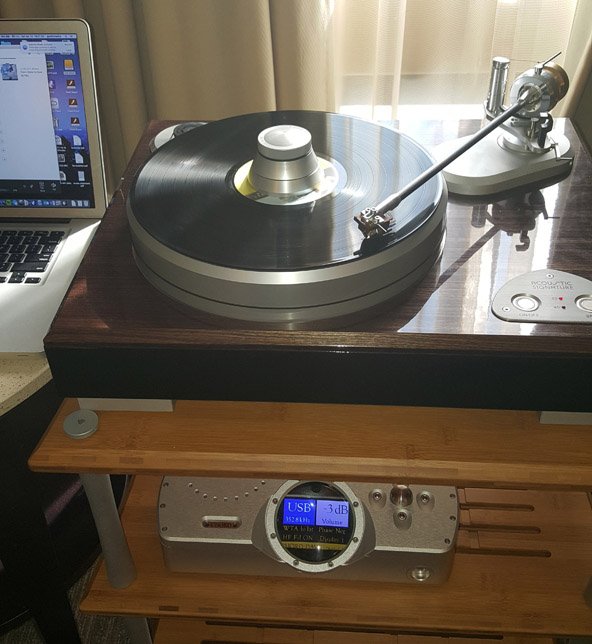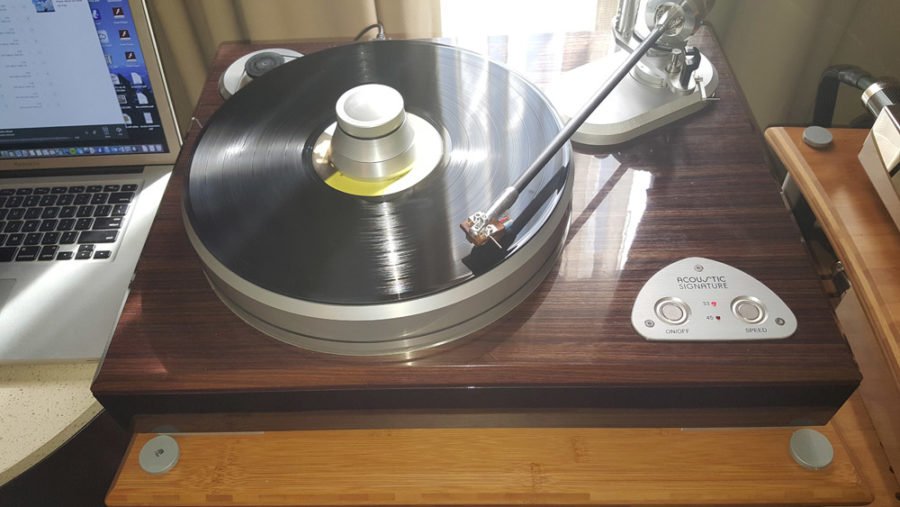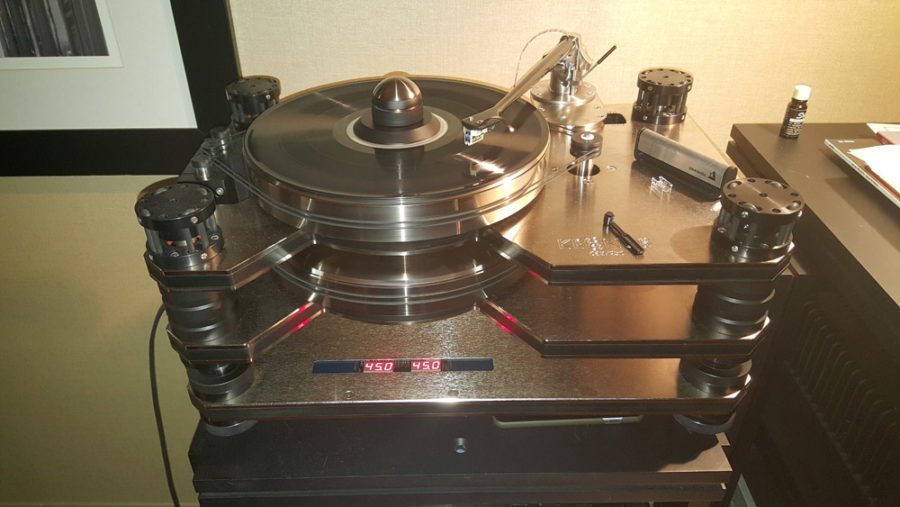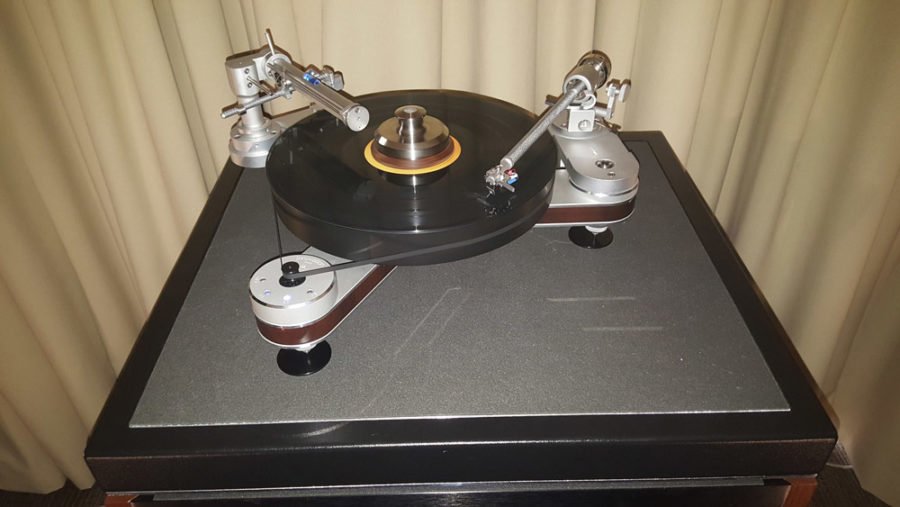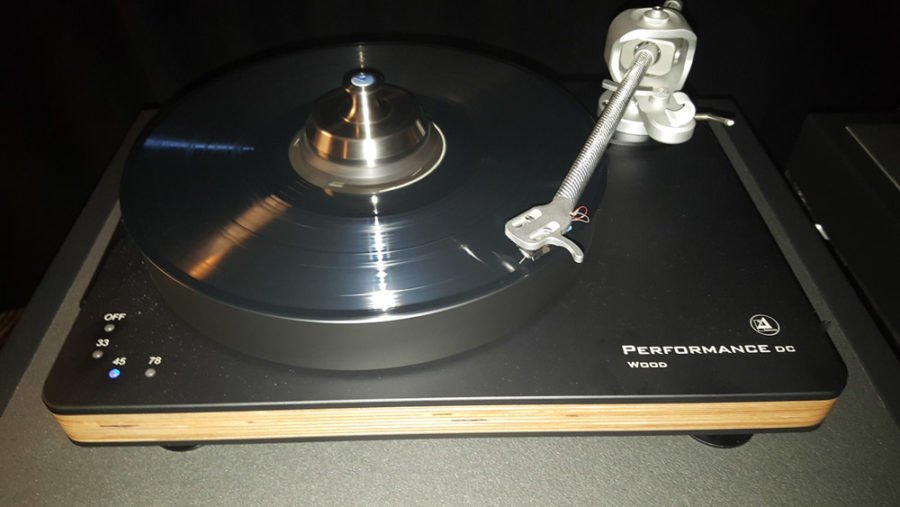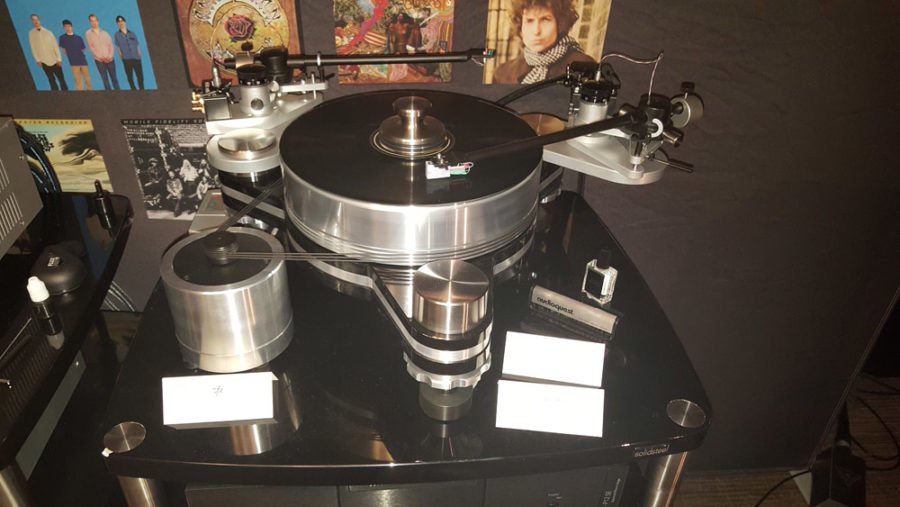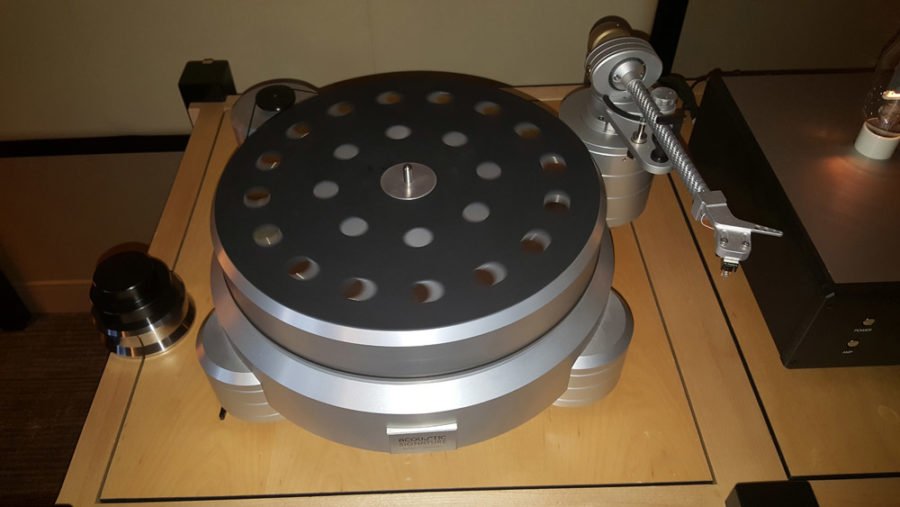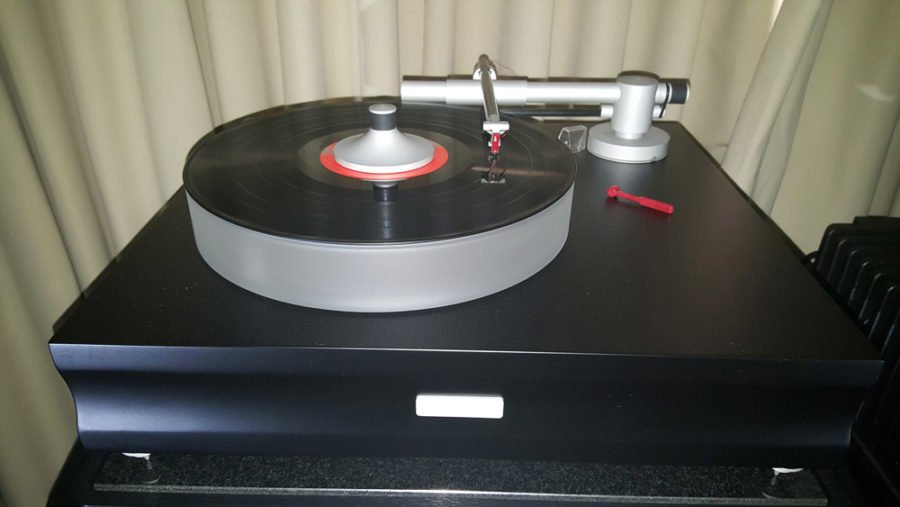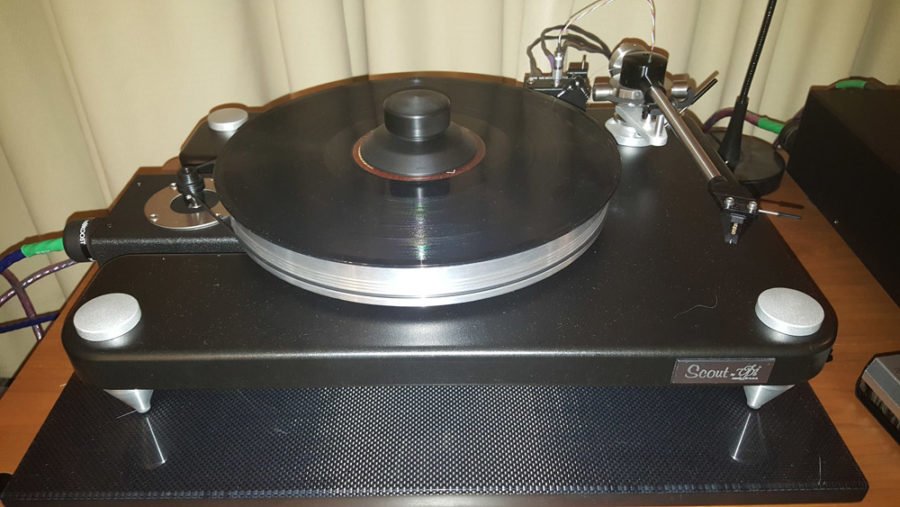 Along with all the Turntable hardware, there were a few record cleaning products including the Clearaudio Double Matrix Professional Sonic Vacuum Record Cleaner.  It looked better in action than it did while resting, and a vacuum cleaner is definitely top-of-the-line.
As the day wound down, I still needed to travel to the 12th floor to see some of the ultra-high-end equipment, and that's where I discovered what I felt was the Outstanding Product of AXPONA 2016.  In the 'O'Hare 1' room I found an AMG Viella V12 Turntable with the 12J2 Tonearm ($17,500usd).  Mounted to the end of the tonearm was the equally fabulous DS Audio DS Master1 Optical Cartridge ($20,0000usd).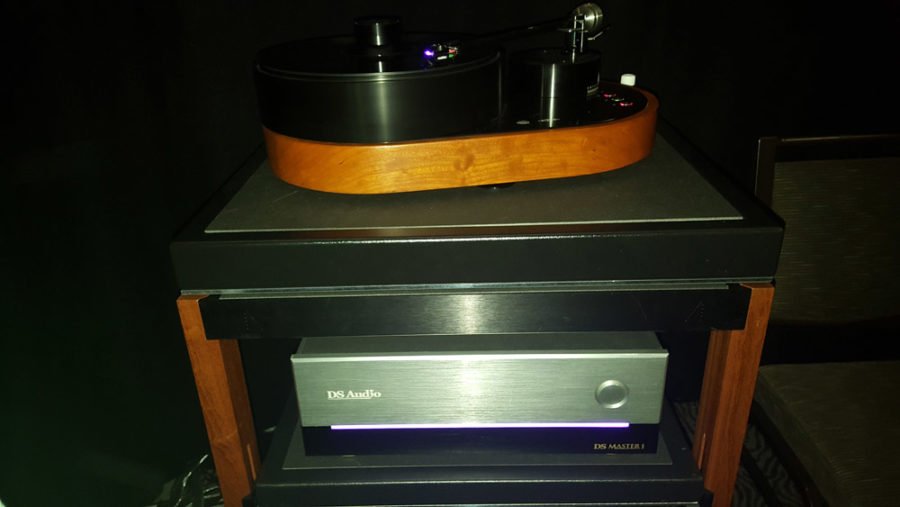 For those of you that say there is nothing new in playing black vinyl discs, take a look at this!  While this cartridge/turntable combination is not for the faint of heart or bank account, the technology is amazing..
How can I explain the function of this cartridge to you?  How many people made hand puppets with a bright light and the shadow on the wall behind you?  While the cartridge process is far more complex, that is the basic idea of how you can imagine it working.  When I saw the headshell and cartridge mounted in it, and I initially thought, 'How cool is that, someone finally mounted a light in the headshell to help you see what you're doing when cueing up a record' (the 'light' ends up being bleed over from an LED used in the optical process). When I spoke with the first person that approached me, he suggested I speak with the US Importer of AMG and DS Audio components, Garth B. Leerer.  Mr. Leerer graciously took 30 minutes out of his busy day to discuss AMG from its beginning days through what is currently happening, and the very interesting DS Audio DS Master1 Optical Cartridge.
To continue, if you ever made hand puppets, take the process one step further and imagine holding a long stick at one end as the free end floats in the air.  Your hands are the stylus as it tracks the grooves of the record, the other end of the stick (the cantilever) makes shadows via an infrared LED beaming on a light-sensitive photo-electric diode.  Mr. Leerer stated that those shadows are translated into electrical energy and signals and through their proprietary process, creating music.  The mass of this setup is lower because unlike either typical Moving Magnet (MM) or Moving Coil (MC) cartridges, there are neither magnets nor coils attached to the cantilever assembly.  The DS Audio brochure states that a typical cartridge output is Velocity-Proportional and requires much more complex circuitry to provide a usable signal while the optical cartridge is Amplitude-Proportional which only needs to measure distance of travel and is a much simpler circuit.
In addition to the standard 12J2 tonearm, AMG just announced an upgraded 12JT (Turbo) tonearm for those individuals that want to take the next step toward the perfection of vinyl playback.  This tonearm was featured with the AMG Viella V12 turntable on the cover of the 2016 AXPONA Program & Buyers Guide.
What I learned from this show, as with the other shows I attended recently, 99% of all music is burned to and played back through an Apple iPad.  Even if the room featured a turntable or three, music was typically played back from an iPad because it was the most stable source.  Most rooms had equipment hooked up with big, thick, high-end Audiophile cables, even if the cable manufacturer wasn't acknowledged.  I didn't see one room using 12AWG zip cord for speakers.  More turntables were on display than ever before.  One room in particular had a very nice turntable with the platter spinning on display, I saw a record lying nearby and I asked it to be cued up and a particular track played, no problem – played directly from the iPad in the room.  The quality of music playback is getting better every year, and prices aren't expanding as quickly as the amount of new gear that is on display.  Better quality and stable prices, who could ask for more?  Enjoy the next Audio Show that you attend.
Ron Gruber