BACHE AUDIO SONATA EX LOUDSPEAKERS REVIEW
Bache Audio is a small manufacturer of loudspeakers based in New York that makes a handful of products using wideband drivers that are enhanced by more conventional drivers. Stuart Smith takes a listen to the $2780 Sonata EX standmount loudspeaker.
Bache Audio may well be a new name on the audio scene and I for one had never encountered them before until, by chance, I stumbled across them on social media. Bache is based in Brooklyn, New York and originally started creating loudspeakers for their own use but liked what they heard so much they made them available as a commercial product. All their speakers are based around wide-band drivers, which was cause enough to pique my initial interest, and these cover the frequency range from about 100Hz to 10kHz to which Bache say our hearing is most sensitive. These are the only standmounters in the Bache range where you will find four floorstanding models that start at just over $3000.
The speaker we have here is the $2780 Sonata EX which is an upgraded version of their previous Sonata-001 loudspeaker.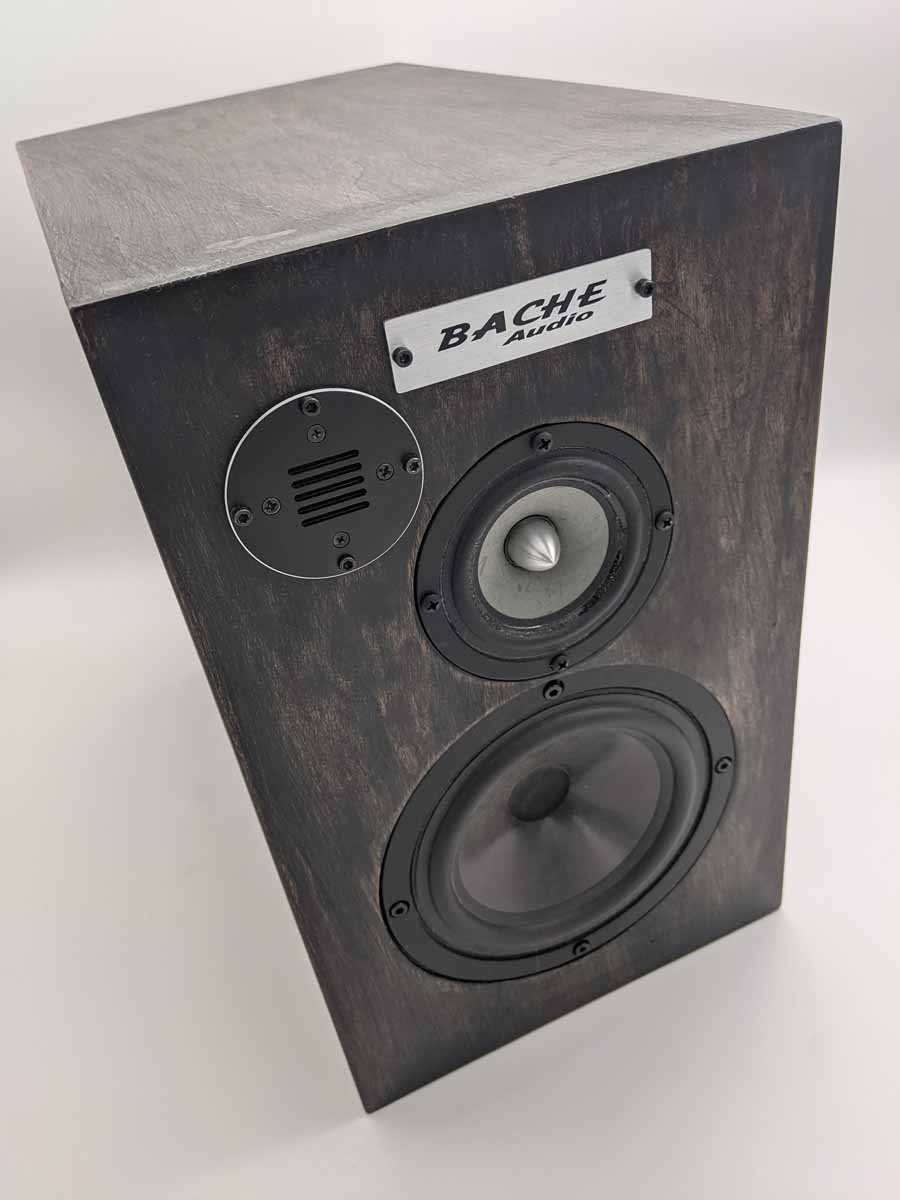 DESIGN AND CONSTRUCTION
I said that it was the wide-band concept that initially caught my eye and the speakers we have here are based around a 3" bamboo driver that is run full range, that is there is no crossover used on this driver. However, it is not this driver that dominates the front panel and there is also a 5.25" composite cone driver that has a very simple crossover. Bache call this driver an "Assistant Bass Driver". In addition to these two drivers there is a 1" AMT (Air Motion Transformer) tweeter which again is called an "assistant".
This whole layout id pretty unusual to say the least and I'm not sure I've come across anything quite the same, although I have put together DIY wideband speakers that have been aided by horn tweeters in the past, and with very good results. The given thinking here is, as mentioned, that the mid-band is where we are most sensitive to sound, but it is also the frequency range that many audiophiles like to talk about being the most important to them. However, what I think will be interesting with the Bache speakers is how that tweeter and bass (assistant) units integrate with the 3" wideband driver. So, despite what this speaker may look like at first glance, it is neither a 3-way nor a 2-way design. Rather, it's better to think of these as a sort of a single driver loudspeaker that is getting a bit of help from a bass driver (only one coil in the path), and the AMT that operates only above 10 000Hz and with just one Mundorf Capacitor in the path. The latter does away with the whizzer cone often found on wideband loudspeakers.
The speakers are a rear-ported (tuned to 32Hz), bass-reflex affair with a claimed frequency response of 37Hz to 27kHz (+-3dB) and have a nominal impedance of 4Ohms. They are pretty sensitive at 91dB and so should pose no problems to amplifiers with relatively modest outputs – Bache suggest an amp with at least 20Watts output, though we used our normal Merrill Thor as the reference.
They are a pretty big standmounter depth-wise (14"), but height and width are pretty normal (15" and 8.5"). The speakers weigh a healthy 27lbs and so given this weight and depth, a pair of sturdy loudspeaker stands are the order of the day. They come with a pair of magnetically attached grilles.
The speakers are made in MDF but you can also get 200mm plywood or bamboo versions for an additional $200. The finish on the pair was a sort of dark brown stain which I actually quite liked, and the speakers are certainly put together very well. Around the back is a single pair of good quality speaker binding posts on a solid metal plate. Looks-wise they are going to divide opinion and they are pretty idiosyncratic in their appearance, though I quite like that difference from the run-of-the-mill. Being hypercritical I think the badge on the front top looks a bit DIY and detracts from the speakers' look.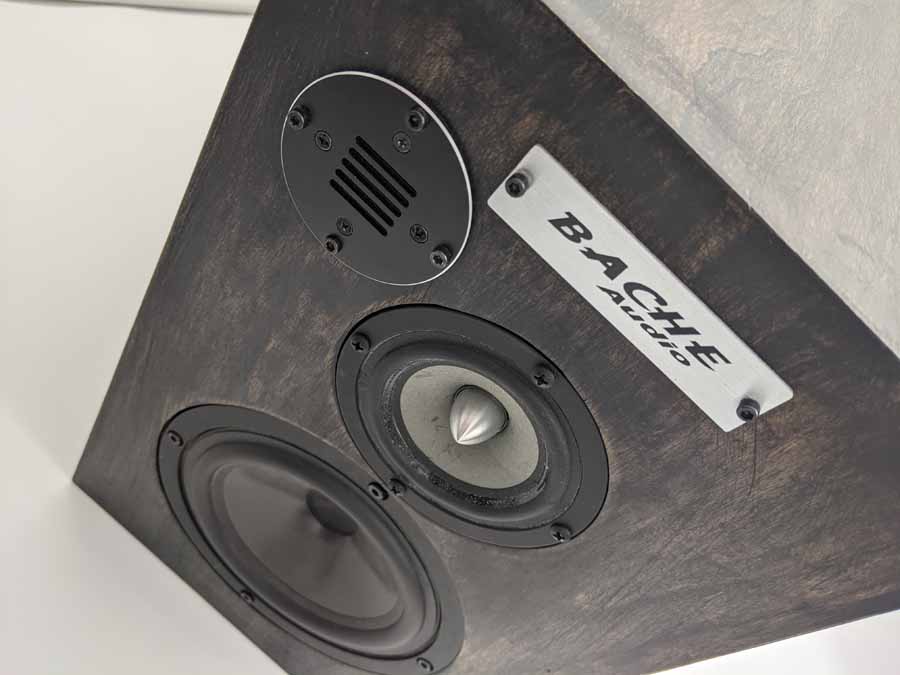 SOUND QUALITY
I have enjoyed and owned a few pairs of single driver loudspeakers and they certainly have their benefits, the main one for me being the lack of crossover colouration, plus speed and purity of sound. Where they have lost favour is that the driver can feel like it is doing too much, trying to cover far too many frequencies and as a result becoming a bit confused. I like the Bache approach as it maintains the purity of the lack of crossover ( or as near as damn it), and, on paper at least, I have high hopes for it.
Set up was our usual reference kit in this room of the Merrill Thor amps and the Leema/Auralic Pre/DAC/streamer combo. I suppose I should really get into the spirit of the single driver concept (though this isn't strictly) and get a valve amp out, but the truth is I haven't used it for a while and so don't really have a relevant reference point for it.
Needless to say, the speakers were played for a good while before critical listening by way of running them in and loosening them up a bit.
I'm going to say now that I have my worries about these speakers, though I try to go into any review with an open mind and a willingness to embrace the different. Greg, the owner of Bache, mentioned in conversation the speakers and their reproduction of voice and piano, and that led me to think that perhaps they would be all audiophile-midband and little else. Let's see!
So, taking what was said about piano and vocal I thought the best thing to do was to throw a bit of dub reggae at these speakers in the form of Mad Professor's Science and The Witchdoctor, a record I really did used to hammer on The Big Pig Soundsystem and on the radio show. I sat back, pressed play and waited to be wholly underwhelmed. I wasn't at all underwhelmed and really a touch on the gobsmacked side.
The bass on the opening track Anansi Skank was both deep, tight and tuneful – certainly not a one-note bass fart that I was sort of expecting. The bass on this track is relentless and repetitive, but when the player moves up the fretboard you hear it and the speakers report this back in the music that fills the room – and we are listening in the bigger of the listening spaces. The bass response is fast, strong and sits centre stage  (literally throughout), though it does drop off. One point here is that the speaker stands I had to hand were either too small for the large footprint of the speakers, or too low to get the tweeter at ear height and so I used a pair of IsoAcoustic stands I usually use n my desk betwixt stand and speaker. This had the effect of really opening the sound out, particularly the effects and upper frequencies and so if you do get the opportunity to audition these speakers then do make sure your stands are at the right height! Without the extra couple or so inches, I thought the speakers sounded a bit closed in. One thing that did really shine out with this particular track was the purity of the percussion, particularly bongos/congas – they were as lifelike as I have ever heard them sound in this track and in this room – that is very high praise for any loudspeaker, but particularly so for a speaker of this size and price.
Dub is a dynamic kind of music and a speaker needs to respond quickly if it is to succeed in playing it well  – these, and there is no one more surprised than me in saying this, do, and do it very well.  A few days after initially setting the speakers up and beginning to listen to them properly I had them playing whilst beginning the working day and at pretty low volumes whilst playing Dub Syndicate's Strike the Balance. At low volumes, they are really a very pleasing loudspeaker indeed, with me really not feeling like I was missing the extra volume or bass oomph. There is still very good detail throughout the frequency range and the bass you do get (far from trouser flapping) is still very tuneful. And that's one of these speakers really nice attributes with regards to basslines  – they neither dominate nor fall off into the background and are very easy to follow.
On hectic and wholly inappropriate music like X-313's Cybernator (Gabber), I'd expected the Bache to bugger it all right up, but again I was pleasantly surprised and they play this kind of techno very well. That hollow bass kick's tone comes through really well and they really don't seem to be sweating it at all. There's not that final bit of bass that I'd be getting from the Audiovector R3s, and even less so than from the Avantgarde Duo XDs with their active 1000W double 12" subs, but there's very little to whine about – and I genuinely thought I'd be tearing into these speakers at this point.
OK, I'll be kind and play some of what these speakers are supposed to like and get on with. Here's Vladyslav Sendecki's Solo Piano at Schloss Elmau and it is a very lifelike experience indeed. The changes in the playing are portrayed wonderfully, as is the way the keys are hit and Sendecki's expression on the pedals. There is also a really nice sense of the room's acoustic being played out in front of me, particularly when the sustain pedal is hit. If I can pull one critical thing from this experience it is that at louder volumes this particular record did seem a little much at the very higher frequencies. Not enough for me to get up and turn it off, but it is worth pointing out. Now, I gave this a good deal of thought and this slight hardness of sound may be because our chosen reference DAC is particularly revealing in the top-end (it was chosen to be like that) and were I looking for a more synergistic partnering I could have opted for the more forgiving Lampizator Big 7 DAC we have to hand – however, that is not the purpose of a review situation. The tone of the piano really is very well portrayed on these speakers to my ears and I actually ended up listening to the whole record, which given my musical preferences is pretty good going.
Look, you guys know I don't write about listening to classical music that often and that's because I don't listen to it a great deal, and when I do it is the more simple music that I tend to enjoy. Jean-Guihen Queyras and Alexander Melnikov's Beethoven Complete Works for Violoncello and Piano is one that I do listen to and I do get on with OK. At low volumes, I'm getting everything, but it all seems a little bit subdued and in the background – sort of as if the speakers aren't getting enough juice up them. A handful of clicks on the remote volume button and all is well, with the tone of the violoncello being represented beautifully, and the expression and sound of the piano are really nicely portrayed. Dynamics are expressed now with vim and vigour. Music fills the room very pleasingly and whilst the speakers certainly don't disappear (what speaker really does that impossible task?) you can close your eyes and visualise the player in the room. You also get a pretty good impression of the acoustic of the space the piece is recorded in and with good space and air  – I suppose when I talk about space and air I'm actually talking about the effect of the recording room when referring to live recorded music. On this record, the Bache speakers are really very nice indeed. Again, I find myself listening to much more of this than I perhaps would have done – it's even managing to chill Ali the cat out, which is no mean feat. Greg that makes these speakers, I strongly suspect listens to a lot of this kind of music as the speakers certainly play it very well.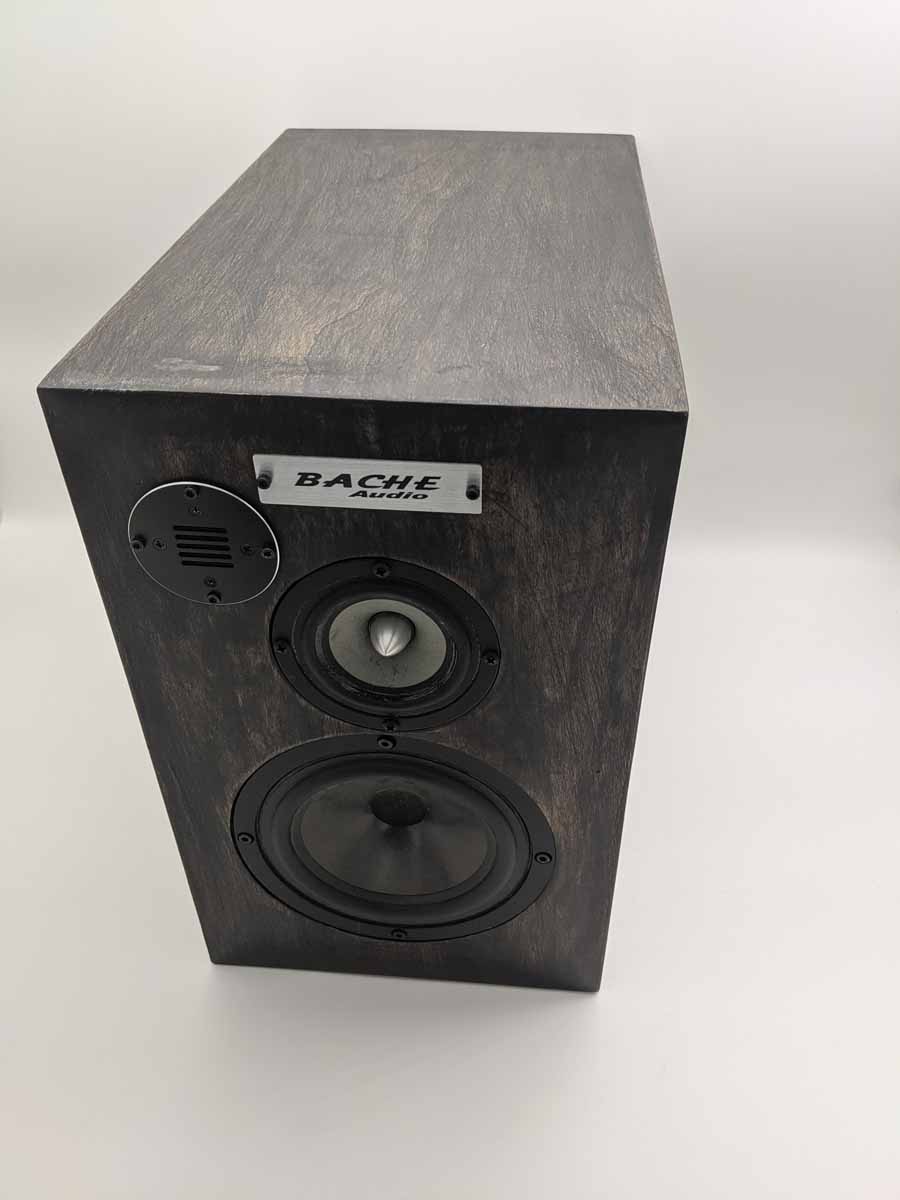 Mick Softley's version of Strange Fruit on the Eve label is guitar and voice…and tape noise. This again is very well presented and when the vocal is over-saturating the tape the speakers don't hide it. I actually really like the honesty of the speakers. On this album, they really date the recording but I sort of quite like that too. Softley's voice and his passion for the subject matter he is singing really shine through. The recording is very live and like the classical music I spoke about earlier you can hear the recording space – this 'looks' like a small and low studio that Softley has been recorded in, and this is particularly evident on The War Drags On.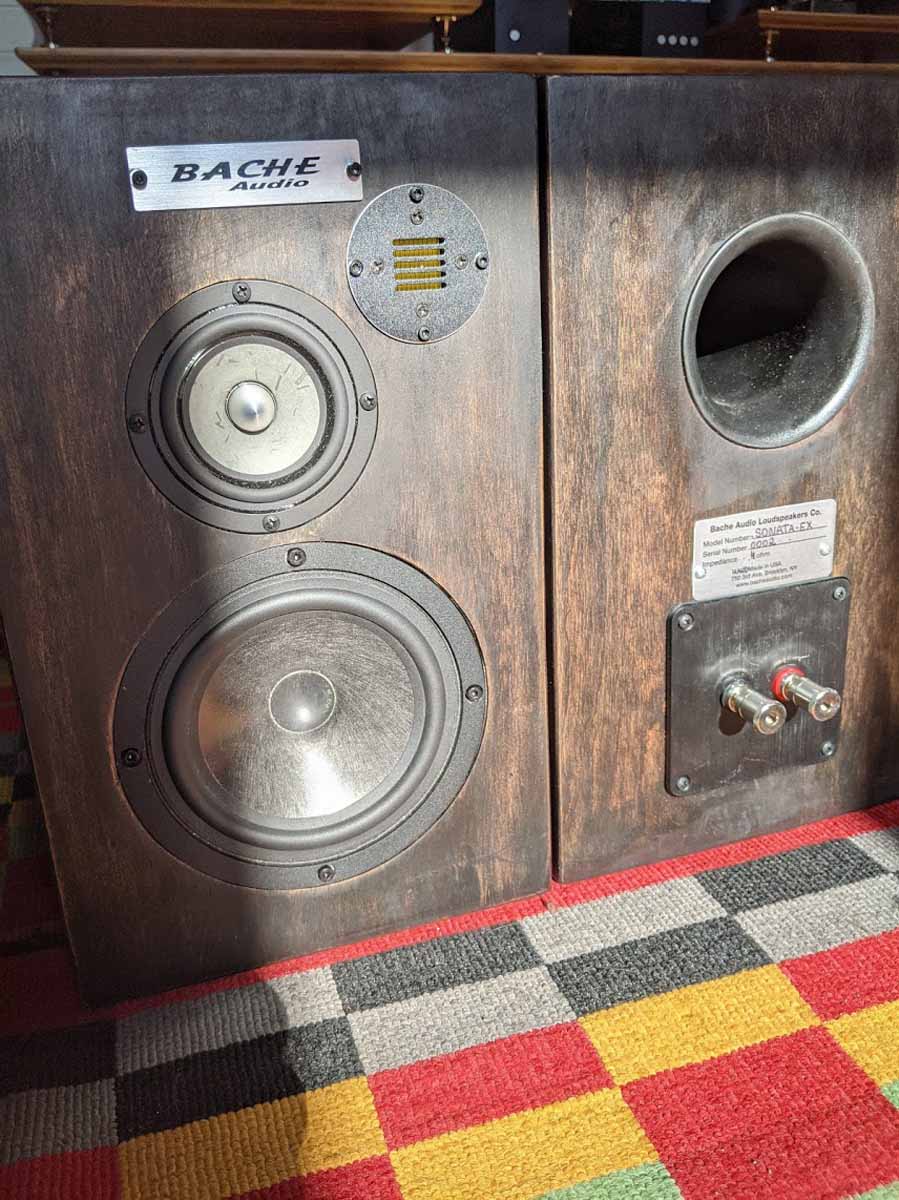 Bowie's Fall and Rise is a record I came to relatively late in life, maybe only 15 years ago, but I listen to it a lot. It's a good record to use in reviews I think as it's really well produced and there is a lot going on, despite its apparent simplicity in parts. The strings on the opening track (Five Years) are absolutely wonderful on these speakers. Not with the same scale as the R3s or Duos but still very good and enjoyable. When the track fades and the drumbeat solos and fades it does with tightness and accuracy that is admirable. Saxophone has rasp and the vocal on track two reaches out into the room. There are parts on this record that some speakers can get very wrong and get very confused in trying to cope but that's genuinely not the case here and I'm actually a bit surprised.
CONCLUSION
The speakers are speedy and tight which is something I like in better standmounters. They are also very nicely balanced from top to bottom.
They don't go uber-low but the bass that you get is quite special in how taut and tight it is. I didn't try a sub on these but suspect that a well-integrated one would flesh out that very bottom end a good deal – I didn't feel the need, even with dub and gabber.
There is a simple and enticing purity to the presentation of the Bache's that really draw you into a recording, and whilst that pretty much open AMT tweeter can at times be a little much, and can get harsh when pushed, it presents a level of detail that allows you to see into a recording and the recording space.
The level of detail and emotion they manage to project into the room with vocals is wonderful and I particularly enjoyed listening to a good deal of simply recorded folk music, where the recordings were uncomplicated and honest to the tunes being played and sung. I found myself really getting lost in these tunes – tape hiss and all.
They are not the prettiest of loudspeakers and whilst actually being well put together they look a bit like they have been assembled from off the shelf components – they have, to be fair. Some may think that because of this that the speakers are pretty pricey!
They also benefit from careful placement, with particular attention needing paying to the height of the tweeter.
AT A GLANCE
Build Quality:
Very nicely put together and very solid but they do have the air of small production about them in the way they look.
Sound Quality:
Pretty even throughout the frequencies with a nice emphasis on the mid-band. This emphasis, In my opinion, lends the speakers a propensity to being better with simple music. I'd expected them to be bass-light but they are not overly so, and what bass is there is very tuneful. The AMT tweeter can be a little much on some music. Detailed and even overall.
Value For Money:
There is no doubting these are nice speakers but they are certainly not cheap and that will reflect in the award these get.
We Loved:
Open and detailed mid-band
Tight and tuneful bass
Really rather special at low volumes
Open and with a good sense of space and the room
Pretty truthful to the recording and with no place to hide for poorly recorded or mastered tracks
Much more dynamic a speaker than their size would suggest
Sensitive enough to get on well with most amplfiers
We Didn't Love So Much:
Quite expensive
Look a bit "handmade"
Can be a tad harsh on some material at the very top end
Some will want more bass oomph
Price:
$2780
Elevator Pitch Review: Quite a big standmount loudspeaker that may be difficult to accommodate stand-wise. A lovely open and well-projected mid-band with tight and very tuneful bass. They can sound a bit harsh at the very top end on some recordings. If you play a lot of fairly simple music these are a very worthwhile audition.
Stuart Smith
Review Equipment: Auralic Aries G1 streamer, Leema Libra DAC/Pre, Merrill Audio Thor amps. Cables by WAY, Atlas, Tellurium Q, and Cardas
Specifications:
Monitor based on wide range 3″ bamboo cone driver with no
crossover. (crossoverless )
Bass reflex (rear port) configuration.
Frequency Response:37Hz-27kHz +- 3db
Nominal Impedance: 4ohm
Recommended amplifier power: 20-100 W
Crossover frequency:
Sensitivity: (2.83V) 91 db
Assistant bass drivers": 5.25″– Composite cone woofer with only element crossover
Assistant supertweeter—1 " air motion transformer AMT
Dimension : 15″ H x 8.5″ W x 14″ D.
Weight: 27 lbs Material MDF, also Available 20 mm Plywood or Bamboo 1 ply
(additional $200) Finish any for custom request including high gloss.
2 magnetic grills included