Built in the US, Bel Canto's latest offering is billed as a "Fine sounding, cool running, high-output, low power usage analogue and digital media centre."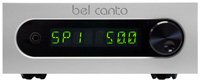 It is loaded with inputs including two 24/192 SPDIF, two 24/192 TOSLINK, one 24/96 USB, one MM phono and an analogue line level input. RCA out, Headphone out and speaker posts deal with getting signals out of the C7r.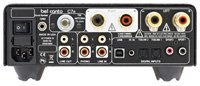 Its power amplifier delivers 30amps and make it suitable for driving a wide variety of loudspeakers and you can connect pretty much anything to it –computer, CD player, turntable, TV receiver or games console…It even has an onboard FM tuner.
The C7r can be controlled with the full function remote and all you need to add is a pair of speakers and you're away.
Running cool it can be placed pretty much anyway and given its compact footprint we think it will be popular with those looking for a good quality of sound in a more "lifestyle" package.
Price in the uk is just shy of £2800