Wow, what a show!

I was so pleased that we could be there for the full show this year.  High End Munich 2014 was a real event, if you didn't make it over then make sure that you do in 2015.

As with last year, there were some incredible sounding rooms and stunning looking hifi on offer.
To be fair there was once again too much to see, we will have missed something but we did try our best to snoofle every corner of the show…..once again my thoughts are purely rememberings of what stood out for me, I'm the Hifi Pig with the pink hair and camera, Mr Hifi Pig will give you more detailed reports.

Thursday and Friday were taken up with many, many, press conferences and meetings; we were straight into Devialet to hear all about their new speaker matching system, SAM, which was very interesting, but I wanted to hear them play something on their kit that had been paired with some nice looking Wilson Audio loudspeakers!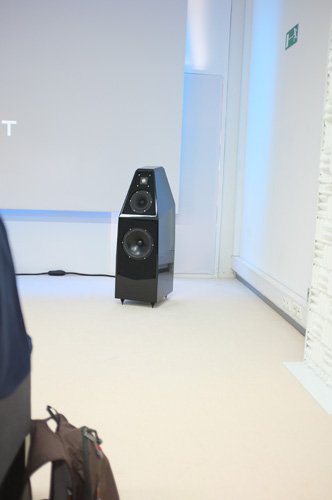 One thing that I noticed as we wandered around the Halls was I had been right in predicting a lot of Head Fi….there was headphones and related kit EVERYWHERE.
Some very nice looking cans indeed, we came back with some Audeze to review and their stylish wooden design seemed to have influenced a lot of brands.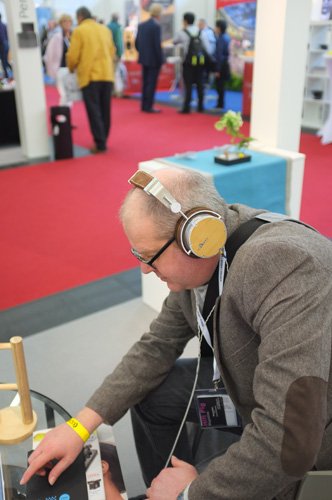 Most improved room from last year HAS to go to Nola.  You may remember that we found them a little unwelcoming to say the least.  However this year it was totally different…friendly, chatty and informative they told us that they had read what we wrote last year and taken it all on board.
Nola make stunning speakers and the sound was exceptionally good…what a difference a year makes! Well done guys, looking forward to seeing you again next year.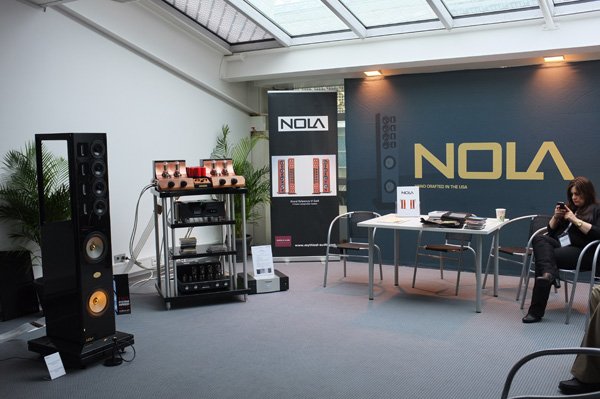 We spotted some nice looking horns and wandered into the Azzolina Audio booth….this was a cracking room.  It should have sounded terrible as there was a lot of horn in not a lot of room, but they were wonderful…and even better they were playing disco!  There was a couple of punters in there who were practically leaping out of their seats.
I want some of these in for review pronto!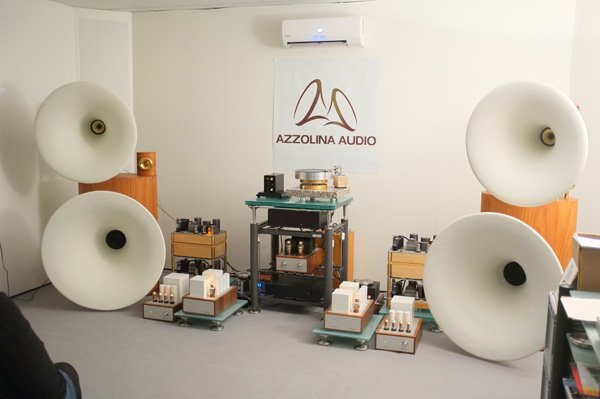 Focal and Naim with their Statement and Grande Utopia combo was one of my most anticipated rooms.
It was great to see Gérard and the Focal team again, and to meet the guys from Naim, but what we really wanted to do was here some seriously expensive hifi….and it did not disappoint!
The sound of the system was unbelievable, I could feel the music right in my solar plexus, the same way that a really good horn system gets you.
A great mix of music was played and it sounded powerful and commanding (even if the mains did blow once, whoops!)
If Darth Vader was sat in his Deathstar listening to music, this is the system he would play it on!
The quality of the design of both brands has filtered down into their lower ranges of products, such as the Focal Arias and the Naim Muso, so even for those of us that can't buy the much lusted after Statement/Utopia system, there is an opportunity to still own a little piece of it. Very nice indeed.