British Cable manufacturer Black Rhodium, which exports to 22 countries, has announced the launch of their new OPUS cable which can be used as both an interconnect and loudspeaker cable. Opus has been developed from the highly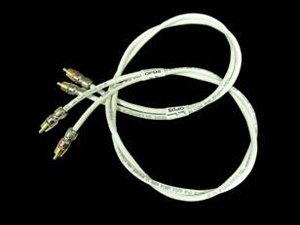 successful Harmony stereo interconnect cable and has the basic design of Harmony, but manufacturing costs have been cut by simplifying its design.
OPUS cable is made from 2 cores of tinned copper wire insulated in low loss silicone rubber, twisted to reject radio frequency interference, and sheathed in white silicone rubber.
Specifications of the OPUS cable are: Conductors: 16 x 0.2mm diameter (20 gauge) tinned copper, Insulation: Silicone rubber type GPC, Outside diameter: 6mm
The interconnects will retail at £49 for a stereo metre and the loudspeaker cable will retail at £7/metre unterminated, although terminated pairs are available.