Made in Switzerland the Boenicke W5SE are a very small speaker with a reasonably high price tag of £4595. Stuart and Linette Smith take a listen. 

When Ian Ringstead who reviews for Hifi Pig heard that we had got these diminutive speakers (they are only 2.8L in volume) from Swiss manufacturer Boenicke, he was, to say the least a little bit green with envy commenting that they were his favourite small speaker when he has heard them at shows and demonstrations. Of course, I too have heard these speakers many times at shows and I'd always been suitably impressed by what they managed to achieve and so having the opportunity to hear them in the reference system was something I jumped at.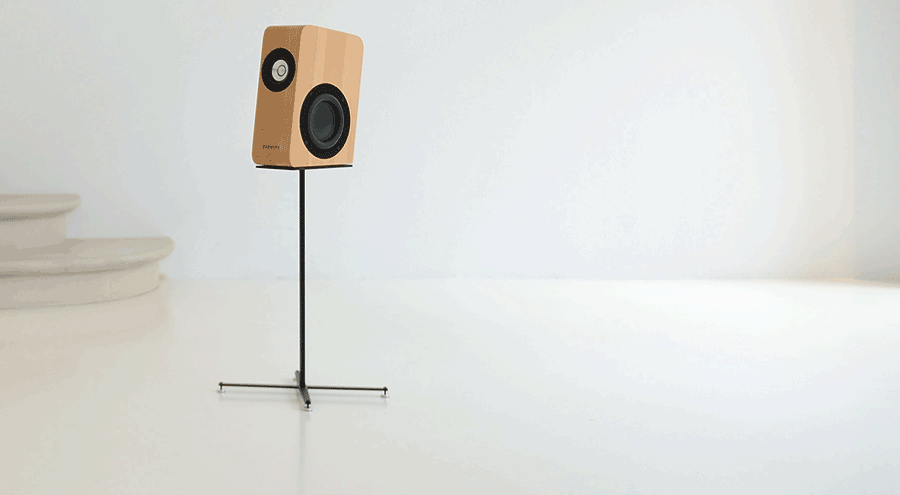 As mentioned these really are small speakers with a width of 104mm, a height of 293mm and a depth of 231mm. On their stands they stand 747mm high. The speakers are 87db sensitive, have an impedance of 4 ohms and weigh in at 3.5Kg. driver wise you get a side firing 5.25″ long throw bass driver, tuned to 50 Hz, a forward firing 3" wideband driver and rear firing ambient tweeter situated on the speaker binding post plate. There is a rear-firing bass slot just below the speaker binding post plate. Finish wise you can get them in a variety of woods (these are solid wood cabs and not laminated):   walnut, oak, ash, and cherry. This is the SE version of the W5 and benefits from electromechanical parallel resonator to bass as well as on the front firing driver, longer throw bass driver and an improved cross over layout using better components than the standard format W5; the premium for this is £818 taking the price to £4595 thorough Elite Distribution in the UK. The speakers arrived very well packed with custom made boxing.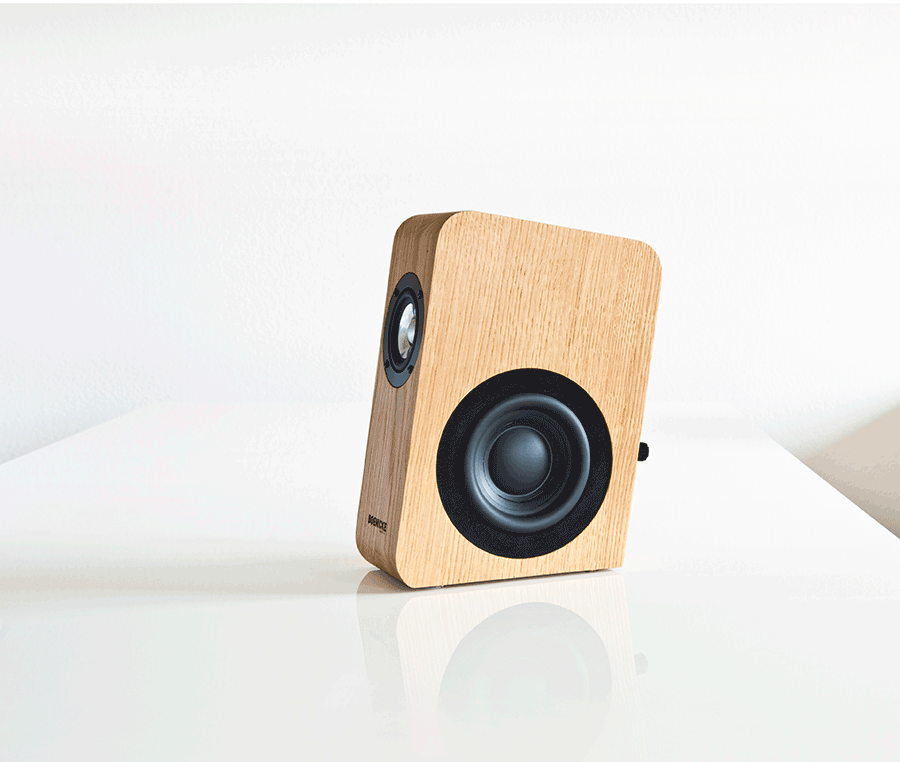 BUILD QUALITY
The first word that springs to mind when you unpack these speakers is "solid". I assume these are made in two halves and presumably glued together with all the CNC machined inner chambers coming together perfectly (see diagram below). Fit and finish throughout is exemplary and you can see the care and attention that is taken when putting these speakers together. The speaker binding post plate is beautifully finished with just one set of binding post so bi-wiring and bi-amping is not an option. The tap test shows the cabinets to be petty inert. The speakers were supplied with a set of Boenicke's own stands onto which the speakers bolt. Now, the stands do wobble about a bit on their single thin stalk (though they are very well made and thought out) but I am assured this is part of the design, and to be fair once I'd got used to their looks didn't worry about them at all, even with two cats running about the listening room.
SOUND 
One of the downfalls of many a loudspeaker is that at low volumes they just don't communicate enough of the music to sound credible, not so here and listening late at night to Massive Attack's Blue Lines is a delight. Voices on the title track are communicated very nicely and with pinpoint accuracy in the stereo mix with the bass and the beats being easy to follow even at these low volumes. Lovers of a monitor style speaker will enjoy and appreciate the Boenicke's imaging capabilities, as will people who need, for whatever reason, to play at low levels. Whilst at these volumes bass is not earth-shattering, it is tuneful, tight, communicative and easy to tap along to. Chilled out, unforced accuracy is what I'm getting through the W5 SE at low levels.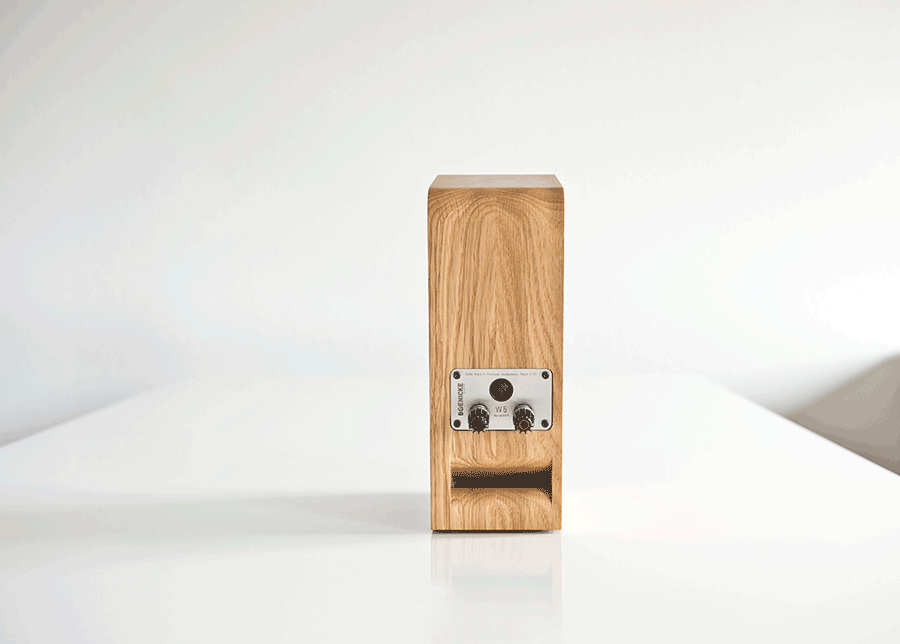 I should point out that I had the speakers well out into the room and well away from room boundaries as I have seen them set up at shows and the spatial image thrown by them is impressively wide with good depth to it both forward and backward.
Turning up the volume and playing the late Robert Miles' Children was a great experience with the opening synth stabs having all their reverbed effects in place and when the well known and loved piano line comes in I really did sit up and take notice – likewise with the plucked strings which spring out of the mix brilliantly. Really fabulous imaging is what I am getting with loads of detail and texture to the instruments. The bassline comes in and here I expect to be somewhat underwhelmed given the modest 50Hz tuning and the size of our listening room, but I most certainly wasn't – as mentioned you are never going to get the trouser flapping bass you will get from a big woofer in a big enclosure but what you lose in sheer depth you gain in clarity, texture, and speed. Strings soar around the stereo image, no doubt helped by that rear firing ambient tweeter that just seems to add an airiness to the music laid before you. Now, regular readers will know that I am a bit of a bass-head, which I put down to years of playing house and techno in clubs and parties and I genuinely thought these speakers would fail to satisfy these tendencies, but I wasn't at all. It could be argued that for the majority of listening rooms in domestic situations bigger speakers can tend to over-energise the room leading to lead to bass bloat – something I cannot abide – and as such the Boenickes may well benefit from not having the very lowest octaves present; with that said the Union Jack mix of Poltergeist's Vicious Circle sounded brilliant in our room with slam and energy aplenty.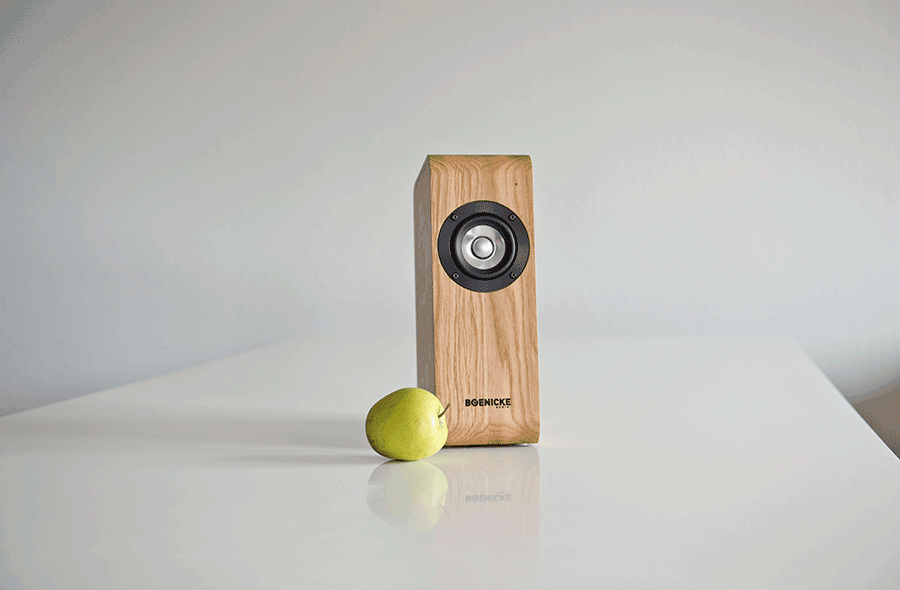 Todd Terry's Blackout from the excellent Resolutions album has a woofer killing synth bass-line that comes in at around one minute into the track. It really is a monster and whilst the Boenicke couldn't deal with the very lowest tones in the synth's makeup, I was pleased again with what I was hearing – fulness and coherence over absolute depth with imaging and separation is very impressive.
Pink Floyd's Is There Anybody Out There gets put on for a change of scene and it starts with a "click" which on these speakers made me look up and take notice. The spoken word taken from TV/Radio was as clear as a bell and very easy to hear what was been said – not something that can be said for some other speakers we've had in the house. Comfortably Numb's snare and hi-hat hits were sharp, detailed and as a whole, I felt these speakers played the track in a dynamic way. The guitar lines had good texture and there was a feeling that you were hearing the track as it should have been reproduced in the home environment.
Like all speakers I've ever encountered, there is always a particular sweet spot and we spend a lot of time setting up speakers that come in for review to find that sweet spot so the speakers get the attention they deserve. The Boenickes have that hot seat, of course, but when we sat and listened in two chairs side by side and obviously left and right of the sweet spot and whilst you did lose a smidgen of the previous image accuracy I personally didn't feel it was missing much, which I believe is down to the rear ambient tweeter coming into play. So if you are a social listener rather than an isolationist listener these could do the trick for you.
You can push these speakers pretty hard and they just get louder with no loss of detail and more scale to proceedings. We had a Gold Note all in one system in for review at the same time as the Boenickes and our front end and reference amps cost probably 20 times of what the Gold Note does but I do like to put review items in relevant systems after they have been in the reference system. The review of the Gold Note is coming up in September but the partnership certainly impressed me with perhaps a little less refinement of our system but certainly a very enjoyable listen for less than £10K.
CONCLUSION
I really loved my time with the Boenickes and was sad to see them go – I kept them set up much longer than I really ought to have. If you have a "not huge" listening space then they go well loud enough to satisfy anyone, though I did find they liked to be pushed pretty hard and so a beefy amp would be in order I believe. With that said they performed at high levels in our large room very well and without me thinking I needed to go louder.
Their standout features are an overall very balanced sound and a level of detail that is nothing short of astonishing, but without becoming fatiguing.
They are easy to set up and get a lot of what I'm looking for in a speaker very, very right and I'd be happy to give them house-space. They do, as mentioned, benefit from being given a bit of welly and to get the best from them they deserve to be partnered with good quality kit.
At lower volumes they lose very little which is an added bonus.
AT A GLANCE

Build Quality: Exceptional.
Sound Quality: A fabulous presentation across the board with bags of detail, insight into recordings and great stereo imaging. Bass doesn't go massively low but I didn't miss it given the detail I was able to hear in complex synthetic bass sounds.
Value For Money: At this price, the Boenickes really should be good and they are, but I can see some not able to get away from the perception that "you're not getting much for your hard-earned", however, move beyond this perception and you will be well rewarded.
Pros: An accurate and detailed presentation with fabulous imaging even when not in the hot seat.
Cons: Won't go as low as some would like. The perception that they are a small speaker at a high price.
Price: £4595
Stuart Smith
And now to Linette for her comments on what I consider to be a product deserving of our highest accolade. . 
The Boenicke W5 SE Loudspeakers are, at first glance, what you might call dinky, however do not be deceived, these are not just some cute little wooden box of a speaker, far from it. I've been fortunate to hear many different loudspeakers from the Boenicke range, at various Hifi Shows, and I have always been impressed.  Walking into a big room at a Hifi Show to see a tiny pair of speakers tends to make you a little sceptical, but these little Swiss beauties know how to deliver. Stuart has covered our listening sessions with these in more details above, but, suffice to say, I am in agreement.  Accurate but without being clinical and toe-tappingly fun. They deliver bass much bigger than you would expect from such a small speaker. They also have a really lovely style to them looks-wise and would grace any modern interior.  I like the paired-backness of the design with the wood and other components speaking for themselves in a simple yet elegant presentation. The use of the wood makes me think of Swiss log cabins, all very nice indeed. At just under £5k UK price they are in the higher end price bracket for a small speaker, but the sound delivered is that of a much bigger speaker. Plus you are buying a piece of Swiss craftsmanship….something that you would expect to pay for!
Overall I would say these are an outstanding little speaker, and totally liveable with.

Linette Smith