Bowers & Wilkins has announced the CM10, the new flagship loudspeaker of the CM Series, will be available in US from August.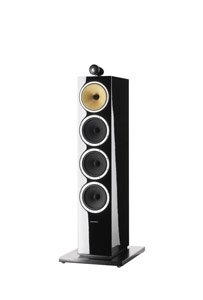 CM10 is the first model in the CM Series to feature the tweeter-on-top configuration, a hallmark of the Bowers & Wilkins 800 Series Diamond.
The tweeter dome contained within the distinctive housing is another first for the CM Series. CM10 uses a new design, based in part on the research conducted on the carbon-braced tweeter employed in PM1. Here, the edge of the aluminium dome is strengthened using a second aluminium layer that replicates the main dome's profile with the centre part cut out, giving a new 'double-dome' design. 
This approach is said to stiffen the whole structure and prevents the voice coil from going 'out of round' at higher frequencies. Bowers & Wilkins claim the result is the best performance yet from a CM Series loudspeaker: the double-dome pushes the first break-up frequency up from the standard dome's 30kHz to 38kHz.  
The overall cabinet height of CM10 is the same as that of CM9, but by adding a little depth to the enclosure and then relocating both the tweeter and FST midrange drive units has created sufficient extra volume for an additional bass drive unit. So CM10 has 50 per cent more bass driver area than CM9, with three drivers rather than two. 
CM10's Kevlar® FST driver is, for the first time in the CM Series, decoupled from the rest of the cabinet.
The FST drive unit is secured in place by a drawbar mechanism, as found in 800 Series Diamond models.   
CM10 comes in a range of finishes – two real wood veneers, Rosenut or Wengé, or a painted Black Gloss finish.
Available in the US at $4000 a pair