Bryston, LTD has announced the introduction of the BUC-1, a digital to digital converter that enables users to use their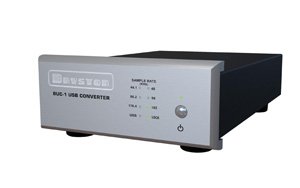 computer as a music source even if their existing Digital to Analog Converter (DAC) does not feature asynchronous USB capability. The Bryston BUC-1 converter allows for native 24 bit resolution at sampling rates up to 192 kHz.
The BUC-1 takes a standard USB output from the computer and delivers bit-perfect data via either an AES/EBU or S/PDIF output to any DAC. "The concept behind this product is to serve a very specific niche in the marketplace," explained Bryston's James Tanner. "There are digital music enthusiasts out there who would like to use their computer as a high resolution music server and yet extend their investment in a previously purchased DAC that does not feature asynchronous USB. The BUC-1 is that critical link between older hardware and the latest high resolution music software," Tanner explained.
MSRP for the BUC-1 is $799. Available January 1st, 2014.