BURMESTER BC150 LOUDSPEAKERs AND BURMESTER 217 TURNTABLE ANNOUNCED
High End German brand Burmester Audioysteme GmbH has launched two new products, the Burmester BC150 loudspeakers and the Burmester 217 turntable.
Both products will be showcased for the first time on the Hong Kong High End Audio Visual Show, starting August 6th, 2021.
BURMESTER AUDIOSYSTEME
Berlin-based Burmester has a strong German heritage, sourcing more than 95% of its materials locally and relying purely on handmade manufacturing processes in Germany. As announced in February this year, Burmester will develop and release further electronic components within the next 12 months.
BURMESTER BC150 LOUDSPEAKERS
For the new BC150 loudspeakers, Burmester has translated and extended the innovation leaps from its BC350 loudspeakers and brought them into a more compact form. Decorative elements of the loudspeakers are interchangeable and can be adapted to special requests and special room designs in terms of their colours as well as their material. The design as well as the manufacturing of all elements installed in the BC150 is done by hand by Burmester employees.
Specifications
Type 3 way bass reflex
Weight ~195 kg, Width 309 mm, Height 1433 mm, Depth 601 mm
Nominal load capacity DIN EN 60268-5 400 W
Sensitivity at 2,83V/1m 88,5 dB
Nominal impedance 3 Ω
Transmission range +/- 3dB 34 Hz to20000 Hz
Tweeter Air Motion Transformer
Midrange transducer 18 cm
Low frequency transducer 32 cm
Crossover frequencies 155 Hz / 1800 Hz
The BC150 is available for orders with Burmester now. The first products will be ready for international sale starting November 2021.
BURMESTER 217 TURNTABLE
The new Burmester 217 turntable is inspired by the brand's 175 turntable and has two belt-drive motors and a low-resonance unibody housing made of solid aluminium. The unit has a gimbal-mounted, straight tonearm that is naturally cranked by the geometry of the headshell. The exact length between bearing and needle tip is 239.1 mm – just over 9 inches.
The tonearm is made of a unidirectional fibre composite material in conjunction with aluminium components. The needle used is a Shibata design and the signal from the cartridge is passed on directly via a high-quality phono connection cable. Each Burmester 217 comes with a slipmat made of composite leather.
Specifications
Belt drive record player
Height 165 mm, Width 482 mm, Depth 283 mm, Weight 31,5 kg
Voltage range 100 – 240 V~, 50/60 Hz
Power consumption OFF (100 V/240 V) 0,05 W/0,07 W
Power consumption Standby (100 V/240 V) 0,09 W/0,12 W
Power consumption ON – 33 RPM – (100 V/240 V) 11,8 W/11,8 W
Power consumption ON – 45 RPM – (100 V/240 V) 6,9 W/7,4 W
The 217 is available for preorders now. The first products will be ready for international sale starting October 2021.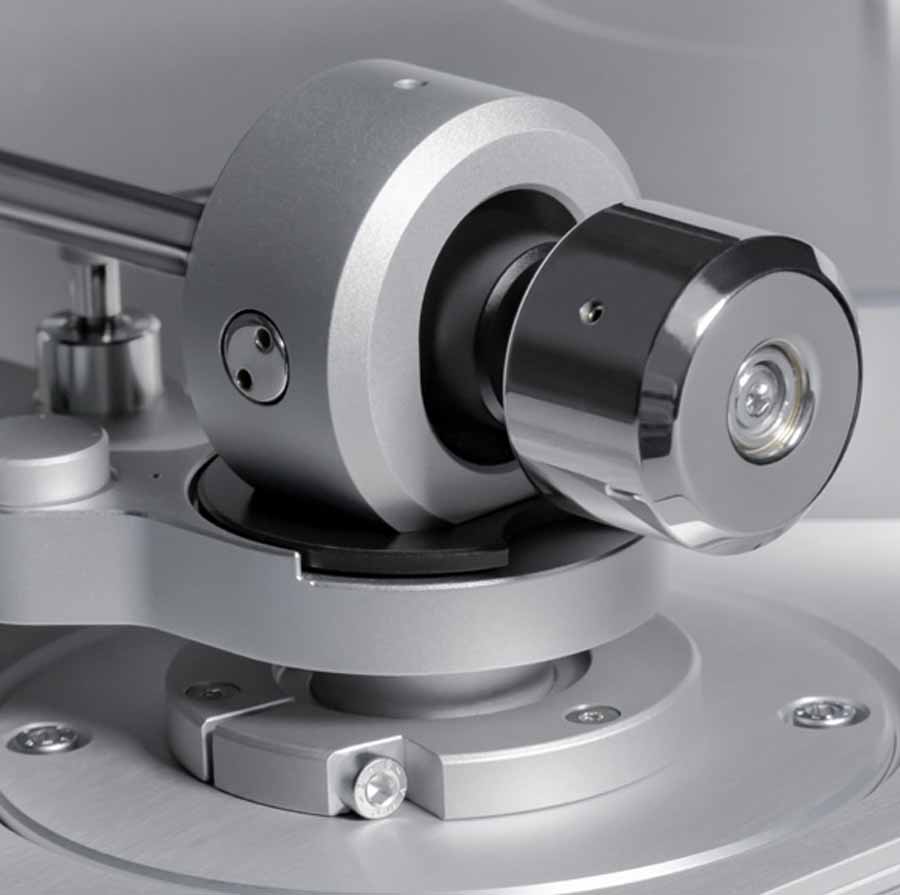 HONG KONG AUDIO VISUAL SHOW 2021
Both products are being displayed to the public for the first time during the Hong Kong High End Audio Visual Show at the Convention and Exhibition Centre, between August 6th and August 8th, 2021,
"The Hong Kong Audio Show is the first international event for Burmester to engage with its customers and the audiophile community in an exceptionally long time. We are grateful and proud that we are bringing new products with us, that will accelerate that feeling of excitement", says Dina Hoenge, Chief Marketing Officer.
With the debut of both products, Burmester is kicking off a series of market launches that will stretch throughout the next 12 months.
BURMESTER IN THE PANDEMIC
"Burmester has a clear strategic focus: to develop and produce more ground-breaking products for the German and international High-End market", says Marianne Burmester. During months of lockdown, the company shifted capacities to reach this goal. The company also recently launched an internal vaccination program for all its employees to provide a safe working environment as soon as doses became available.
"Because of our dedication to put our employees' health first, we have successfully manoeuvred through the pandemic without any interruptions of business. This has given us the opportunity to leverage our production and assembly capabilities", Marianne Burmester concluded.
PRICE
Burmester BC150 Loudspeakers £97,500/98,000€ per pair.  Burmester 217 Turntable TBC