Coming from a land down-under (depending on where in the world you reside), Burson makes a wide range of relatively affordable products. Here Janine Elliot takes a listen to their tiny Bang amplifier. Does it offer good bang for its $499 (£599) bucks?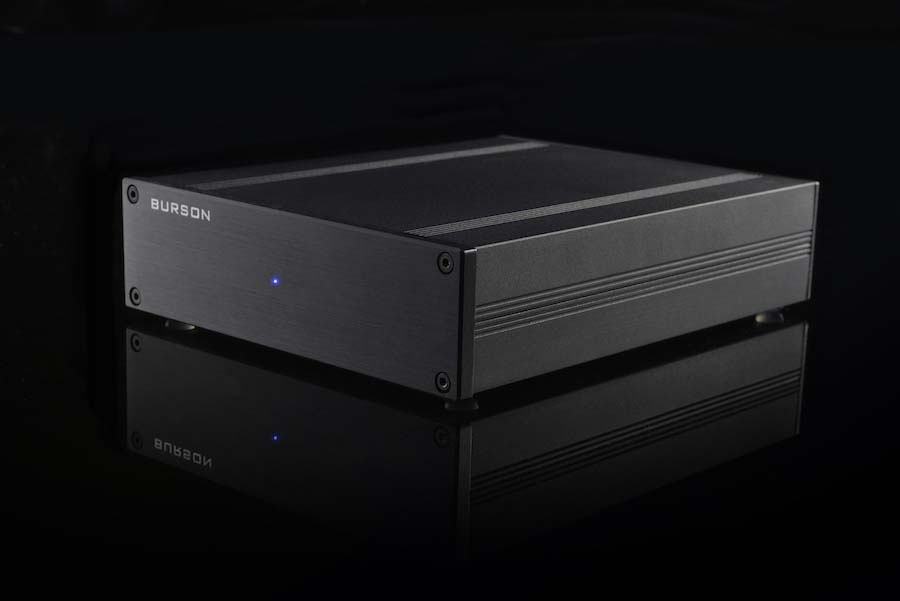 Burson Audio are gaining good notoriety in recent years with original designs and good looks, a company founded by a small team of audio engineers in 1996, based in Melbourne, Australia. As well as complete audio products including power-amps, headphone amps, DACs and cables what makes them particularly innovative is their creation of building blocks such as hybrid Op-Amps. Their philosophy is simple; have components that don't interfere with the audio signal. If the equipment is designed well and transparent enough then the pace, rhythm, timing, dynamics and tonality will become a natural expression of the music. Burson feels this cannot be achieved with standard circuit components such as IC chip op-amps, IC regulators, or standard transformers. Instead they researched and developed their own discrete circuits so that every component in the signal path can perform at its very best.
CONSTRUCTION
This is one tiny little amplifier tightly packaged at the rear with essential RCA inputs and pair of loudspeaker sockets. Next to that is the input from external power supply and a 12V pc 4-pin socket, and elsewhere is the all-important rocker on/off. The black aluminium casework is carefully put together with Allan keys, with the brushed frontage complete with just a single small blue LED appearing central as soon as you turn on the unit. The size of the Bang matches those of the Play and Fun DAC/headphone amps, and therefore very small for a class A/B unit. Indeed, Burson claim that the Bang is the smallest dual mono Class Ab power amp in the world, and with a footprint of 210 x 145 x 45mm it certainly is miniscule. Yes, this is a dual mono design, with two separate amplifiers in one box, only sharing the single PCB, oh, and of course also the external power supply.
In my earlier review on the Burson Conductor V2+ I stated that we both had two things in common. One was a like for Class A (They believe Class-D circuitry is overtly complex and reduces the purity of the music) and the other was a hate for conventional op amps. The new Bang is a dual mono Class AB amplifier PCB. Instead of the usual class-A preference for toroidal power supply – another of my favourites – they have opted for Switch Mode Power Supply (SMPS). Having a separate SMPS does mean there is a massive reduction in the size of the amplifier casing, placing the power supply in a separate small box which means it can be hidden well away from those all-important audio fields. Burson offer some very good reasons for choosing switch mode. Firstly, it is much more efficient. The reason for this is simple; Toroidal power supplies have considerable windings which add resistance and therefore constrain the current flow. SMPS doesn't need a transformer and its high-speed switching transistors adjust its working frequency based on the demand of the circuitry. My feeling on switch mode is beginning to change, and the Burson power supply is a good reason for that to happen. Human hearing for those lucky to be under 20 years of age can reach 20kHz, and SMPS designs usually convert AC to DC at higher frequencies around 30-50 kHz and that conversion process can be quite noisy. However, some of that resonant frequency from the AC/DC conversion process can still reach down to the auditory level. For that reason, seriously high-end audio designs usually have no choice but to stick to transformer-based linear power supplies. Burson claim to have changed all that. The Bang employs "Max Current Power Supply" (MCPS) whereby the AC to DC conversion happens at over 170kHz. That's way beyond human hearing and completely eliminates any detectable noise. They also employ a current purifying network to deliver noise-free high current power. This is an excellent power factory, the amplifier being exceptionally quiet. All of this means that the size and weight of the Bang is considerably small as there is no need for masses of smoothing capacitors as well as needing to fit in a large and weighty toroidal supply.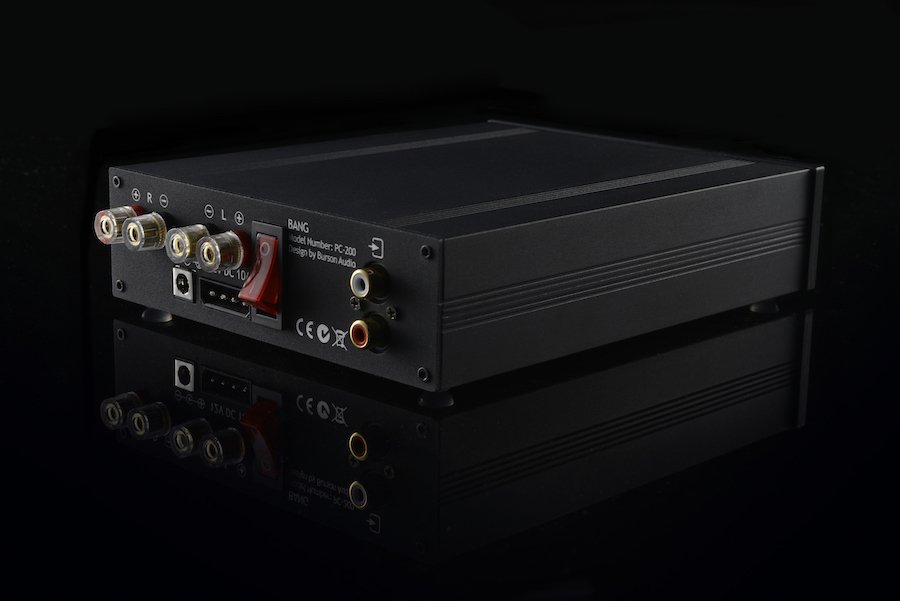 The second thing Burson and I have in common is that we both don't like Op-Amps. In the past I have spoken that whilst they might be great for pc's and equipment short of space there are many drawbacks having individual "components" printed on a miniscule composite the size of a grain of rice using a process of photolithography. Due to the high number of miniscule components in the space (maybe 50 or more) it does mean that due to their reduced size and closeness to each other there is an increased likelihood of EMI noise, less tolerance to heat and a reduced specification. Burson Audio tackle this by manufacturing their very own 8-pin op-amps such as the V6 Classic and Vivid, and whilst they still fit into conventional 8-pin DIP sockets what makes them significantly different is that they contain discrete full-size components requiring a 'box' significantly bigger in size, looking like a brick of lego glued onto the base. The unit for review came installed as a Vivid in red with a spare Classic Op amp in orange, each measuring around 28 x 15 x12 mm, with ventilation at the top end. I say the dimensions were 'around' 28mm in length, because the Classic supplied was longer with the bass pin section protruding from the casework meaning I couldn't actually close the lid once I had inserted the orange op amp, meaning some critical listening had to be done with the lid removed. I assume the review sample Classic V6 op amp container hadn't been pushed in all the way as it was different on their website (see photos). Both V6's are available on their own at $70 (£65), for a pair of single or dual (stereo) Op. Amps. The standard Bang comes at $499 with the very able Texas instruments NE5532, and $100 more if you choose either of the two Burson Op. Amps as in this review.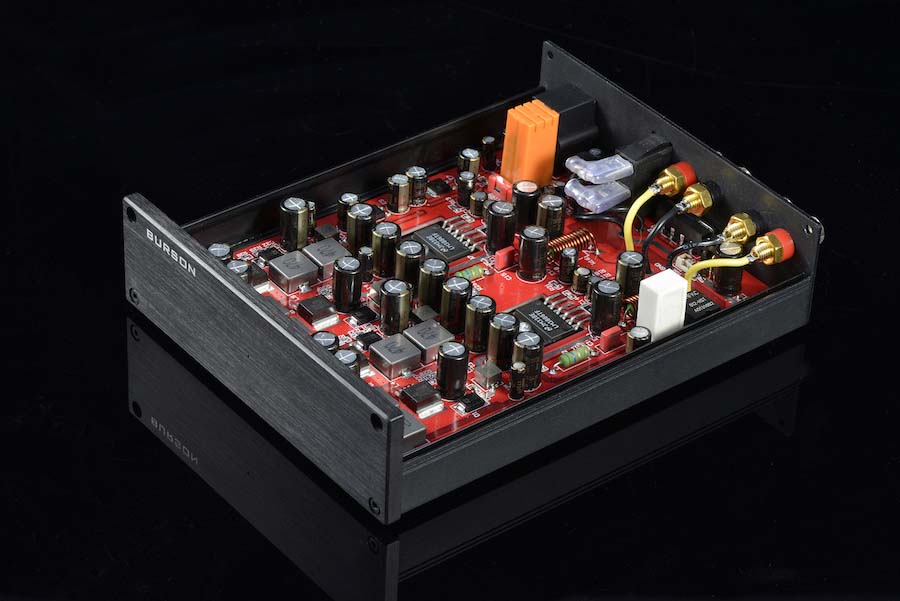 Using ELNA Aluminum Electrolytic and Vishay resistors, the highly adjustable Bang allows not only changeover of the Op. Amps forming essential parts of the Class-A stage but the built-in buffer stage allows a choice of two selectable gains to choose from. This allows perfect matching to your input source, whether it be a preamp as in my case, or a DAC or portable player or smartphone (that was their suggestion, not mine!) Either way, this allows perfect impedance match as they suggest;
"Unless the entire audio system is from the same manufacturer within the same product line, it is most likely that impedance mismatching will exist. Most audiophiles are paying 100% for their systems but are only hearing 70% of its full potential."
One certainly gets a Big Bang for small bucks with this amplifier, outputting a decent amount of driving power at 40WRMS into 4Ω (29W 8Ω) but because the MCPS has nearly perfect power throughput, the 40W from the Bang creates a faster, more solid and consistent sound when compared to most transformer based 40W amplifiers. Utilising four sets of Burson Max Current Power Supplies the Bang delivers all of that power and noticeably faster than I anticipated from such a small box, creating bang-on details from my sources. No surprise the Bang was faster than my Leak Stereo20, and my Krell for that matter.
I like to look into names of companies or products from the companies as that helps me understand what they are trying to achieve or perhaps statement they are making. Names such as Schiit Audio always comes to mind, and MFA's Senlac SJE amplifier a while back. The name Bang is equally important to this company as are their other products in the Burson line-up, such as Fun or Play, or Vivid and Classic for that matter. Burson believes this new amplifier will start a new revolution and evolution "starting with a Bang". It might be fast and small and very adaptable and efficient, but will it be bang on spec musically. Time for a serious few days listening.
SOUND QUALITY
My first listening was from the excellent Eagles Live LP, played on my tangential-arm Pre Audio turntable with Audio Technica AT30sa cartridge, Manley steelhead phonostage/Music First Audio preamp played into my Graham Audio LS5/9 speakers. I am used to guts from my powerful class A Krell power and musicality at the extreme from my modified LeakStereo20 from the 1950s. Whilst the latter is slow it does allow me to surrender into just listening to the music, and not to hi-fi. The initial thoughts on the Bang were "wow" tight and clean top end, but this album also has a lot of mid-frequency information which was slightly veiled in my initial playing, though the amp, delivered to me hot off the production line did improve the more I used it over the weeks.
Next on the list was Vladimir Ashkenazy playing the Rachmaninov Piano Concerto No 3 in D Op.30 (Decca SXL6057, London Symphony Orchestra). This is my favourite piano concerto, especially the 2nd movement with lots of romantic melodic lines with plenty of breathing space to take in all the slushy music. The sad and, at times, bitter first movement (led by the French horns) is followed by calmness in the following movement and then a brisk closing movement. The Bang allowed so much space in the music, despite it being a very quick player, allowing the music itself to set its own pace. Whilst my Leak might lose things above 20kHz or slightly veil the music, it is very human and can mean listening for hours and hours. The Bang allowed me to hear things I had never heard before, and whilst more critical was still excellent after several hours without being tiring, which can be the case with a number of punchy and highly detailed amps I know.
Art Blakeys 180g "And the Jazz Messengers" was clearly laid out across the soundstage in front of me. The Vivid Op. Amp did mean some of the mid-frequency warmth I get from my choice amp was lost, though changing to the Classic brought some of this back. Even so this amp was still highly satisfying and easily competing with amplifiers around £2000 plus. The Pre Audio GL-1102N tangential turntable with its ideal geometry is so hard to beat, offering a tight, unphased performance that is just such fun. The piano sounded a little stifled on the left channel, though drums were pin sharp. Again, it was that mid-frequency range that just wasn't as tops as I know I can hear, but hey, who's complaining at this price.
For much of the listening I chose the Jethro Tull "Bursting Out" live album, a group formed in Luton, Bedfordshire where I have lived half my life. This album is full of rock, country and classical music and playing an orchestra of flute, guitar, piano and pipe organ, mandolin, marimba, glockenspiel and synthesiser. This is quite some recipe of instrumentation for me to get a good understanding of the music whilst interchanging the op amps. The immediacy of differences between the two was apparent from the start. The Vivid is aptly named, giving tons of information from a complex album which lacks some reality of soundstage, or at least how I would perhaps have recorded it if I was engineering it at various locations during their European Heavy Horses tour between May and June 1978. The recording lacks much excitement though the music itself and liveliness of the characters, particularly Worzel Gummidge lookalike Ian Anderson, was able to be taken full advantage of for this test; not only his unique singing but including much talking from him and giving me a chance to check out that all important mid frequency.
The Vivid was enjoyable though perhaps a tad on edge at certain frequencies and certain points of the album. The Classic was much more refined, though slightly at the expense of detail. "Jack in the Green" was one of my favourites from my childhood and the detail from vocals and instrumentation was highly enjoyable. "One Brown Mouse" gave insight from the pipe organ, covering those lower frequencies.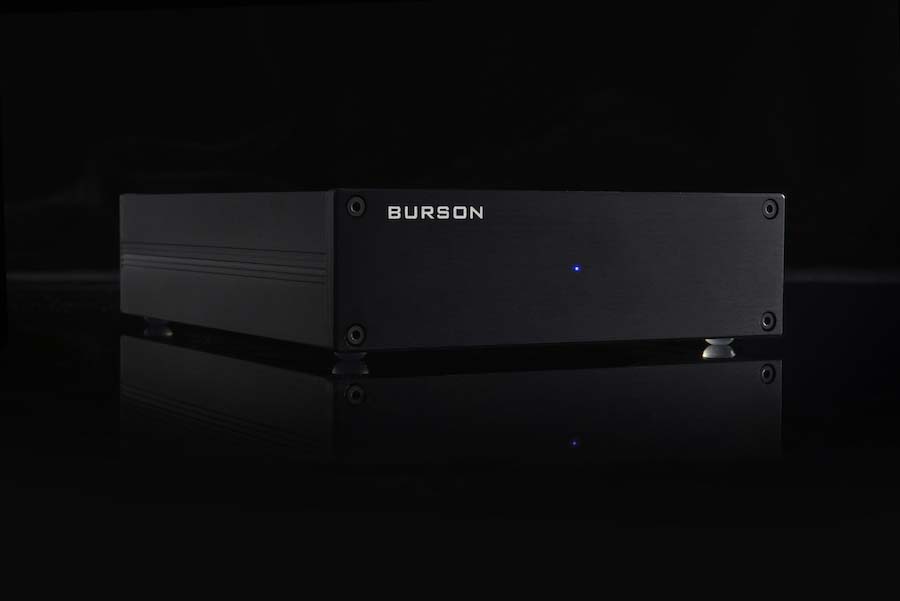 Turning to Manuel de Falla 'Love the Magician' (Chandos) I wanted to hear the difference between the two amps with purely classical music. Double bass on the Vivid wasn't quite so audible, though the placement of instruments was far more refined in this Op. Amp than with the Classic, if a tad less interesting at times. Sarah Walker's mezzo-soprano voice was highly emphatic as was the Col Legno (bouncing on the strings from the wooden side of the bow) from the lower strings quick and effective. Taking frequency readings for a specific point in the most famous track "Ritual Fire Dance" showed frequency range fairly similar with changes at the lower frequencies of the Vivid being most noticeable, and explaining the more apparent top end. It is quite some choice to decide between the Vivid or Classic, and I guess for most of the listening I preferred the former.
CONCLUSION
This is a highly capable and versatile amplifier for very few bucks and should have considerable interest from audiophiles looking for minimalist units in the living room. The first' Class-A stage is the most important part in any AB design, so having a choice is a welcome and unique opportunity; The sound from the complete unit was very quick and equally quiet in operation. Detail was on par with the best, and the Vivid Op. Amp made the best of this, only that it sounded more musical, though not as detailed, with the Classic. Both are highly musical and punchy. Either way, this is a highly recommended and adaptable piece of kit at a suitable price for those with minimalist wallets.
AT A GLANCE
Build Quality: Excellent build with good quality connections at the back. Pity only available in black.
Sound Quality: Impeccable resolution with punchy and tightly detailed sound. Might be a little too bright for some.
Value for Money: $499 for basic Bang, rising to $599 if you choose either the Vivid or Classic op-amp, or you can at a later date add them at £65 and fit it yourself. Excellent value for money.
Pros:
Versatile; add your preferred Op. Amp and also alter input impedance
Gallons of punchy, fast and clear audio in a pint-pot size
Cons:
Some might find it a little brittle and lack a little musicality, though the Classic can restore that at a cost of some of the detail.
On and off switch at the back which might annoy some people, especially if the unit is stacked with Fun or Play above it with all their cables and switches.
Price: $499/£599
Janine Elliot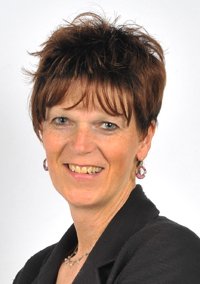 Review Equipment:
Pre Audio GL-1102N tangential turntable and Audio Technica AT30sa cartridge/Manley steelhead/MFA preamp played into my Graham Audio LS5/9s. FLAC through Slee Majestic pre. Other amplifiers to compare with included Krell KAV250a power, Slee Proprius, and a modified LeakStereo20