CA Electronics, the Dutch manufacturer of the renowned AP-10 loudspeakers and an innovative range of ceramic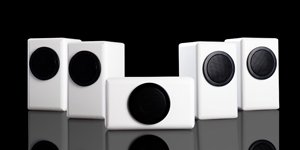 isolation products has announced the release of the HE-10 loudspeaker system.
The HE-10 is a small and sleek looking loudspeaker ideally suited to smaller rooms, audio visual duties or as a state of the art desktop system when connected to a computer.
For use in audiovisual systems CA Electronics have added a matching centre speaker, allowing for great sound when watching movies.
The HE-10 has been designed in such a way as to negate the need for filtering resulting in zero errors from crossover components and giving the listener outstanding imaging and a purity of sound rare at any price point.
Made in the Netherlands the HE-10 is fabricated from eco-friendly materials.