British DAC specialist, Computer Audio Design, (winner of the Best Sounding Hi-Fi Room, Sound and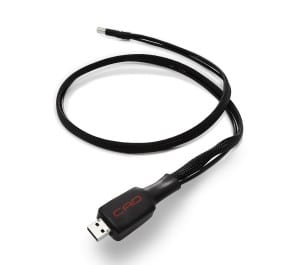 Vision 2013 – the Bristol Show) has launched a new USB cable using patent-pending proprietary technology.
"The new CAD Cable is a high-quality no-compromise USB cable specifically designed to maximise sound quality from USB-equipped music playback systems". It has been designed by CAD's Scott Berry, a British-based US-born electrical engineer who has worked for some of the biggest names in the electronics world and is responsible for the design of the company's 1543 DAC.
Hand-made in London by CAD's engineers, the new CAD Cable has been conceived to combat the high-frequency noise inherent in computer audio sources..
Although CAD say little can be revealed about the proprietary technologies, the Cable uses a highly shielded independent cable for the power line, designed to mitigate the impact of high-frequency noise emanating from the computer's USB power interface.
The CAD Cable is available now priced at £480 for the standard 1.1m length. Other lengths are available to order (at additional cost).