High-end cable manufacturer Cardas Audio has introduced an In-Ear Monitor (IEM) – the EM5813 Ear Speakers.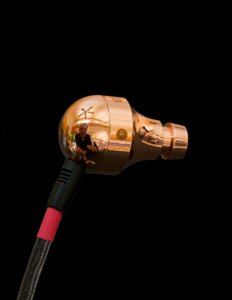 Cardas say that the new IEMs mirror the human cochlea, and tympanic membrane, and the shape of the copper plated brass body has been designed to "work in symphony with the human hearing system".  All the parts that make up the custom designed drivers are machined from solid bar stock metals in California.  And all drivers are hand matched on each pair of Ear Speakers. 
The Ear Speaker cable is made from Clear Light Headphone Cable, which is a miniature version of the Cardas Audio Clear cable, also made in California, using proprietary Cardas copper.  A custom designed ultra-thin ear tip that ensures a precise and comfortable fit has been created by company founder George Cardas.
Price is USD $425.00