Chord Electronics has launched the Choral Ensemble, a new solid-aluminium equipment support called  the Choral Ensemble.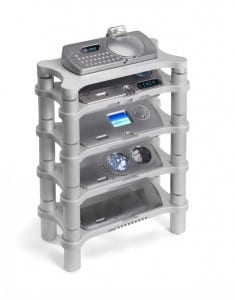 It certainly looks like an impressively engineered modular support system for the company's Choral range of components. The new equipment support is based around a 30mm-thick aircraft-grade aluminium plate, supported by four stackable solid aluminium (50mm diameter) Integra legs.
The Choral Ensemble equipment support can be configured to any height and the Integra leg system allows any component from the Choral range to be combined with Chord Electronics' full-sized equipment which will be useful for audiophiles looking to "mix and match".
Each tier features four solid-aluminium Integra legs. Each leg-base has three ball-shaped rubber feet and each leg-top has three precision-machined hemispherical dimples.  When two tiers are coupled together, the legs give a precise and secure fit between each module, plus a useful degree of damping between the (high-mass) platforms.
The Choral Ensemble equipment support is available now­­­­­
Single tier with Integra legs: £1,350
Single top-mount tier with Integra feet: £1,215