Chord Electronics has added a high-resolution USB Type-B input to its CES-unveiled Blu MkII upscaling CD transport. The USB input takes the place of the optical output seen on the prototype at CES and has been implemented following dealer demand for Blu MkII's upscaling technology to be available to a wider range of digital devices.
The USB Type-B input is compatible with DSD and PCM data, with DSD upsampled to PCM using proprietary filtering, which has much better attenuation of DSD noise and distortion. The converted DSD data can then be output to Chord's partnering DAVE DAC/preamp at 705.6kHz, using its galvanically isolated twin BNC outputs. The Blu MkII features auto-switching inputs with CD prioritised, followed by USB and finally, S/PDIF.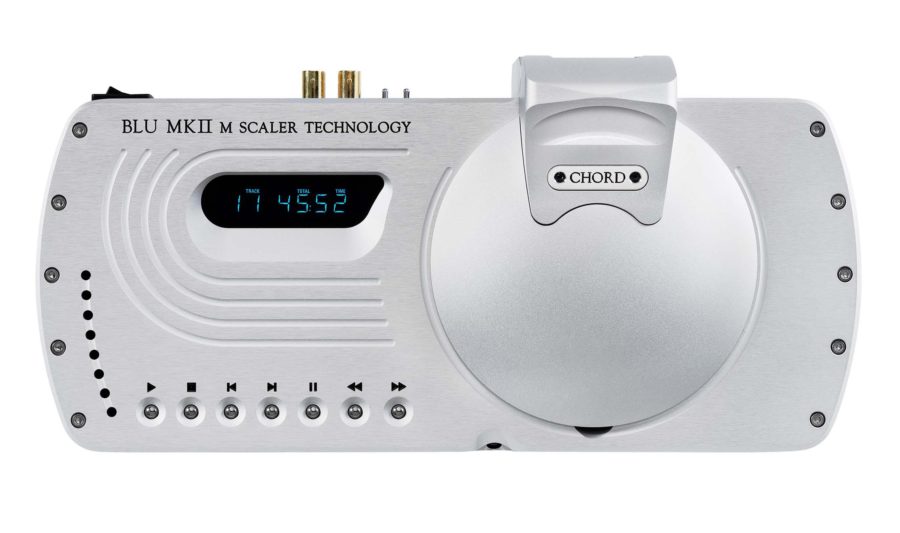 Chord Electronics' Digital Consultant, Rob Watts, has implemented the latest FPGA technology into a next-generation upscaling CD transport, capable of transforming the sound of CD and audio data streams from digitally connected devices. The new Blu MkII, which will replace the original Blu, incorporates a powerful new FPGA core with extraordinary capability.
Chord's Rob Watts has harnessed the abilities of the new Xilinx XC7A200T FPGA, which has a standout 740 DSP cores, to develop sophisticated WTA (Watts Transient Alignment) filtering and upscaling algorithms which can output digital data at 705.6kHz (16 x CD's 44.1kHz native resolution). When partnered with the critically acclaimed DAVE DAC/preamp, with its 705.6kHz-capable digital inputs, the Blu MkII "sets a new technical benchmark for CD performance, while redefining sound quality from the medium".
At the heart of the Blu MkII lies Rob Watts' new WTA M SCALER technology, which incorporates the most advanced filter of its kind in the world. Rob Watts has developed completely new filter architecture for the Blu MkII, to ensure maximum memory efficiency and to allow the FPGA to run with sufficient speed.
The enormous processing power of the Xilinx XC7A200T FPGA has enabled a key breakthrough in tap-length (the technical indicator of how complex the interpolation filter is). To perfectly reconstruct an analogue signal, an infinite tap-length filter is required. The original Chord DAC 64 (1999) had 1,024 taps; Hugo (2013) 26,000 and DAVE (2015) 164,000. Each successive increase in tap-length, together with continuous improvements to the WTA algorithm, has given significantly better sound quality.
The new Blu MkII offers an incredible 1,015,808 taps! This ground-breaking tap-length capability enables CD audio to be reproduced where the interpolated output is guaranteed to be better than 16 bits; conventional filters are no better than 6- to 8-bit-accurate in recovering transient timing information.
This technical milestone takes transient accuracy to a completely unprecedented level: it becomes simpler to perceive the leading edge of transient notes, creating a life-like sound-field. Bass definition is massively improved, with greater ability to follow the tune. Sound-staging, instrument separation and focus are also noticeably better, along with vastly improved variation in instrument timbre.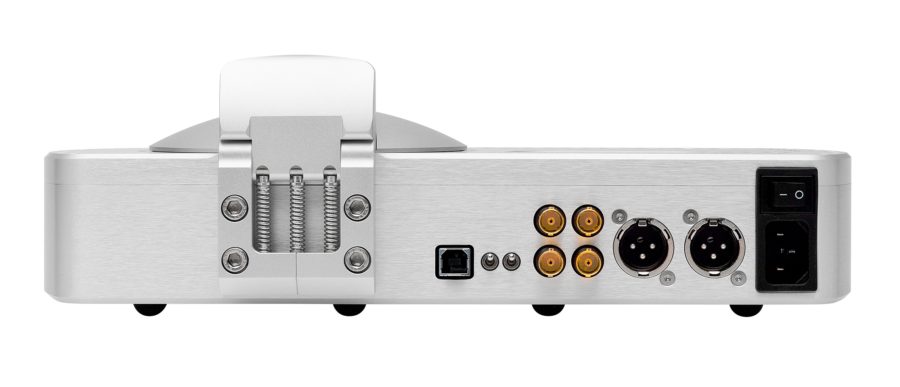 The Xilinx XC7A200T consumes an enormous 10 amps of current, so it couldn't be implemented in DAVE as the sheer amount of current could upset DAVE's comprehensive signal processing. The engineering solution was to isolate this new FPGA and employ an external scaler — Blu MkII has (RF-isolated) 705.6kHz outputs to feed DAVE directly. The combination has created the world's most advanced CD playback system.
The Blu MkII has also undergone extensive revisions on the outside. Chord's Chief Designer, John Franks, has streamlined the aesthetic with a beautiful new top-plate that simply features the most commonly used functions. A useful display gives track information etc. and Chord's elegant hinged self-supporting lid design offers a touch of class when loading/removing discs and positions the disc-puck perfectly. It also automatically stops play when lifted. A full remote offers further control options.
A comprehensive suite of high-performance connectivity is offered, including (for the digital outputs): AES (to 176.4kHz); single S/PDIF and galvanically isolated dual BNC S/PDIF; the dual BNC S/PDIF output transmits up to 768kHz into Chord's DAVE DAC/preamp using twin cables. The Blu MkII also features a BNC S/PDIF input in addition to its USB type-B input, enabling it to be used a standalone high-performance upsampler, for use with a wide range of digital sources, including streamers, computers and smart devices. Digitally connected devices can, therefore, benefit from the Blu MkII's advanced FPGA technology and if deployed, DAVE's digital-to-analogue conversion.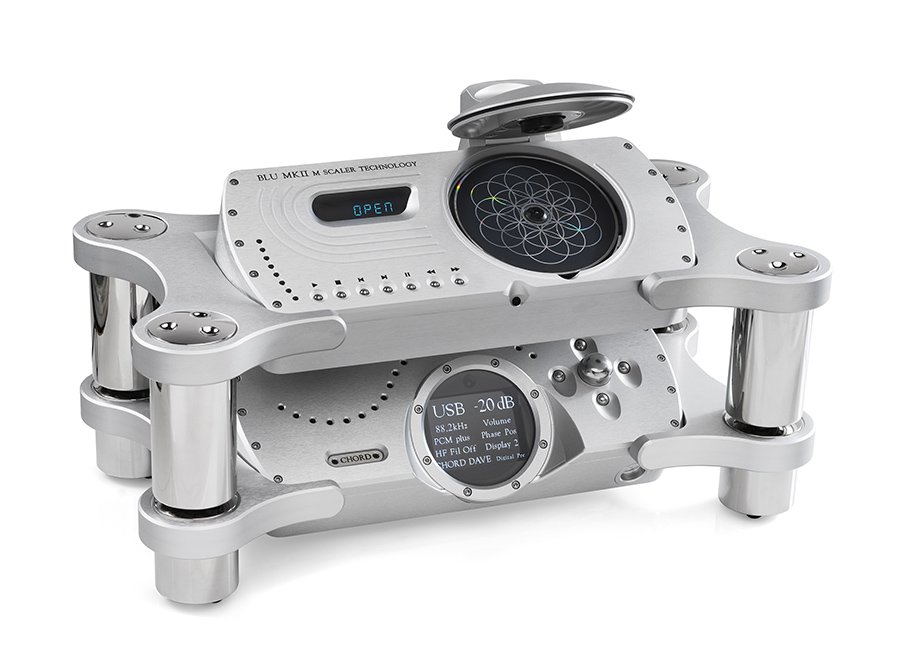 Further features include Chord Electronics' legendary proprietary high-frequency switching power supply and a dedicated CD-only laser mechanism for an uncompromising performance. A dedicated equipment support (in the Blu MkII/DAVE image) is also available for a supplement.
Like all Chord Electronics' products, the Blu MkII is hand-made in the UK and features a precision-milled chassis, crafted from aircraft-grade aluminium.
Technical specifications
Digital outputs: AES (to 176.4kHz); single BNC S/PDIF and galvanically isolated dual BNC S/PDIF (768kHz-, 384kHz- and 192kHz-capable)
Digital inputs: 1x BNC S/PDIF; 1x USB Type-B
Frequency response: DC to 20kHz +/- 0.0000001dB
In-band ripple DC to 20kHz: +/- 0.0000002dB
Stop band rejection: -135dB
THD and noise 24-bit input: -144dB (defined by input)
WTA tap-length, 16FS filter: 1,015,808 taps
Dimensions: 335mm x 105mm x 170mm (WxHxD)
Weight: 7kg