First revealed in May at High End, Munich, the new CodeX from Chord Electronics is the latest edition to the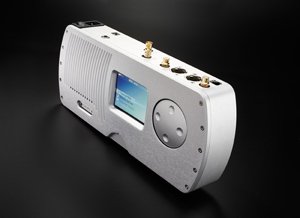 company's  Choral range and brings music streaming to the line-up for the first time.
The CodeX features much of the technology implemented in the DSX1000 (£7,500), including the same front end and control processor. The CodeX offers DSD 128 playback over USB, as well as PCM decoding at up to 384kHz, making it compatible with DXD (Digital eXtreme Definition) recordings.
The new CodeX has both USB and coaxial inputs to take advantage of the device's FPGA-based D/A stage, which has been taken from the QuteHD DAC. It also offers Chord Electronics' proprietary remote motor-controlled analogue volume potentiometer, as seen in their flagship CPA8000 Reference preamp (£25,500) and DSX1000 streamer.
The device's network connection uses a fixed-wired approach, due to the bandwidth limitations of Wi-Fi for 24/192kHz support. The CodeX's Ethernet connection offers DSD 64 and up to 192kHz PCM, and its USB input offers DSD 128 and PCM at up to 384kHz (Digital eXtreme Definition).
The CodeX is compatible with numerous file types including: MP3; WMA; WAV; AAC; ALAC and FLAC files, with 24-bit/384kHz support where available. DSD support is available using the DSD over PCM standard (DoP).
CodeX specifications
Analogue outputs: 2x XLR and 2x RCA (all with remote volume control)
Digital output: from ethernet input only (this output can be fed into another DAC or audio system with its own volume control method)
Supported frequencies: 44.1,48,88.2,96,176.4,192kHz,DSD64 (DSD128, DXD via USB)

Inputs: 1x USB digital inputs for both PCM and DSD formats to 384kHz; 1x coaxial automatically-selecting input up to 384kHz. (Note: these additional DAC inputs cannot be controlled by tablet-type devices unless a PC/laptop is in the system


The CodeX will be available in August priced at £4,495.