Chord Electronics has upgraded its Standard Series power amplifiers to MkII status. The upgrade introduces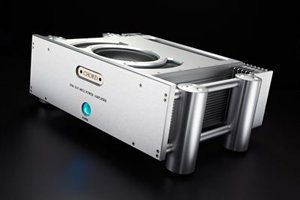 improvements taken from the Reference Series to a more affordable line up.
Four models have been updated: three stereo power amps and one monobloc. The revisions have been implemented to the following stereo models: SPM 1200MkII (350 watts); SPM 4000MkII (480 watts); SPM 5000MkII (500 watts), plus the SPM 1400MkII monoblock (480 watts).
On the outside, the new MkII models sport a new front-panel design and rear connector plate, featuring new British-designed, heavy-duty, gold-plated insulated speaker terminals. The new rear connector plate also enables third-party power connectors to be used.
On the inside include: a new power-control and sequencing board for simpler operation and better visual indication; refinements to the filter components to ensure greater high-speed performance and overall stability; plus a plethora of circuit board and earthing changes to improve high-current power flow. Driver circuitry improvements have also been implemented, "giving a faster overall response and improved high-frequency response".
The Standard Series MkII power amps are available now
SPM 1200MkII:           350-watt stereo power amp           £8,220
SPM 4000MkII:           480-watt stereo power amp           £12,540
SPM 5000MkII:           500-watt stereo power amp           £15,000
SPM 1400MkII:           480-watt mono power amp            £9,090