This is the first of two reviews of the CLONES Audio pre and power amps.
My first contact with Clones was when I reviewed their 25 watt per channel integrated amplifier the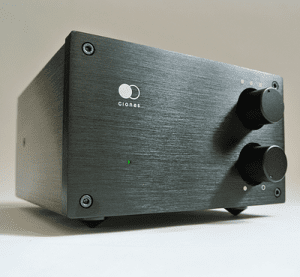 i25. I was quite literally stunned when I opened it up and saw the wonderful quality of workmanship the unit contained.
As a result of the auditory results this unit achieved, I immediately asked them if they would like me to review their, soon to be released, 55 watt mono-block power amplifiers. I got in touch with Stuart and all I had to do was to wait!
The UK Distributor LW audio were contacted and a loan pair of amplifiers and the matching Pre-amplifier were duly dispatched.
They took a couple of days to arrive and from their double boxed packaging they emerged unscathed.
55pm. Monoblock Power Amplifier.
Amplifier specification……..
Output Power – 55Watts (into 8 ohms) 100Watts (into 4 ohms)
Input Impedance – 22Kohm (unbalanced only)
Gain – 30dB input
Signal to Noise Ratio – <95dB (minimum)
Dimensions – 170(w)x100(h)x170(d)
Nb. all dims are in mm.
Weight – 4.2 kg each.
These units are covered by a five year warranty.
Cost – £890.40 per pair inc VAT and delivery
AP1 pre-amplifier comprises……….
Three line level inputs
One pair of line level outputs ( a dual line level output is an option)
This is the same size as the Mono Blocks
Weight – 2.5 Kilo
Guaranteed for five years.
Cost – £543.60 including VAT and delivery.
HOW ARE THEY BUILT?
These power amplifiers are elegant in an understated way, and have a diminutive footprint. Ideal for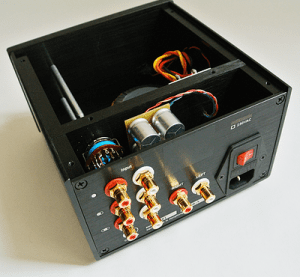 those amongst us that value aesthetics. Although, how they look is not all of the story! They are equipped with excellent socketry, the phono sockets are amongst, with the legend CMC USA engraved on them, the finest I have ever used. They grip the plug with just the right amount of pressure. They are not the usual phono sockets fashioned from rather cheap plate, they are properly cast and machined sockets which are located with nuts and washers. Along with the usual, switched and fused, IEC mains socket on the rear they also have a pair of heavy duty Loudspeaker terminals, these are large enough to accept any type of cable or termination. The front panel has the Logo along with a green led to indicate when the unit is powered up. This shows some thought has gone into this as Funjoe (he owns the company) has resisted the urge to put a blue high intensity LED in. I find these really bright LEDs draw my eyes all the time and cant take my eyes off them!
Inside the robust case sits a large toroidal transformer, in the compartment at the front. Along with the power supply regulator board and of course the power indicator. In the rear compartment is the output stage and most of the internal wiring.
So the amplifier is built along logical lines. From its alloy case to its three cone type feet, although care must be taken when using large and heavy mains power leads, this amplifier has been thought through properly. The case is built from sensible materials and is screwed together using metric thread machine screws rather than the ubiquitous self tapping screws that we see on most of the other amplifiers we see these days. Funjoe's soldering is second to none, each joint has been made correctly – again unusual as all of the soldering has been fashioned by hand.
All of these points instilled into me absolute confidence in the manufacturers build quality. This is important to Hi Fi enthusiasts as it promotes pride of ownership.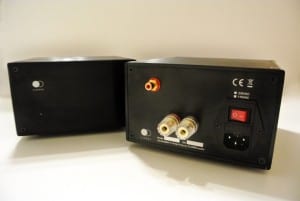 Funjoe built these amplifiers to drive larger loudspeakers that needed a bigger current swing. This of course is not a bad thing and it shows that he is aware of his clients needs. This awareness continues with the,"stiff", power supply, which almost doubles the amplifiers output into 4 ohm loads.
Before switch on I always check the DC offset, as a matter of course, which was commendably low.
The AP1 pre-amplifier is built along the same lines as the 55pm power amplifiers. It has the same front face as the 55pm's save for two control knobs. These are the selector switch and the lower one is the volume control. Inside the case the transformer sits in the front compartment. All of the active circuitry and switch and potentiometer sit behind the "Firewall" which is a logical choice as toroids can be responsible for RF pollution unless mounted correctly. Funjoe uses the same phono sockets as he does on his power amplifiers. The pre amplifier also uses the same IEC switched and fused mains input socket. The AP1 is identical in size as the 55pm units, but as you may suspect the AP1 is almost half the weight, at 2.5 Kilos, of the 55pm.
If you are not familiar with the use of separate power amps and a dedicated pre amplifier, you will find that it is best practice to switch the pre on first, wait a few seconds and then switch the power amplifiers on second. Of course you will make sure that the pre is turned down to zero before switching on. If you do this then you will get no "Burps" nor noise at all. The Clones units made no sound at all on switch on or indeed when powering down. Switching them off is the reverse of the instruction I have just written.  Upon switch on I always listen to a mono radio program at low level, at first, to make sure that the amplifier is working correctly. Also, I give any amplifier at least fifteen minutes to allow the power supply to stabilise, before turning the amplifier up to normal levels!  Ben Duncan alluded to this some years ago in an article about power supply design.
HOW DO THEY SOUND?
As regular Hifi Pig readers will be aware I am on a quest to replace my ageing Crown DC300a amplifiers. The replacements must be physically smaller, deliver large amounts of current and use less power from the mains and must sound as good if not better! You may say this is an impossible quest, but I have tried many power amplifiers and only three have come close!
The amplifiers are warmed up, I have a pot of tea, milk and sugar, and loads of music so let the listening begin!
As is usual I first listened to some Radio Four, the stereo image was HUGE! With all the newsreaders spread in an arc between the loudspeakers. The famous R4 signature was evident, in that they always sound as if they are too close to the microphone. Coupled with the usual bass lift on the voice.
First disc into the machine was Joni Mitchell, "Turbulent Indigo", from the first bar of the music I knew this was a very good pair of power amplifiers with a sumptuous, tight bass and the almost liquid presentation of the mid range allied with crystalline treble.  It was easy to identify the instruments in the cavernous sound stage. The depth of the stereo image was astonishing, although it was a little foreshortened in comparison to the Mighty Crown and the large Sumo Five (a 50 Watt per channel "A class" monster), although the HH AM8/12 amplifiers gave a very similar presentation. As an aside the HH amplifiers were designed for BBC use along with their LS3/5A speakers. The internal equalisation was set to "flat" before the test was started. This proved the manufacturer of the Clones has gone for an essentially flat frequency response, rather than a "Rose tinted Spectacle" type of response.
Larry Klein's bass playing was a joy to listen to, as he plays the melody on his instrument. Along with Wayne Shorter and Jim Keltner on the drum kit. I judged this album to be represented correctly.
The Reiner Beethoven discs were inserted next, Symphony No 6 rang out in my large listening room. Confidently played, I think this piece is happy music. With little or no restriction on the dynamic range of the original recording this piece always brings a smile to my face and although rarely heard on Radio 3 these days it is amongst the finest use of a symphony orchestra. From its very first performance on December the 8th 1813 it still sounds like it has been composed recently. The image was almost shoulder to shoulder in a wide arc in front of me. Along with precision, as the music demands, you can almost see Fritz waving his arms frenetically in his attempt to control the Chicago Symphony Orchestra. Although if I were to be critical I would say that the version was played with a little too much gusto and was a little quick. From the woodwind to the huge bass section this piece  certainly is a show stopper. Along with the lush first and second strings this was displayed as a very emotive rendition.
The next disc was the Archiv production of the Brandenburg Concertos, played by The English Concert directed and led by Trevor Pinnock. This is one of the most unusual recordings as the Orchestra uses period instruments. It was recorded in the Henry Wood hall in between 1982 to 1984.
With the use of period instruments there had to be a large amount of care taken during the recording so as to not make the instruments sound "artificial!" Concerto Number four was played next, and I was greeted with a huge stereo image coupled with excellent transient attack and recovery. All of the detail of this small orchestra was described within the image. I did notice a little colouration in the upper bass. This gave a warm presentation to the music. Although it did not take any enjoyment from the Concerto.
I was loaned a copy of Melody Gardots album "My One and Only Thrill" and this was duly inserted into the CD player. Oh WOW! She sounds so……………………..sleazy, as if she was in a smoke filled bar late at night, instead of a modern recording studio. From the first track,"Baby I'm a Fool" to the last, "If the Stars Were Mine", her voice was so captivating. I am sure this was due to the engineer on the desk as well as her rather fine musicians. Larry Klein no doubt had a large part to play in this as this album is full of subtle parts, as well as a well balanced     recording. The musicians seem to play in their own space, in other words a well built amp does this. I must go out and buy a copy of this album! The sound was so infectious that I listened to very late at night, but I had to just try another album……………..
Amadou and Maria, "Welcome To Mali" was pressed into service next and there's that spacious image  again, displayed with plenty of space between the musicians. The bass instrument was delicious, and the percussion was almost perfectly played, both technically and from the sound quality perspective. Again this album was played from end to end. I am not familiar with all of the instruments, but can say that this is a great album, although if you are into heavy rock it maybe wont suit you.
I played King Crimson,"Red" next, with plenty of bass definition and loads of lower midrange to upper treble detail this album certainly scooted along. Robert Fripp dancing on his guitar pedals was evident from the beginning, coupled with John Wettens bass mastery, as well as Bill Bruford on the drums. A wonderful three piece band, but on this album they had the assistance of a couple more musicians who certainly fill out the sound. I have listened to Mr Fripp for more years than I care to remember, and the excitement generated as I cued the album up was almost tangible!
Tentatively I placed the next album into the machine, Smokey Robinson and the Miracles, with their album, "The Tracks Of My Tears",  from the introduction as the drum solo kit gives way to the band, which had weight and drive, words fail me to describe the album, as this takes me back to my youth in the Night Clubs spread over the North East of England. But the sound quality was exemplary. The amplifiers describe the album with pace, precision, and weight. Oh and the songs………..proper songs that tell me a story, recorded in the heyday of Soul Music. The pick of this album has to be,"Shop Around", a warning to young stud from a worried mother.
Funk was the next genre to be played with an album you probably have never heard before, "The J.B's". In James Browns career there were loads of bands in America who copied his style, the J.B's were amongst the best as they captured his sound and energy, and James Brown appeared with them on numerous occasions. He took this copying of his style as a compliment. From the weighty bass line to the flautist this album just makes me want to do a couple of spins and drops, but sadly I am not in the first flush of youth. Although the music is full of subtle licks as well as brass and strings, and of course James Brown appears on some tracks as well as Fred Wesley. This has to be one of the stand out Funk Compilations, so if you are not yet into Funk go get a copy and listen to it……………..LOUD!
The final disc was put into the machine and Play was pressed. It was Diana Krall, "Live in Paris", the disc opens with applause ringing out, and it did sound realistic. Unlike a lot of much more expensive amplifiers, on poor amplification applause sometimes sounds like rainfall but this was not the case with these Mono blocks. I settled myself into my sofa, and the music begins.
My large listening room was transformed into the Paris Olympia. From the sumptuous piano, to the crystal delicacy of her voice this album is one of my most prized recordings. Of course the room acoustic was displayed with alacrity. This is not an easy trick to achieve and as we are all aware the acoustic of the recorded space depends on the equipment having an almost ruler flat frequency response.
I could almost hear the musicians breathing with this album in the machine. As well as the huge stereo image there seemed to be a definite cavernous depth to the image as well. The music was played with breakneck pace as the set settled down, At track Five, "East of The Sun", the playing slowed down and the subtlety of Diana's band showed themselves to be extremely fine musicians. A very fine result, the CD was played from to the end and I almost had tears in my eyes as the final track was played.
CONCLUSIONS
These are fine amplifiers, along with a fine pre amplifier. They display music as it was recorded save for a tiny bit of upper bass boost. But, because of my size of listening room,   they didn't quite have enough power for me. With my equipment they really shone. From their excellent build quality to the lovely aesthetic they represent an almost obsessively built Solid State amplifier. Although I do have one complaint! The control knobs have no cursor on them, and in dim lighting it can be very difficult to see what input is connected, and what level the pre is set to.
I did notice a difference when I plugged in the Clones pre amplifier rather than my home built passive pre-amplifier. The sound became much richer, although the sound stage shrunk a little. This was only in depth not in width. Now the thorny question, would I replace my Mighty Crown Power amplifier and my Denon pre amplifier with them. Firstly I sadly wont be replacing my Denon as the Clones does not have enough inputs and outputs in it, but its sound quality is not that much different. This is because my system is rather large and the Clones does not have any video inputs nor a monitor out. The Clones power amps are very good and really well made, but sadly don't have the power output I require. If I was just starting with my first or second system and I had a smaller listening room then I would buy these three units at the drop of a hat!
The Clones units have the ability to transport me to the recording studio, or the venue where the event took place.
Build quality – 10
Sound quality – 9.5
Value for money – 9.0
Overall  – 9.5
Simply put, they are truly astonishing units, I will miss them after they are returned, sigh………..
I rate these power amps and pre very highly!
Stewart Wennen
Having achieved an overall score in excess of 8.5 the CLONES Audio 55pm amplifiers and AP1 preamplifier were sent for second review to a different Hifi Pig reviewer, Danny Worth.

After Stewart's great review of the Clones they were sent to me for my opinions and overview.
Arriving in one single box no bigger than a standard sized integrated's packaging, inside are three smaller boxes containing the monos and preamp.
During the unboxing one of the monos had a weighty rattle to it, on further inspection when removing the lid I noticed the top nut on the toroidal was a little loose, a few turns and all was well again.
There was no included user manual with the samples we were sent however connecting these is a doddle – ic's in, a set to feed the monos, speaker cables and three power cables.
Playing a range of music from Chris Jones' Moonstruck album, vocals conveyed a strong clean central focus, well undertoned and well projected, they sat in a fairly neutral position in the soundstage, never recessed and arguably not forward against their clean nature.
The top end was well balanced at ordinary to good listening levels yet when loud could become a little hard at times, the Ayons can take some serious watts up them and can struggle with many expensive amp pairings costing many times more than the clones due to the amps not being able to drive them properly at louder volumes, so this was nothing out of the ordinary for me.
Bass control is great, flat, tight and well extended beyond what I was expecting from these tiny boxes, it rocks down to sub bass levels in my room. I have a concrete floor with two layers of wood and sound-proofing and I could feel the soles of my shoes resonating with deep bass notes.
I explored some more female vocalists and Acoustic music next which really showed how important the Clones factored in soundstage appearance. There was definitely convincing depth and layering was good.
Soundstage width is dealt with marvelously, detail retrieval throughout and beyond the speaker boundaries were fantastic, there is a truly harmonic presentation conveying reverbs, acoustical space and instrument timbre which really wowed me. There is real substance to how the Clones reproduce the natural appearance and rendition of notes.
Busier music never gives a congested display and transient swings are strong and have plenty of excitement and slam.
Listening to some more intimate live sessions from the likes of Loreena McKennit and Candy Dulfer really conveyed all emotional qualities of the performance. Candy's saxophone was magical, cut through the air like a hot knife through butter where as McKennit's sultry vocal was fluid and emotional, exploring her vocal range and the delicate nature which the Clones were able to convey without fault.
Now as usual I had to play some upbeat and pretty hard electronic music. This is where a real test for front to back imaging and rear sensations of harmonic nuances can test a products encapsulating feel for me and the little clones ticked every box in this respect. They conveyed details around the listening space which I'm used to when listening to some serious quality amplifiers and they even produce it dynamically rather than simply allowing for suggestions of the detail to be heard.
In Conclusion
I was very impressed with the Clones pre and mono combination.
There is a no doubt in the mind that they have a feel of a high end quality sound to them, a strong reproduction of material across the genres I enjoy listening to. They have that certain magic that we as audiophiles strive to obtain from a piece of equipment which is at a real world price.
I think they look fantastically simple, their internal build quality is also simple and solid. I appreciate the internal 'firewall' between the transformer and the other electronics for shielding purposes and the use of minimal signal paths.
Build Quality – 8.5/10
Sound Quality – 8.5/10
Value For Money – 9/10
Overall – 8.75/10
In short these are grown up amplifiers without the price tag which will reproduce music in way that will captivate the listener.
Author – Danny Worth