The guys at Concrete Audio, the German loudspeaker manufacturer, got in touch to tell us about their N1 loudspeakers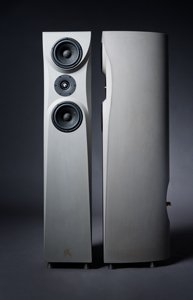 which is unusually made from concrete – as the company name may suggest.

"The sound of a loudspeaker dependents largely on the quality of the speaker housing," says Frank Nebel, head of the company. "Unlike a musical instrument, an optimal speaker housing should not vibrate itself, because these resonances would distort the  sound of the  speakers." Nebel explains. "The shortcomings of existing audio systems and the search for the perfect sound motivated us to develop a loudspeaker that will satisfy even the highest demands in sound and listening experience."

The  loudspeaker  cabinet  is made from  a  special high-strength  concrete  with  a compressive strength  of at least 30 N / mm ² and by means of a special casting process, the housing is cast out of one single piece with all sides closed and sealed. It's a two way, closed design offering a claimed frequency response of 34Hz – 40 000Hz and a sensitivity of 83dB using components from Scan-Speak, Kimber, Mundorf and WBT.

Price in Germany is €32 170 inc shipping and Worldwide €27 034 plus taxes and shipping.