Hifi Pig writer Ian Ringstead gives his views on the recent Copenhagen High-End Show 2019.
There is a song that goes "Wonderful, Wonderful Copenhagen" and I can happily say that is true. The weekend of 26th and 27th of October was a first for me. I had never been to Denmark before and when I was invited to attend the show as a member of the press to cover the show I was delighted. Denmark is a small country with a population of approximately 4.7 million people. It is renowned for the Vikings, bacon and butter. Copenhagen, the capital, is famous for the little Mermaid, Tivoli Gardens and Carlsberg lager. What a lot of people probably don't realise is what a depth of quality high-end HiFi companies there are in Denmark. Audiovector, B&O, Bow Technologies, Buchardt, Copland, Dali, Densen, Gamut, Gryphon, Jamo, Jern Speakers, Morsch tonearms, Ortofon, Scan Speak, Vitus Audio to name the ones I have heard of. That is quite a list of world-class brands.
The show was held at the Clarion Hotel next to the airport, so it was very convenient for all the international travellers attending. The Copenhagen High-End show is 22 years old and has grown over that period into a serious exhibition not just for Danish products, but international brands the world over.
Instead of a programme, the organisers gave out a flyer with an app to download on your mobile that had all the information needed and you could rate rooms and products too. Saves on paper and a good idea.
The first room I entered on Saturday was Jern, a Danish company which has made a huge impression since their emergence in the last couple of years. Jern is the Danish word for iron and the speakers are made of cast iron. I was originally down to review them when released but Stuart was asked to as he had spoken with the owner. He was mightily impressed and when I heard them at Munich this year so was I. There is a rightness about the sound they produce than never changes. Consistency and musicality are their key attributes. Incredible bass for their size, people who entered the room kept thinking the sub on show was working, but it wasn't. I visited the room several times over the weekend as it was next to my room, very convenient. The best sound at the show for me and incredible value. The company make cast iron manifolds and other items for specialist automotive companies like Rolls Royce and Maclaren because no one else can master the quality of finish or performance demanded. A great start.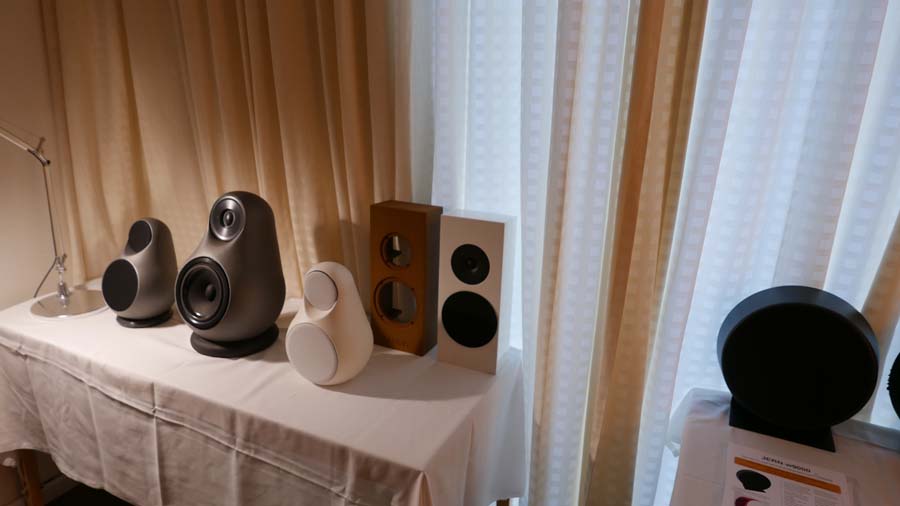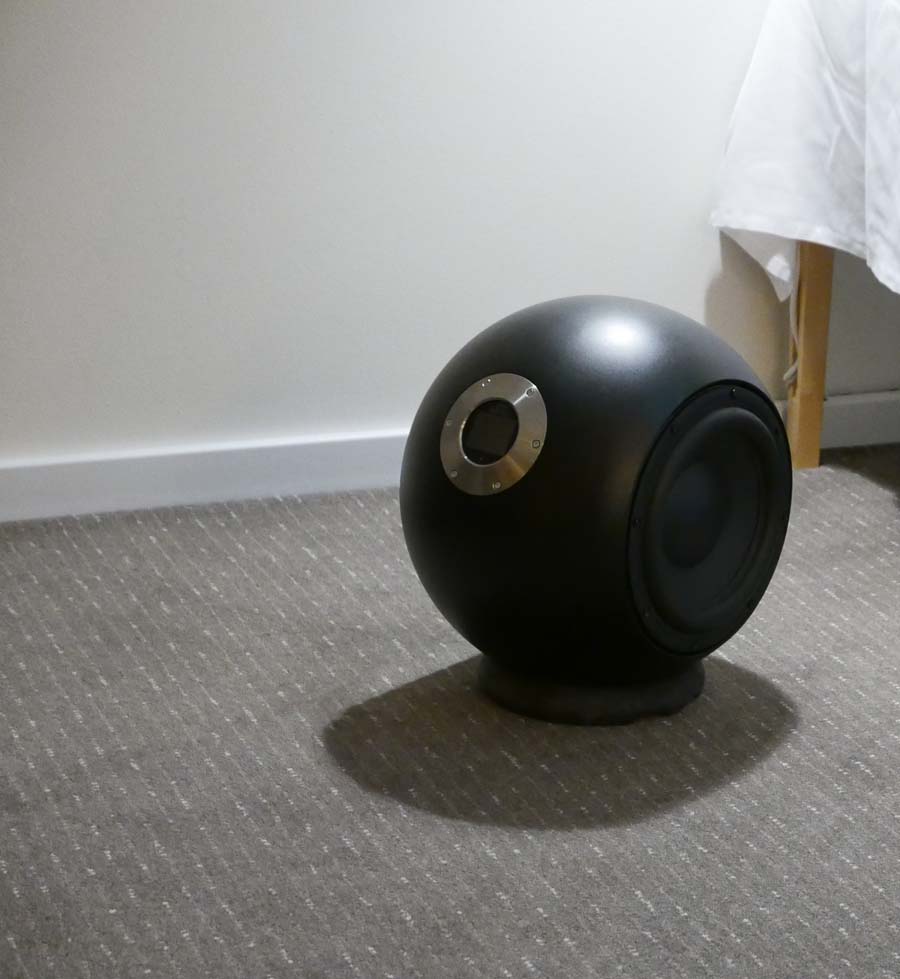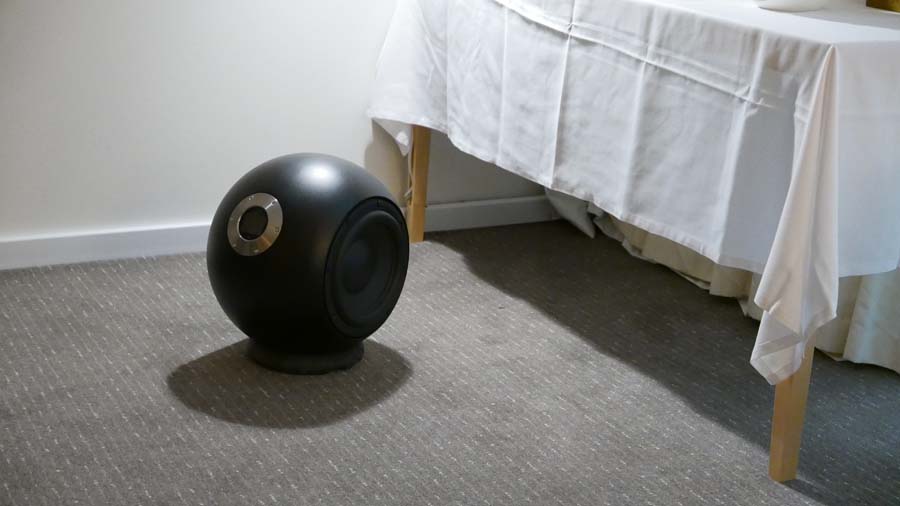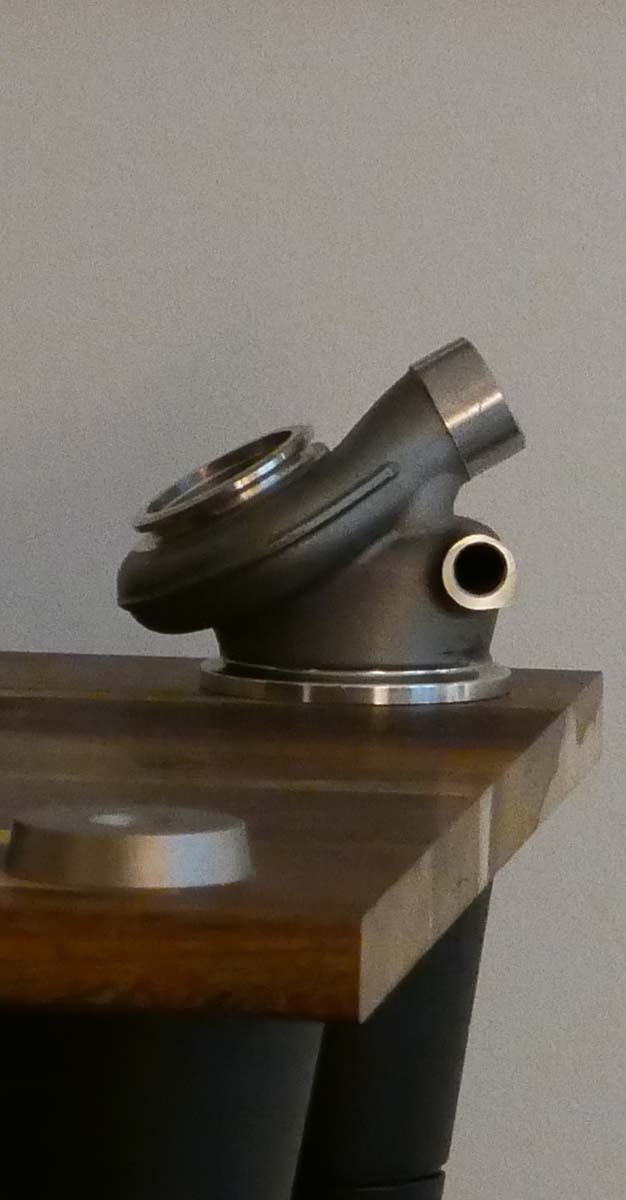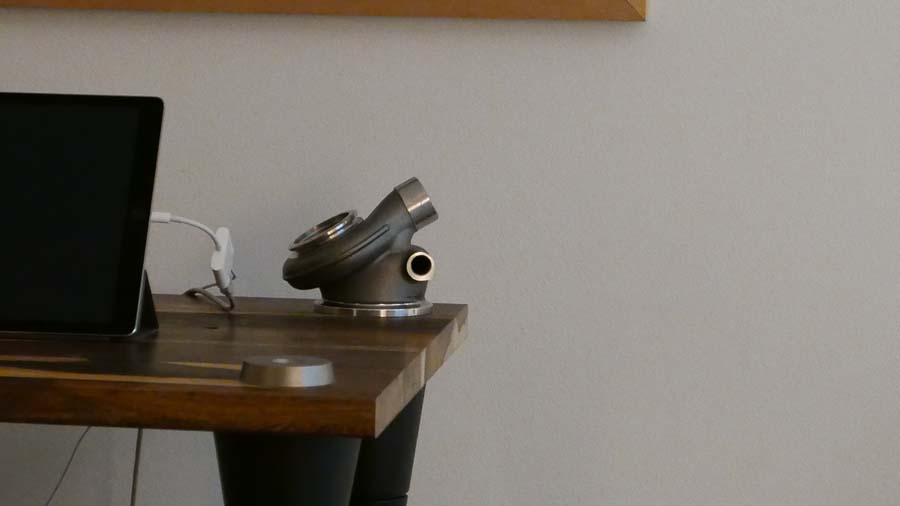 Over the way on the same corridor was LydProdkter who were demoing Spendor SA7's with Nottingham Analogue Studio and Dr Feickert analogue and EAR valve electronics. Jelco tonearms and accessories were on sale as well. A lot of jazz was played which is ok in small doses but one band Bo Kaspers and his Orkestra was used that impressed my musical taste. Good room and friendly staff. A lot of analogue was used at the show, good to see.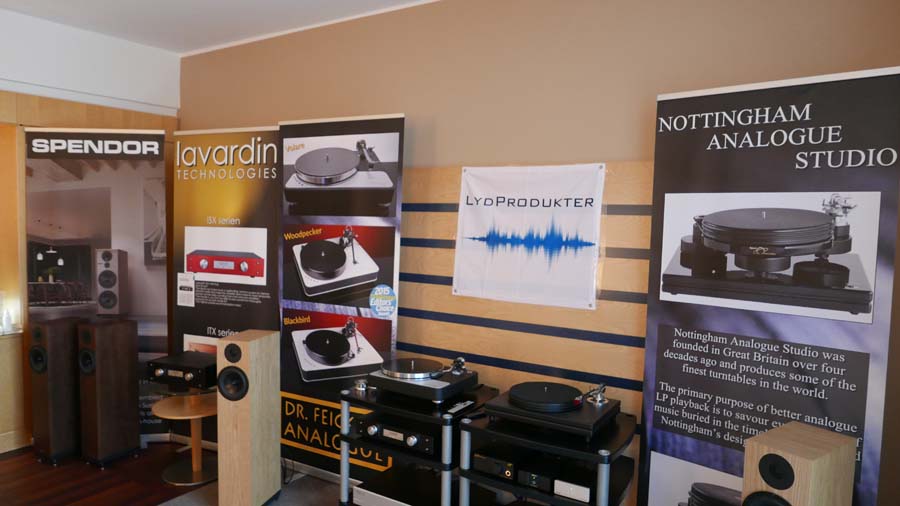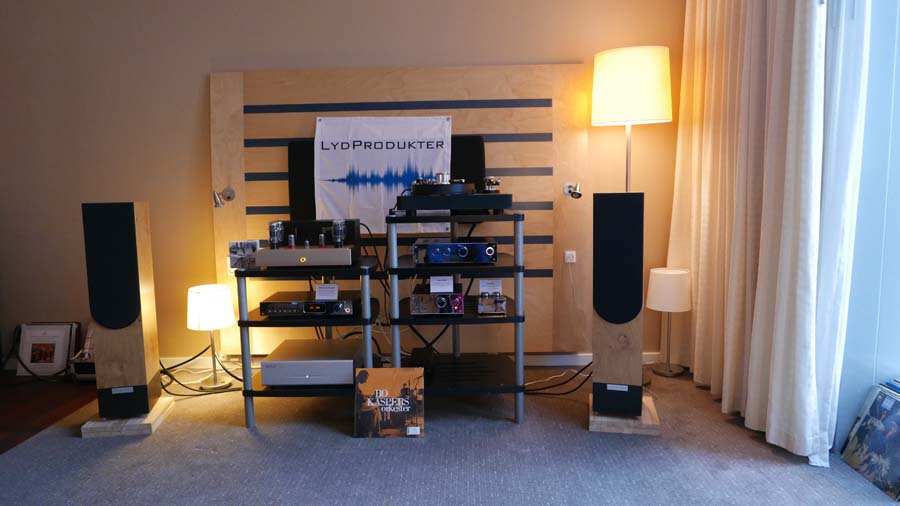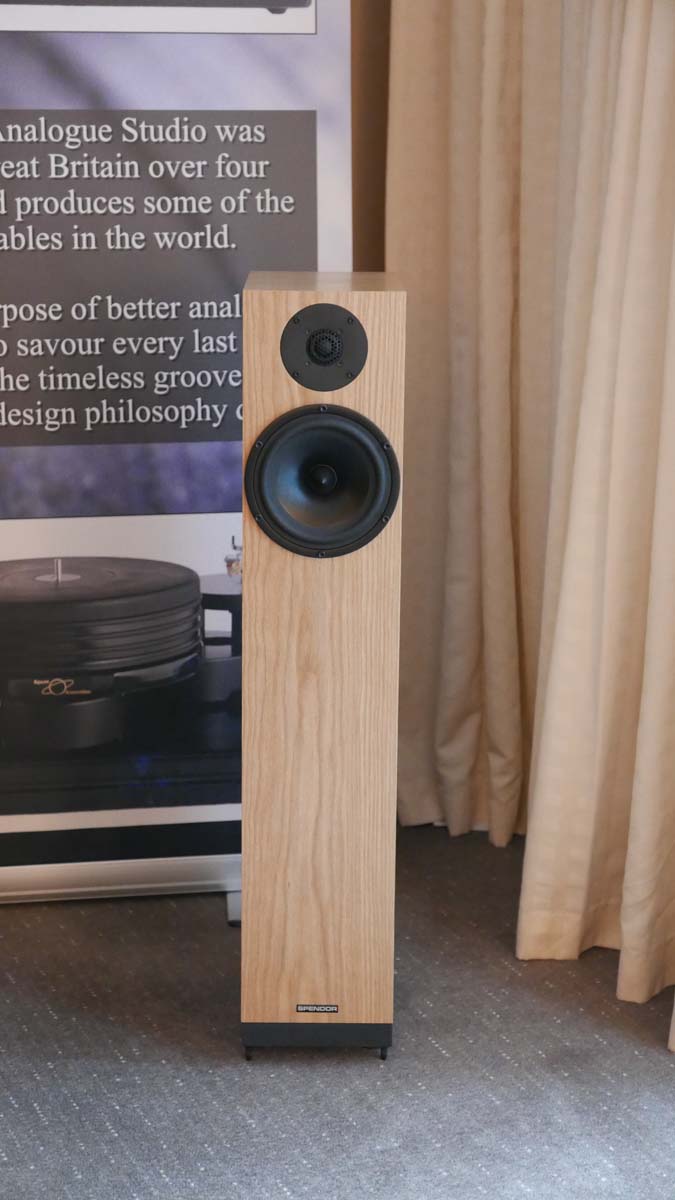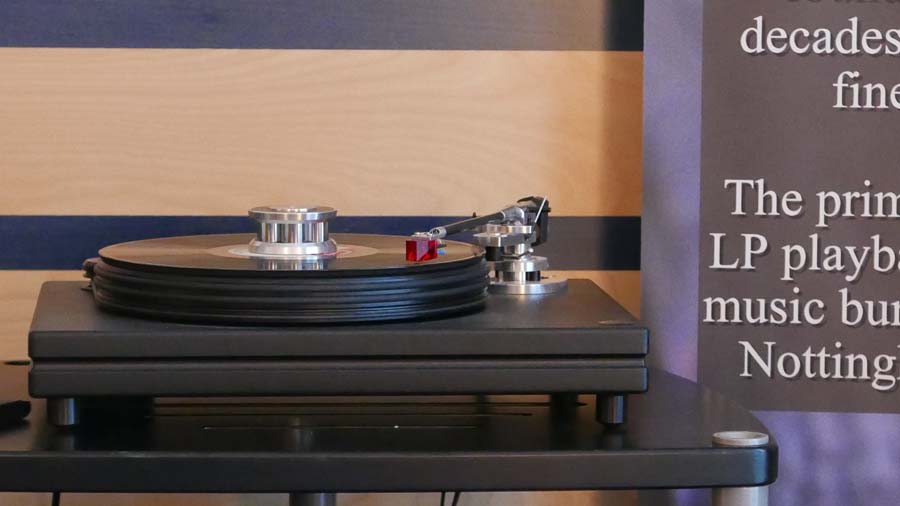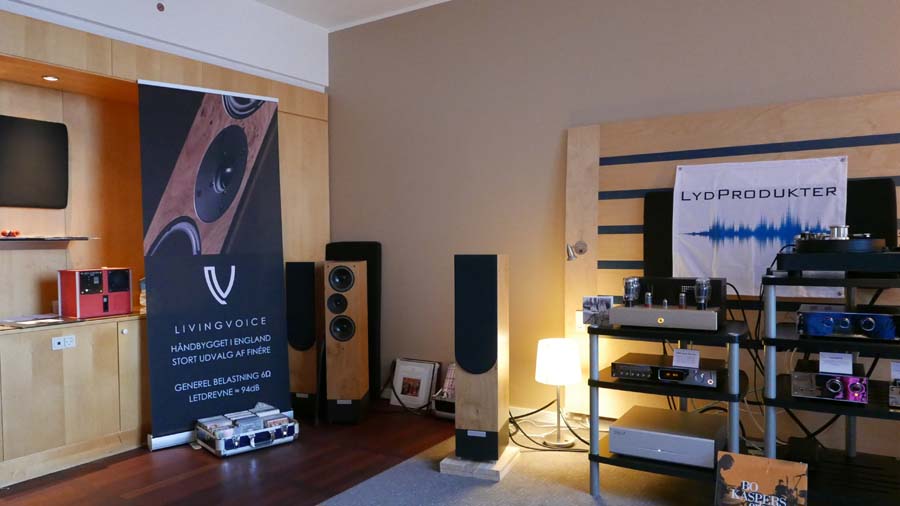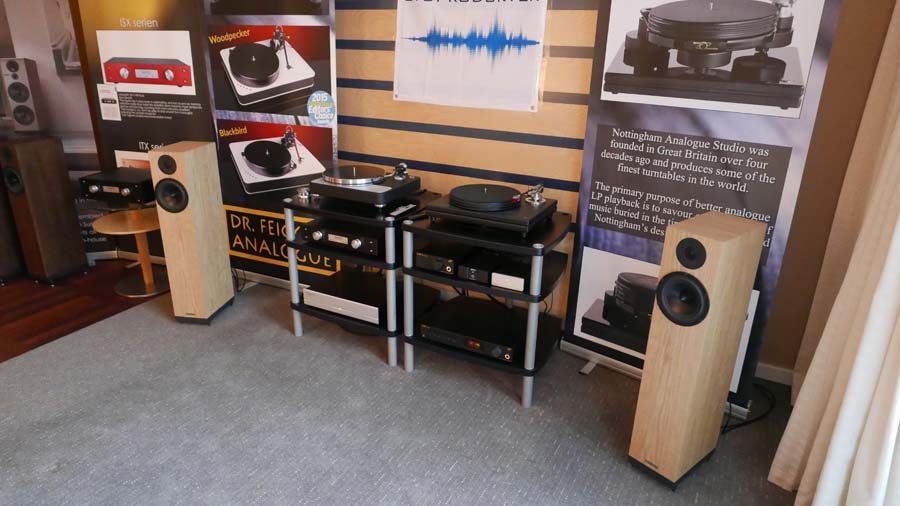 The second floor had PS Audio Scandinavia showing Audio Note Japan and their Kondo range of legendary valve amps. Speakers were the DeVore Orangutan 0/96 from USA which I heard at Munich and they sounded lovely and open. The fit and finish was superb. An unusual name but superb looks and sound. I could live with a pair. The Kondo range are eye wateringly expensive but beautifully built and very high-end components are used in their make up. A Nagra cd player acted as source and has always been on my bucket list.  A lottery win would make a purchase mandatory. The purity of sound is extraordinary and so easy on the ear.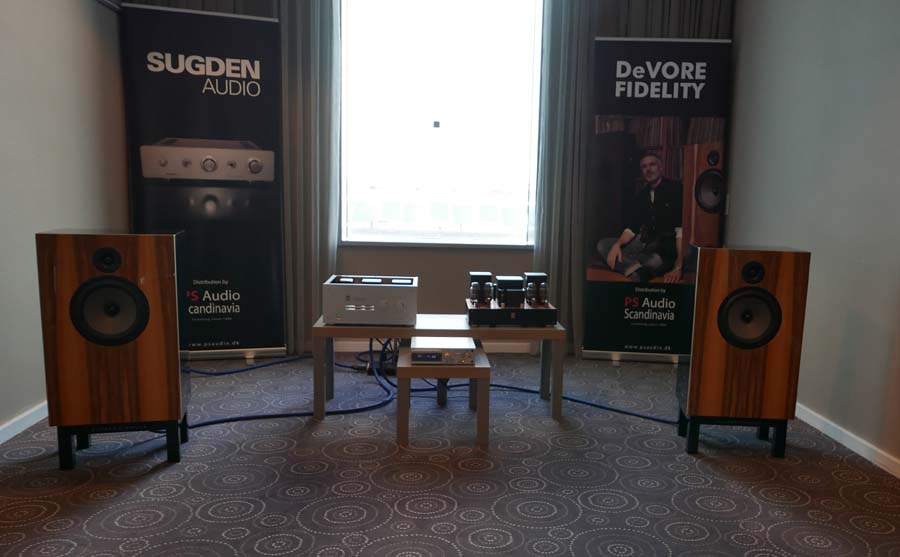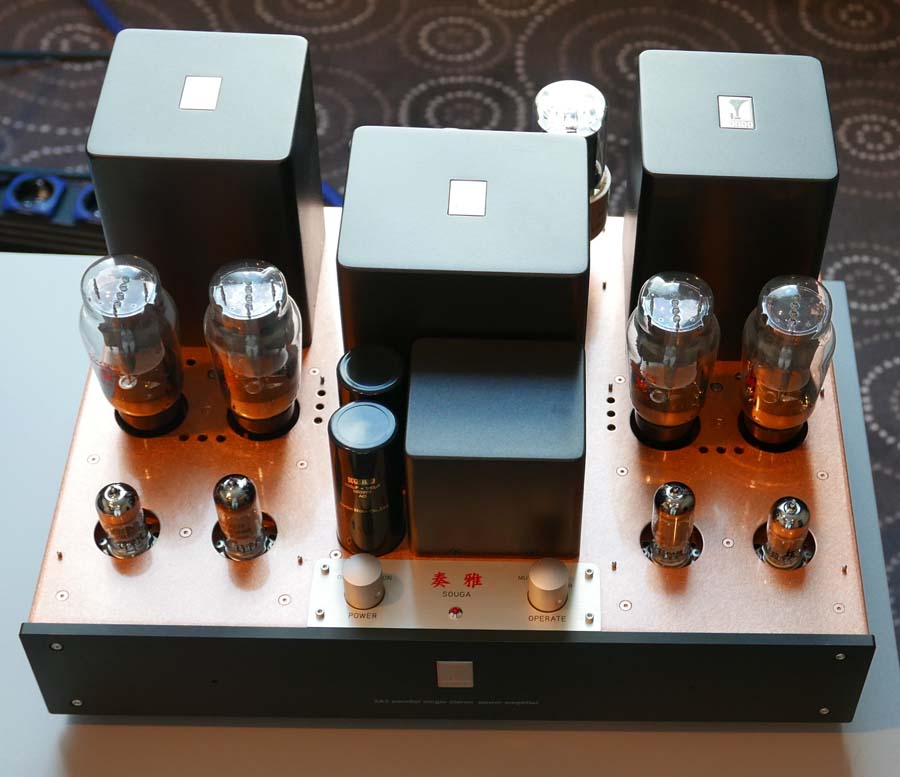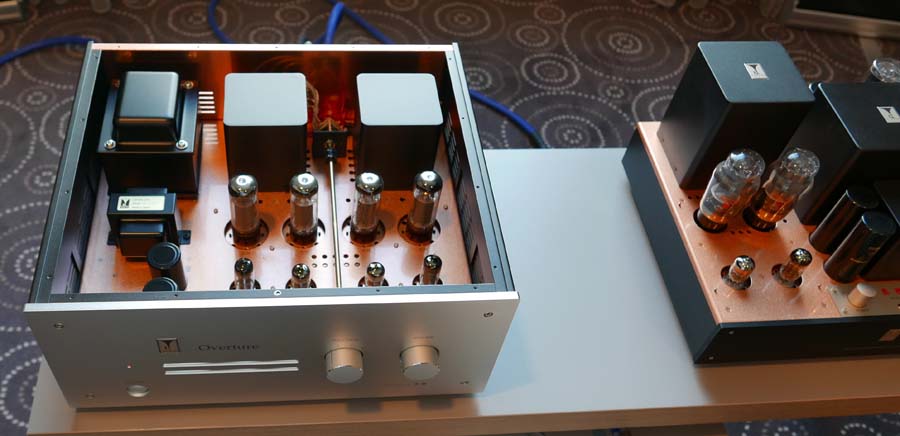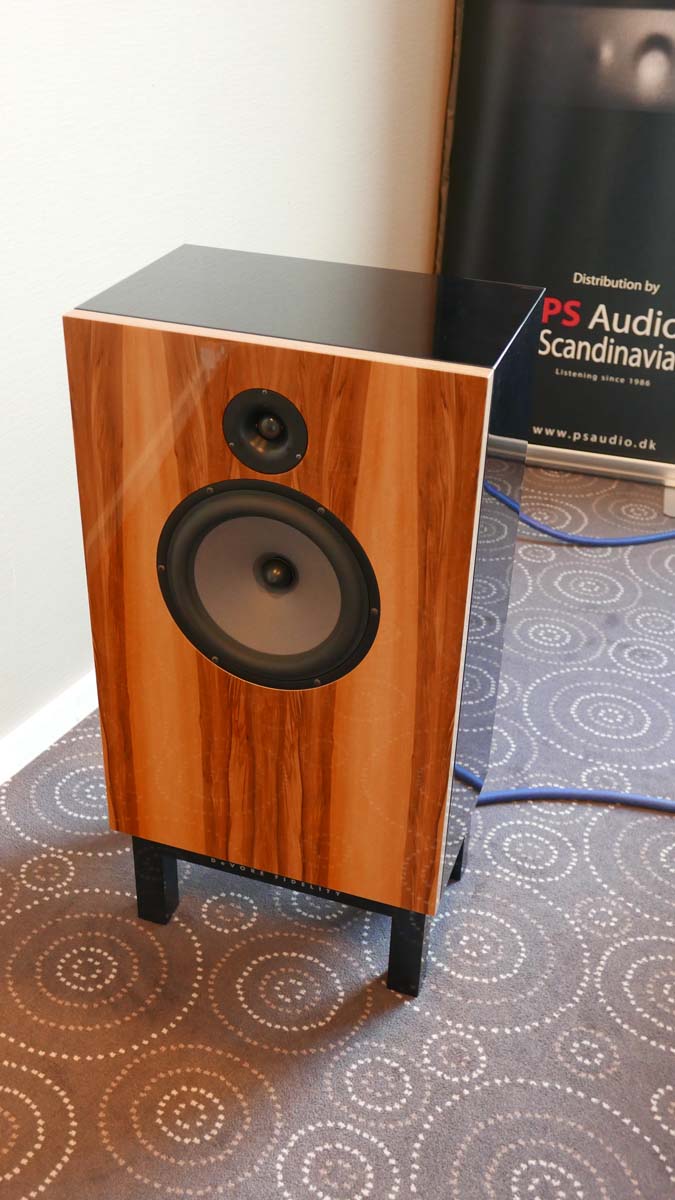 Danesian Audion were an interesting company showing Gato electronics with SB Acoustics speakers and Bayz Audio speakers. The Gato electronics are superb in both looks and sound being compact but deceptively complex under the skin. SB Acoustics are a world-renowned speaker manufacture supplying drive unit to many companies. Their own designs are rather good as well.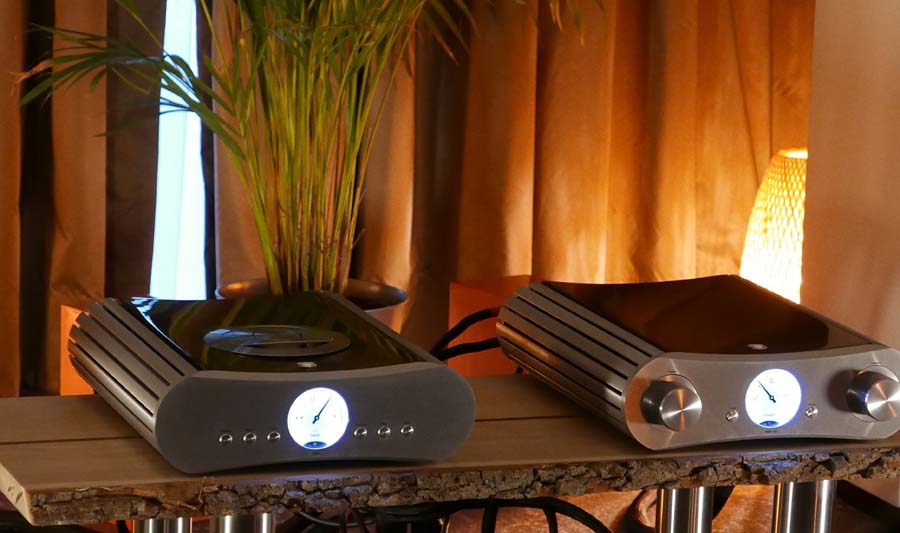 The BAYZ Audio speakers were a new one to me but they sounded excellent. The Courante is an omni directional speaker that is full range utilising the patented Bayz Radial Speaker, a unique radial tweeter design. Looking like a large pipe that had been bent in on itself with the bass units firing into the pipes open ends and the tweeter fixed between the bass units. They retail for 39000 Euros / £ 33661 approx. Certainly eye-catching and I rather liked them. La Danse Macabre by Camille Saint -Saens was played through them (theme tune to Jonathan Creek if you've ever watched it) and it had great dynamics and energy.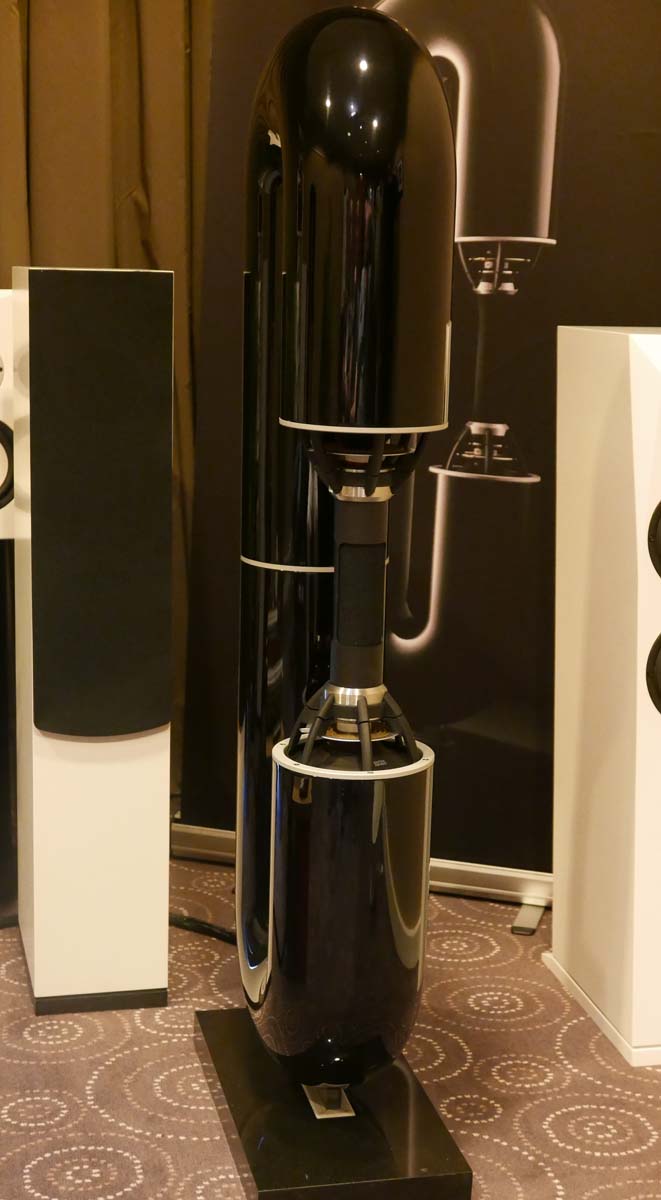 The SB Acoustic range looked and sounded great from the diminutive Micro C in orange (£400 approx) to the Ara Be stand mount (£1000 approx) and Rinjani Be floorstander (£1500). Rinjani is a volcanic mountain in Lomok, Indonesia where SB Acoustics are based. They looked and sounded fabulous. Danesian Audio supply the SB Acoustic speakers as kits complete with the cabinets that just need painting or veneering. I'm tempted to try some in the future.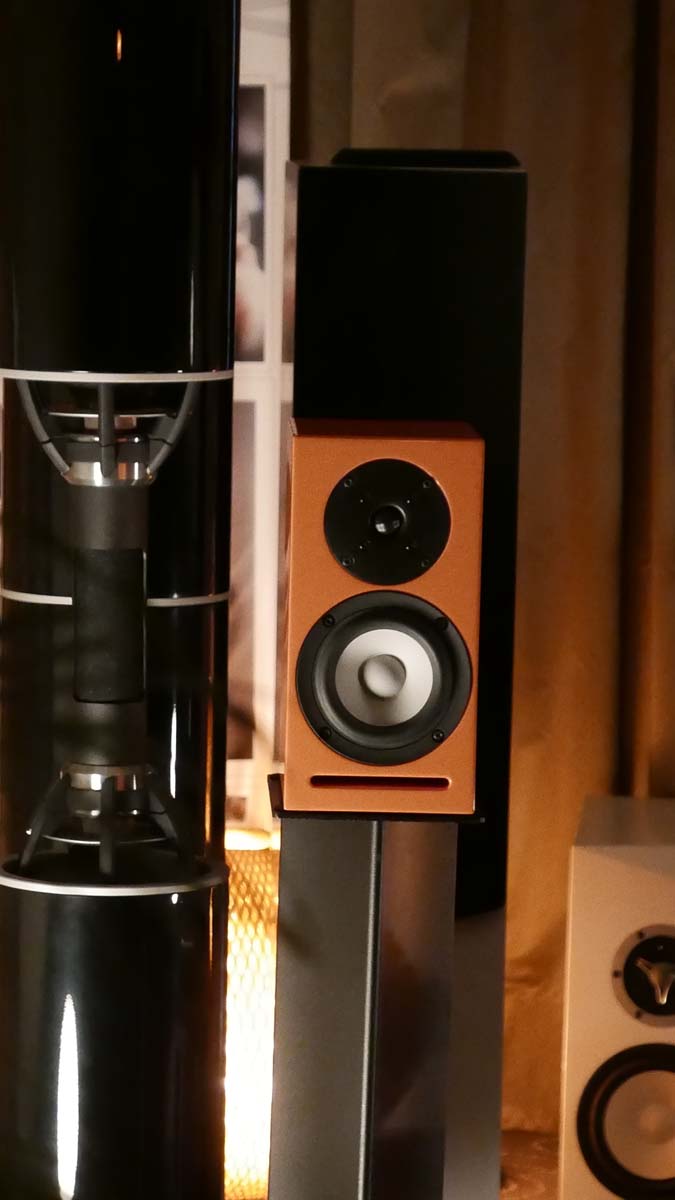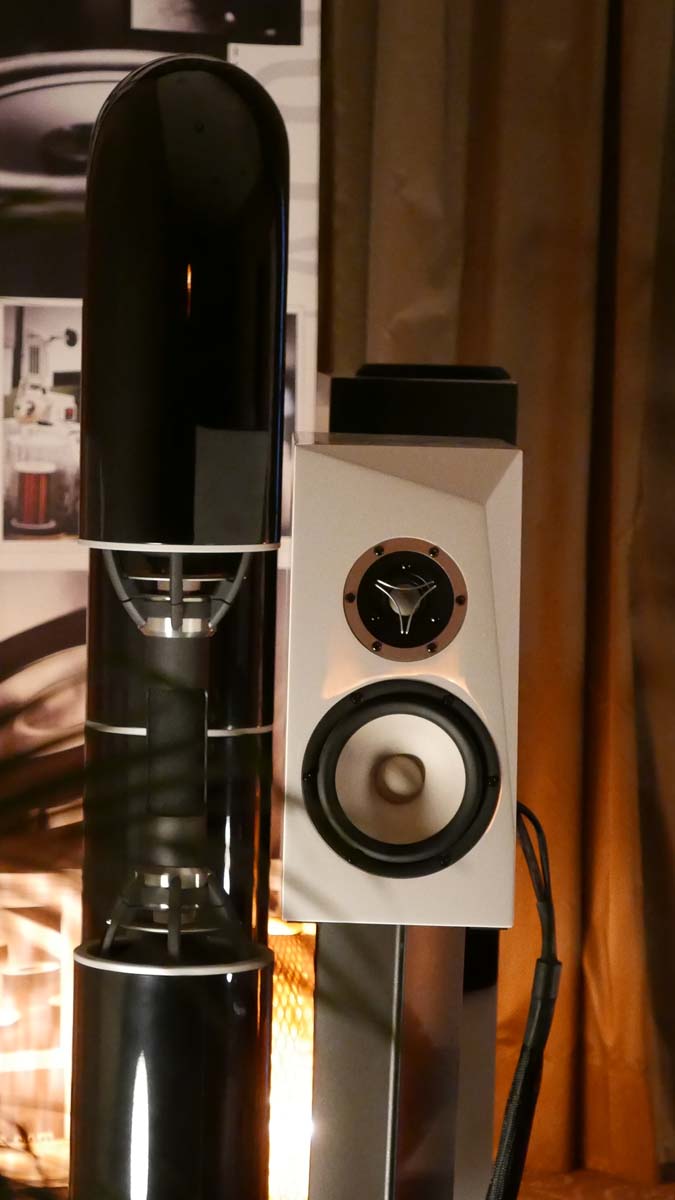 Hi-Fi Freaks, had a fair range of brands on display including Audiolab, Cambridge Audio, Densen, Kimber, Marantz, Quad, Triangle and Stax. The Cambridge Audio Edge range was being played and they certainly look the part with excellent finish and build quality. Great value for those on a limited high-end budget.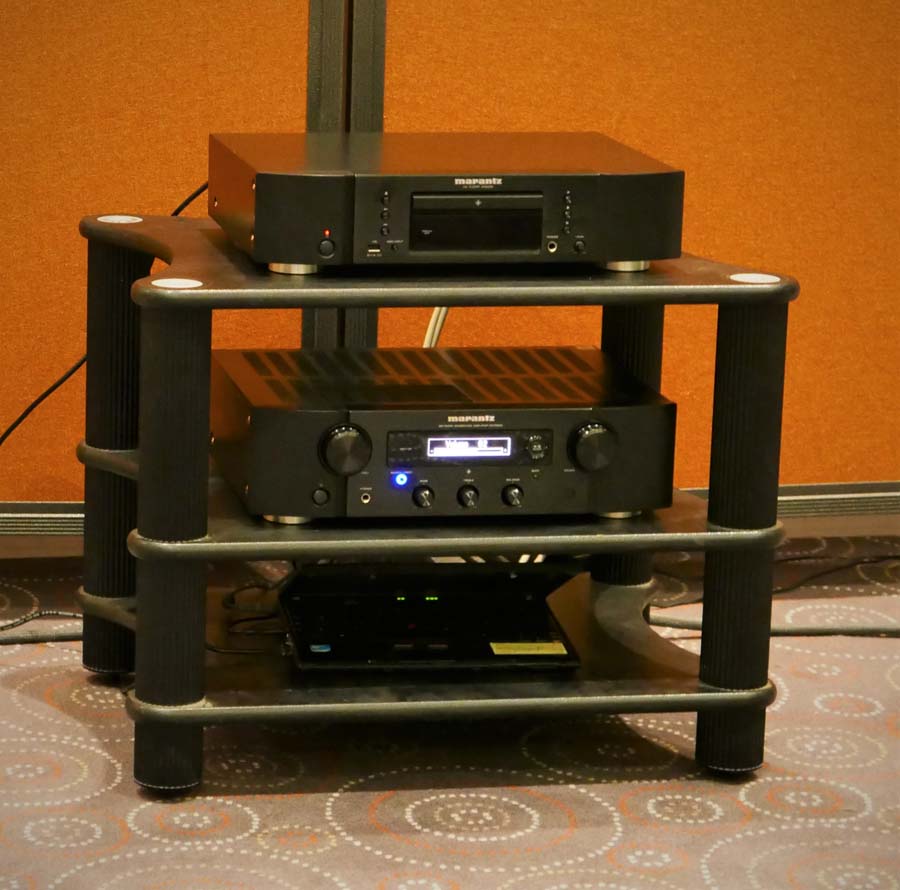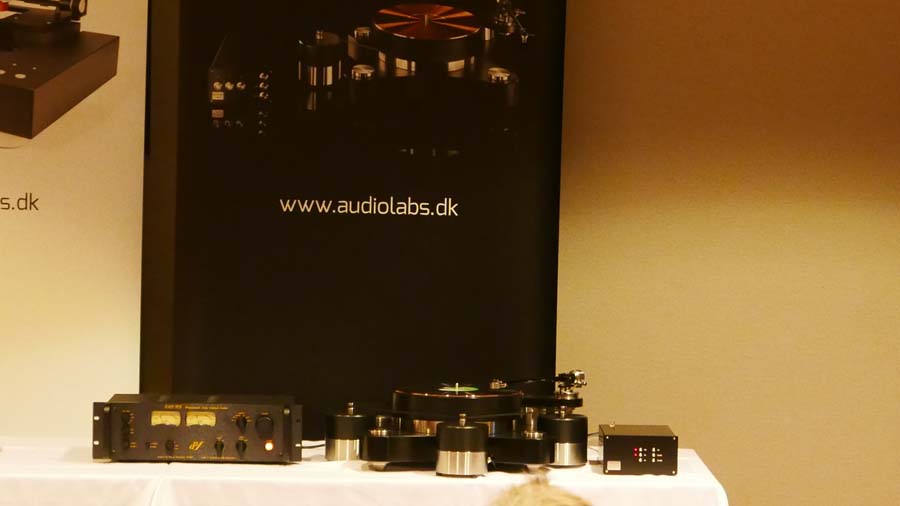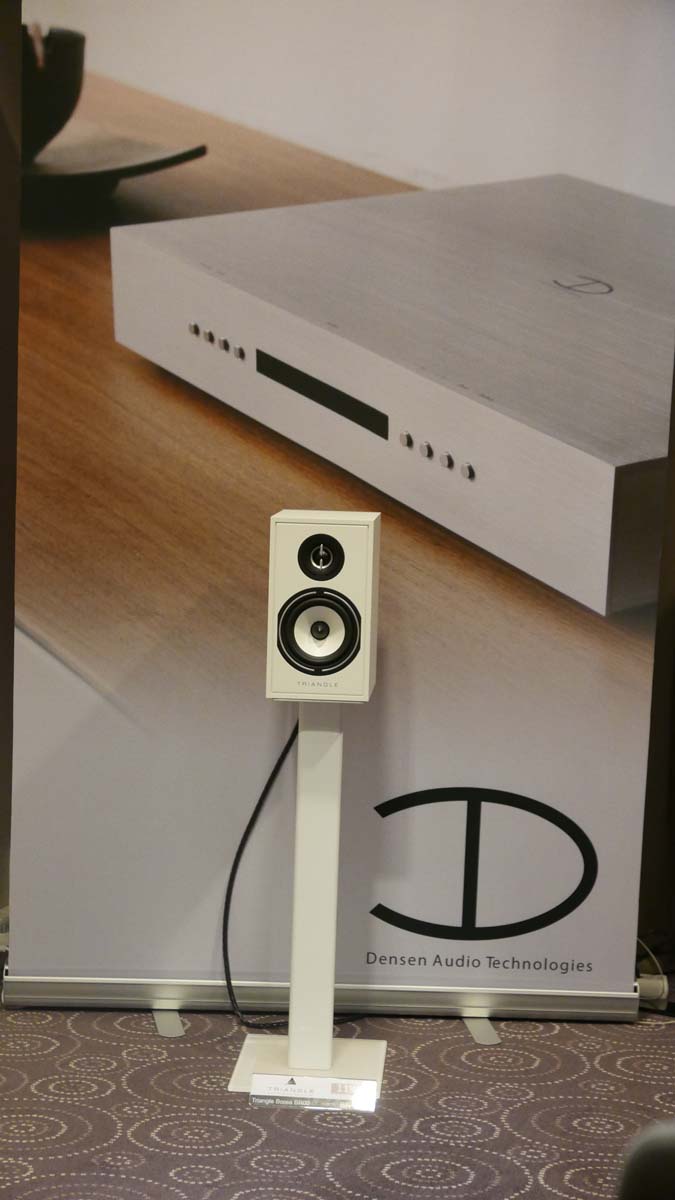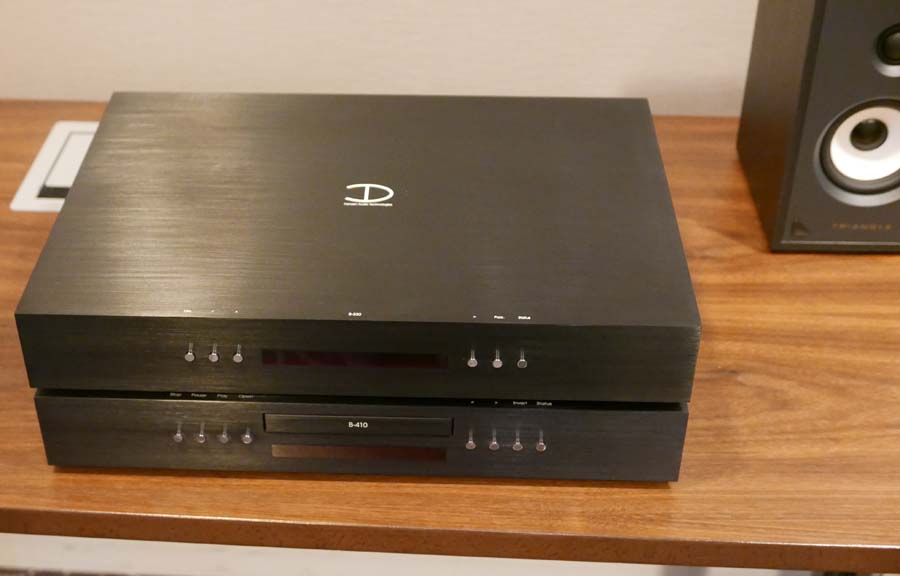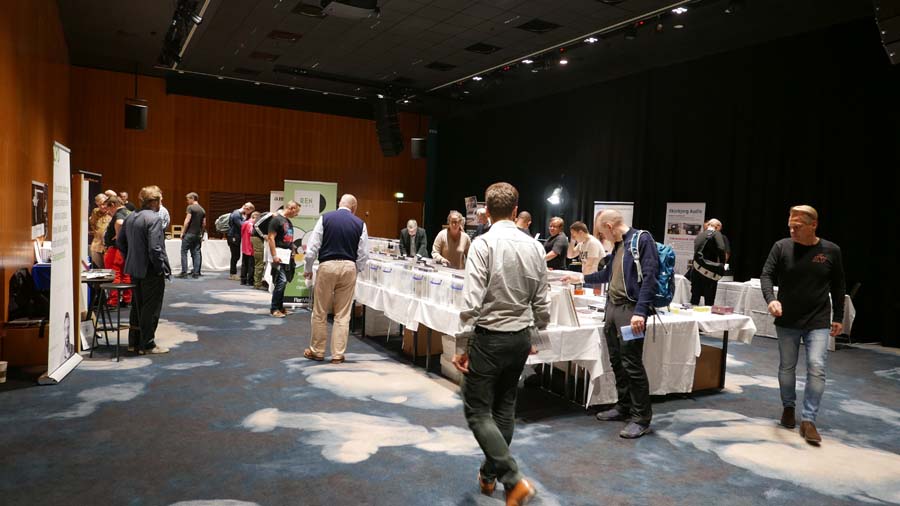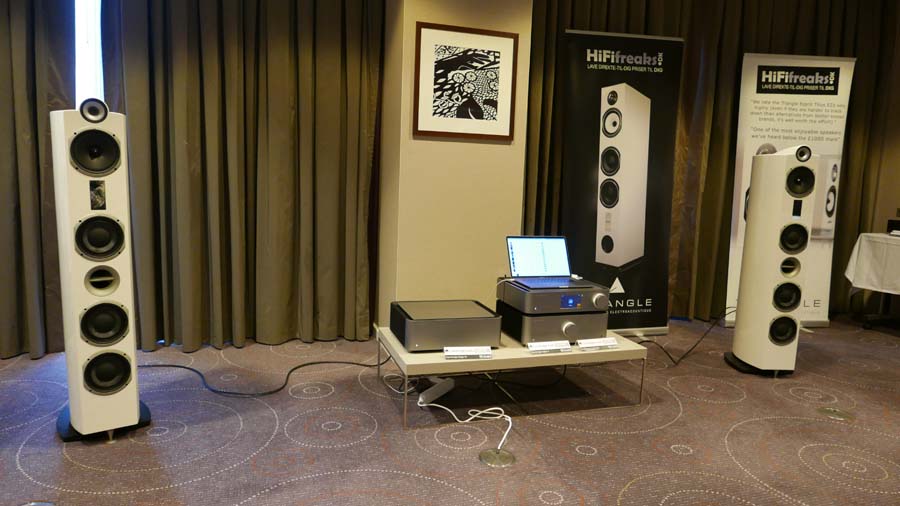 HiFiShark.com is a premier search engine dedicated to audiophiles. They aim to allow enthusiasts from all over the world to see and buy or sell excellent second-hand HiFi equipment.
High Performance Audio had a large room dedicated to top brands such as Magico, Soulution, Tellurium Q, Audio Vector, Avantgarde Acoustic, AVM Audio, dCS, Dynaudio, Hegel,Kef, TechDAS, Goldenear etc. The room was packed every time I went in and with good reason. Top notch brands being aired and sounding very tasty. Magico's were being played and as always sounded ace.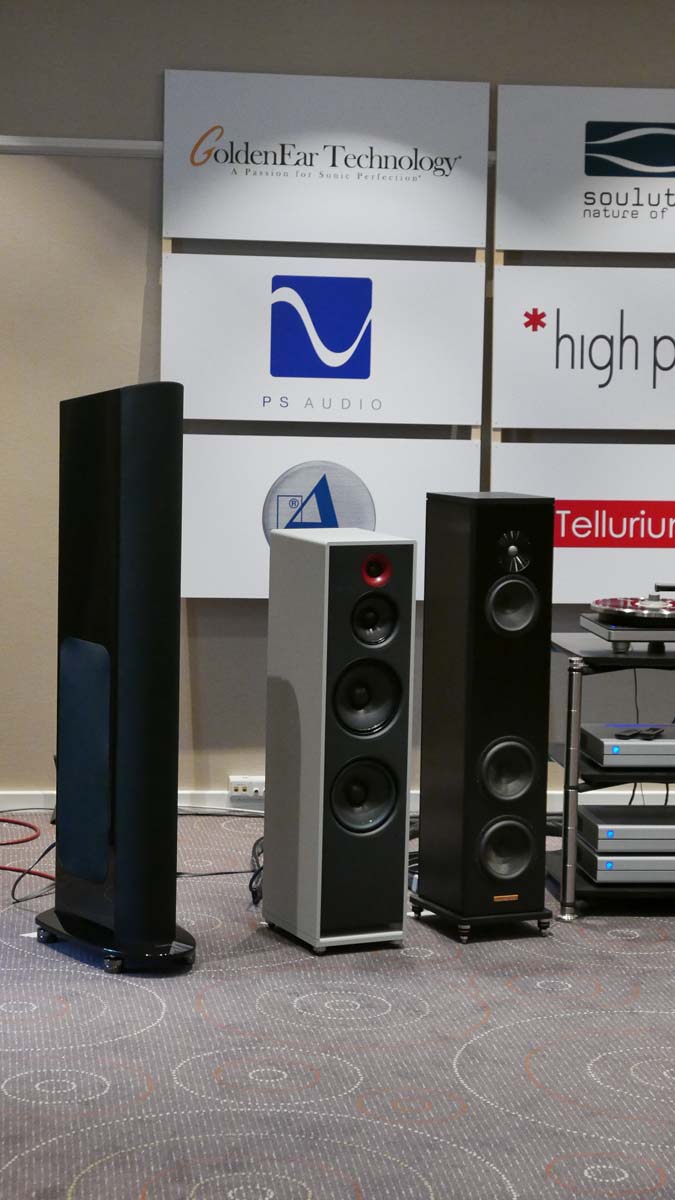 LydProdukter had several rooms dotted around the show and one of their rooms had Living Voice speakers with Ear Yoshino and Lavardin Technologies electronics driving them and a Dr Feickert Woodpecker turntable with a Benz Micro Ace cartridge, (I used an Ace for a few years, lovely moving coil). Audiodesk Systeme record cleaners were in use as well.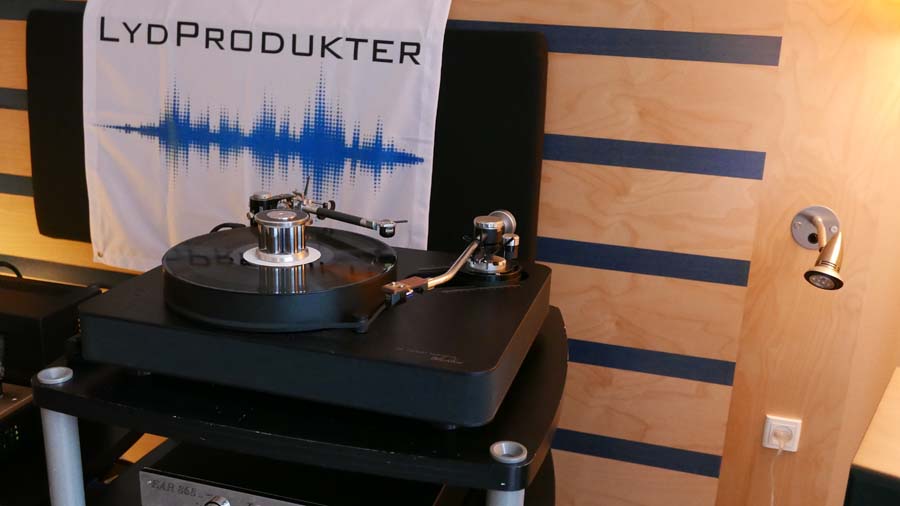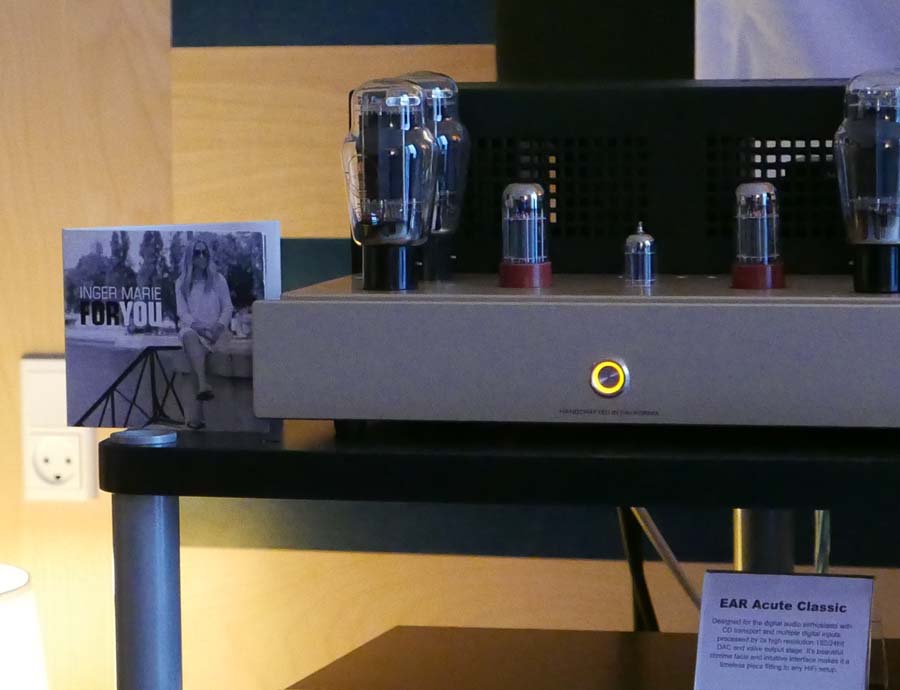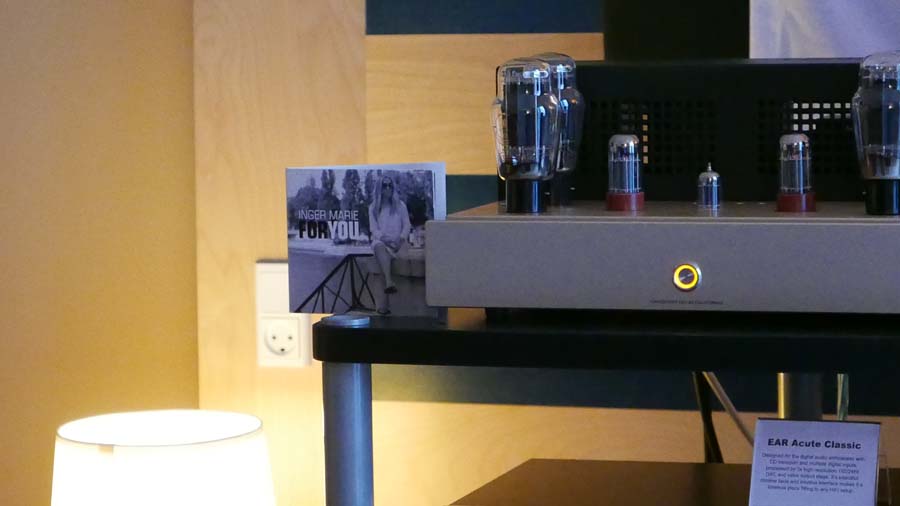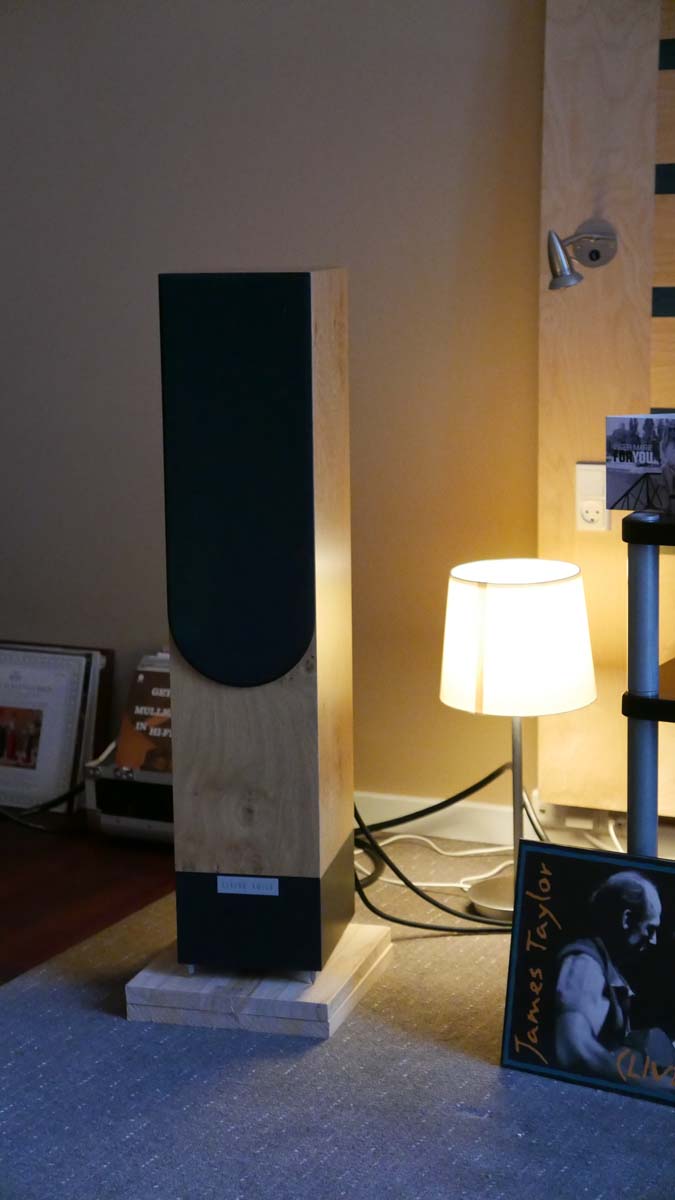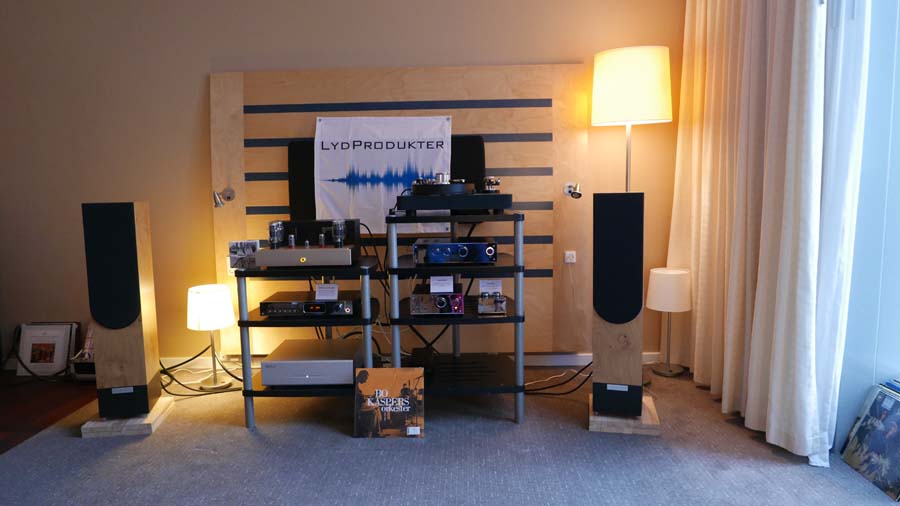 Marantz had their PM7000N amplifier. Engineered and extensively tuned by a team drawing on more than 65 years of HiFi expertise, the PM7000N provides exceptional performance for your audio collection. Whether digital or analogue, you can enjoy the most musical sound from any source. Marantz engineers selected and optimized the PM7000N through extensive listening in dedicated Marantz facilities in Europe and Japan using Hi-Fi tuned sound parts. Again a busy room form a well-respected brand.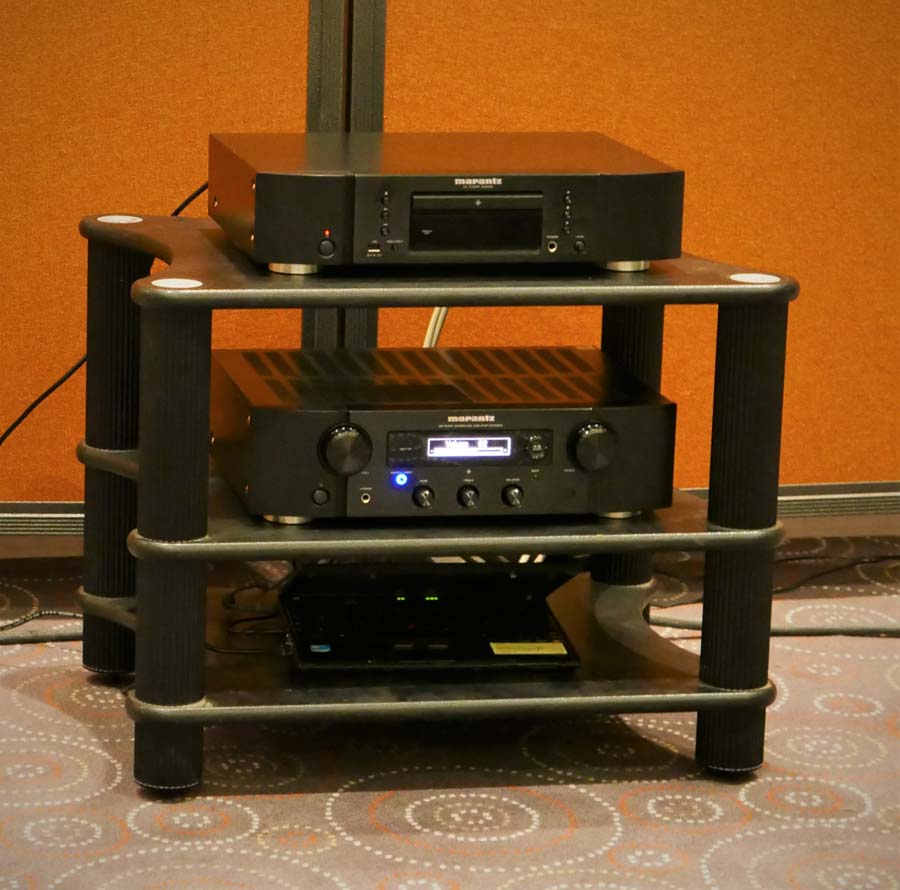 PM Audio had a room dedicated to Black Magic cables who are based in Norway and sell mainly to Scandinavian countries and Germany. Their aim is to produce very high-quality cables that have very good shielding against RFI.
Quad had a good presence and their electrostatics and amps were being used by Kimber Cables who were showing off their range of cables. I spent some time talking to one of the designers and we had a good discussion about cables and snake oil theories including cable risers. It's easy to criticise cable companies and say it's all a con but I have heard enough manufacturers products to conclude that there are differences and quite significant ones a lot of the time. Kimber are well established and I have spoken to Ray Kimber in the past along with Russ Andrews at many shows and used their products. Try them and if they don't do it for you then fair enough. We all hear different things and have personal preferences.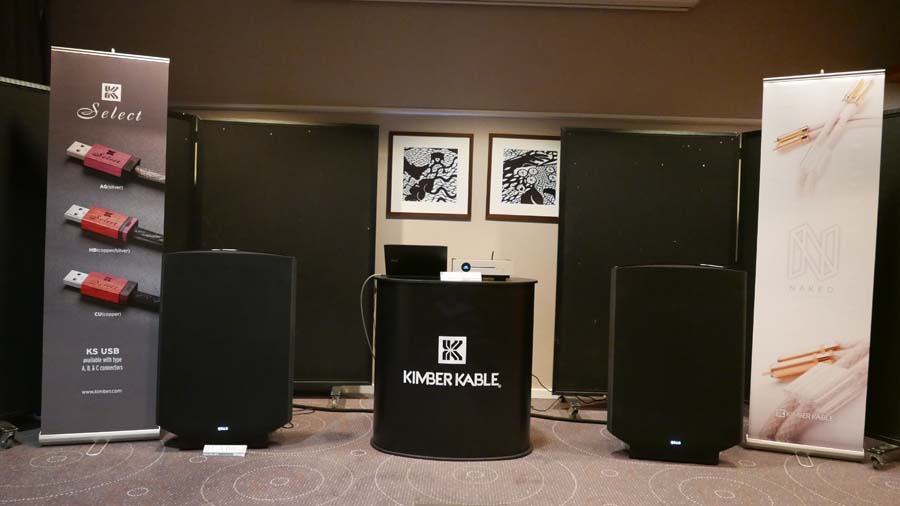 Sallingboe Audio import brands such as Allnic, Bespoke Audio, TW Acoustics, Boenicke Audio and Solid Tech. Another room that was busy when I tried to get in and time ran away from me.
Studio Sound showed brands from Vega, NuPrime, Hegel, Auralic, Taga , Michell, Thorens, Wilson Benesch, Belles and Amphion. One room had Taga electronics playing with their Diamond Be speakers which I reviewed a couple of years ago with various Taga valve and solid-state electronics. Taga are Polish and offer great value for money and have a wide range from budget to sensible mid-range items to suit all pockets.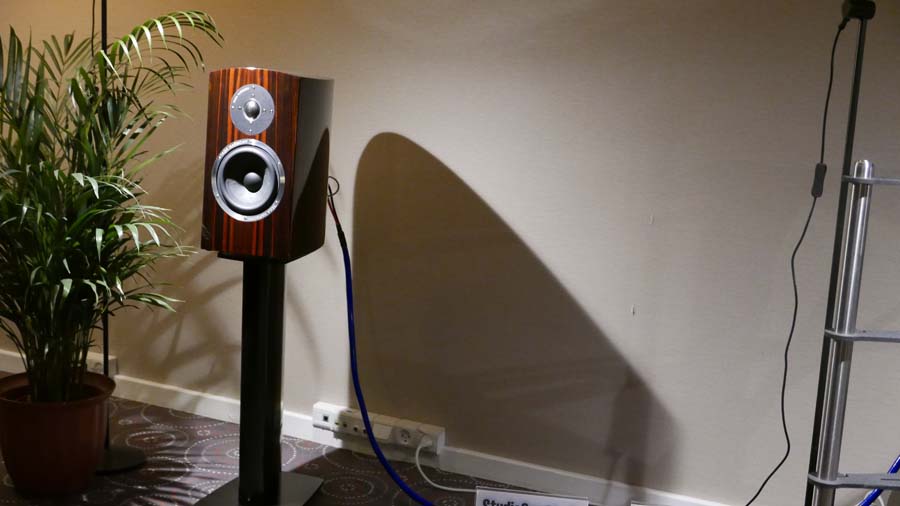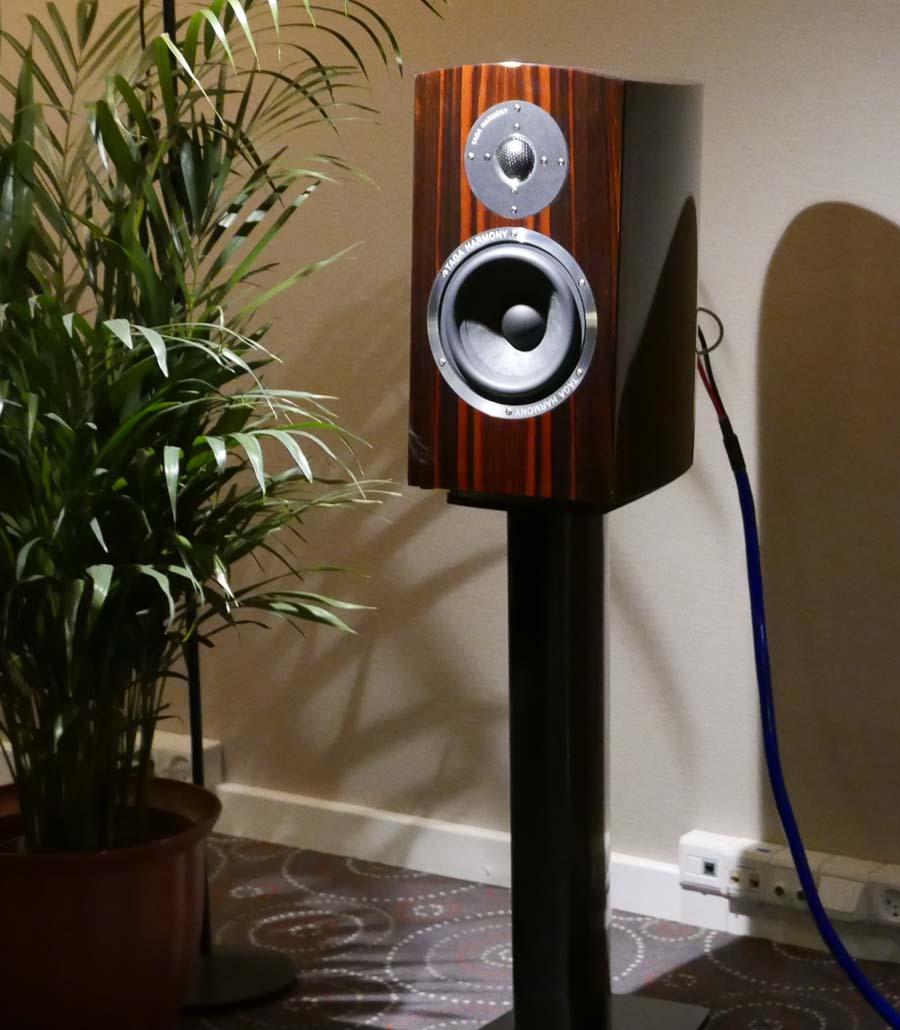 Solid Tech from Sweden also had a separate area showing their range of equipment supports which was in-depth and covered many variations. On further investigation, their pricing seems very reasonable (about £1000 for a 3-tier rack) given the engineering that goes into them and the ranges are very flexible to suit all requirements. I'd like to try some out sometime.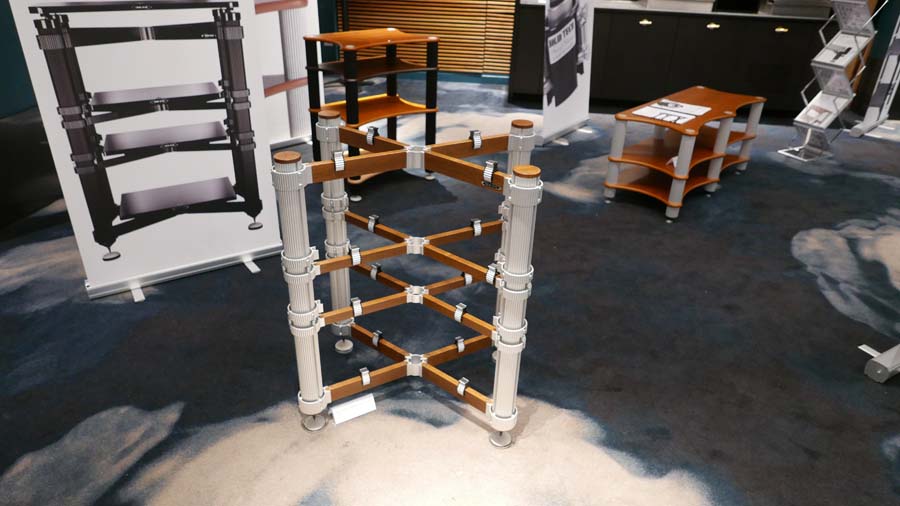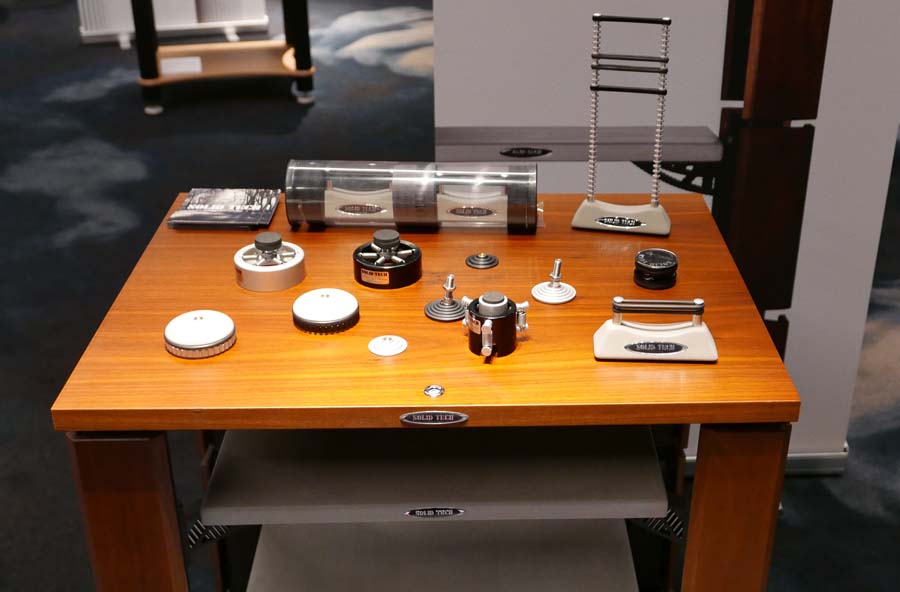 RenVinyl had a range of Pro-ject, Rega, Mobile Fidelity and Keith Monk records and accessories to buy in the static area of the show. They also had a good selection of second-hand vinyl and cd's at sensible prices. Needless to say, I bought some vinyl.
SA Audio was showing their wireless active speakers the SA Legend 40 silverback. SA legend 40 silverback is a digital active speaker with 4 amplifiers, electronic crossover and DSP built into each cabinet. The music sounds pure and clean like never before. SA legend silverback is a technological breakthrough that music lovers can't ignore. Inside the active SA Legend 40 silverback sits two ultrafast digital amplifiers that drive each individual speaker unit. The speaker is without passive components and digital signal processors handle the signal, without loss and distortion. The speakers can be upgraded to a wireless High-End music system.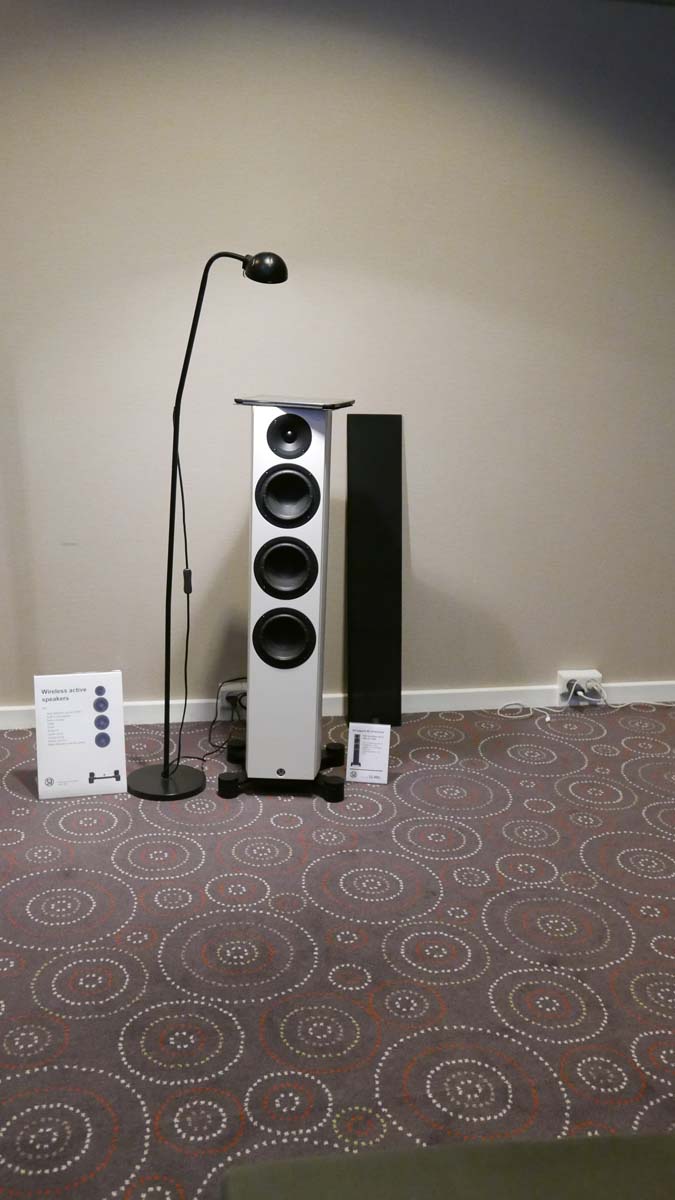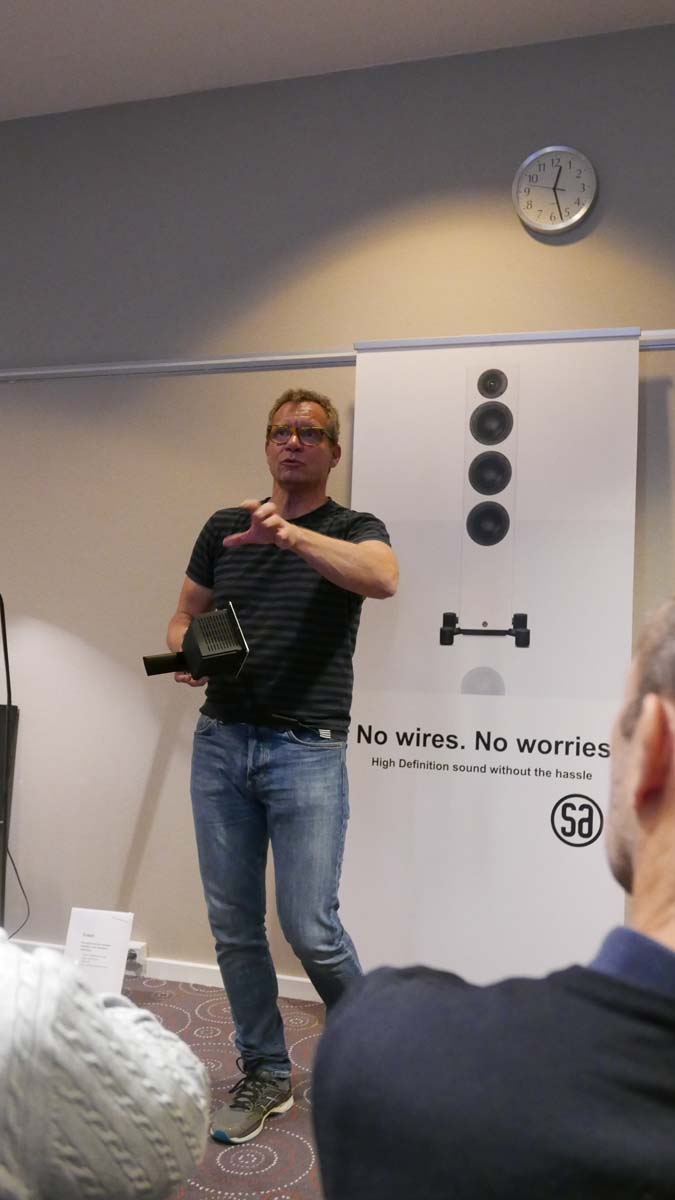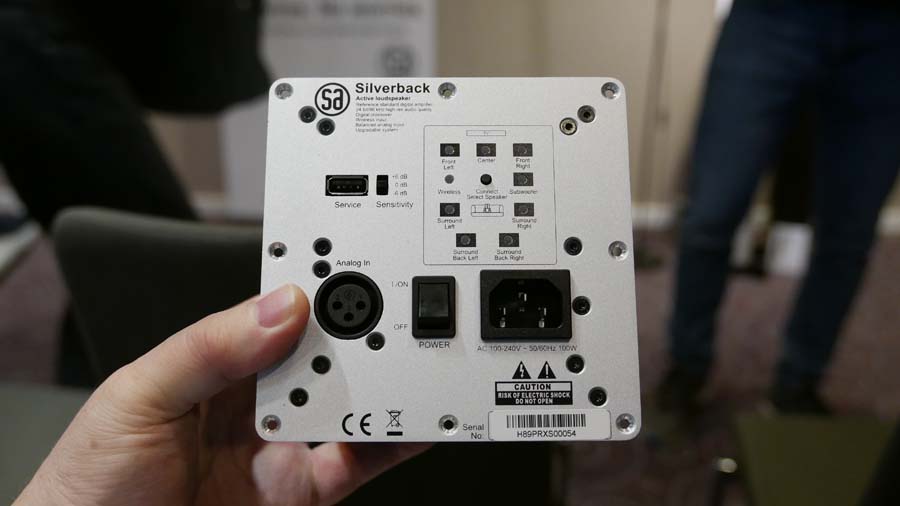 You no longer need cables when you purchase the Stereo Hub for your SA legend 40 silverback. It's a wireless control unit that connects your audio devices wirelessly to your silverback speakers with the best wireless technology for audio. You don't need to have Wifi to have wireless silverback speakers. Very neat but I didn't have much chance to listen to them as the designer spent a long time talking about them in Danish so I didn't understand what he was saying, a shame.
The room also housed Avid Audio products but they weren't being used at the time, Avid Audio are from the UK of course and a company I know well.
Tekni-Fi were using Harbeth speakers the HL5 Plus and M.40.2 along with Manley Labs valve amps. These were being played quite loudly with various types of music to good effect in a large room that was busy. It was nice to hear the Harbeth's sounding great with all types of music. The Manley Labs valve amps as always sounded wonderful and Elite Audio distribute them in the UK.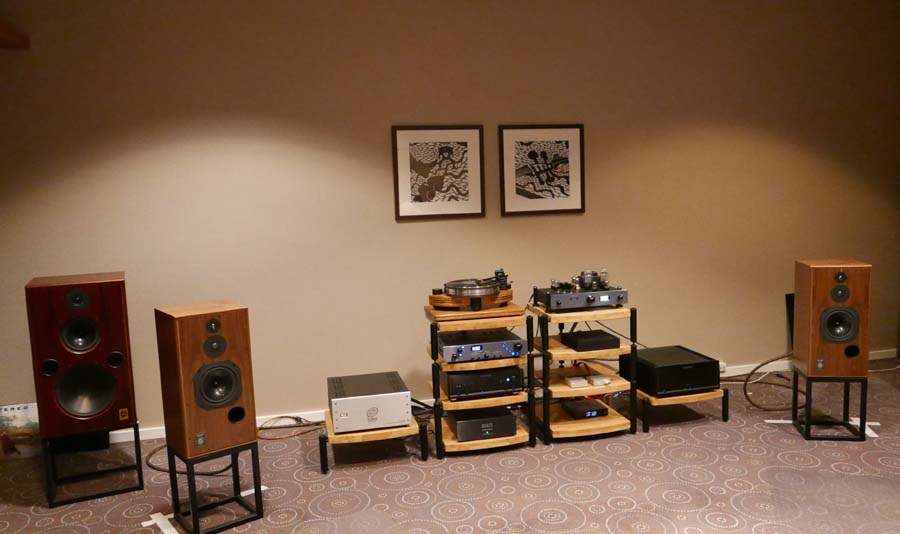 TIBO Audio who is originally a British company has been around 30 years and aim to incorporate the latest audio streaming technologies into their products without compromising the sound using Smart audio. A simple room, Chris Potter was busy chatting to people interested in his designs. He does a large range of single items or complete systems which are incredible value and would appeal to the budget-conscious who want a neat compact solution for home audio.
Wharfedale were housed in a large conference hall on the ground floor where they played the new Linton's that were introduced earlier this year at Munich. The Linton's have really taken off and proved extremely popular getting rave reviews and I can see why. They filled the capacious space easily and at £1000 are incredible value and for another £100 you can have the matching stands. I remember the original Linton's from my youth in the 70's and the new version are stunning. Wharfedale's sales manager gave an informative chat on their design and reasoning, and I hope they introduce more old classics updated to today's standards.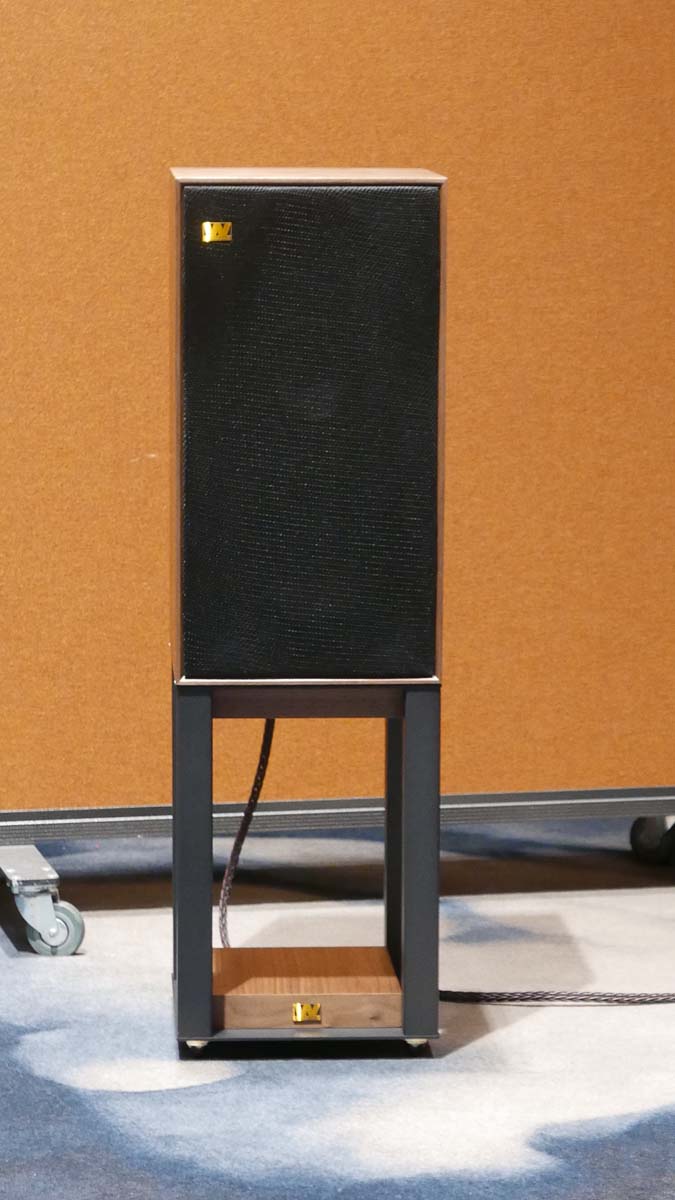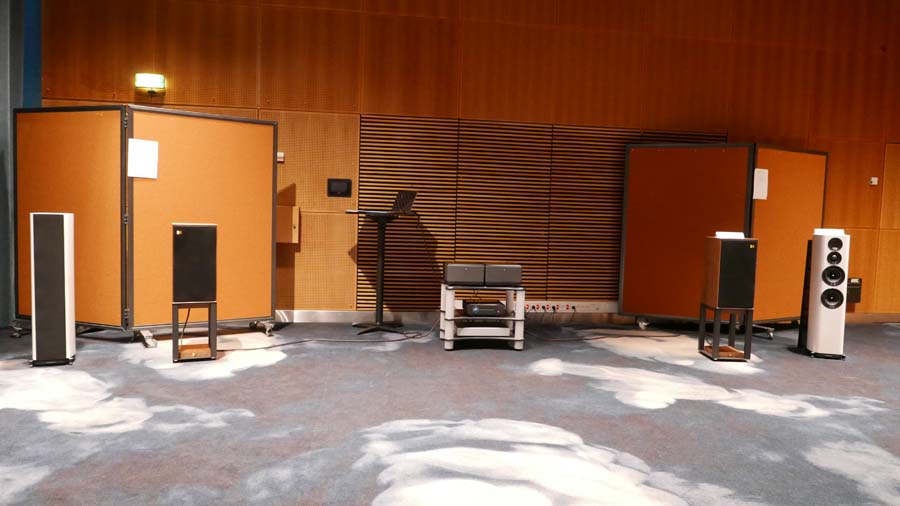 Overall the Copenhagen High End show was excellent. The organisers Veronika and Thomas did a fantastic job of entertaining us and making the show run smoothly. I met several new journalists from various countries including Taiwan, Greece and Germany. I also made friends with some manufacturers I hadn't spoken to before. Apart from some absences from companies, I would have hoped to attend there was a good depth of quality brands.
Denmark has a strong tradition in quality products like all the Scandinavian and Germanic countries. Innovation is always on show and each year brings new surprises. The Jern speakers really stood out for me and my wife as superb examples of passionate creativity that have exceeded their designers' aims. Modern homes have gotten smaller due to costs and demand for land. Unlike the USA where land is a lot cheaper and plentiful outside of the major cities and conurbations, elsewhere in the world land is a precious commodity. Companies such as Gato have designed superb compact electronics that mean an audiophile can now own a world-class system without the need for a barn. Huge amplifiers with power-hungry power supplies will become fewer and fewer if the EU have their way on power consumption limits. We've already seen it with vacuum cleaners. So, like the Little Mermaid (small is beautiful), Denmark is doing its bit for the environment without sacrificing quality. Skol.
Read Janine Elliot's report from the show.
Ian Ringstead