You may not have heard of the Crescendo festival that takes place each August in the beautiful French tourist resort of Saint Palais sur Mer in the Poitou Charente area of France, but it's possibly the best organised festival I've ever attended and is in an absolutely magnificent setting on the cliff tops looking out to sea. There are very good campsites within 600m of the festival site, great restaurants and bars and the festival itself is safe, clean and attracts brilliant bands under the broad umbrella that is progressive rock. We visited first a few years ago when Hawkwind were headlining the Saturday night and this was sadly the last gig that their keyboard player Jason Stuart would ever play before he died.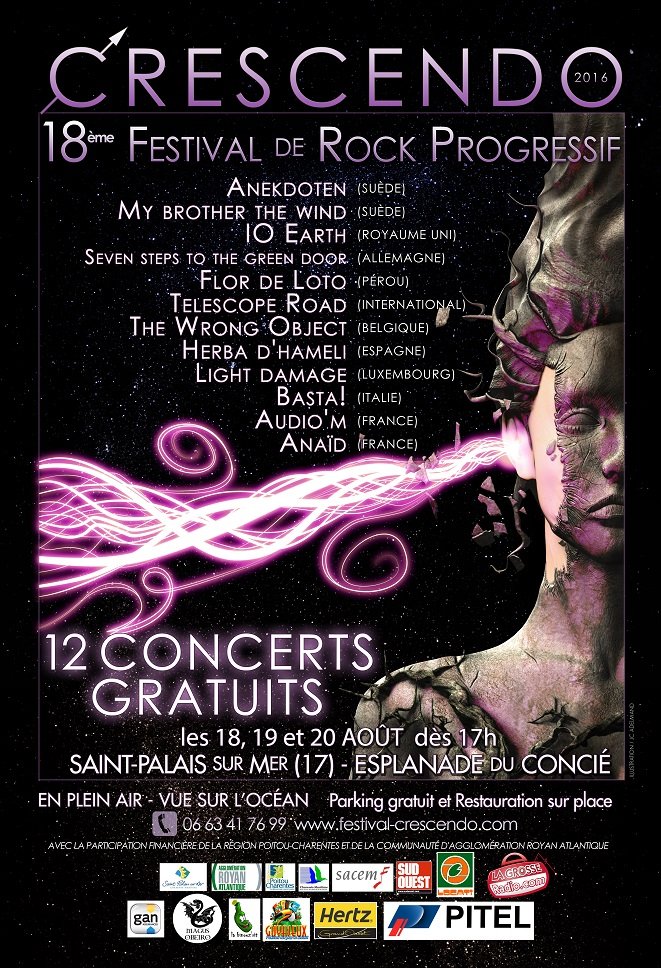 Crescendo is in its 18th year and this year the organisers have pulled out all the stops to attract some really great bands from all over the world to perform 12 free concerts on the 18th, 19th and 20th of August and needless to say we were there to take a listen. Sadly time constraints meant we didn't get to see all the bands but we did go every day and caught some great performances.
First up on the Thursday evening was Basta who are a young band from the Tuscany region of Italy and this was to be their first venture outside of their home country. Their first album was out in 2012 and called "Oggeto di Studio and their second "Elemento Antropico". There are five members of the band and they cite their style as being neo-progressive with influsences including Jethro Tull, King Crimson and heavy metal fused with a smattering of jazz and original Tuscan troubadour stylings.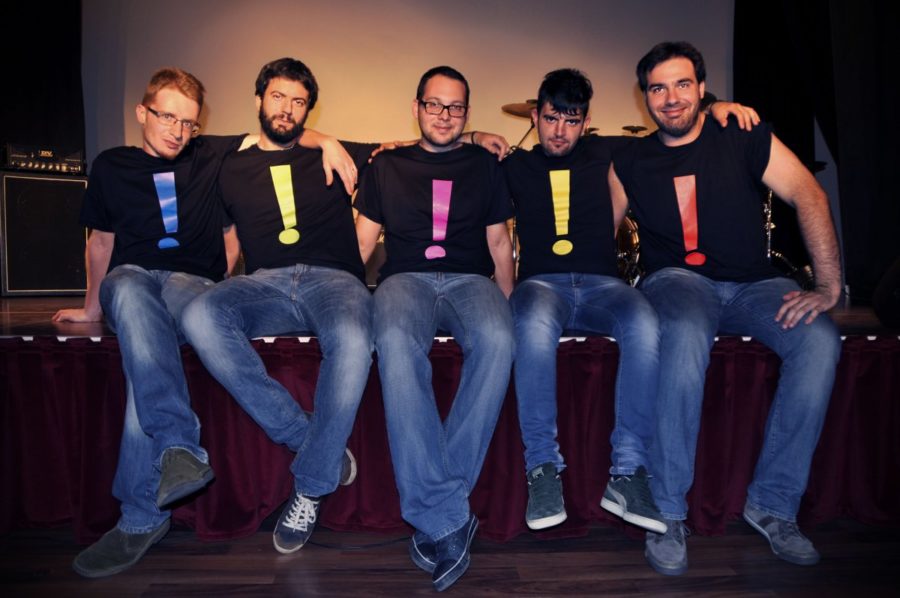 Band Members:
Damiano Bondi: Mellodica, Hammond Organ
Roberto Molisse: Drums and Percussion
Saverio Sisti: Guitars
Giacamo Soldani: Bass
Andrea Tinacci: Clarinets
Telescope Road is an international band hailing from France, United States and Finland and has just three players. Sadly we missed most of this set as we got speaking with the guys from another band and only managed one paltry photo (Sorry Guys). They cite their influences as De Lucia, Shakti, King Crimson and Rush and so it's a bit of a shame not to have caught their set. The band have their first album in preparation for release and have already played a tour of Japan and the Italian festival Rock Ad Ovest.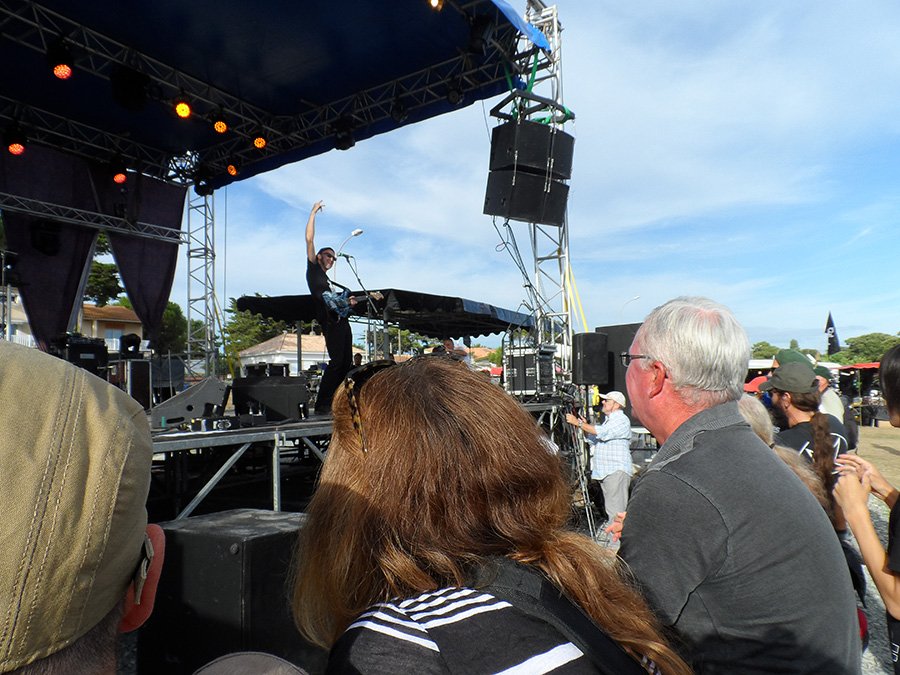 Band Members:
Alain Chiarazzo: Guitars
William Kopecky: Bass
David Lillkvist: Drums
It's eight pm and time for Belgian band The Wrong Object to take to the stage and what a great band these proved to be. The band was formed in 2002, originally as a Zappa tribute, and is made up of five musicians who are having a ball on stage. There's bit of psychy jazz-rock fusion, Cantebury style and a healthy smattering of Zappaesque hilarity. Think Zappa, Soft Machine, Gong and Fripp popped in a blended and the pulse button hit.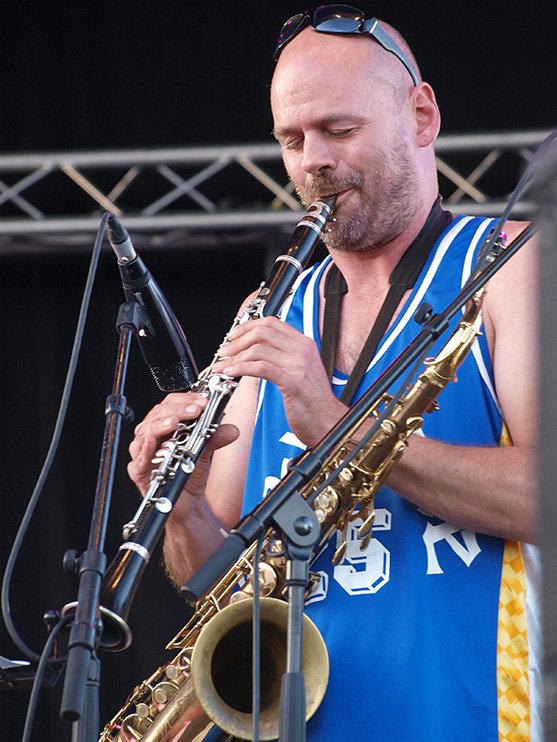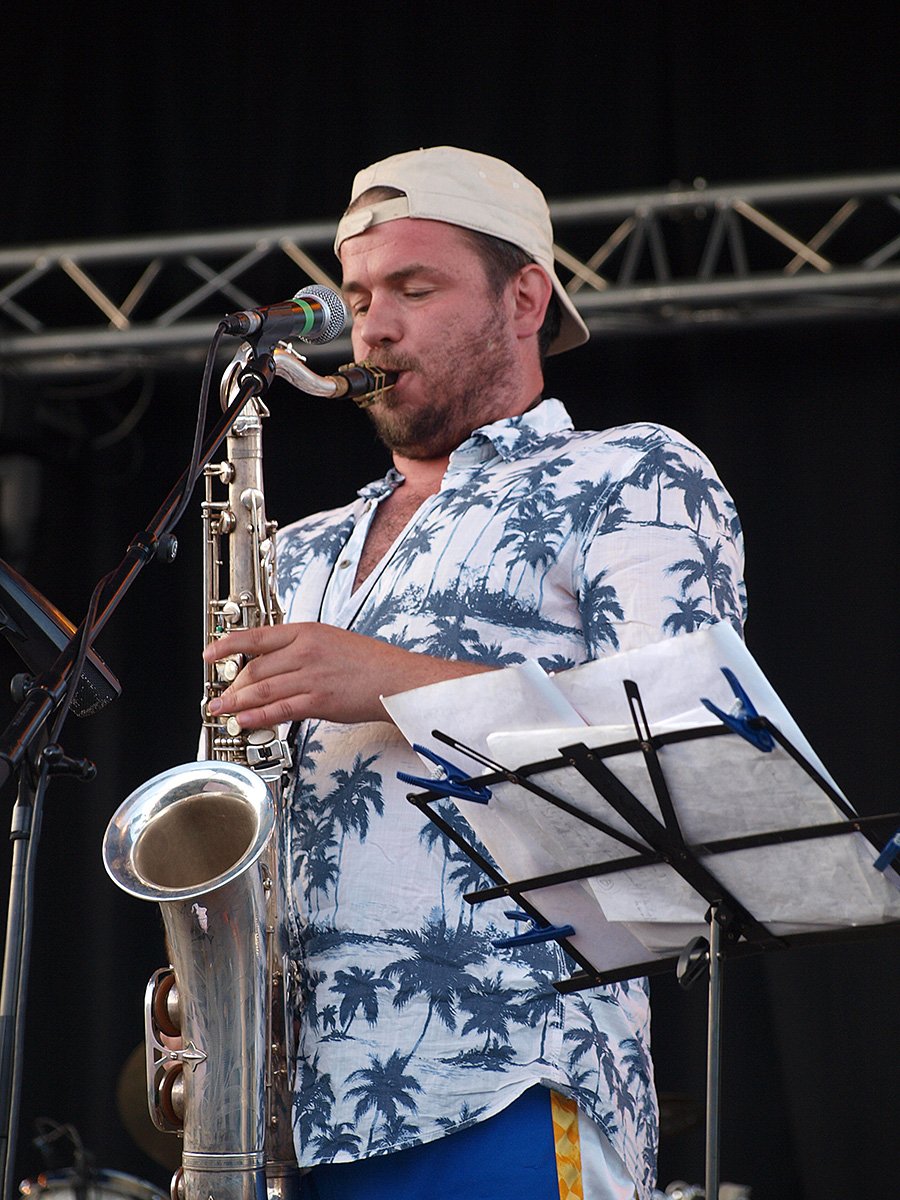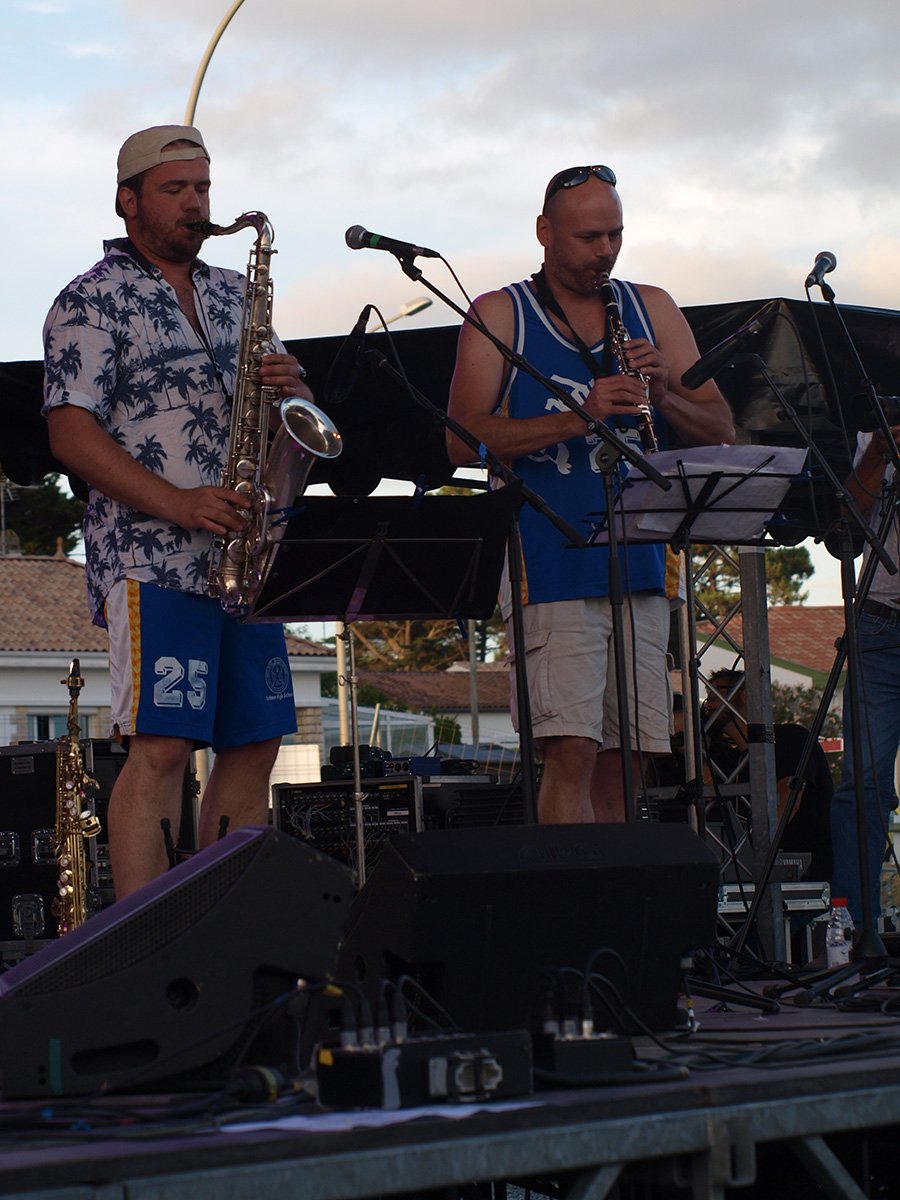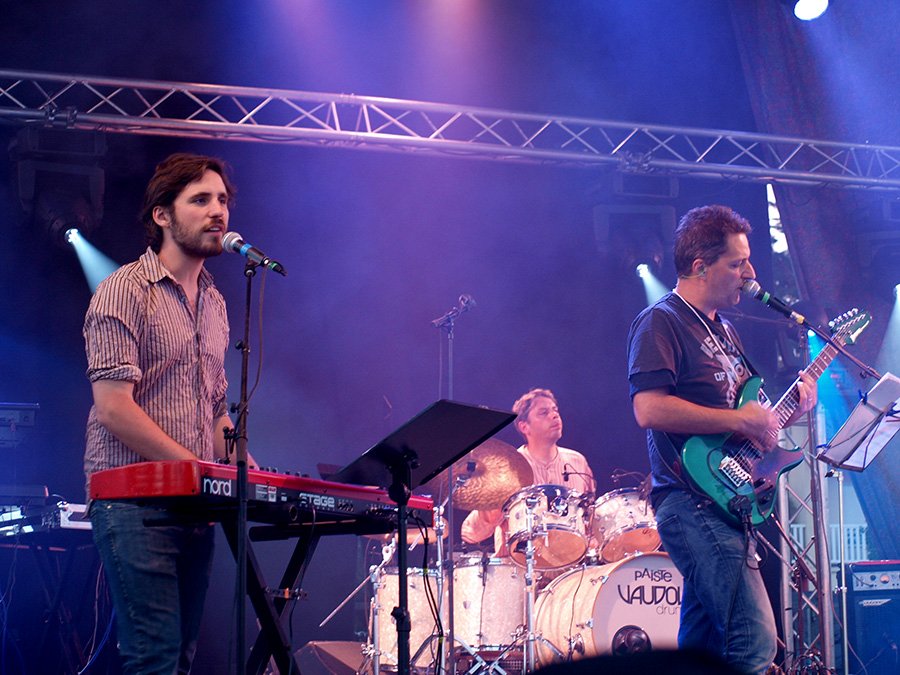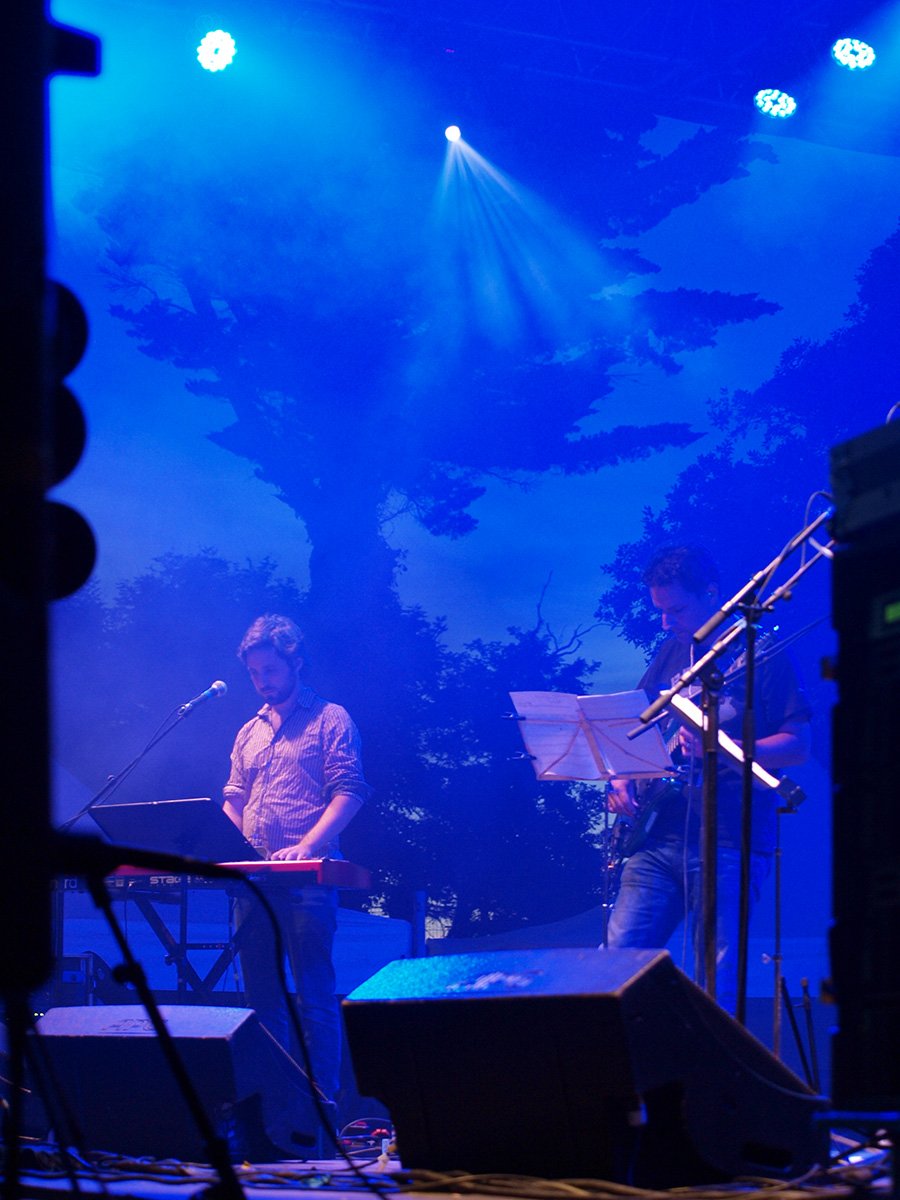 They have already released six albums and have collaborated with the Philharmonic Orchestra of Belgium with whom they reinterpreted the soundtrack to Zappas 200 Motels.
There's a good deal of improvisation in tonight's set but this is a tight band that clearly know each other very well indeed. What I loved about their music was the humour and apparent silliness they bring to the stage with titles such as Zappa's This Town Is Just A Seal Tuna Sandwich…there was also a tune about Brexit in there somewhere but the Pink Fluid on sale may have clouded my judgement somewhat.
If you have the opportunity to go see this band live then you really must! 
Band Memebers:
Michel Delville: Guitars
Laurent Delchambre: Drums, Electronics and samples
Antoine Guenet: Keyboards and Vocals
Francois Lourtie: Saxophones and vocals
Marti Melia: Saxophones and Clarinets
Pierre Mottet: Bass
IO-Earth hit the stage next and we'd already had a good chat with their leader and guitarist Dave Cureton and a beer with their engineer in the nearby Skooby Doo bar. The band is from the UK and have three studio and a live album to their name.
This is neo-prog with hints of art rock, ambient and electro, but at the same time Dave Cureton brings a healthy dose of ROCK to the proceedings with Linda Odinsen adding fabulously ethereal vocals to the mix that have a touch of gothiness about them.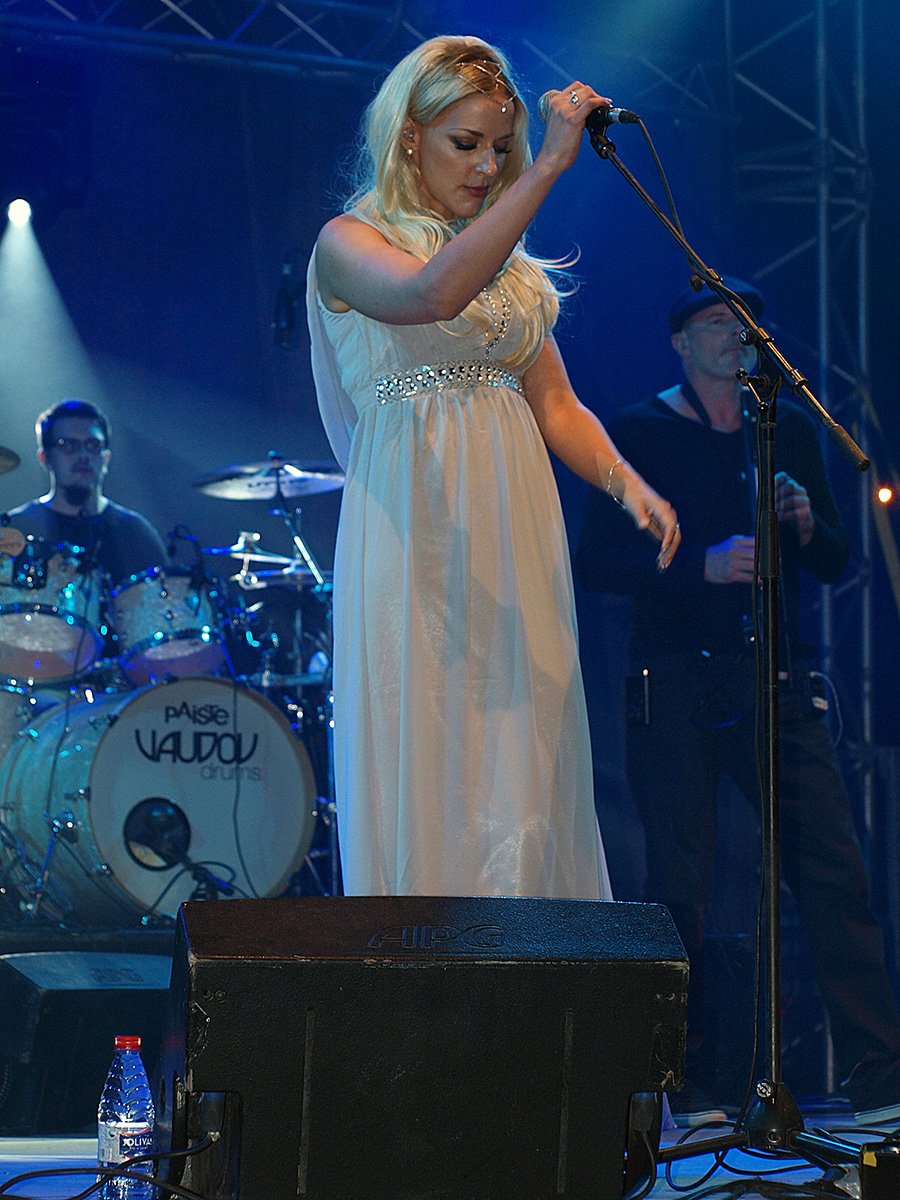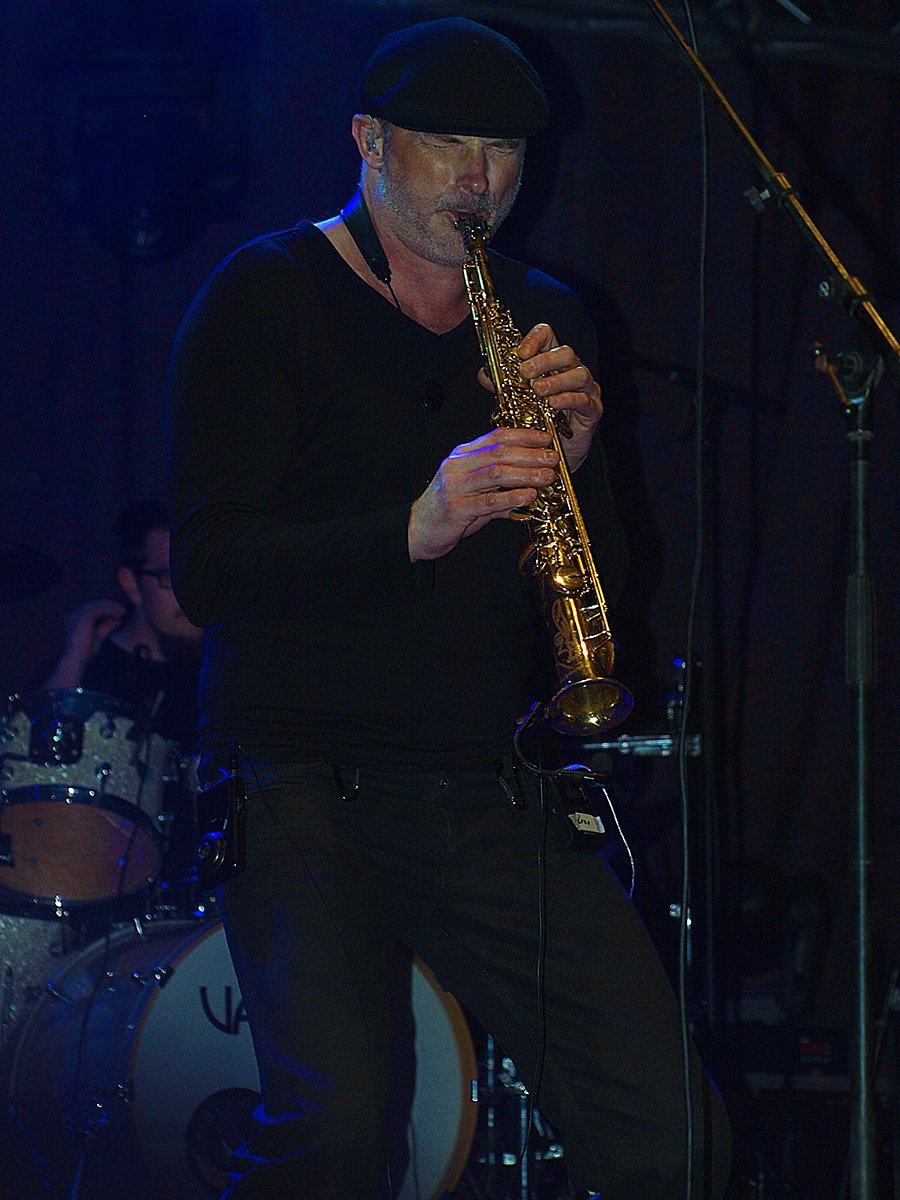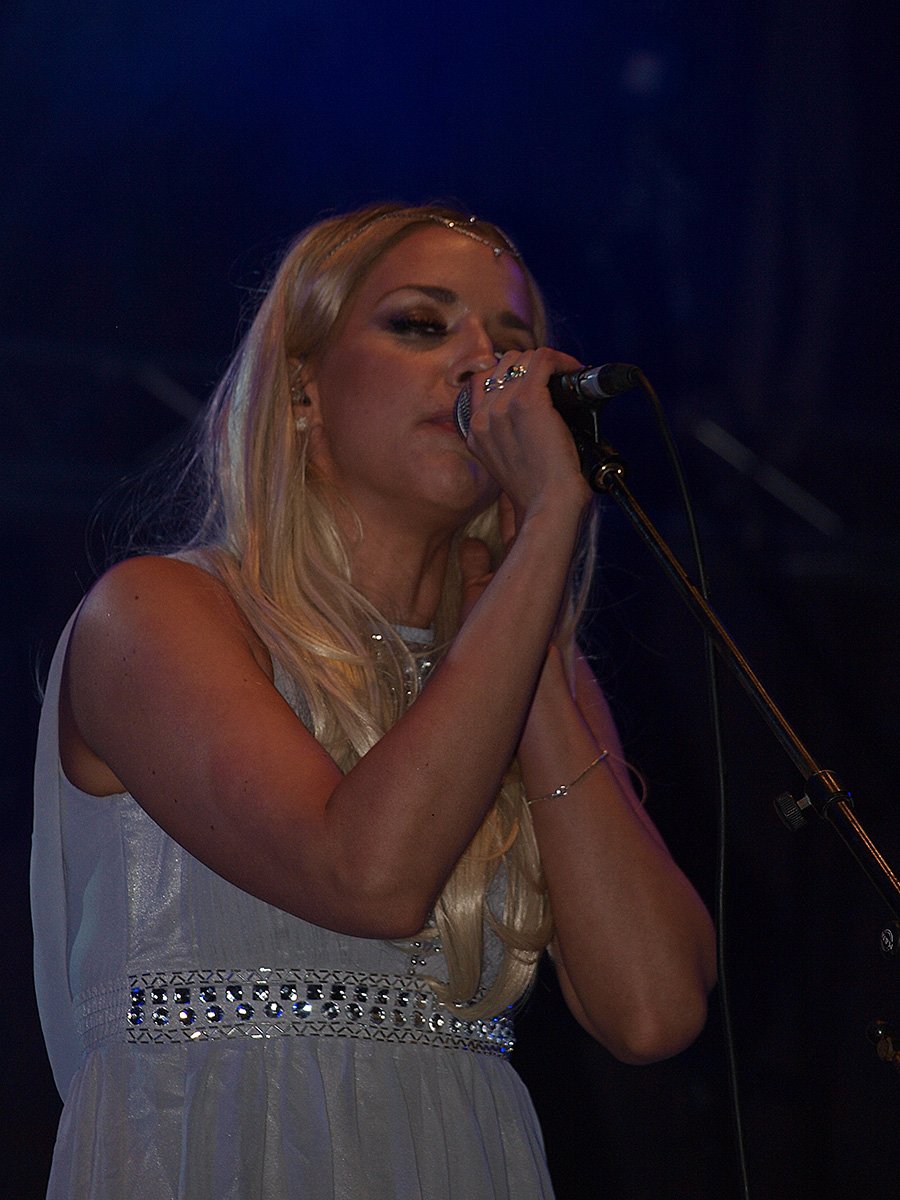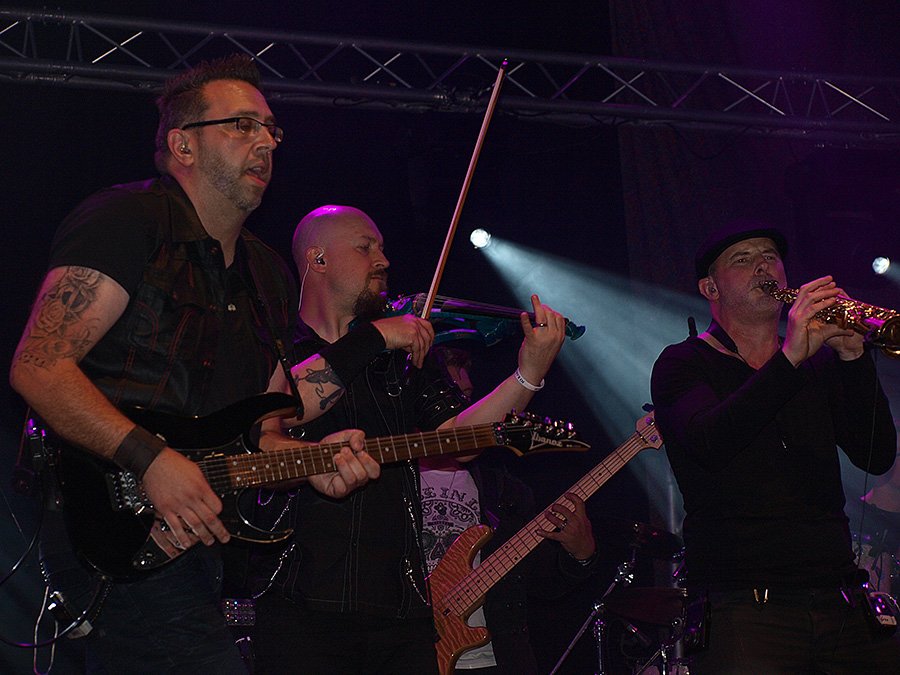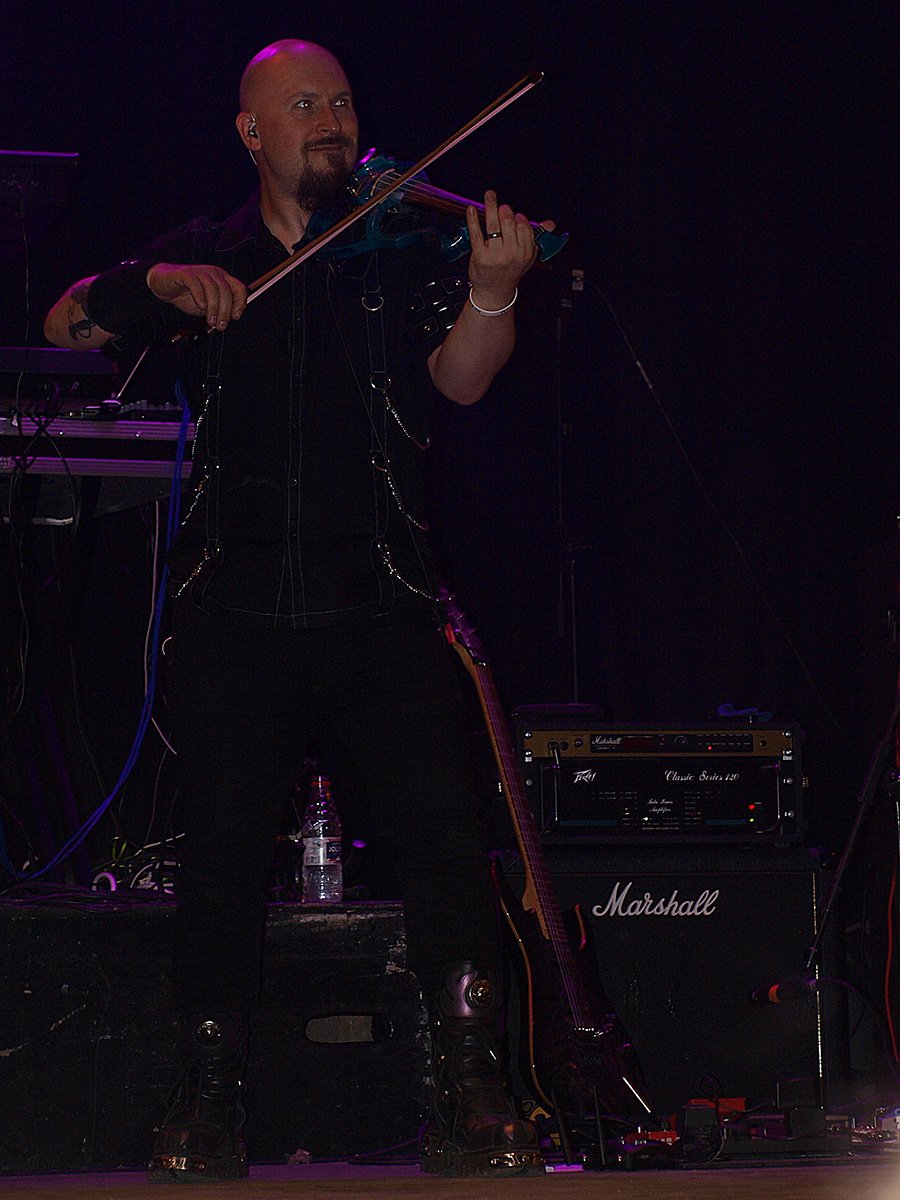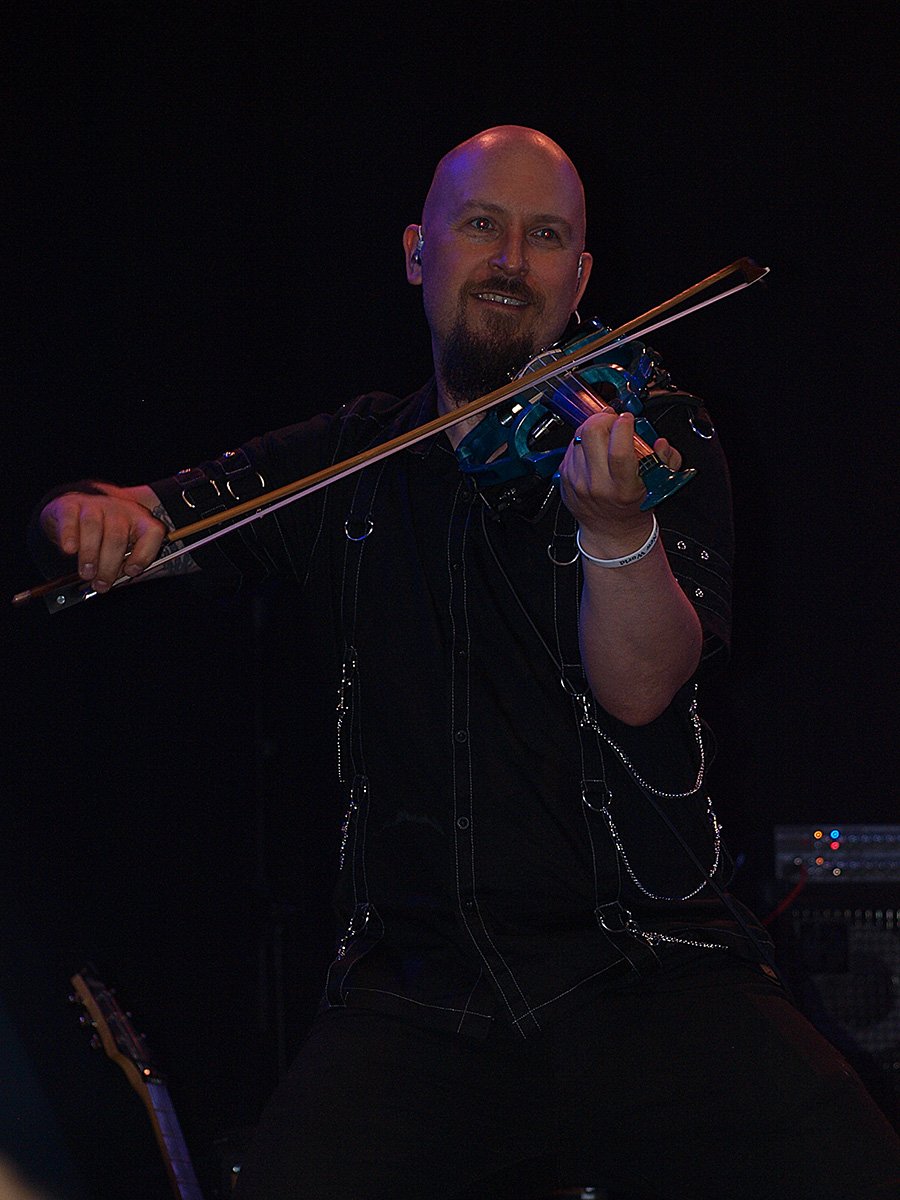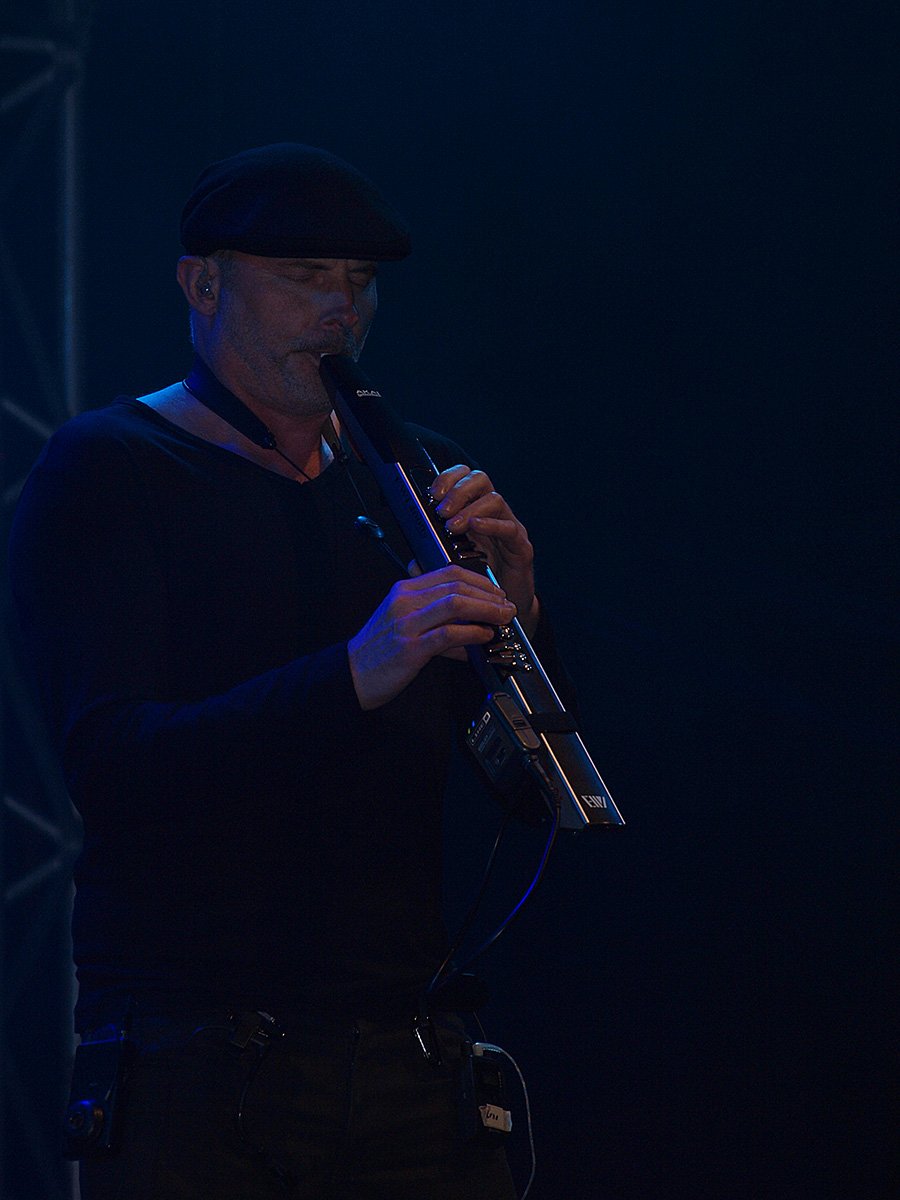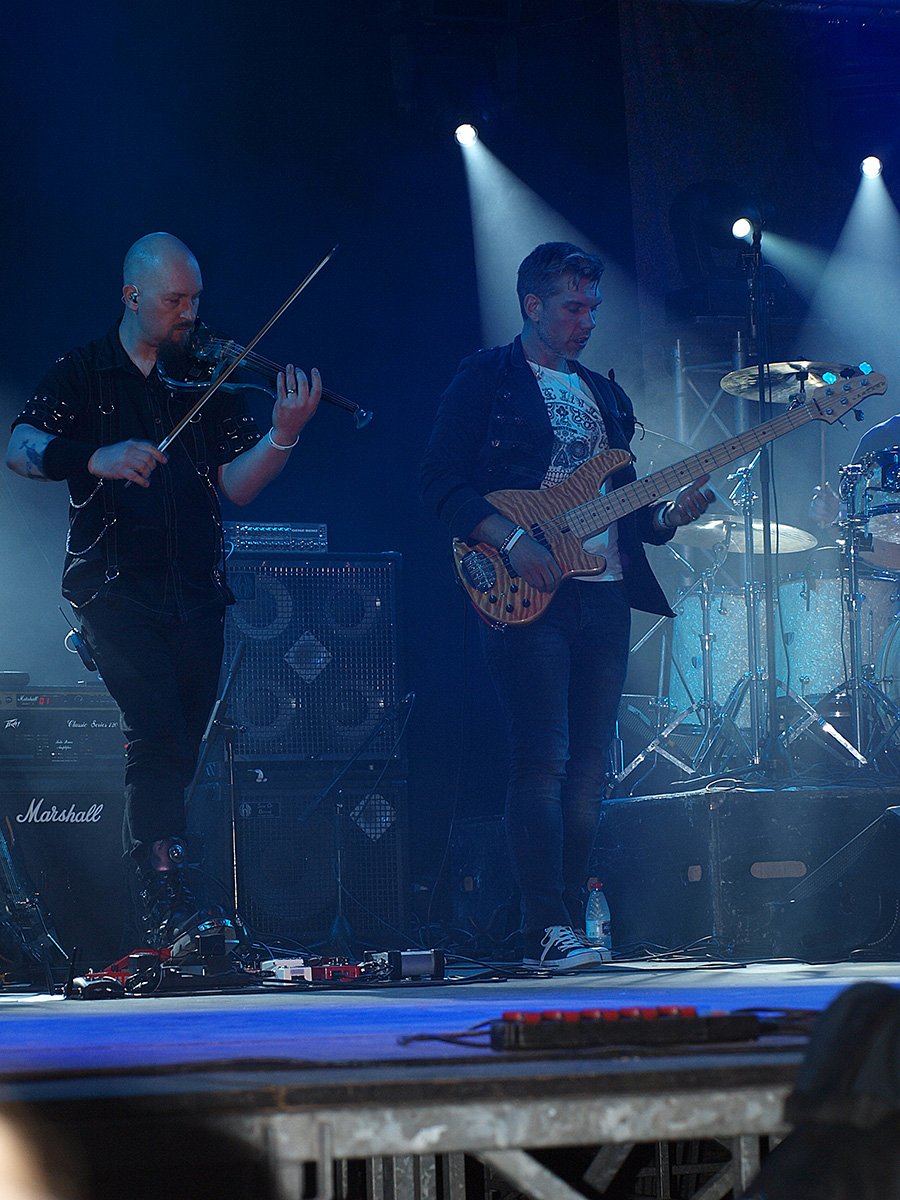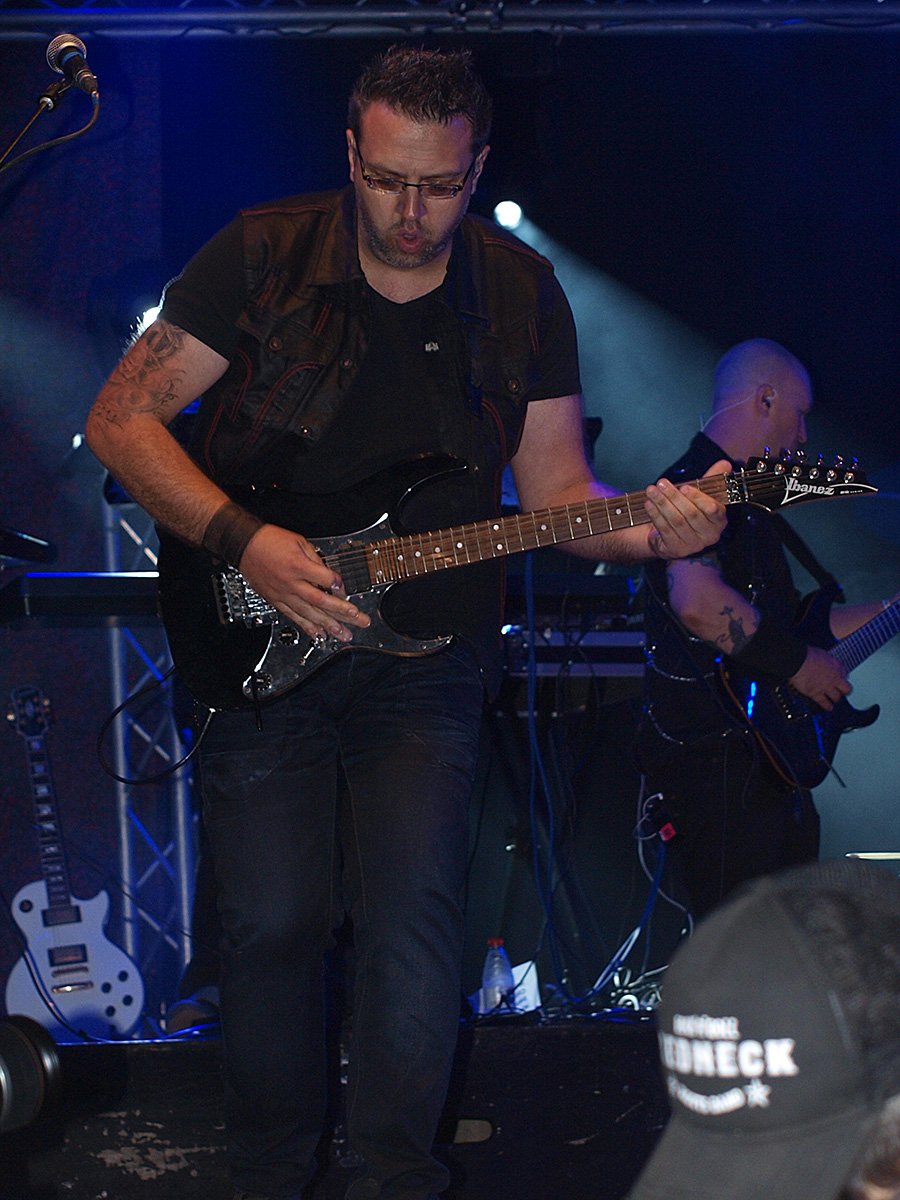 Clearly these are a headlining act and have a power and presence that sets them apart from what has gone before. Cureton is a bit of a demon on the guitar and isn't shy of coming to the front of the stage for the obligatory "guitar god" pose. He really is a blisteringly good guitarist and tonight the music verges on the edge of melodic metal.
The band gel brilliantly and clearly play off each other to bring out the best in each. Christian Nokes on bass and Christian Jeromes on drums adding a rock solid foundation on which the rest of the band build and special mention should also go to the violin of Jez King…I'm a sucker for a bit of violin in rock music.
Band Memebers:
Dave Cureton: Guitars
Adam Gough: Keyboards
Linda Odinsen: Voice
Christian Nokes: Bass
Jez King: Violin and guitars
Christian Jerromes: Drums
Luke Shingler: Sax, flute and "Electronic Wind Instrument"
We arrive late on the Friday evening and missed the whole of the set of Light Damage from Luxenbourg but we were reliably informed by audience members that we'd missed a bit of a treat. The band have one eponymous album under their belt and have a melodic and accessible sound.
Band Members:
Frederic Hardy: Bass, Bass pedal, "Choirs"
Sebastien Perignon: Keyboards, Percussion, Tubular Bells
Stephane Lecocq: Guitar
Christophe Szczyrk: Drums and Percussion 
Flor De Loto are from Peru and were formed in 1998 after a meeting between guitarist Alonso Herrera and bassist Alejandro Jarrin with the intention of fusing progressive and hard rock, metal and Andian folk with a good dose of psychedelia thrown in too.
It's hard not to immediately love this band. They have a presence that has everyone in the audience on their feet. Bass is furiously fast and complex, guitar verges at time on the edge of metal and yet when Luis Pacora gets out the traditional South American instruments things take on a whole different perspective.
In my notes from the band's set I've written; Sort of what Jethro Tull would have been like had they come from South America but they are more than that. There is a much harder feel to the music!
Absolutely recommended and I'll certainly be looking out for some of their records in the very near future, and that's the great thing about festivals like this where you don't really know that many of the bands that come from all over the globe. You get to hear new music and have your ears and mind opened to new styles that otherwise may well have passed you by.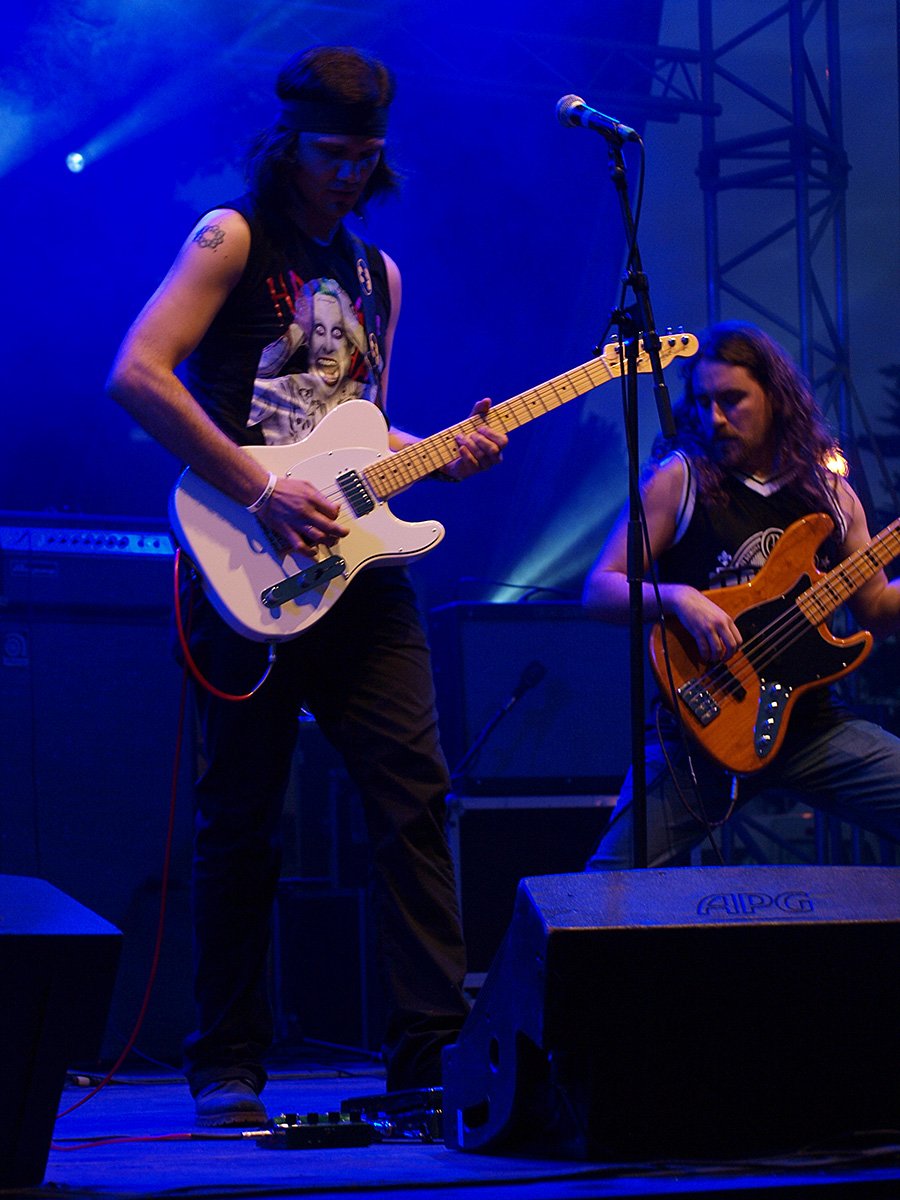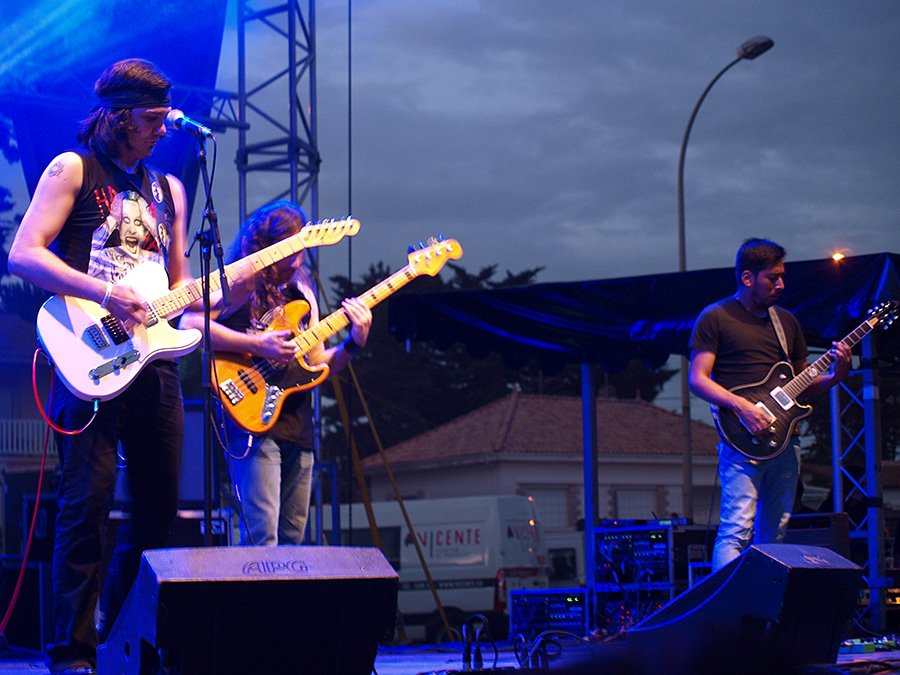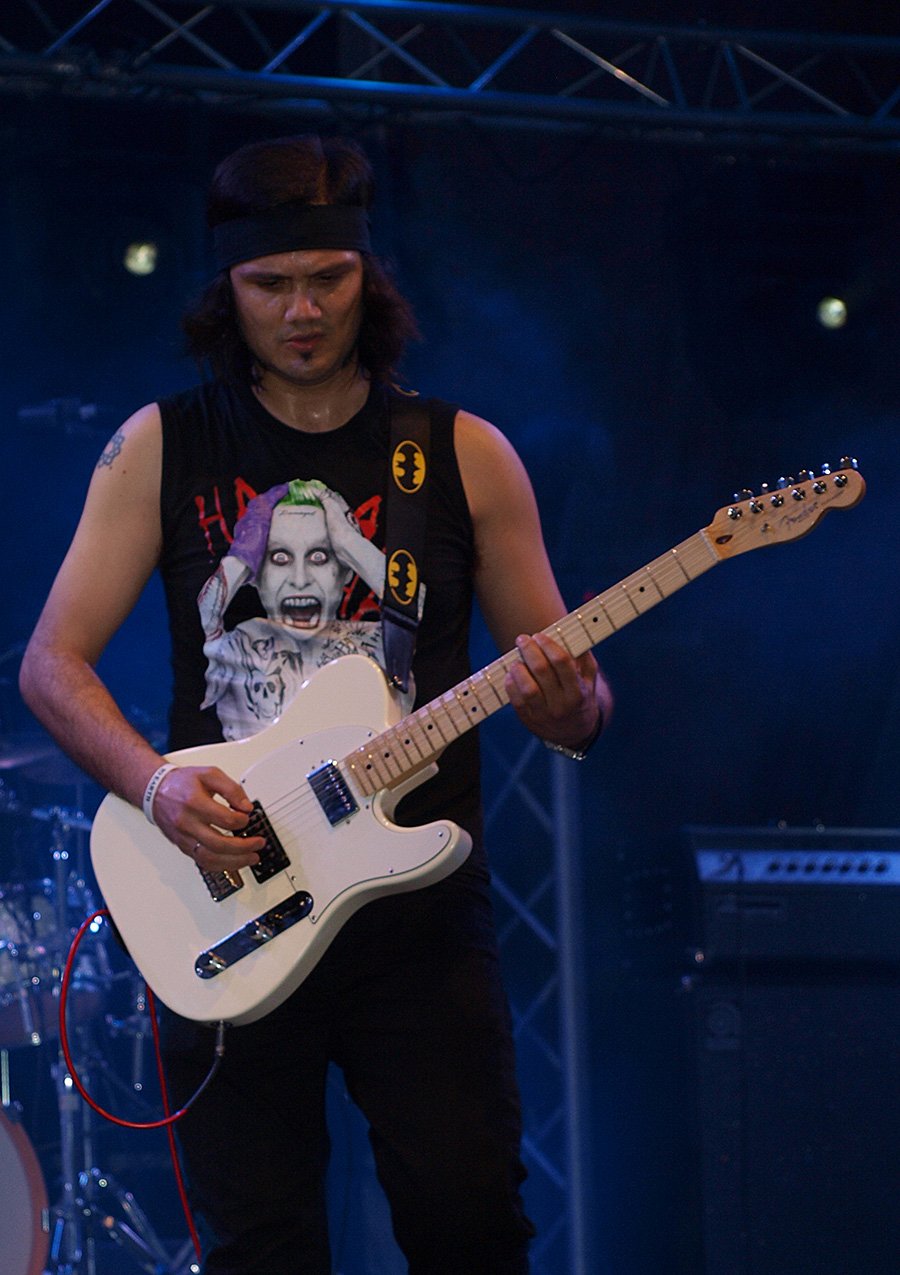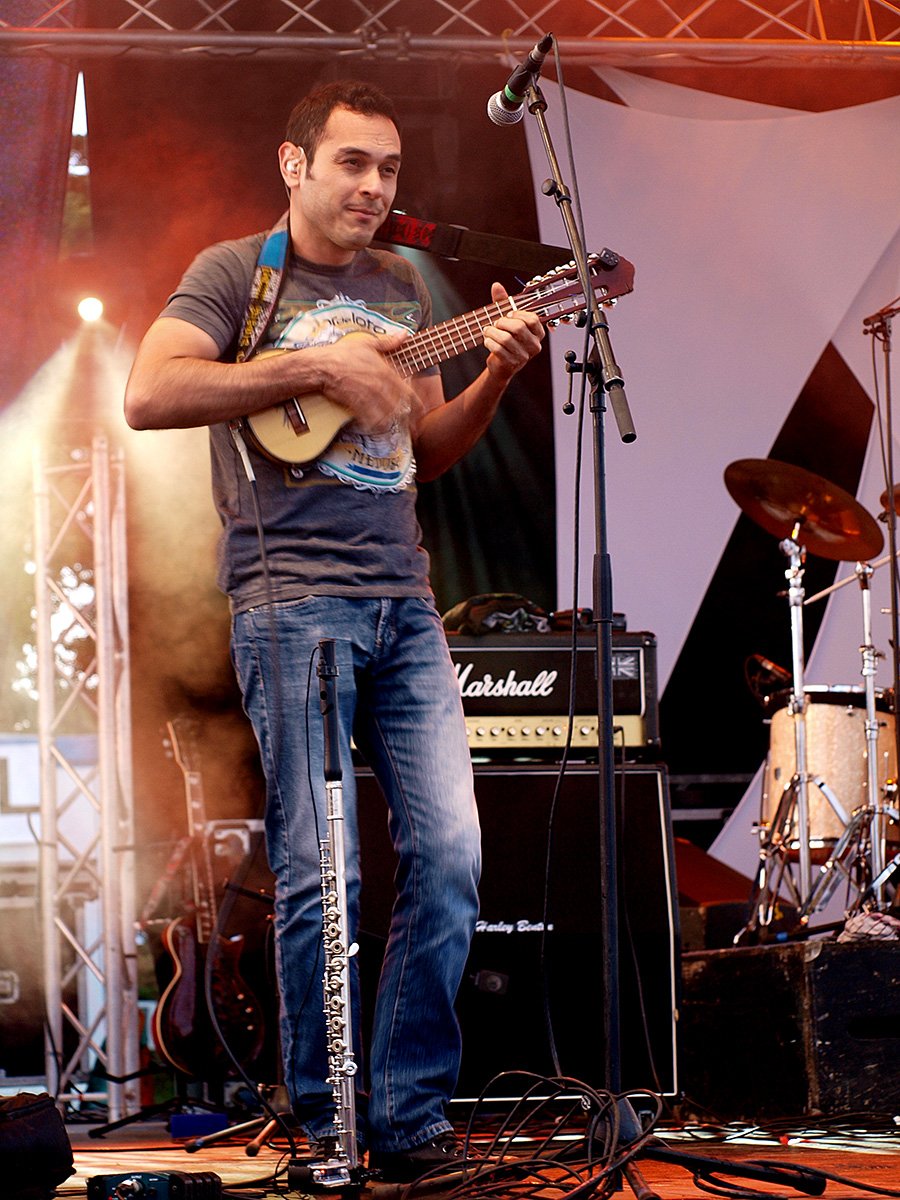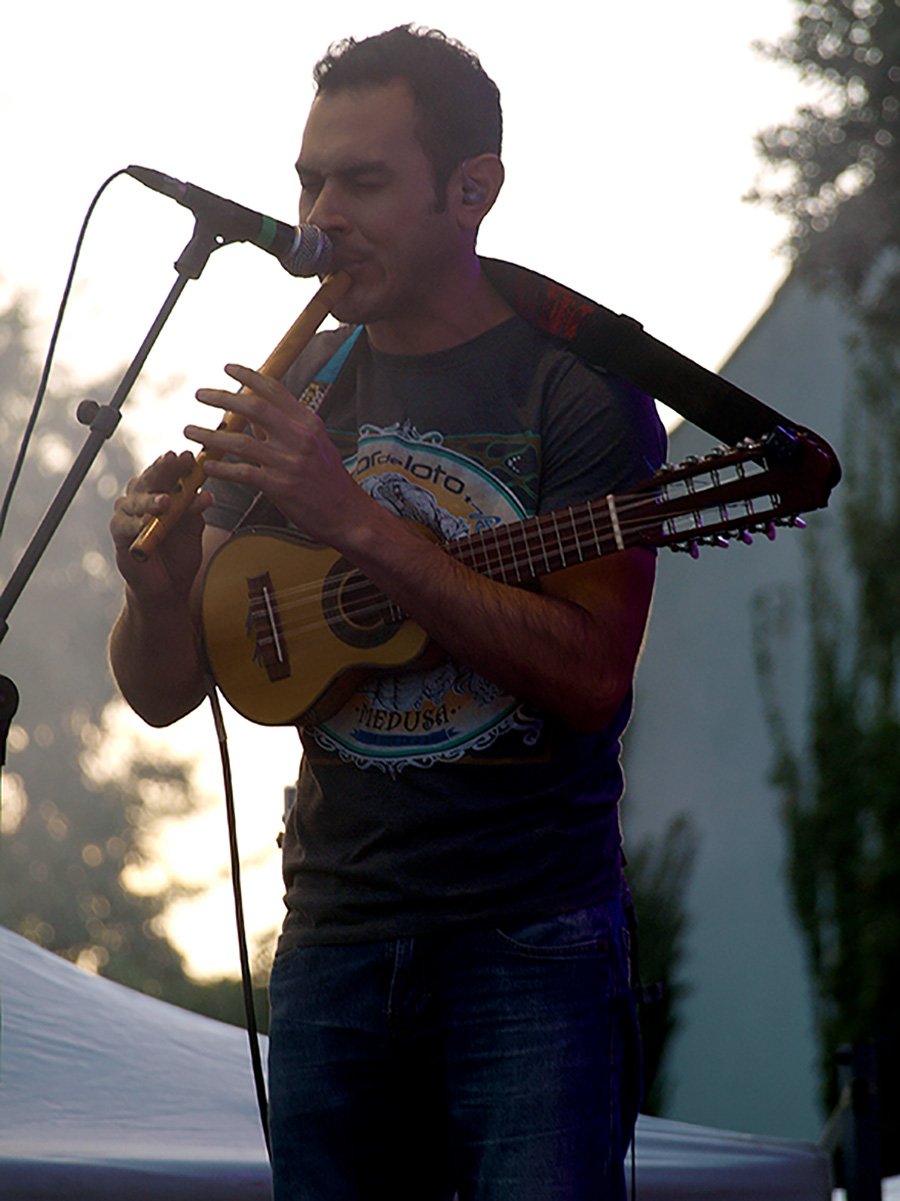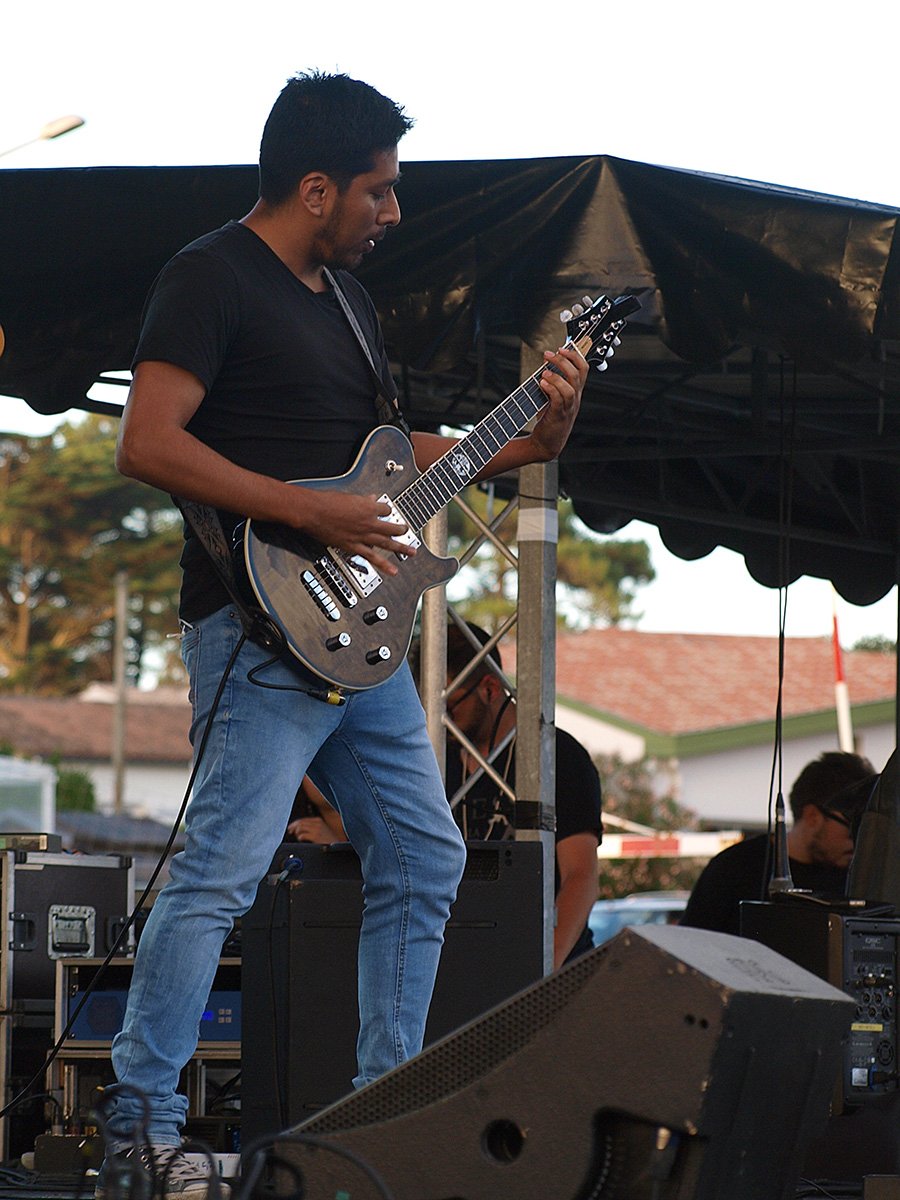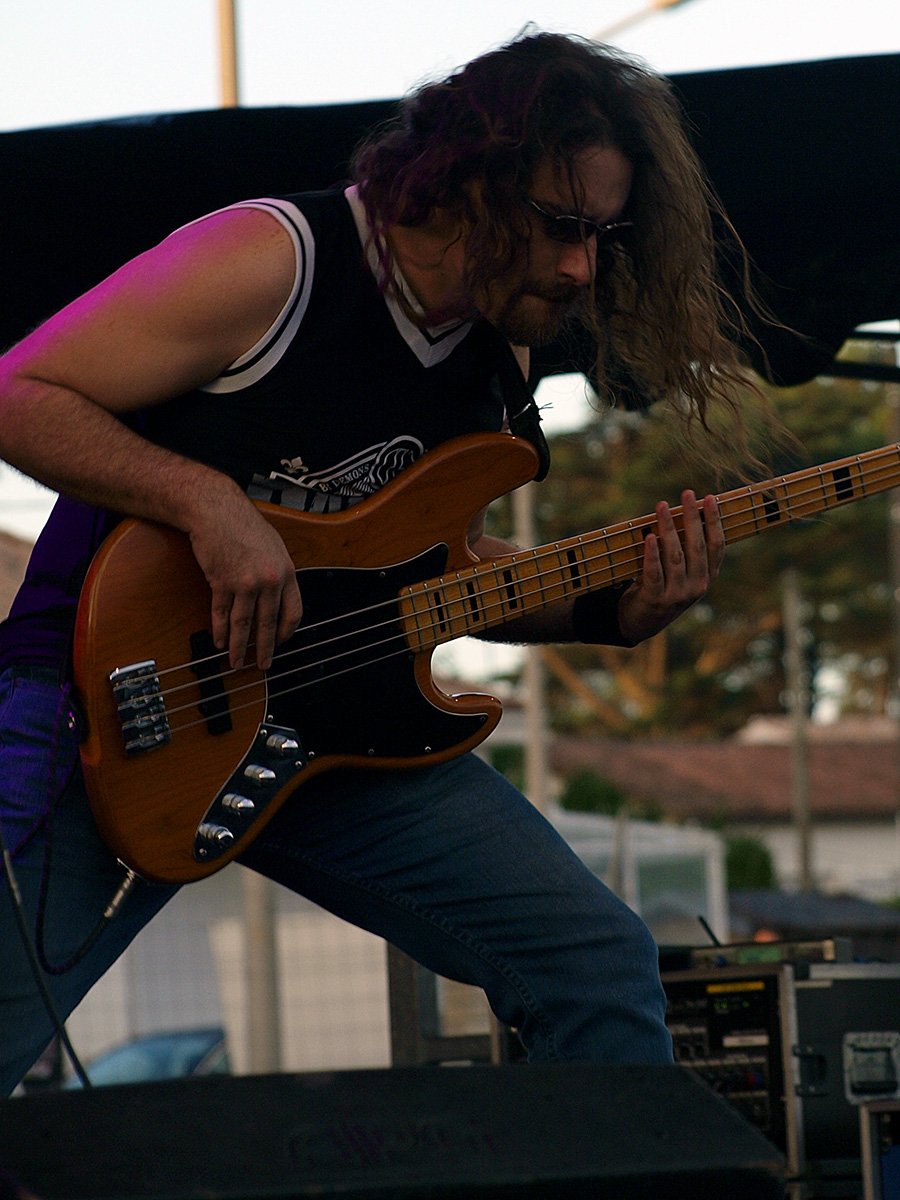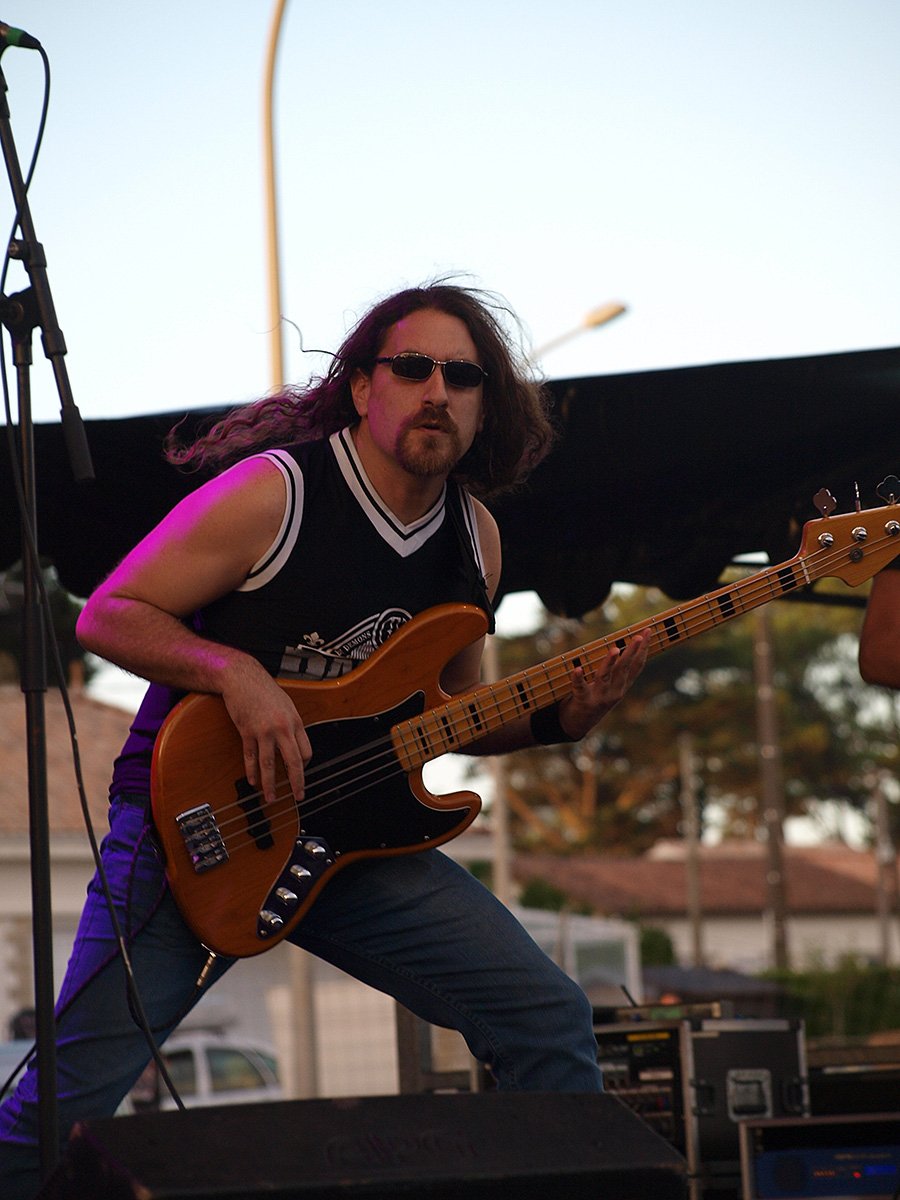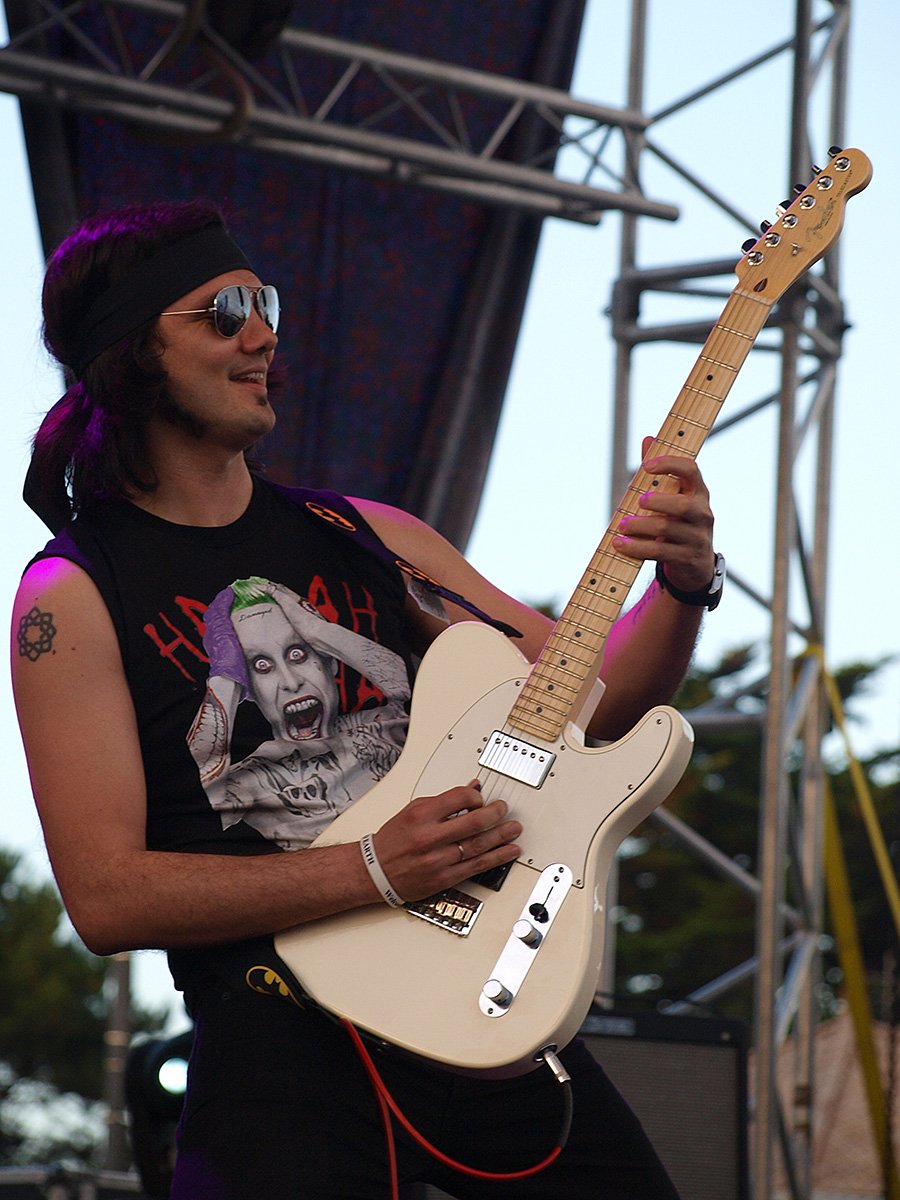 Band Members:
Alonso Herrera: Guitar
Alejandro Jarrin: Bass
Luis Pacora: Flute and other traditional instruments
Pierre Farfan: Keyboards
Alvaro Escobar: Drums
And so to finish the night off we're presented with My Brother The Wind from Sweden who have released no less than four albums. The festival guide (hard to come by) touted them as a mix of psychedelic rock, space rock and Kraut rock with their influences coming directly from the seventies. Right up my street then!
Their music is largely improvised and conceptual and they've charted well in the Swedish charts. The band play brilliantly together with long and epic pieces that soar into the stratosphere with one guitarist taking the lead and encouraging the other to follow and yet the whole lot is kept safely rooted with a rhythm section that is hypnotic and relentless. There's not a vocal in sight and these guys let the music take you away.
I reckoned that the band sounded a lot like Spaemen 3 crossed with the best of Kraut rock and speaking to guitarist Nicklas after the show he said that when he first started to listen to psychedelic music Spaceman 3 were one of the bands he got into.
I absolutely loved this band. They reminded me of much of the music that formed my current tastes and they were a fitting headliner to this Friday night's session.
I think I've found a new favourite live band and was enjoying them so much forgot to take photographs!
Band Members:
Nicklas Barker: Guitars
Mathias Danielson: Guitars
Samuel Helberg: Bass
Daniel Fridlund Brandt: Drums
And so the final evening of Crescendo Festival 2016 is upon us and we were a bit disappointed that we didn't get the opportunity to arrive earlier and see the two opening acts. The first of these was French band Anaid who have, since 1982, undergone many line up changes. They have played with many big names including Hugh Hopper (Soft Machine), Sophia Domenich and Rick Biddulph (Caravan) and have released a self titled album in 1982, and album called Belladona in 1989 and in 1990 a CD with the title Four Years.
After a long musical break vocalist Emmanuelle Lionet and drummer Jean-Max Delva brought in guitarist Alexis Delva, later adding bassist Ludovic Métayer.

Band Members:
Emmanuelle Lionet: Vocals
Jean-Max Delva: Drums, Percussion
Alexis Delva: Guitar
Ludovic Metayer: Bass
The second band we missed were Catalonian Herba D'Hameli who were formed in 2001 and have released six albums, their latest being 2015s Interiors
The group is very true to their Catalonian roots and defiantly sing their songs in Catalan rather than Spanish.
Their music is described as being heavily influenced by the Canterbury scene (think Caravan and Camel) bit they also draw on their Catalonian folk traditions.
Band Memebers:
Carles Pinos: Keboards, Vocals
Claudio Trullen: Acoustic Guitar, Vocals
Dani Fabre: Bass
Guillem Roma: Drums
Josep Tardio: Flute, Keyboards
Valenti Pinos: Guitar
We did get to see German band Seven Steps To The Green Door who were formed in 2005 by Marek Arnold and Ulf Reinhardt and the band are quoted in the festival guide as "playing music just for the pleasure of it and not taking it too seriously", adding that no style is taboo and nothing is off limits. Their fourth album Fetish was well received and is said to be a very melodic, inventive and rich album blending styles, harmonies and instruments with vocal harmonies.
Personally I found the band to be a little on the bland and lack-lustre in this live situation but clearly I was in a minority of one as the assembled throng were lapping it up.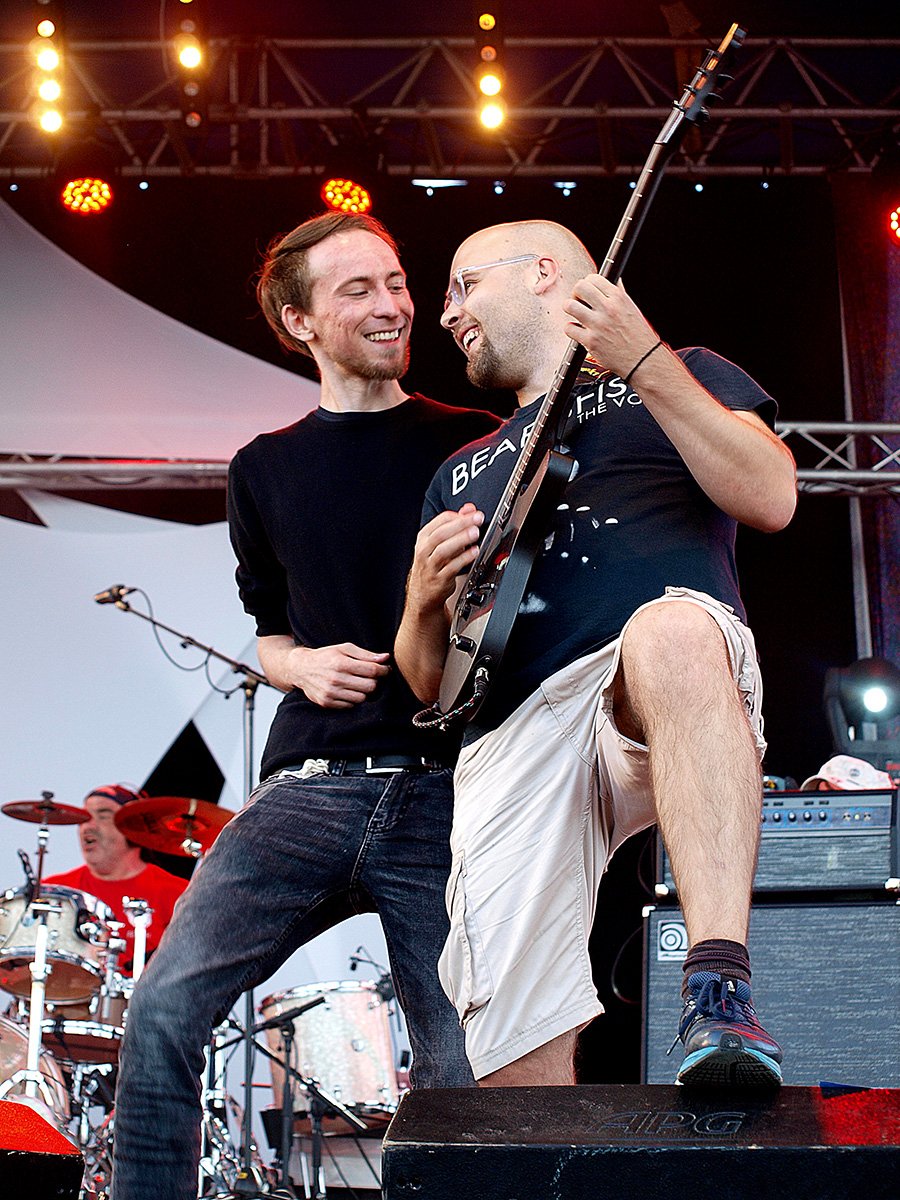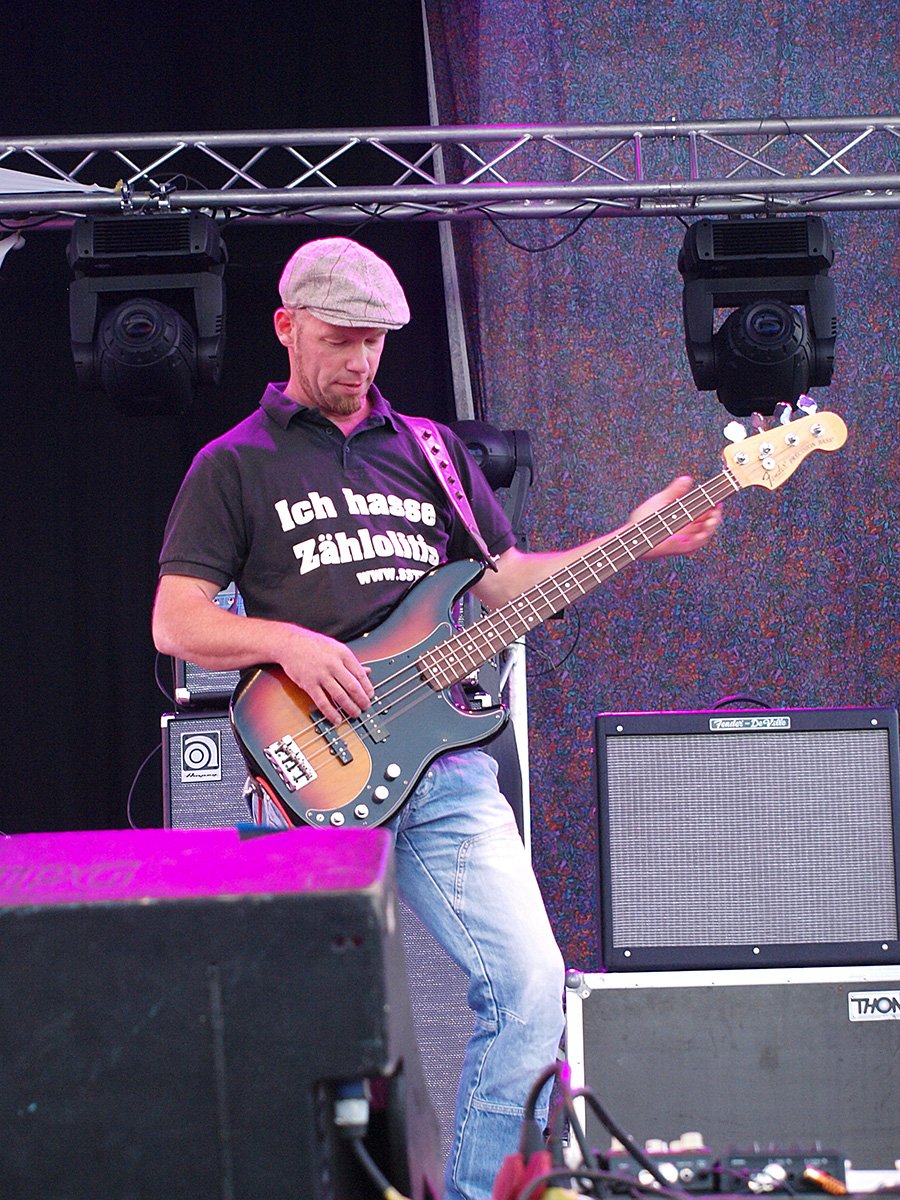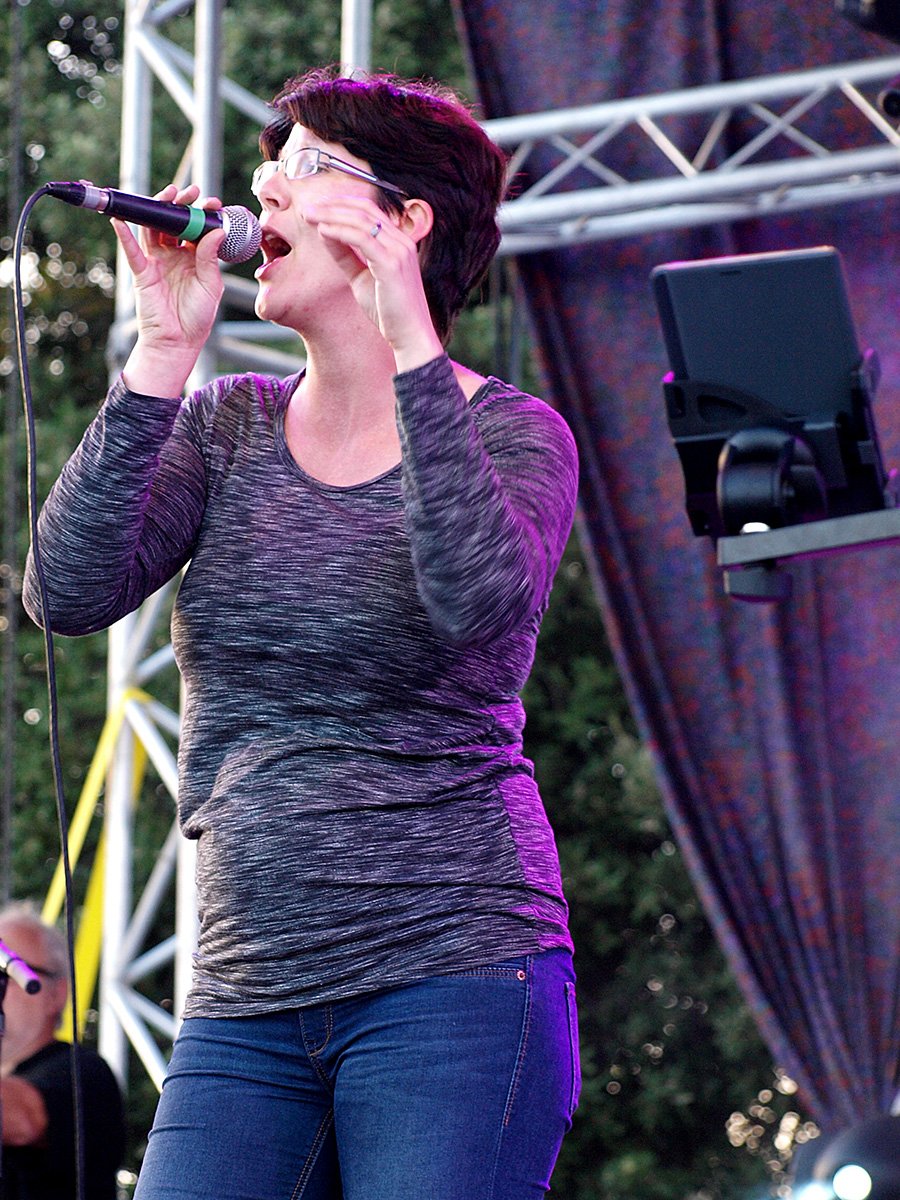 Band Members:
Marek Arnold: Keyboards, Saxophone, Flute
Ulf Reinhart: Drums, Percussion
Martin Shnella: Bass
Lars Kolher: Vocals
Anne Trautmann: Vocals
Headlining the final night of Crescendo Festival was Swedish Anekdoten with the aforementioned Nicklas Barker (My Brother The Wind) on guitar. The band was formed in 1990 with the name King Edward with the band playing essentially little more than King Crimson covers. Later Anna Sofi Dahlberg joined the band on keyboards, Viola and vocals and the band became Anekdoten.
The band have six albums out with the latest being Until All The Ghosts Are Gone as well as four live CDs.
Live this band are fantastic lead by Nicklas Barker and Marty Willson-Piper's guitars that had me in mind of Neil Young – close to the edge of being over overdrive,n but still managing to keep the sound musical and controlled. Nicklas and Marty cook up a tremendous storm of music and play off each other so well.
The band are tight, professional, exciting and whilst My Brother the Wind were out there exploring a more ethereal soundscape, Anekdoten keep it rocking, and yes, progressive. The addition of Anna Sofi Dahlberg on keyboards, vocals and Mellotron adds a certain something to proceedings that elevates the music beyond what one could ever expect to hear at a festival that has cost you not one penny.
Anekdoten come highly recommended as a band to add to your bucket list to see live! Very different to My Brother The Wind but equally fantastic live!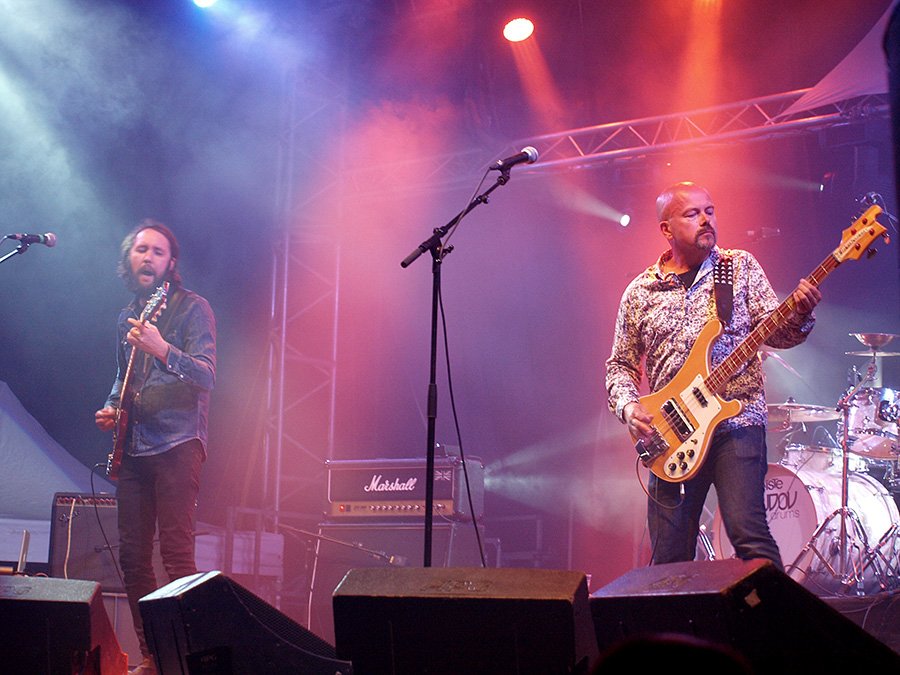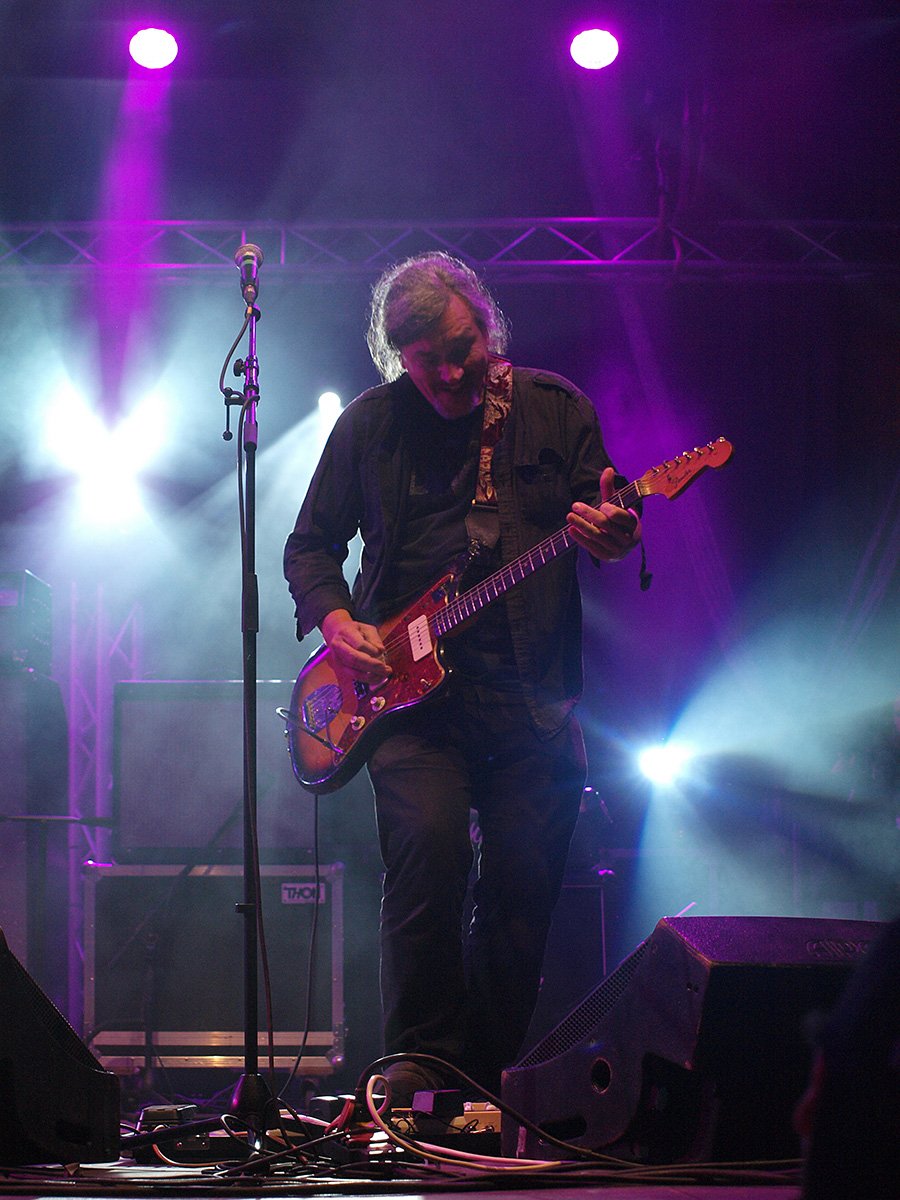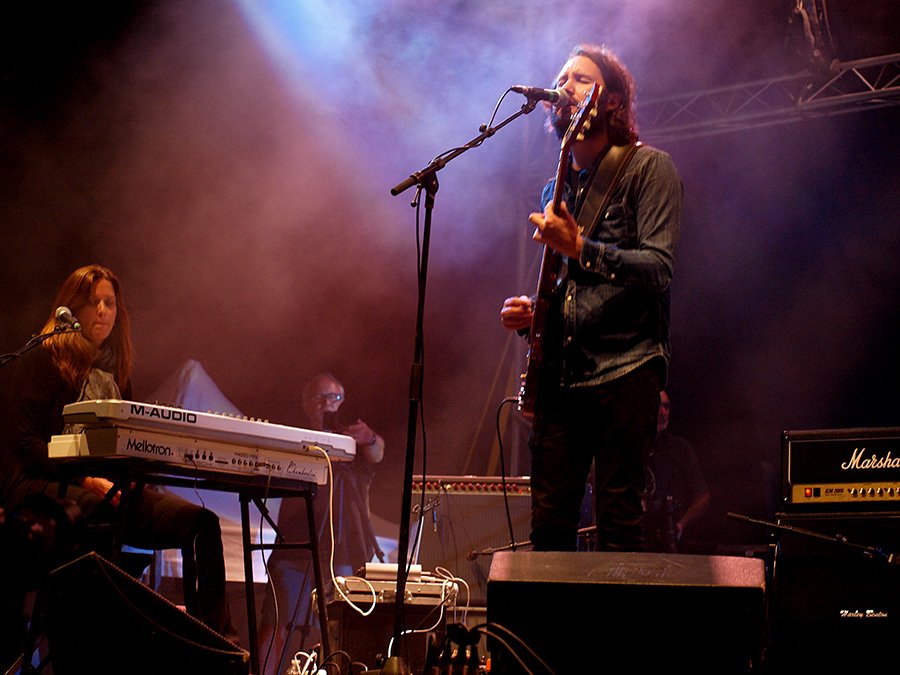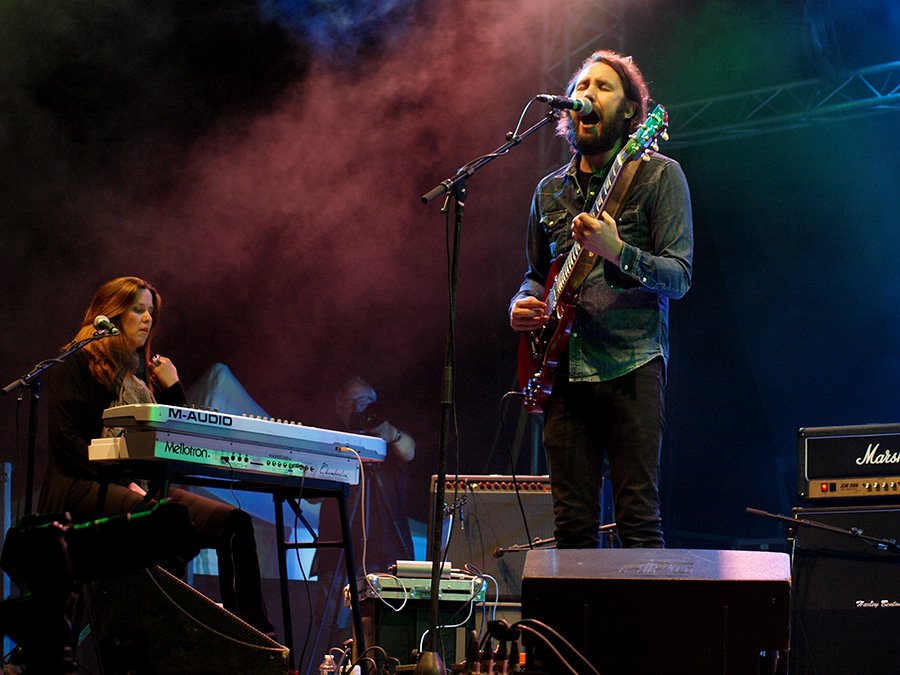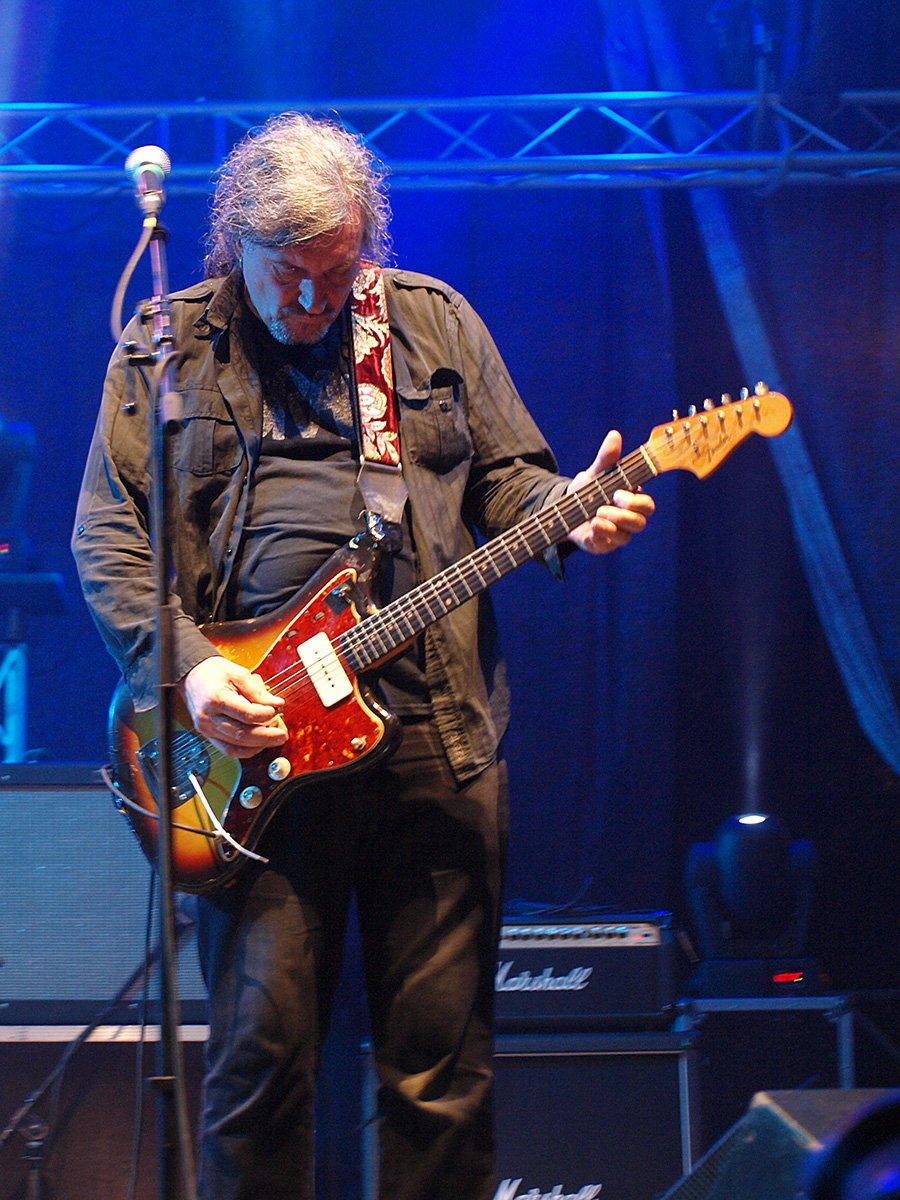 Band Members:
Nicklas Barkers: Guitar: Vocals
Anna Sofi Dahlberg: Violin, Keyboards, Vocals
Jan Erik Liljestrom: Bass, vocals
Perter Nordins: Drums, Percussion
Marty Willson-Piper: Guitar
And so Cresccendo draws the curtain for another year. It still amazes me how a festival of this scope and with such a wide variety of musical styles from all over the world manages to remain free, but then behind the scenes there is a whole load of organisation from the volunteers that make this happen.
The music this year, or what we saw of it, was certainly progressive in the main, but the term prog rock is a very broad church and we've been treated to almost metal, Kraut rock, space rock and folk amongst what many would consider to be the more conventional prog rock sound.
The site was cleared within a couple of days, leaving no litter and barely a sign that there'd been a festival at all.
If you find yourself in the area, or if you just love great music, then you really owe it to yourself to get down to this remarkable event. I can't think of a better setting for it. The surroundings are beautiful, there's plenty to do during the day for families, there's good eats to be had and then there's the legendary Pink Fluid.
Thanks to all the people who put so much effort into making this happen and thanks to all the bands who took part…even if we didn't manage to catch you all.
Stuart Smith