Hifi Pig's resident Millennial Scribbler Harry Smith takes a listen to legendary brand Cyrus' Soundbuds Wireless In Ear Monitors costing £99.99.
We live in an age where everything is going wireless. Although Bluetooth earphones have existed for years, "truly wireless" earphones are the latest trend with companies from the likes of Apple, Sennheiser, and even Samsung bringing out their take on cable-free listening.
Cyrus is a very well-known British Hifi manufacturer and has been going since the early 80s. They've never made a pair of wireless IEMs, as a matter of fact, they've never made any kind of earphones before.
I've also had the chance to also use a pair of Apple Airpods for an extended period which was a good opportunity to compare the Soundbuds to the current most popular wireless earbuds on the market.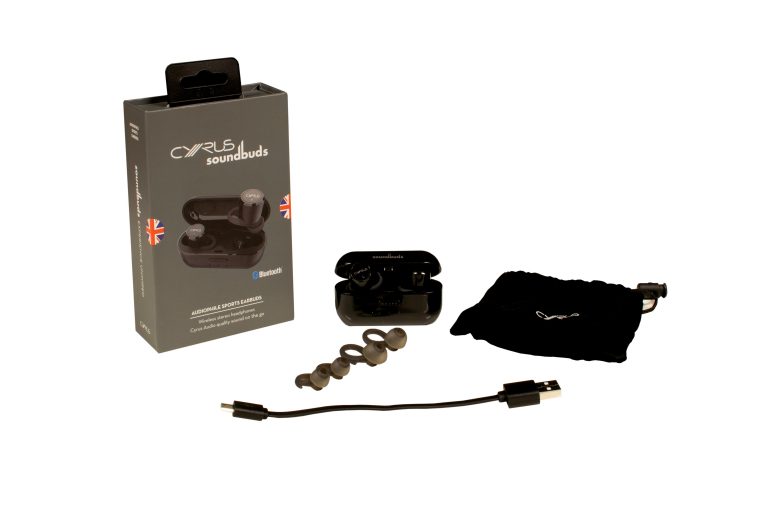 DESIGN AND CONSTRUCTION
The Soundbuds and their included charging case are built out of glossy plastic. Although I'm not a big fan of this material the earphones themselves are well-built. They are deliberately lightweight (4.5g per ear) and are also water-resistant with a rating of IPX5 meaning that I was confident in taking them out in the rain. They are available in any colour you would like as long as that colour is black. Although there isn't any choice in regards to the colour, they look classy and understated in black.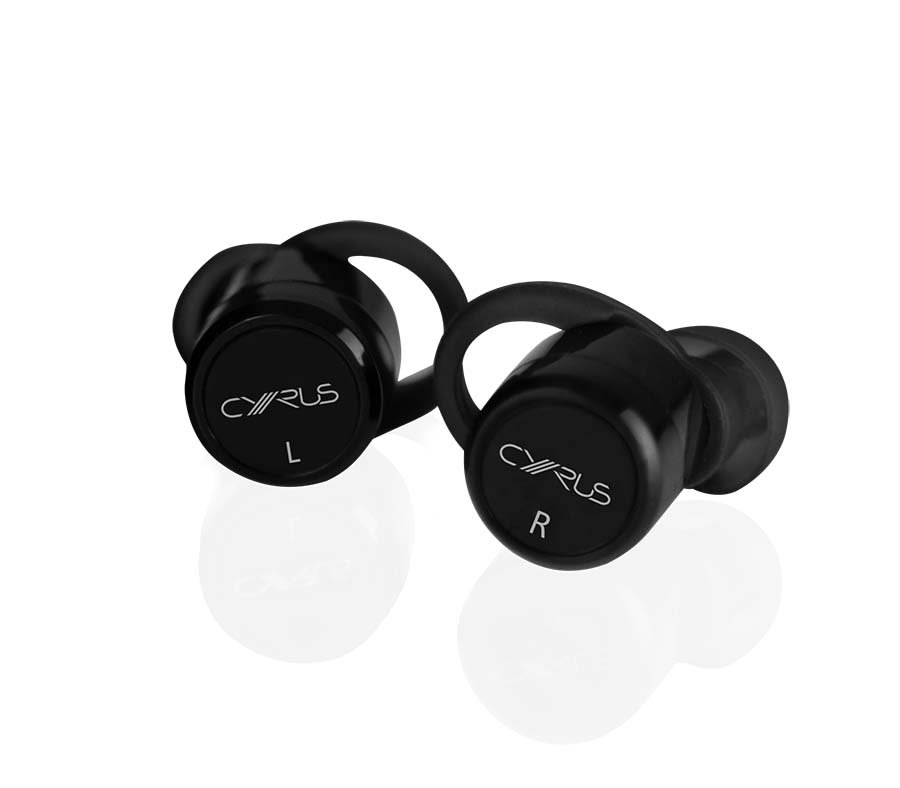 The packaging is compact and professional. Included in the box are a range of different sized ear tips to accommodate most ear sizes. They use a rather unique inner hook design that ensures that they stay snug and aren't prone to falling out. Each Soundbud has a capacity of 55mAh and the battery life is decent for the size (two and a half to three hours per charge). I wouldn't recommend them for a long journey but they lasted plenty long enough for runs and commutes to work.
The charging case has a capacity of 400mAh and is able to fully charge the Soundbuds 3 times. It opens with a press of the button on the front which releases the hinge that unfortunately feels a little flimsy, but it is perfectly functional. It charges over micro-USB which feels a little outdated nowadays considering that all my devices now use the newer USB-C standard. The case itself is tiny and very pocketable.
Connecting your device is very easy (I was mainly using my Sony XZ1 smartphone). The Soundbuds turn on by pressing down on the multi-function button for a couple of seconds and then they both connect via Bluetooth as one headset to your preferred device. They also have an inbuilt microphone that was a slight improvement over my phone's one in terms of call quality.
The controls of the Soundbuds are straightforward and easy to get used to. You pause/play a track by simply pressing on the top of either earbud and skipping tracks is as simple as double pressing on the right-hand one for skipping forward and on the left-hand one to return to the previous track. The button on the top of each of the Soundbuds is clicky and is easy to use. I did, however, feel a bit of unwanted pressure on my ears when pausing and skipping tracks, something that wasn't a problem when using Apple's offering that has a more modern capacitive touchpad on each of the earbuds. This is a minor gripe and probably wouldn't affect everybody in the same way. I did eventually get used to the Soundbud's controls and got used to the mild discomfort when skipping tracks.
The range is fantastic and Cyrus claim up to 10m. This was very true as I was able to leave my phone in my room while walking around the house listening to music and answering phone calls, very impressive.
SOUND QUALITY
Cyrus has definitely taken sound quality very seriously and they are impressive. Although they don't have any sort of active noise cancelling, they do a great job at blocking out any unwanted sounds.  They get surprisingly loud considering their size and have great punchy bass at higher volumes.
The Heritage Orchestra's take on "Ibiza Classics" featuring Pete Tong was a great chance to showcase the earphones strengths in delivering a great energetic sound on the dance music parts all while performing on the more classical breaks and letting the strings and brasses shine. The highlight of the album was the Heritage Orchestra's live version of "Out Of Space" by the Progidy.
Acoustic guitars sounded fantastic, especially on the recently remastered version of "Cast No Shadow" from Oasis' masterpiece "(What's The Story) Morning Glory?". Liam Galagher's signature raw voice played well off the softer higher pitch backing vocals of his brother.
Jumping to something a bit heavier. "On Sight" and "Black Skinhead" by Kanye West featuring Gastafelstein and Daft Punk showed that the Soundbuds are able to stand up to more distorted sounds. Crashing hi-hats and shouting voices sounded shockingly good. Many earphones struggle to deliver on the whole album "Yeezus" but not the Cyrus Soundbuds.
Queens of the Stone Ages' album "Rated R" brought detuned electric guitars and rumbling basses to the table. They came together to create a wall of sound and blew me away at higher volumes especially on the track "The Lost Art Of Keeping A Secret" They are a very well balanced pair of earphones, the bass doesn't overwhelm the mids or top-end. They offer some quite easy listening at lower volumes and although you lose a bit of bass they still sound great.
When comparing the Soundbuds to a wired set, there is a slight loss in clarity and detail overall, but this is true of most Bluetooth earphones and the difference was hard to notice in day to day use. 
CONCLUSION
The Soundbuds trounce Apple's offering in terms of sound quality and comfort and are a good deal less expensive, but they lack a few of Apple's touches for usability and controls that I got used to when using Airpods. That said, they are a great and much cheaper alternative.
The Cyrus Soundbuds are not a replacement for your wired IEMs but they are definitely a great option for people with an active lifestyle who don't want the hassle of cables when exercising or just want to listen to music on their commute to work.
I have to remind myself that this is Cyrus' first attempt at a wireless IEM, costing only £99.99, and it does succeed at a great number of things, in particular, sound quality. I would love to see them come out with a second-generation Soundbud with USB-C, capacitive touch controls and maybe some different colour options. (I also wouldn't mind paying over £100 if these features were added).
AT A GLANCE
Build Quality: Overall good but the hinge on the case feels a little flimsy.
Sound Quality: Very impressive considering the price.
Value For Money: They cost a lot less than most other "true wireless" earbuds and deliver better sound quality.
Pros: Easy to use, working straight out of the box, sound good and are incredibly comfortable.
Cons: Lack of options when it comes to personalisation and the two and a half to three-hour battery life might be a dealbreaker for some people.
Price: £99.99

Harry Smith