Hifi Pig take a listen to the Davis Acoustics Courbet 4 Loudspeakers from France and costing €2200.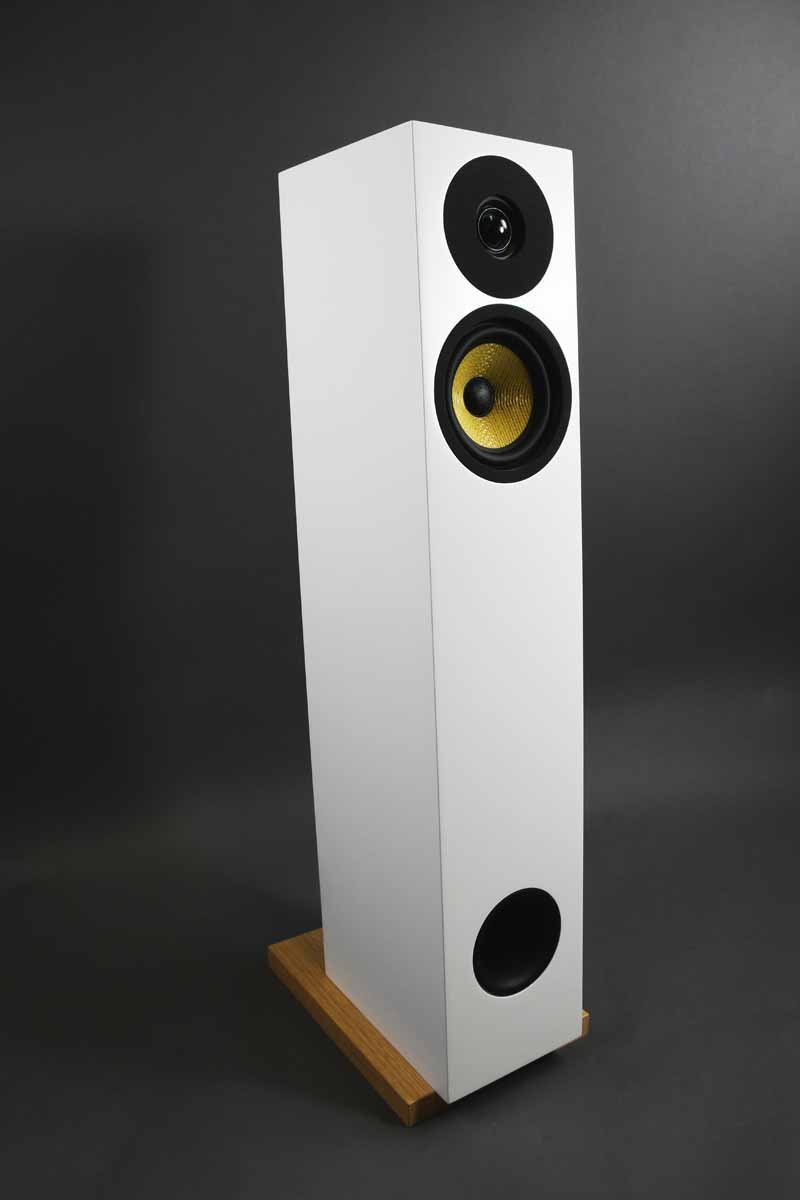 French brand Davis Acoustics may be a new name to many but in actual fact they have been around since 1986 when Michel Visan, previously of Audax and Siare Acoustique, set the company up after Siare was bought by Harman. Initially, the company sold drivers and kit loudspeakers, they still do, but in 1993 they launched their first finished loudspeaker, the Davis Acoustic DK200.  All the manufacturing of speakers is carried out at the company's facility in Troyes (Aube) in France and all their speakers and drivers carry the "Made in France" guarantee. I am surprised that Davis do not as yet have UK Distribution.
Davis Acoustic has a wide range of speakers, drivers, and kits but the loudspeaker we have here is the Courbet No4, a rather elegant looking, two-way, forward-firing bass reflex design with a 28mm soft dome tweeter and a 13cm Kevlar midrange/woofer. The review sample arrived in a piano gloss white but other finishes are available.
The speaker arrives well boxed and there is a separate wooden base-plate you have to bolt onto the bottom to support the speaker that has a trapezoid shape. The tap test proves the cabinet to be pretty inert. Frequency response is 51-25000Hz, efficiency 90dB and they stand 83.5 cm high (16cm wide and 22 cm deep). Fit and finish are very nice and the engraved aluminium back panel with the name and some technical specs whilst the plastic binding post plate has a single pair of rather nice posts that will accept all the usual suspects.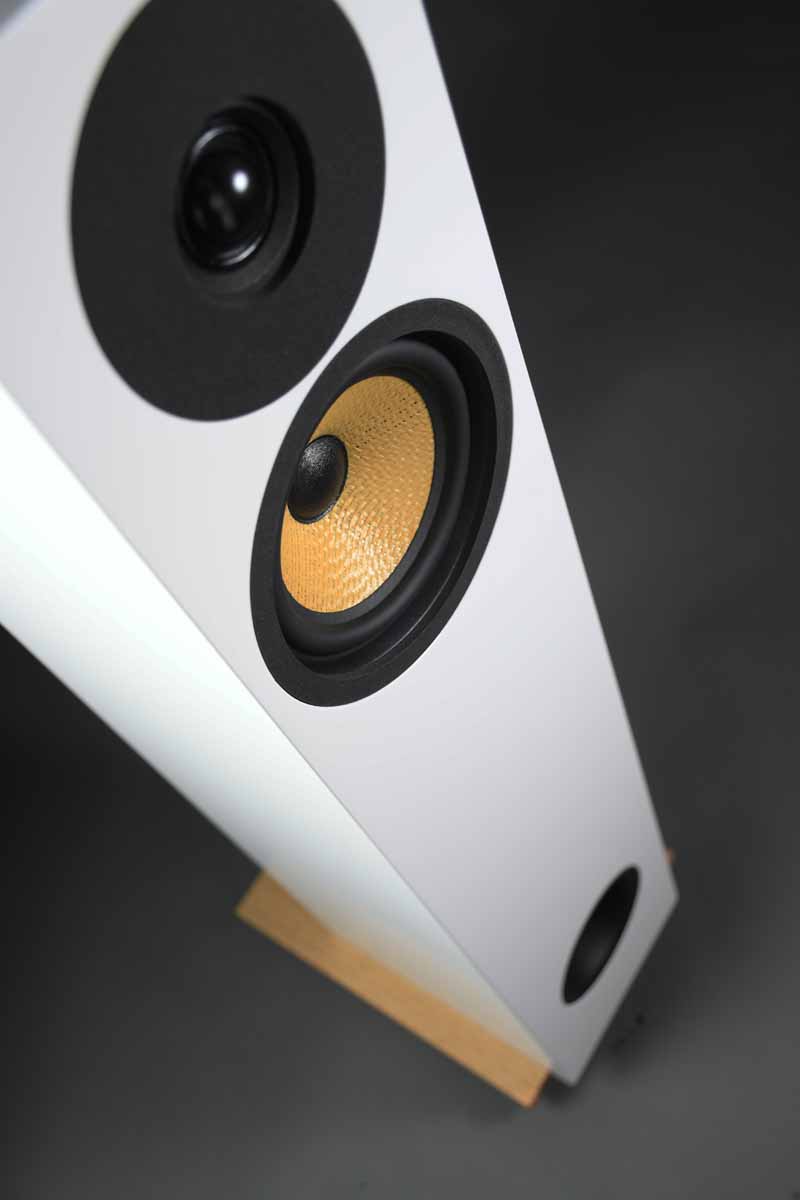 All in all, this is a lovely looking and compact package that will suit the modern home, falling, as it does, somewhere between a bookshelf and medium-sized floorstander floorstander. Siting was a doddle given the front-firing port and I had them well out into the room and being fed by a pair of Merrill Audio Thor amps, which in turn was being fed by a Leema Acoustics Pulsar DAC/pre (our new reference in the main system) with cables being Tellurium Q interconnects, Way Cables speaker cables and power cables and power management by Atlas.
The Sound
These are pretty diminutive speakers playing in a relatively large room and so they were always going to be up against it, but they do a pretty good job if you sit relatively near/mid-field. With that said, you can crank these up pretty loud and they don't lose their composure. Of course, they only go down to 51Hz so you are never going to get that visceral bass kick, but they are great fun to listen to. However, they do need it "up 'em" and really come into their own when the volume button his hit – actually they sound to be a much bigger speaker than they actually are.
As I'm typing up my notes I'm sat listening to Qobuz/Roon and just letting it do its stuff and I have to say, I'm rocking out quite a bit with these. Motorhead's Bomber off the No Sleep album (I just found out I was at the gig it was recorded at – Leeds Queens Hall 28/3/1981) and I've no complaints at all; of course, the bass doesn't represent the visceral attack that Lemmy would have wanted, but it's a fun ride. In comparison, when playing this on our main speakers, despite it being a bit of a crap recording, you feel the bass – the Courbet No4s were never going to be able to achieve what an active dual 12" per speaker system can, but I still enjoyed the listen and Philthy Phil's drums at the end of the track were particularly enjoyable. In fact, as the next track Roon throws up Get Back in Line from the Motorhead Motorhead album sounds fab and I'm drawn particularly to the drums again which are crisp and well positioned in the fairly encapsulating soundstage.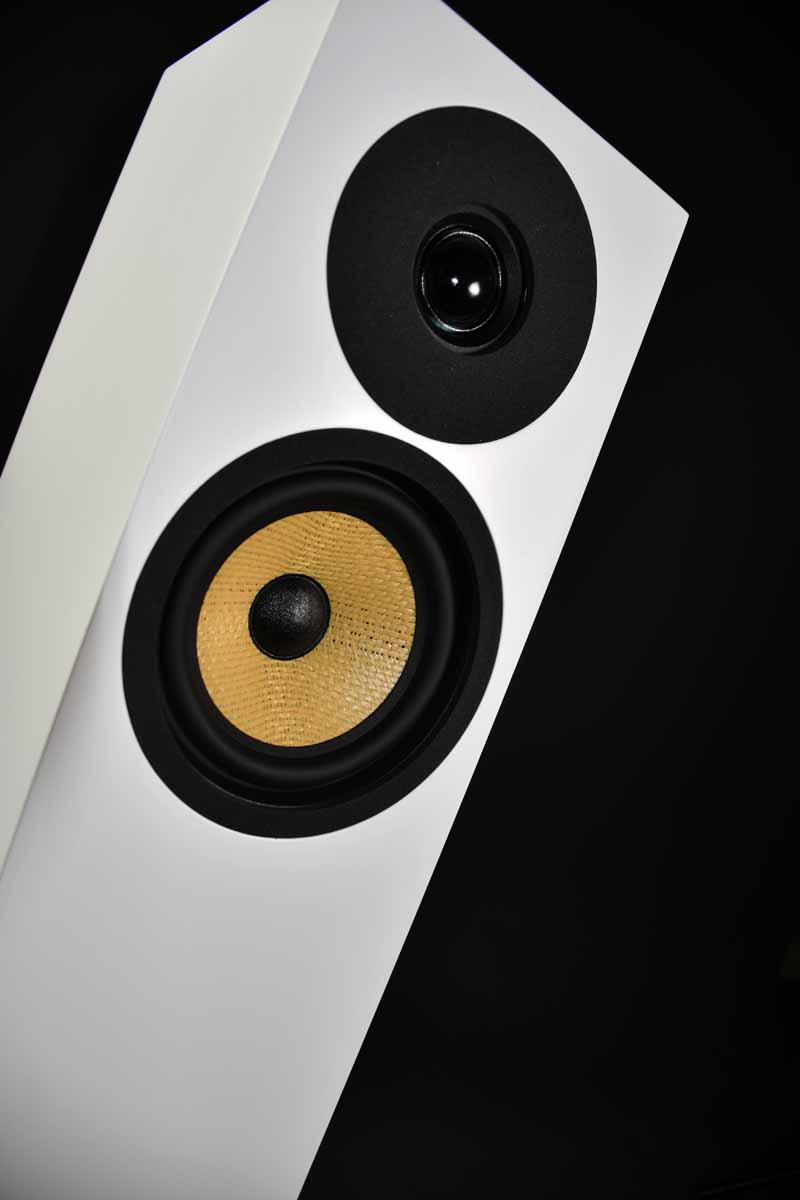 Switching from the heavy-fest, I pop on Fleetwood Mac's Rumours which has been a long-term reference for me and probably one of the records that gets played more than any other at Pig Towers. The opening track, Second Hand News, just draws me into the music with snare hits and guitars sounding tight as the gnat's proverbial. Imaging is, as you would expect, pin-point accurate in the mix, and whilst these speakers don't have the air at the top-end that out Audiovector R3s have they have a crispy accuracy to them which is reminiscent of good monitor speakers. I'd not say there is a three-dimensionality to the soundscape that you would perhaps get with the older AudioPhysic offerings, but there is certainly something pleasing about these speakers that pulls you into their presentation. Again, the word I think I'm grappling for is "tight", but there is also bags of detail in there too. Dan that writes for us talks a lot about micro-detail in recordings and these speakers certainly seem to pull a lot out of the recording…or present that detail in spades; guitar on Never Going Back Again sounds fab and starts and stops on a pinhead – no doubt down to the smaller and incredibly nimble fast driver. Again, I've no complaints here and really loved listening to this record through the Davis loudspeakers.
Neil Young's Little Wing from the excellent Homegrown album (thanks mum and kids for the vinyl copy and tee-shirt) sounds truly wonderful through these and, again, I'm wanting to use the word detail. Young's voice is presented very nicely and the rasp of the harmonica sounds just right. These speakers excel at presenting the mid-range I'd say, which was expected to be the case given their mid/bass drivers size and composition. Fast is also a word I'd like to add to the lexicon here and, as previously mentioned, they stop and start on a pinhead. Now, this is perhaps an unfair comparison but I'm going to make it anyway. I love how really good monitor standmounts can image and present the musical landscape and these Davis Acoustic speakers remind me of this – there is a lot to be praised about the presentation of smaller standmounts and these Courbet No4 capture that, but give you a little bit more too.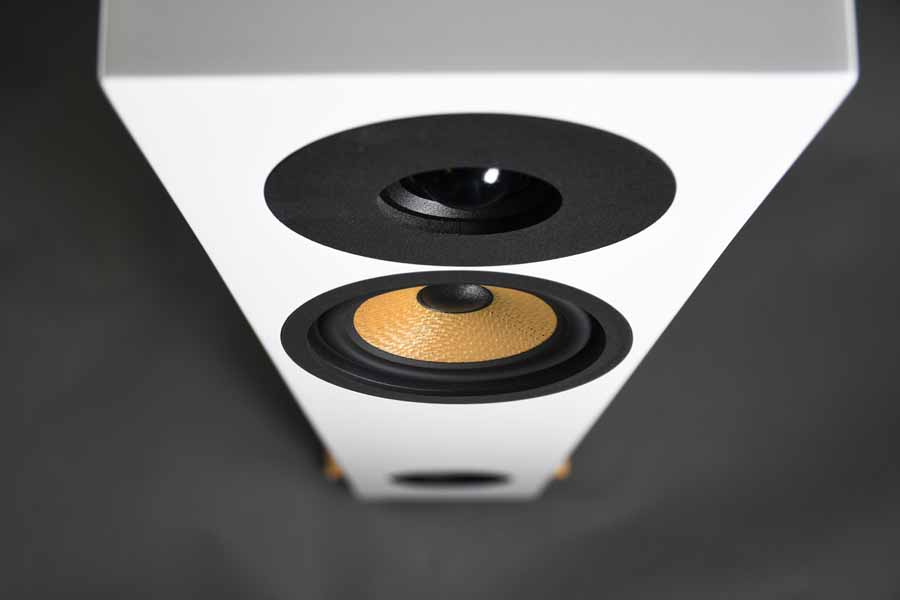 Time to pull out our killer track (Daft Punk's Contact – a track that will demolish a speaker and one we use just for that purpose – if a speaker can't play it, it doesn't get a review!). Of course, the bass kick doesn't have the visceral quality that we are used to, but get those toms, snares and hats dancing about the soundstage! And the speed at which they come and then go! This track is more complex than many think, and the sounds in it are too. A good system will let you hear the make up and layering of synth sounds and I'm loving what I'm hearing here, in fact the amount of detail is pretty astonishing.
Roon throws up Bango by the Chemical Brothers and whilst still not having the oomph I'm used to, the bassline is pretty on-point. There's a synth sweep in this tune that has a clever effect that throws it out and into the room and the Davis' present this really (REALLY) well with the sound I'm banging on about feeling as if it is just to the left of me – a great achievement for a speaker of this size and price-point. In fact, despite what I said earlier, I could be listening to one of the older, and much pricier, AudioPhysics speakers at this point.
Massive Attack's Unfinished Sympathy is a joy, lacking only that lower-bass, but for the fun factor and sheer musical enjoyment, I'm loving these speakers. The strings on this track soar in the mix and the Davis present that wonderfully. It's a similar story with Rhythm and Stealth from Leftfield, and whilst I am missing that gut-punching bass I'm used to I'm getting right into the album.
It's been a bit of a heavy and techno-fest with these speakers whilst I have had the pleasure of their company and that really shouldn't be the case given what I've said about the bass, but, genuinely, I've just been so dragged into the recordings that I found it hard to move on. However, Carole King's Tapestry was calling and I thought this would give a little balance to this review. A Natural Woman sounds really beautiful on these speakers and there is that connection to the music – an emotional connection that I feel what music and good reproduction is all about. Piano is presented very well and sounds like it should, and her voice is projected slightly out into the room. What is interesting is you can hear the production that is going on here and very "of its time" and that's down to the level of detail these speakers allow for. An overexposure to detail can be fatiguing when listening for long periods, but none of it, I could listen to these for hours and days on end.
Conslusion
These are very good loudspeakers and deserve to be auditioned if you get the chance.
No, they don't go low, but what bass you do get is tight, tight, tight…and bouncey too. In a smaller room they will perform very well and you will not miss that bass – as I've said in the past, I think some speakers go too low for some smaller modern dwellings, and the Courbet's get that balance of things right.
They are fast, present a great image, and look fab…and as such I highly recommend them. Were I in the market for another speaker for a smaller room in the house, these would most certainly be on the shortlist.
AT A GLANCE
Build Quality: Very  good but I would have liked the plinths to match the finish of the speaker.
Sound Quality: Tight and detailed, lacking only in the bass in our large listening space.
Value For Money: Very good value I think, but resale may be a problem in the UK given they are relatively unknown…should you want to part with the, though you very well may not want to.
Pros:
Fast, tight and detailed.
Great imaging.
Not too much bass so could be ideal for smaller listening spaces.
Cons:
Bass light in big rooms.
Need some watts up 'em.
Price: €2200
Stuart Smith
Review Equipment: Auralic G2 Streamer, Leema Libra DAC, Roon. Way speaker cables, Tellurium Q interconnects, Atlas power cables and power management.