Dan Worth gets to grip with a little 50watts a side integrated amp from Serbia that costs just £600 in the UK. 
It's always interesting when I receive a product for review from British distributor Iain Borthwick of LW Audio. Iain has a long standing relationship with products that provide a truly musical and value for money stance in the marketplace.
Iain was responsible for introducing the well regarded Clones Audio brand to our fair land and they followed suit with his mantra. Also coming up soon will be a preampifier from Audio Music – again another truly musically engrossing product that belies its price. We talked about this new brand on the scene I was very receptive in appraising it on the merits that Iain pursues when taking on brands for distribution in the UK.
The Menuetto is a shoe box sized integrated amplifier with four line level inputs and an output power of 2 X 50wpc into 8ohm and 2 X 70wpc into 4ohms. The unit is of a sleek classical design with two knobs, one for volume and one for source selection and a power button – it includes a remote control. The product feels well made and has a good weight to it and a nice sturdy feeling chassis. Standard 5 way binding posts adorn the rear that are bare gold plated and not encased in plastic which is something I do not like for obvious reasons, but apart from that I can't convey any other physical grumbles with the fit and finish for a £600 amplifier.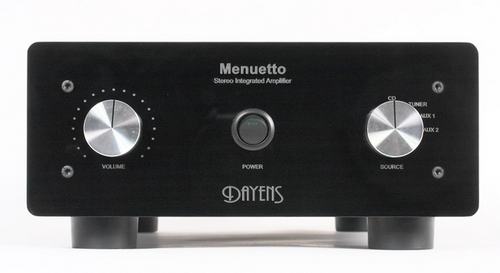 On looking into the Dayens brand and conversing with Iain they have a few amplifier options and some interesting looking fairly priced small form factor standmount/bookshelves and floorstanding speakers which I'm sure we will investigate a little further at Hifi Pig in the future, but for now let's focus on the Menuetto.
Specifications:
Power (Watt):                                 2×50 / 8 Ohm, 2×70 / 4 Ohm
Inputs:                                             4
Frequency response (Hz):               4Hz – 200kHz
SNR (dB):                                      >92
Dimensions (mm):                           230x105x350
The Sound
From experience amp,ifier a at the £600 or so price point can be a tricky price point to fulfil competently, there have been many hits and misses in this price bracket even from some of the big boys, it toys with what is possible from a unit in the over £1000 category and can also be set upon from offerings from the likes of mainstream companies such as Cambridge Audio and Rega for example.
Connecting up the Menuetto was a breeze as it can really be accommodated anywhere due to its size, so my ever bloated rack which was currently burning in some other products didn't suffer and nor did my back in having to make room for the modestly sized amp.
First impressions of the sound given by the Menuetto was a terrifically tuneful bass and dynamics that were instantly surprising. Throughout Jeff Beck and Joss Stone's rendition of 'I Put A Spell On You' basslines were convincing, especially in the parameters previously mentioned and Joss' vocal was silky sounding and never forward which can be a bone of contention even with some high end kit I have listened to recently. This is a good track to ascertain vocal positioning within the soundstage and the Menuetto was bang on the money!
Intricacies from various acoustic music was clear to hear, they may not be as playful as items in my normal rig costing considerably more, but the Menuetto really outperforms many integrated amps I've heard in the £1000-£1500 bracket, giving great perception of depth and scale to minimal performances.
I really like the fact that if the Menuetto lacks ultimate finesse and presence that a high end item can offer. It's not shy in giving the listener every impression of the big boy sound. I don't sit here listening to this little amp from Dayens with the feeling that I'm being cheated in any way or that I'm missing out on any explanations of the musical picture through lack of detail or weighted scale, it's a real joy and a great find by Iain Borthwick, continuing his ever stubborn position iof 'I will not support any brand which cannot offer true musical satisfaction.
Longer listening to the Menuetto got me really engrossed in its sound, it's warm with vibrancy and surprisingly detailed and transparent, with a terrific soundstage and immediately had me searching their website to see what other interesting products they have to offer. I would only investigate further when a brand which is new to us here in the UK really impresses me and the Menuetto surely does.
Playing Felix Laband's 'Red Handed' vintage Electronica had me sat up in my seat instantly with the Menuetto conveying unforeseen power in the bass and fleshed out treble that gave the top end great density. I find the amp to not necessarily to have a sound colour to it, but it has great character and is as cohesive as I would want an amp to sound if I were a designer The amp sounds more energetic and dynamic than its rated power, and dynamics do not fall short even at much higher volumes.
Now if I haven't praised this amp enough I will leave this review with one more opinion from listening to Nils Lofgren – if the Electronica wasn't proof enough for me Nils' speedy guitar work again was just so reflective from the Menuette, PRaT was just so well conveyed and fond memories of super solid British made amplifiers come racing to the forefront of my mind but with a sprinkle more pizzazz than the colouration of the older take on the famous British sound signature.
Conclusion 
The Dayens Menuetto is a modestly sized amp with modest power and an equally modest price of £600 here in the UK. It comes packed with great PRaT, an informative balance of tone and detail and is dynamically capable of conveying drama and expression that will shock any Hifi aficionado.
Dayens for me is following the trend that has been adopted in the past few years from smaller and larger companies alike that high end sound doesn't and shouldn't cost the earth. Would I swap this for my main amps?  Never, their price is far greater and equally so is their performance, so we need to remain realistic here of course, but in this price range and a couple of bands higher, the Menuetto is going to upset some of the more mainstream brands with its confident attitude and remarkable performance.
Pros:
Balanced, powerful, dynamics
Strong PRaT
More detail than expected
Midrange that sits just right
Price
Cons:
The binding posts metal is exposed and should be plastic encased.
Price at time of review: £600
Dan Worth