The dCS Network Bridge acts as an interface between your digital music and your DAC. The hardware platform in Network Bridge enables you to stream high resolution music files from network attached storage, connected USB drives, online streaming services as well as Apple devices via Apple Airplay, outputting bit perfect audio direct to your DAC.
The native Network Bridge app provides full control of the wired and wireless streaming capabilities as well as the input, output and clock settings. The Network Bridge app is based on the same network streaming and app technology used in dCS's flagship Vivaldi series, which they say provides 'an intuitive interface for you to quickly and easily organise and manage your entire digital music library'.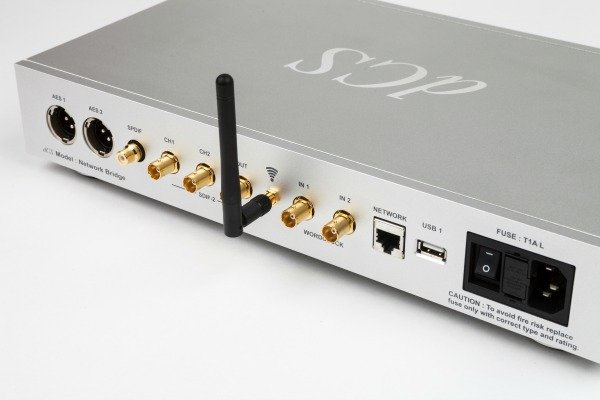 Designed for simplicity, a single, FPGA platform is the heart of the unit and the Network Bridge is Roon™ ready, also supporting streaming services such as TIDAL™, and Spotify™. Network Bridge currently plays files sampled at rates up to 24-bit, 384kS/s, supporting all major lossless codecs, plus DSD/64 or DSD/128 in native or DoP formats. Compatibility with legacy dCS DACs is assured by an integer down-sampling feature. This down-sampling feature converts high res data (for example DXD or DSD) to 24 bit PCM at either 176.4/192kS/s or 88.2/96kS/s – bringing the data within a range supported by your DAC. Network Bridge also supports the dCS 'auto clocking' architecture as used in Vivaldi and Rossini. The Network Bridge firmware can be updated from the internet using the control section of the app. This allows dCS to add new features or improve the performance of the product during its production lifetime. Designed and made in Great Britain, Network Bridge's chassis uses aerospace-grade machined aluminium to reduce sound-degrading mechanical vibration and magnetic effects. Multi-stage power regulation is employed to isolate the sensitive clock circuitry from digital processing noise.
The dCS Network Bridge is available from November at an RRP of £3,250