Turntables were absolutely everywhere at this year's Munich High-End and so here are some of the ones that stood out on our travels around the show…with a handful from Audio-Deluxe thrown in for good measure. We have no way of seeing everything at the shoa nd know we will have missed a good proportion but hope you enjoy all these lovely turntables. 
We did miss some due to time constraints but one worth mentioning that we didn't get a picture of at the show is the new Synergy from SME. Comprising of a completely new turntable design combined with the SME Series IV tonearm, Ortofon's 'exclusive series' MC Windfeld Ti cartridge and a specially designed phono stage by NAGRA, all coupled with mono crystal silver wire by Crystal Cable, Synergy is a fully integrated turntable unit that is factory configured requiring minimal user set-up. This was launched at the High End Show and will cost £14,950. Please excuse library photograph.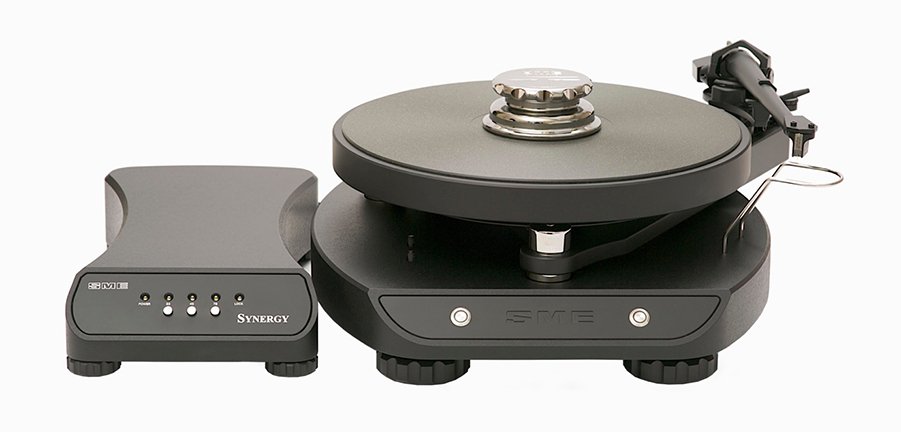 This is the European Audi Team's E.A.T Forte in the Audio Reference room which is always packed with some fabulously high-end gear.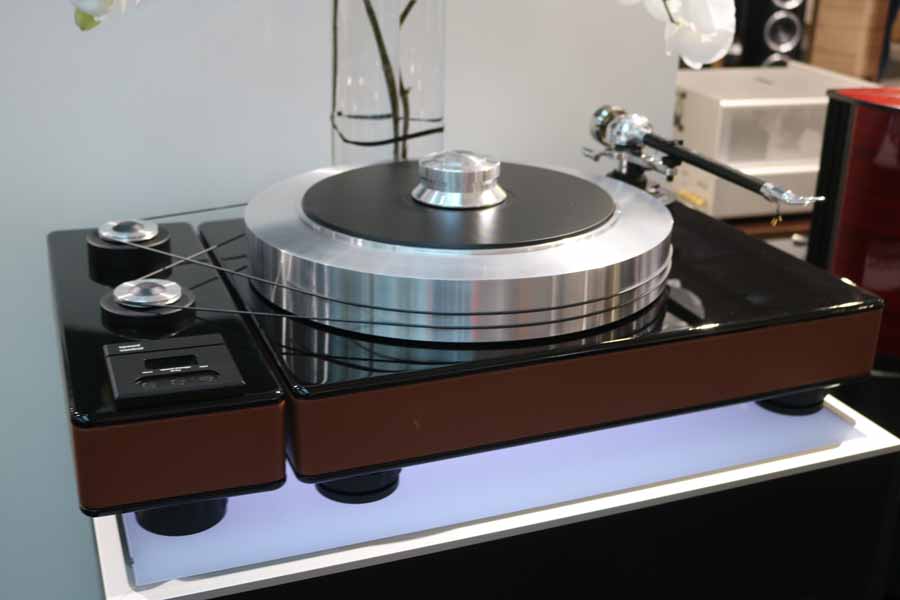 Again From E.A.T this is one of their more affordable models. The cartridge is the Jo N°5 from the company.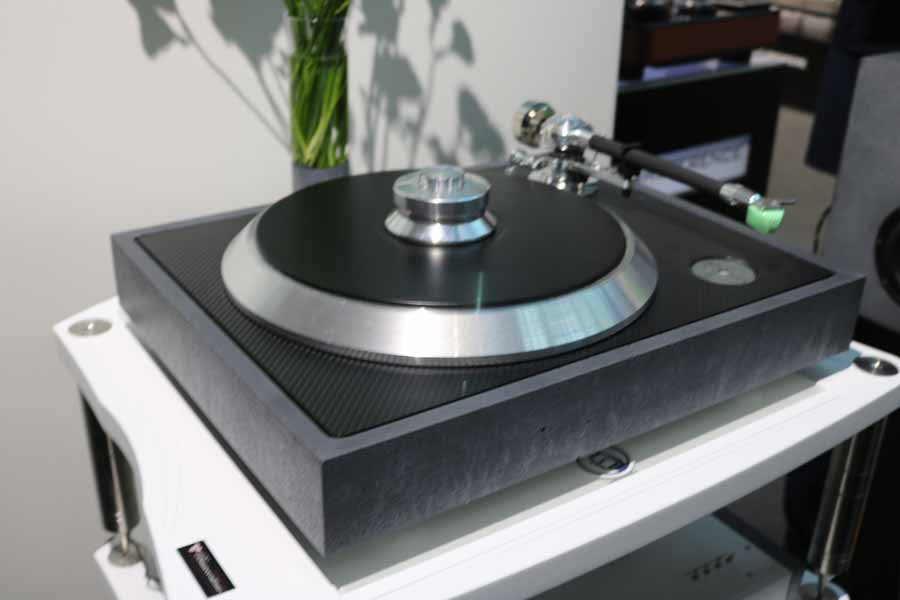 This is the fab looking Evolution R5.3 from German manufacturer AVM. It comes with the company's own ten inch tonearm and is "elipso centric belt driven" aiming to ensure that there is no tilt on the axle. Looks cool as you like with its dim-able acrylic platter and will cost €5490 in Germany when it is officially launched in August of this year.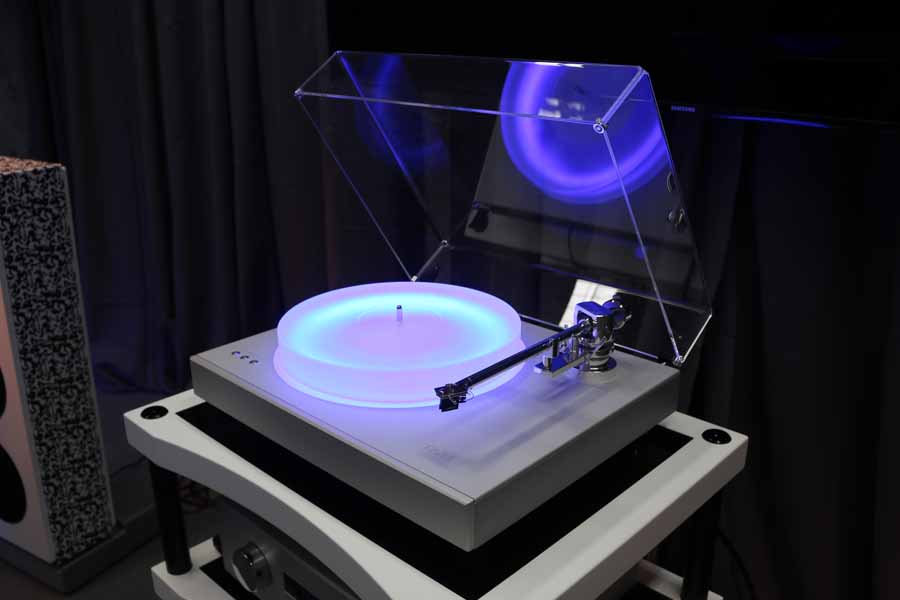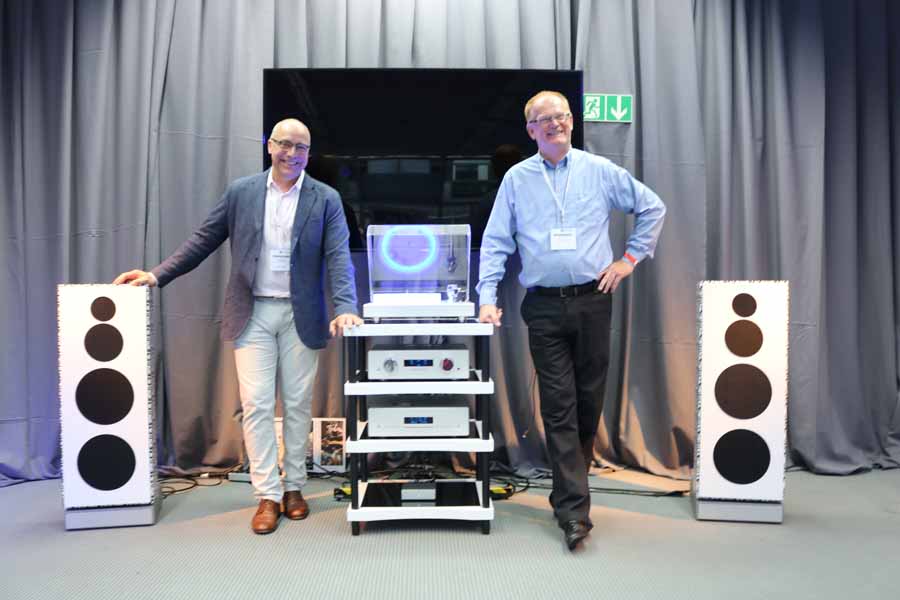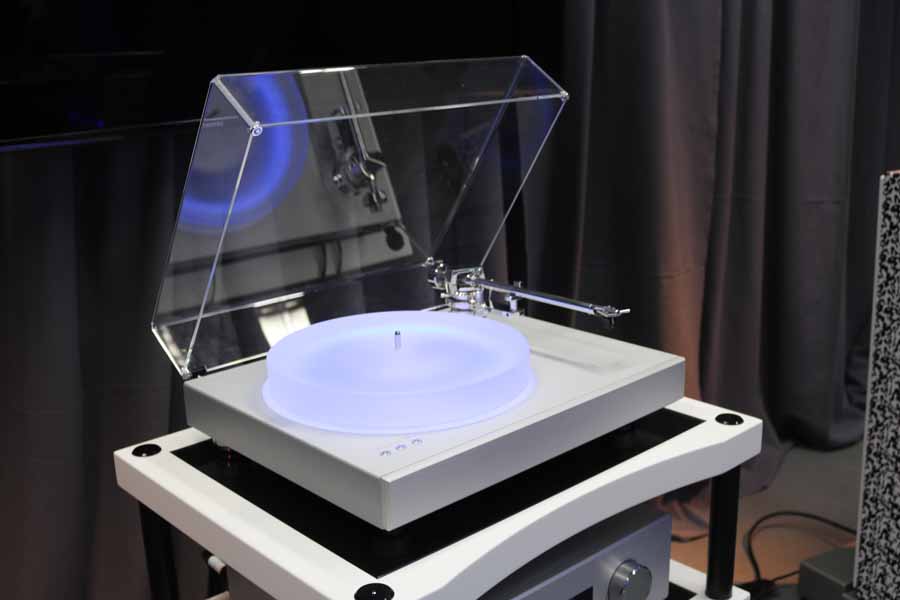 Regular readers will know what a soft spot have for Technics turntable having owned lots in my time. These two the Japanese brands SP-10R, one with standard arm configuration and one with two armboards. Out very soon but doing the rounds at shows.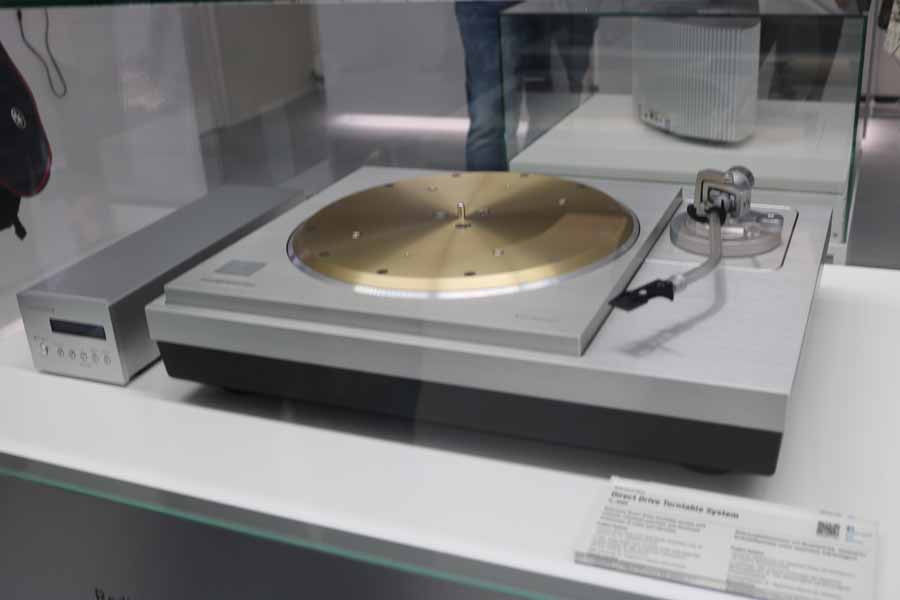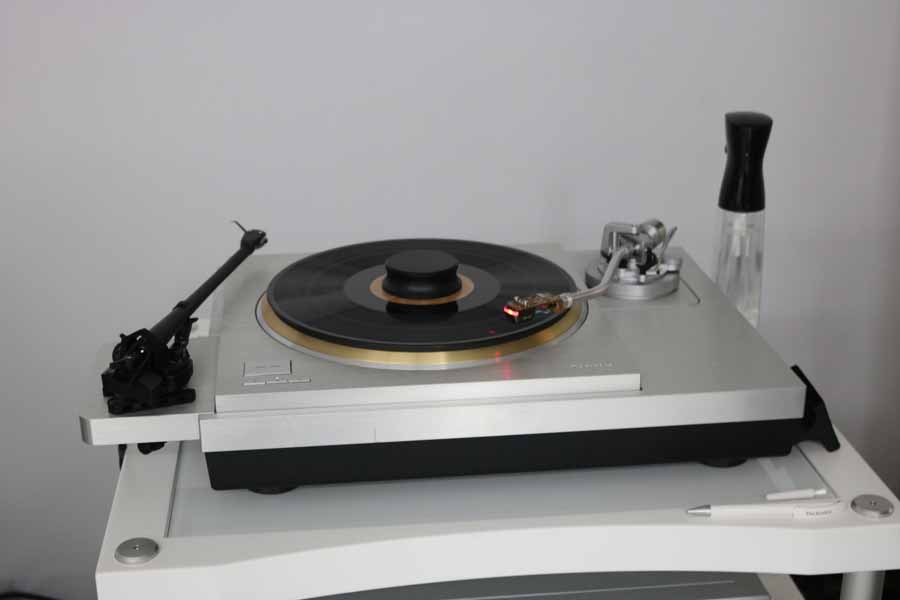 This is the German/Austrian SoREal Audio Seismograph turntable we spotted at High-End.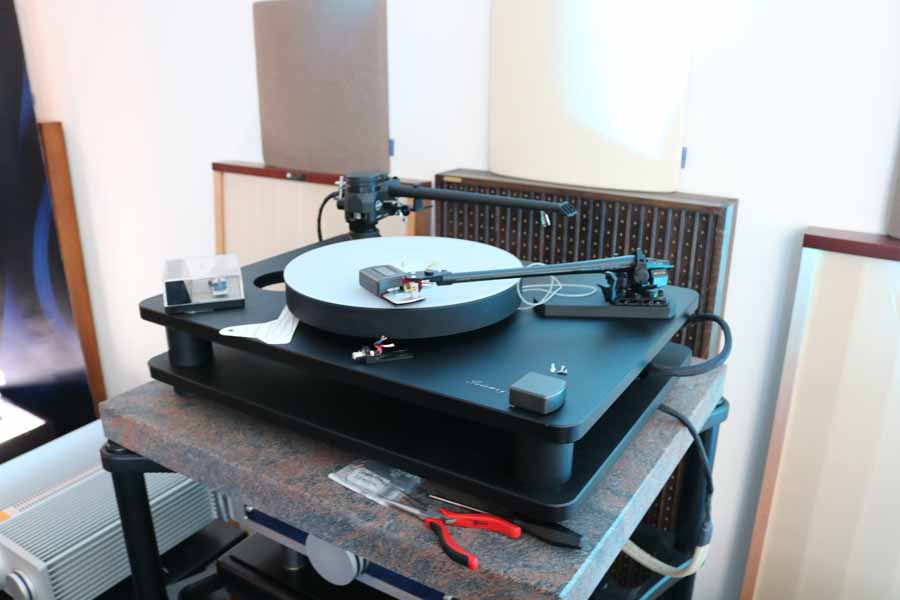 We did spot this €28 700 SME Model 30
Another German brand making some rather nice looking turntables is Trans Rotor. First up is one of their more affordable models followed by the beast that is their Artus model costing €118 000 and weighing in at a huge 220Kg.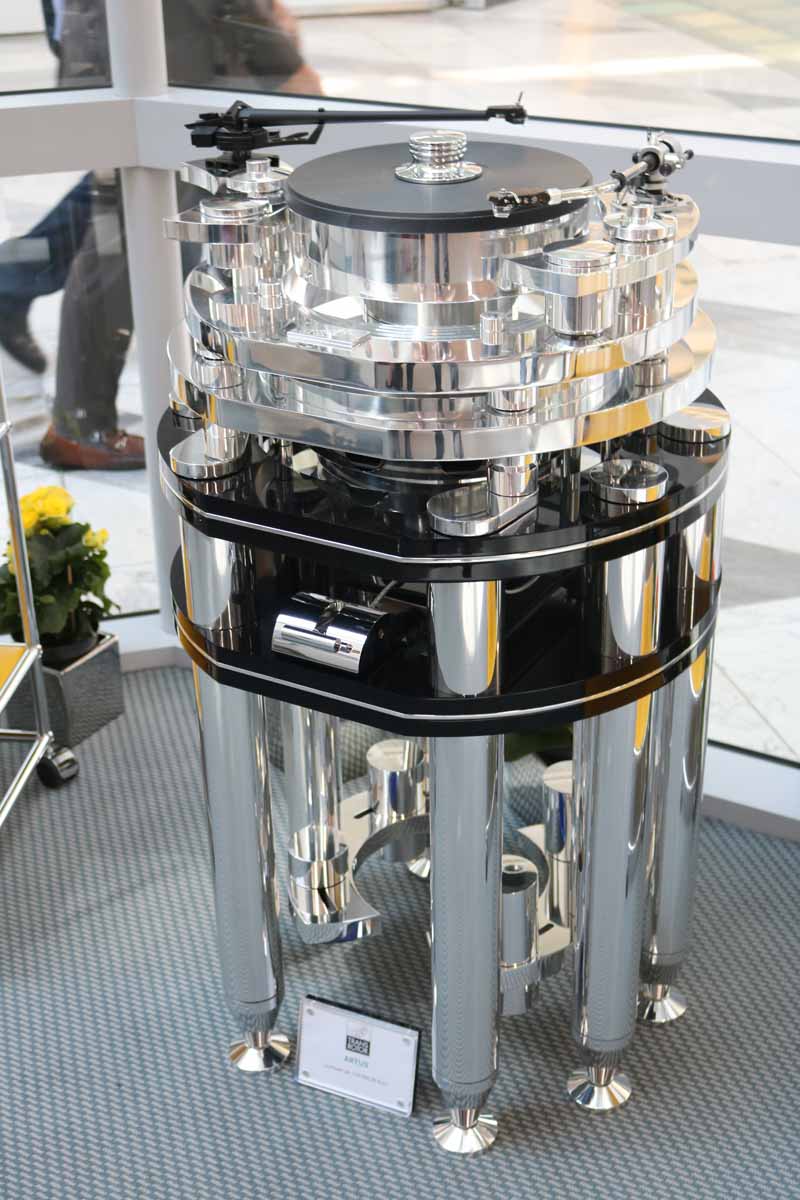 This is the Kondo Audio Note Japan Ginga turntable. The arm is a special order from SME which is called the Kondo V12 and is rewired with Kondo cable. Cartridge is the Kondo IO-M. Eye-wateringly expensive and a case of "if you need to ask then you can't afford it"…OK it's int he $125 000 range without arm and cartridge.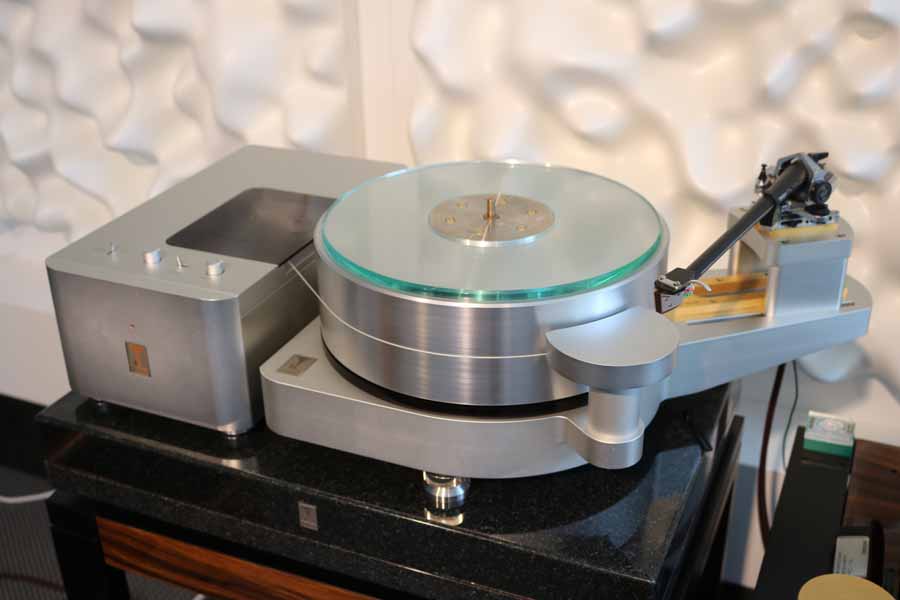 De Baer from Switzerland. Take a look at the tonearm, best seen on the of the turntables shown. It's the Onyx from De Baer that uses three carbon rods in place of the more usual one piece wand.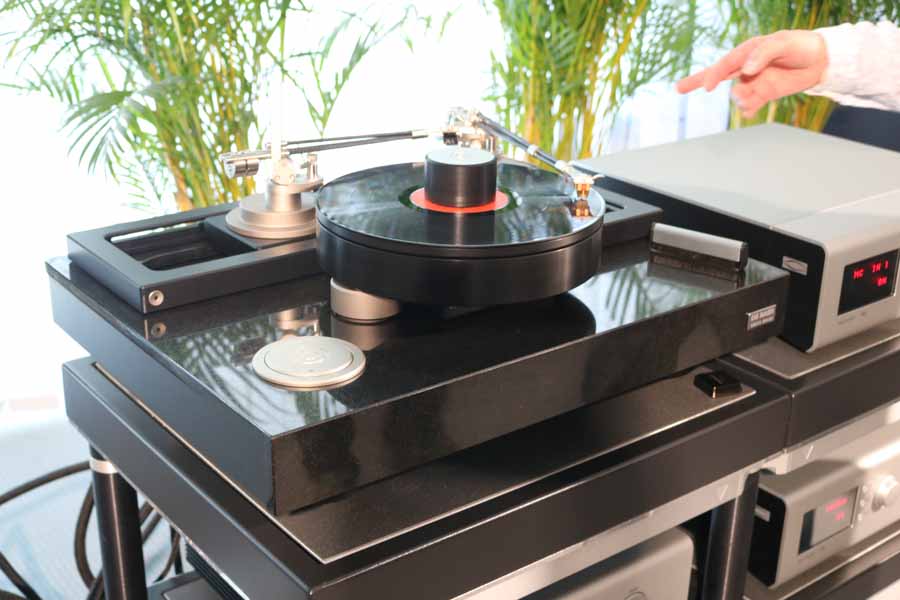 A trio of turntables from Danish company Bergmann.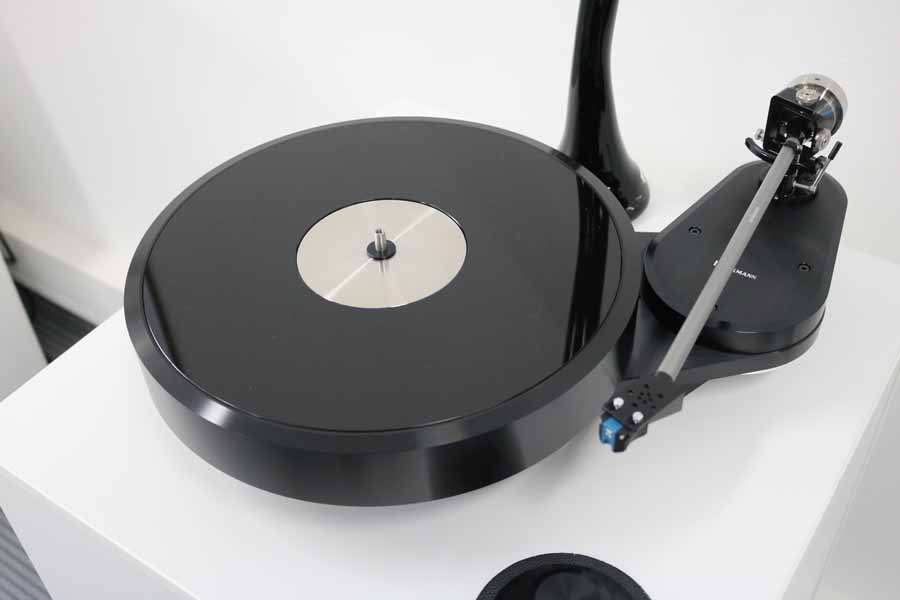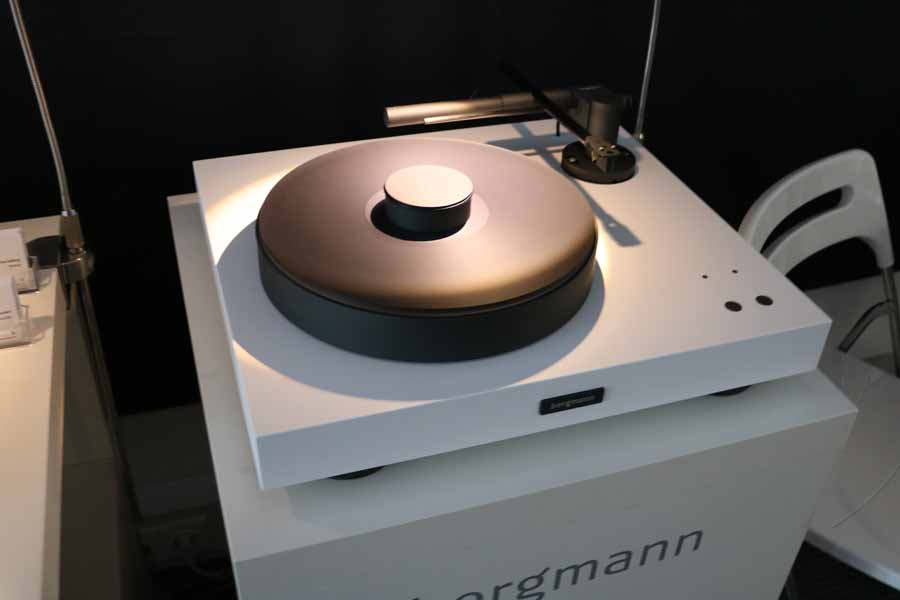 We spotted this Clearaudio Reference in a room where we'd gone to look at the Ne Wilson Benesch loudspeakers What a beast it is weighing in at a not insubstantial 350Kg. It uses a non-contact magnetic drive system and incorporates a pendulum that weighs in at 80Kg on its own.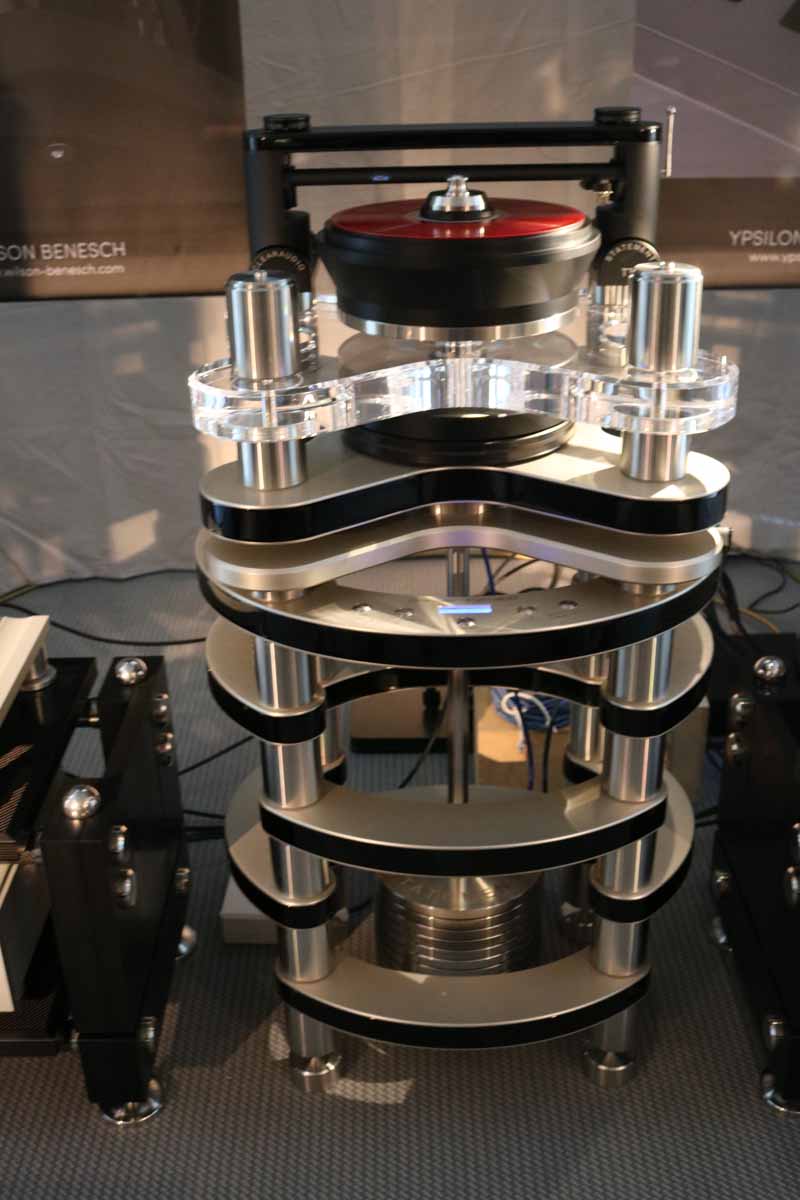 From Canada this is Louis Desjardins' Kronos Pro costing 38 000 USD and the company's own tonearm. The phonostage on the right, like the turntable, is fully suspended and looks great in this side by side configuration rather than the more usual over and under style it's usually shown in. This gives visitors to High-End in Munich the opportunity to really see the craftsmanship that goes into these products.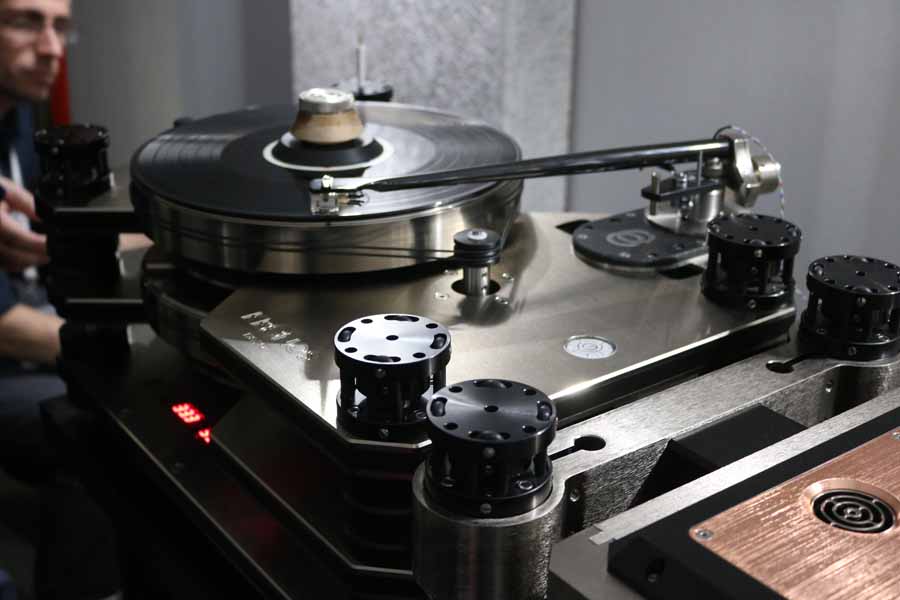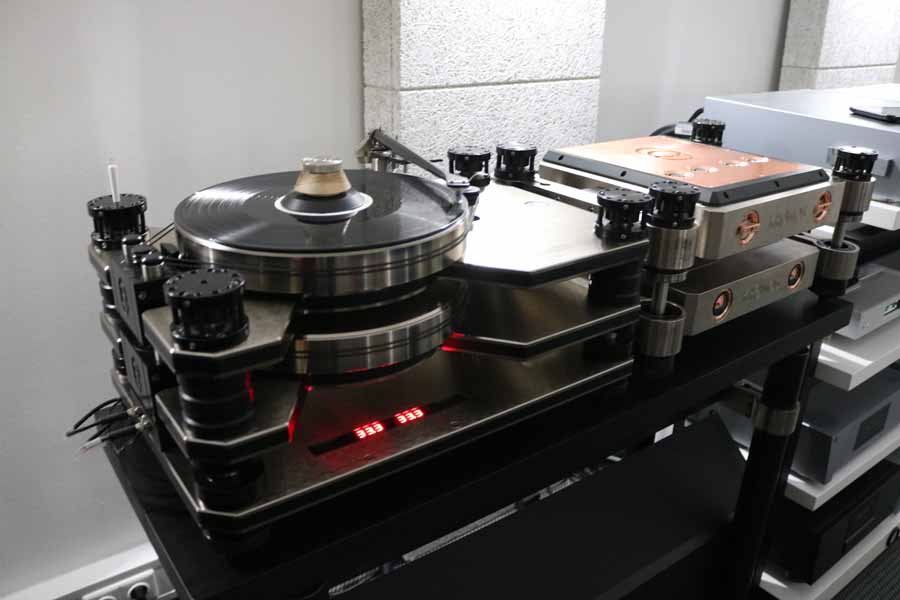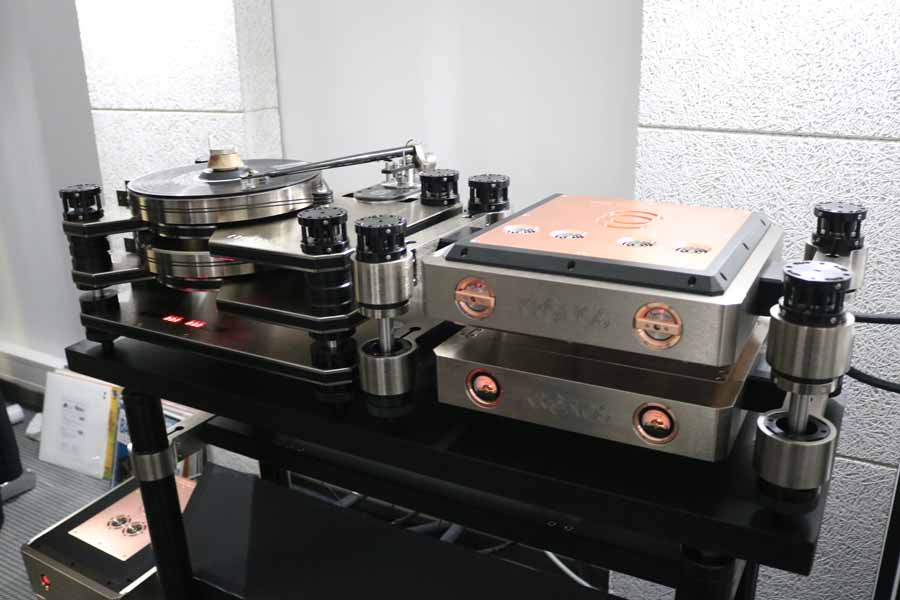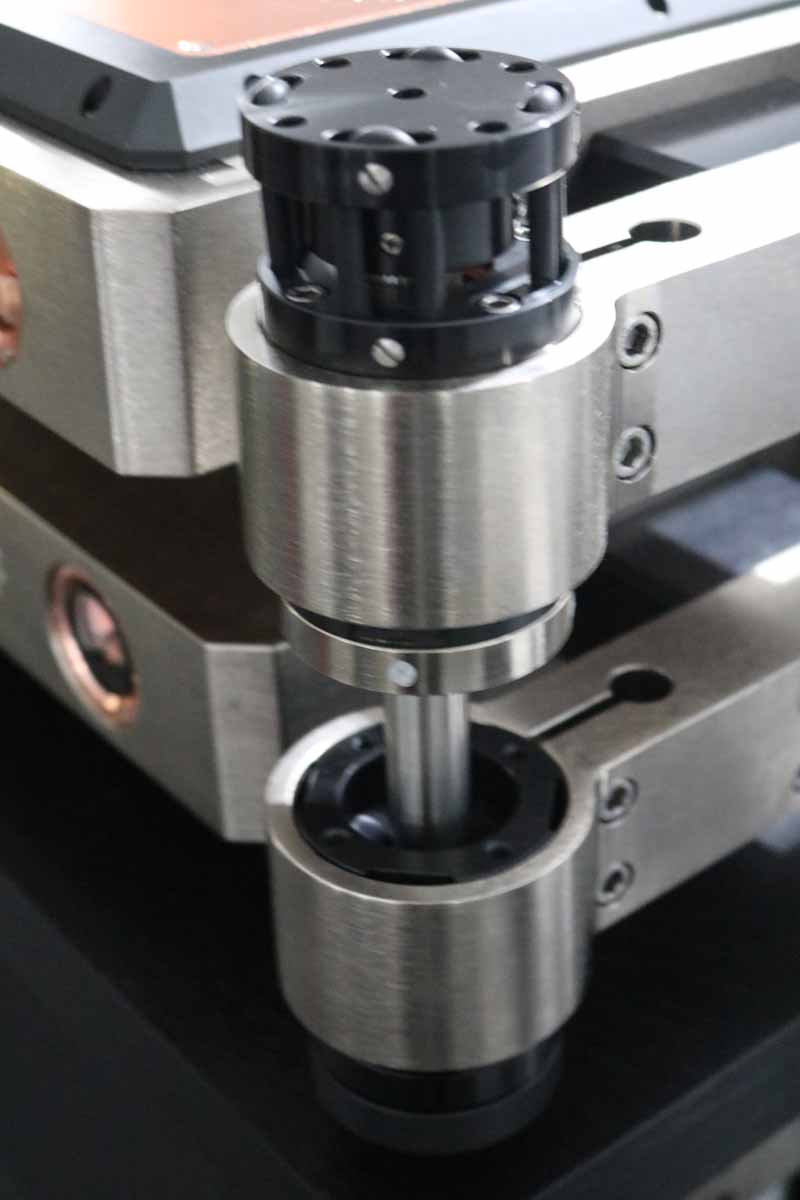 TW-Acustic from Germany. The tonearm is the company's Raven 10.5 incher.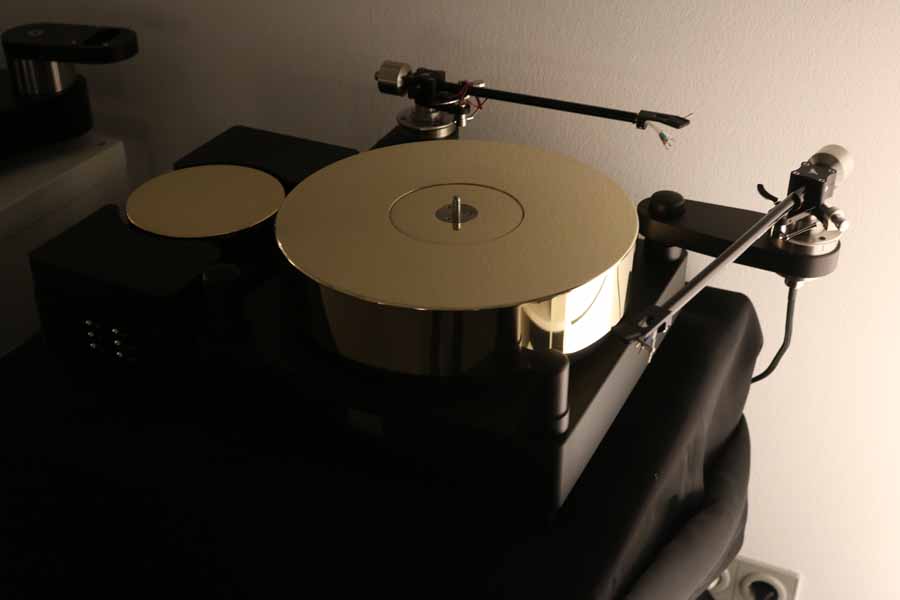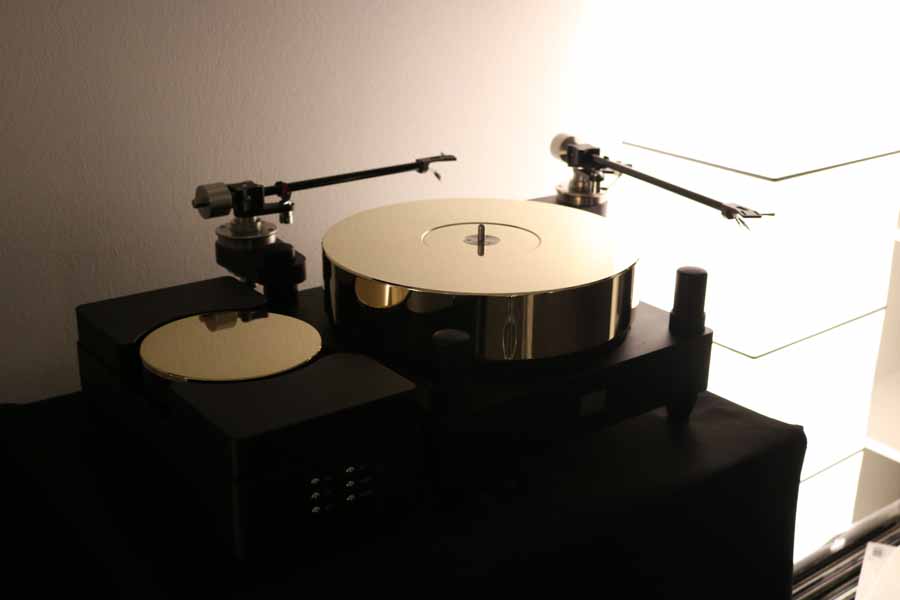 Built buy our good friends at VPI this is the Mark Levinson N°515 costing around $10 000 in the US and £10 000 in the UK and actually launched last year at CES. The № 515 is based on a highly damped vinyl-wrapped MDF and aluminium sandwich main chassis, supporting a 20-pound Aluminium platter driven by an isolated high torque AC synchronous motor and precision-machined pulley/triple belt system. The № 515 includes a gimbal-mounted, 3D-printed tonearm with integral headshell, stainless steel counterweight, and discrete internal cartridge lead routing.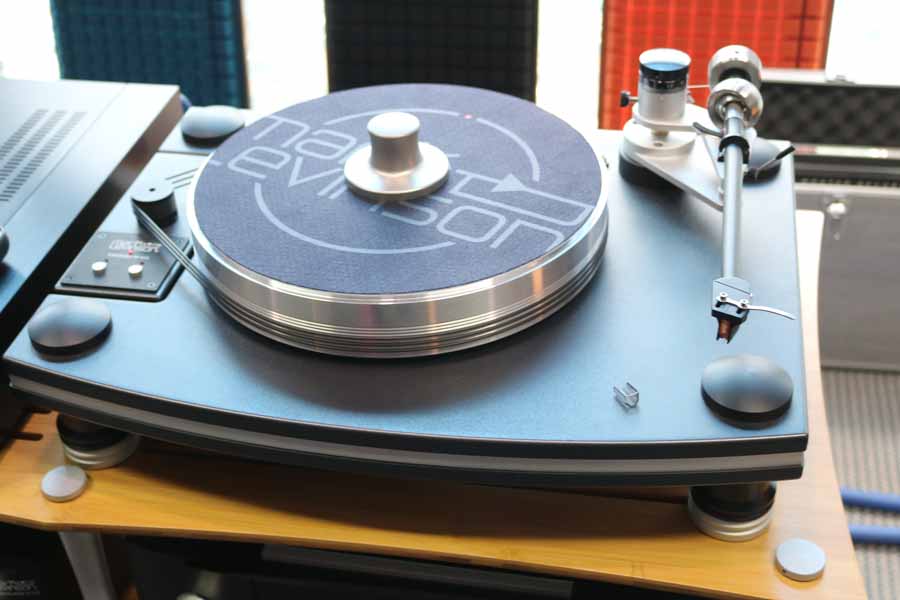 Spotted int he frankly awesome Silbertone room.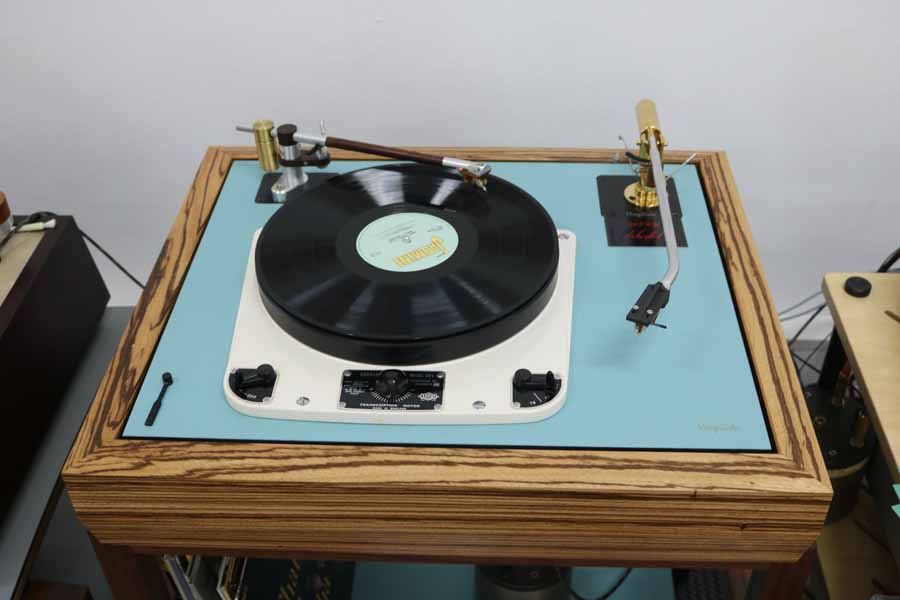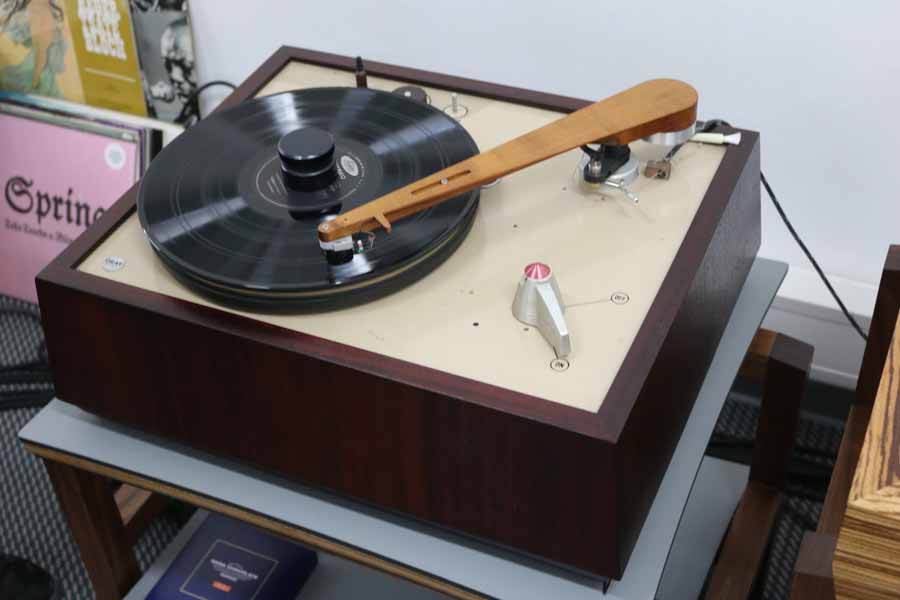 Spotted in the Accustic Arts room where we popped along to hear the Mono III amps, we think this is from VYGER.
Coming in at around the £400 mark, complete with arm and Rega Carbon cartridge, the Rega P2 needs little introduction.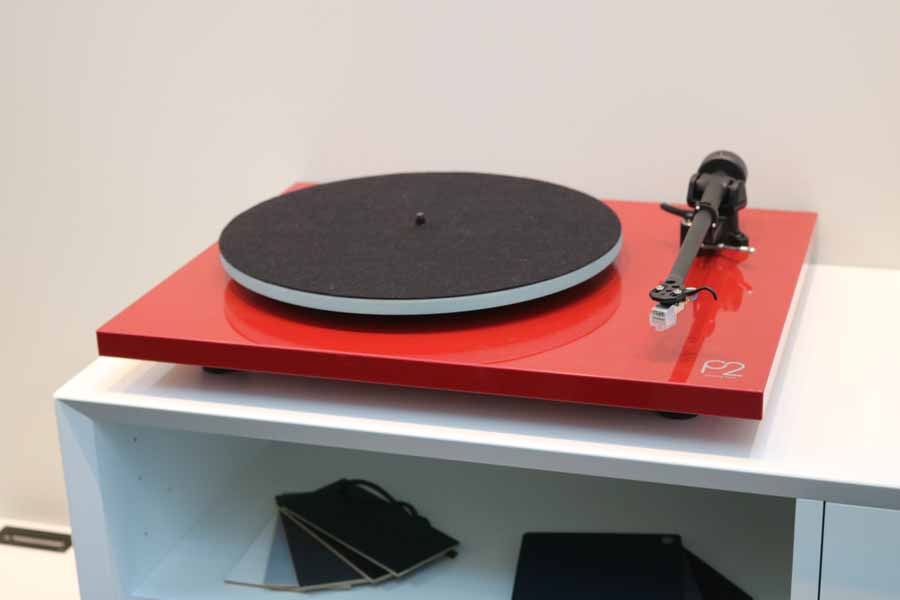 I'm sure Conrad from Avid Hifi had had this colour done to match Linette's hair. This is the entry level Ingenium that has now been improved and comes in any colour you fancy. Who said HIfi was boring?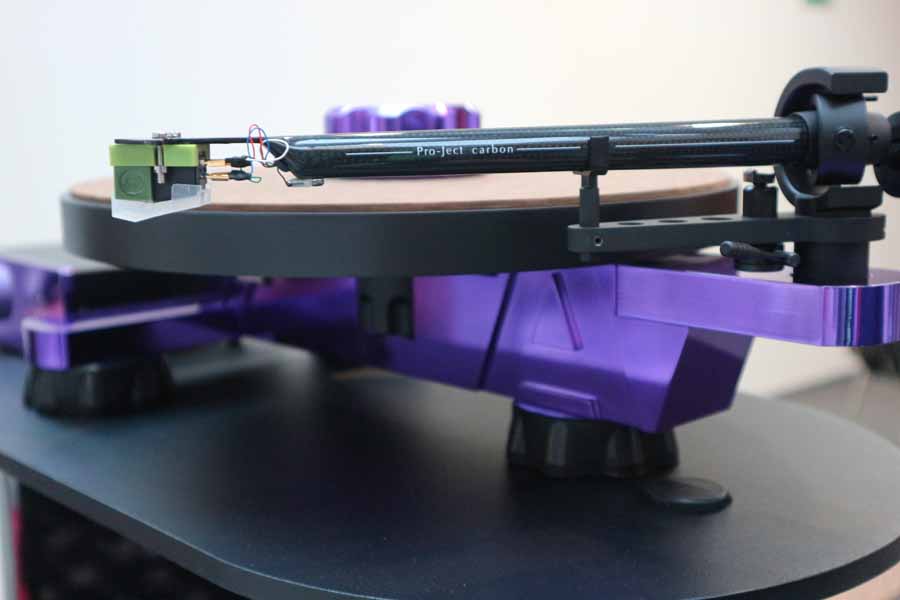 Japanese tonearm maker SAEC and their double knife-edge tonearm.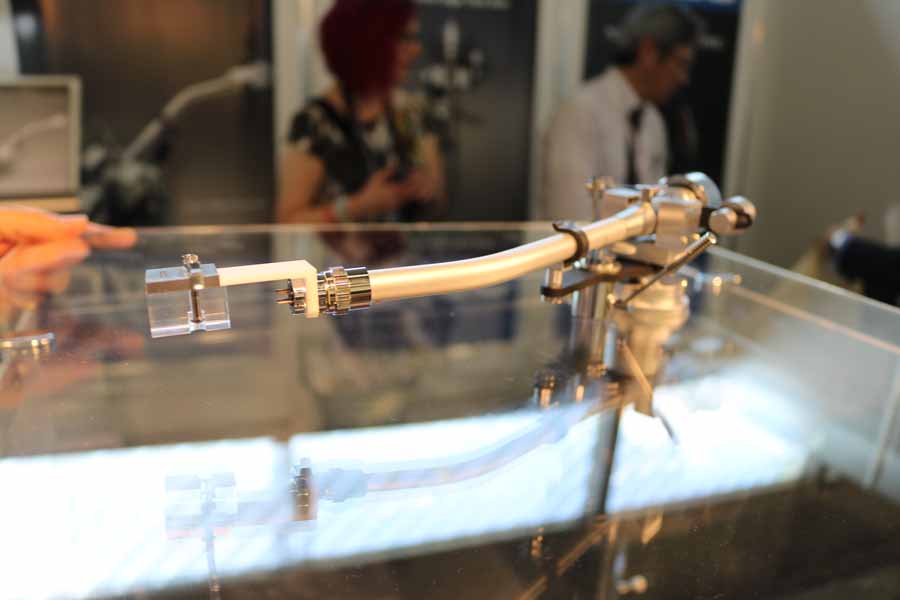 JICO CO and their ceramic cartridge. I had a listen on headphones comparing this and a Shure cartridge. The improvement was immediate and not subtle. Great value I thought at around the €900 mark.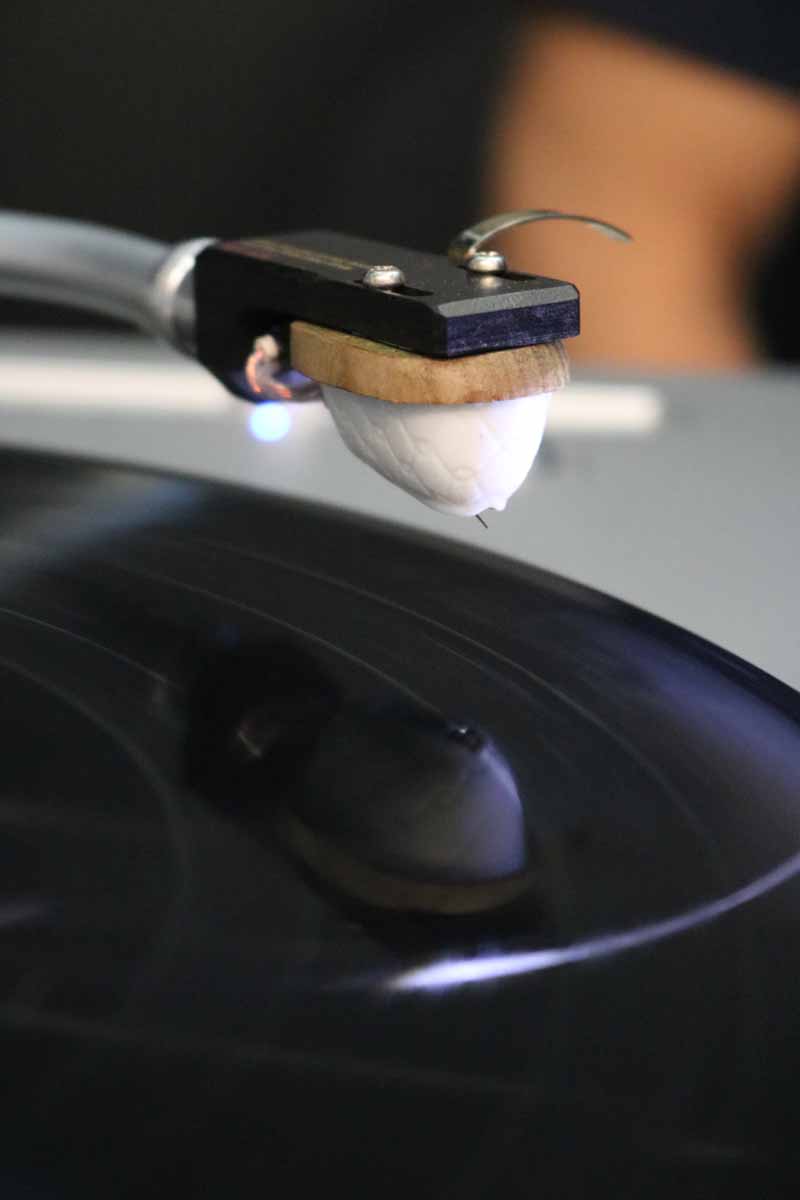 Italian brand Gold Note had a great static display including the Valore Lite, Valore Plus (reviewed here), the Pianosa, the Giglio and the top of the line Mediterraneo which we currently have in for review here at Hifi Pig towers – and thanks for the replacement turntable belt which we assume our weirdo cats have eaten. The cartridge you see highlighted is the Tuscany Red and is our current reference here.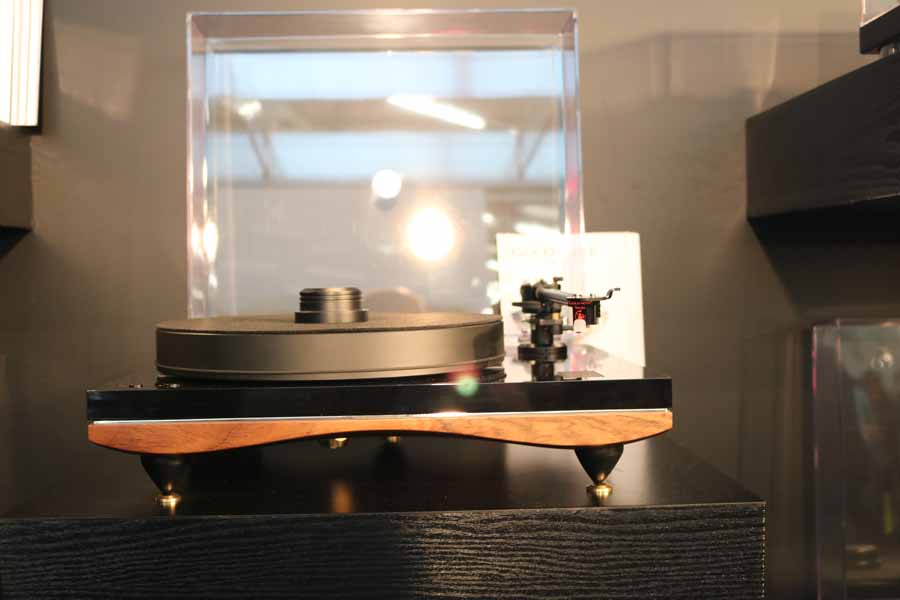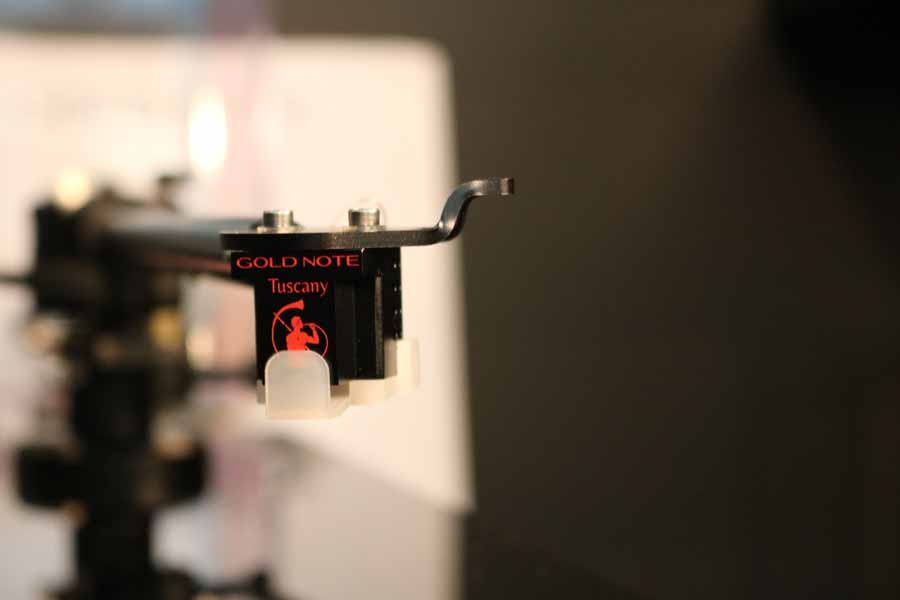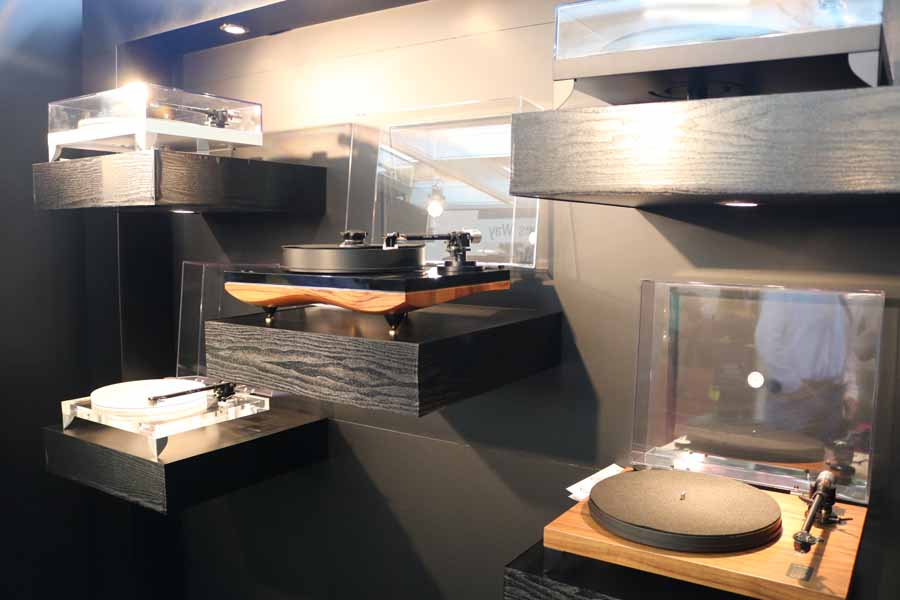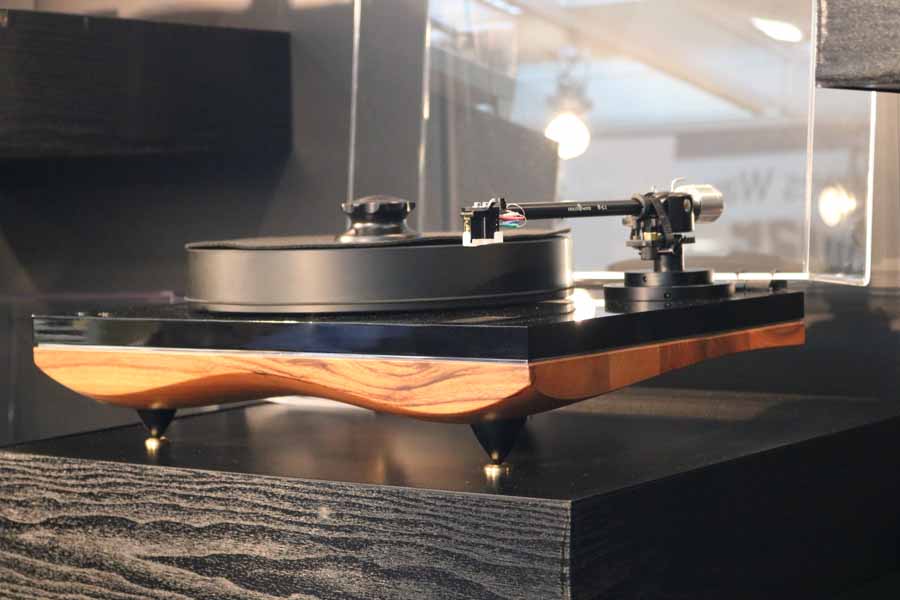 This is the Mag-Lev ML1 turntable that comes with a ProJect 9CC tonearm and Ortofon OM10 cartridge. Yep, that platter is floating in mid-air.
The Luxman PD-171A features improvements to the PD-171 that was originally introduced in 2011.
Made in Sheffield, Yorkshire this is the Wilson Benesch Full Circle.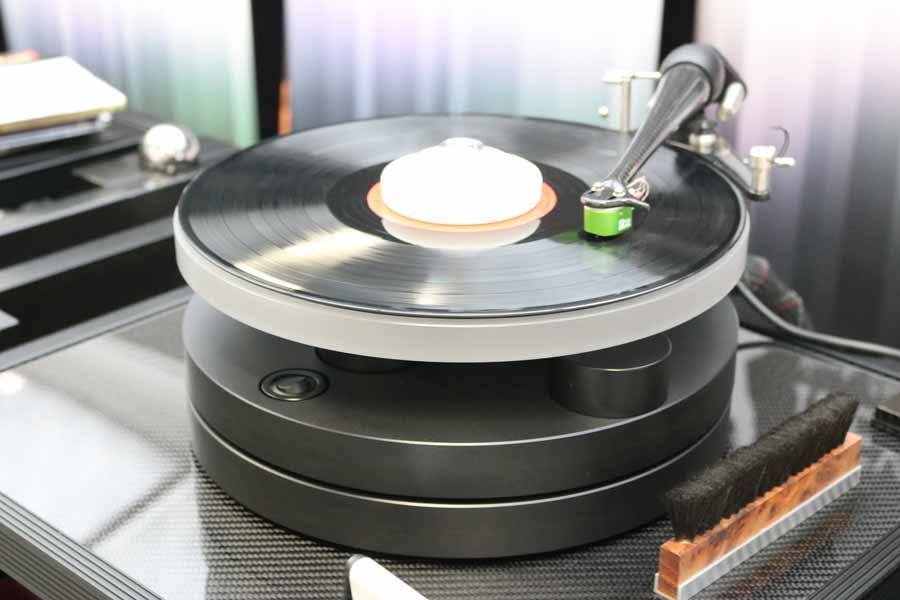 Musica Nova PianoVa turntable, Pi-12 tonearm and Pico Cartridge.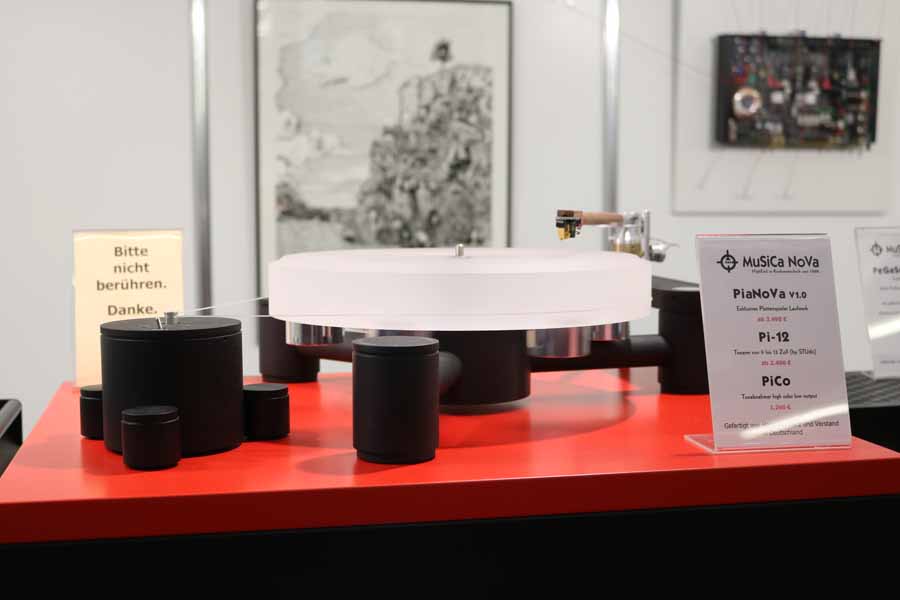 Das Laufwerk N° 2 from Scheu Analog with the Tacco tonearm and we think Scheu Ruby 3 cartridge, all spotted in the Manger room.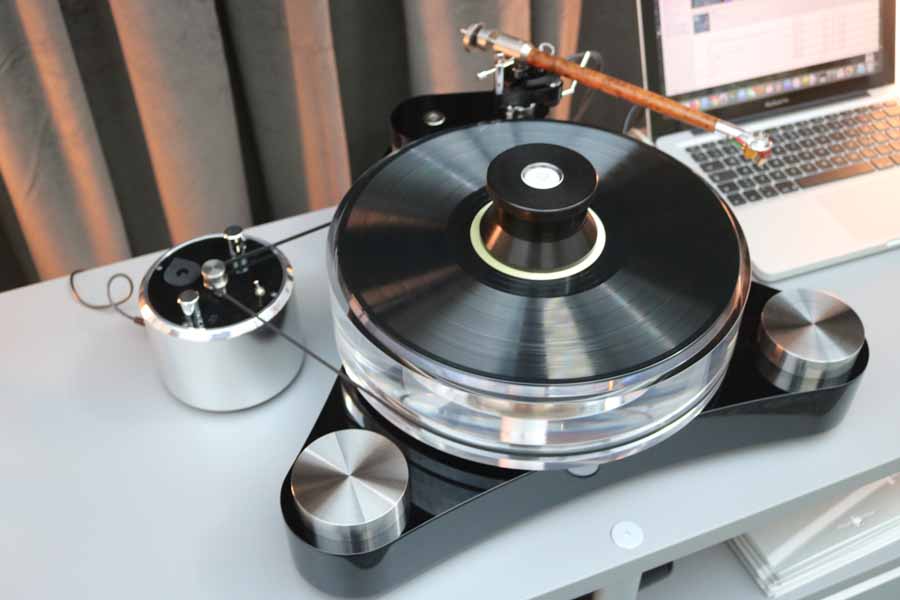 Calafornian brand, Triangle Art.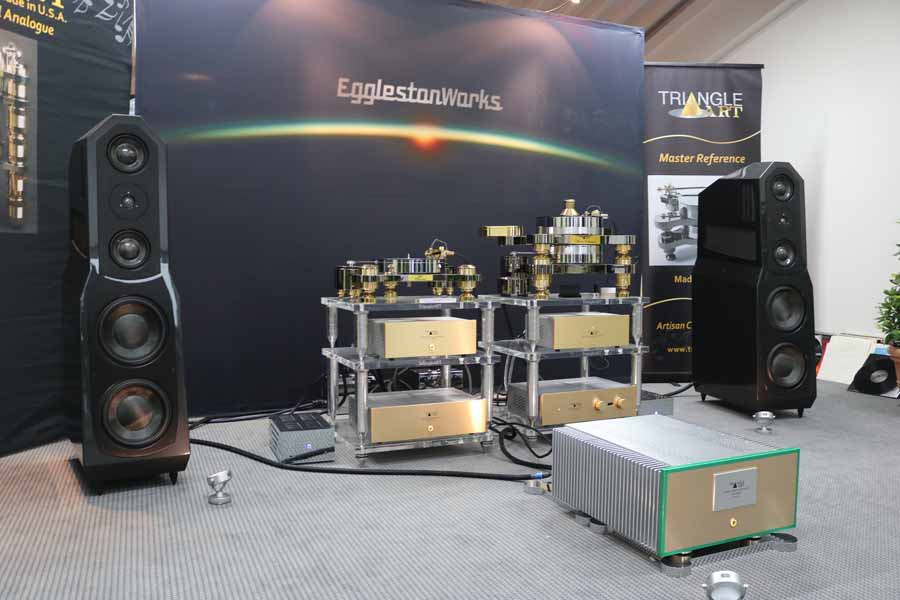 Tech DAS AirForce II Premium and AirForce II Premium both of which have the new gunmetal platters.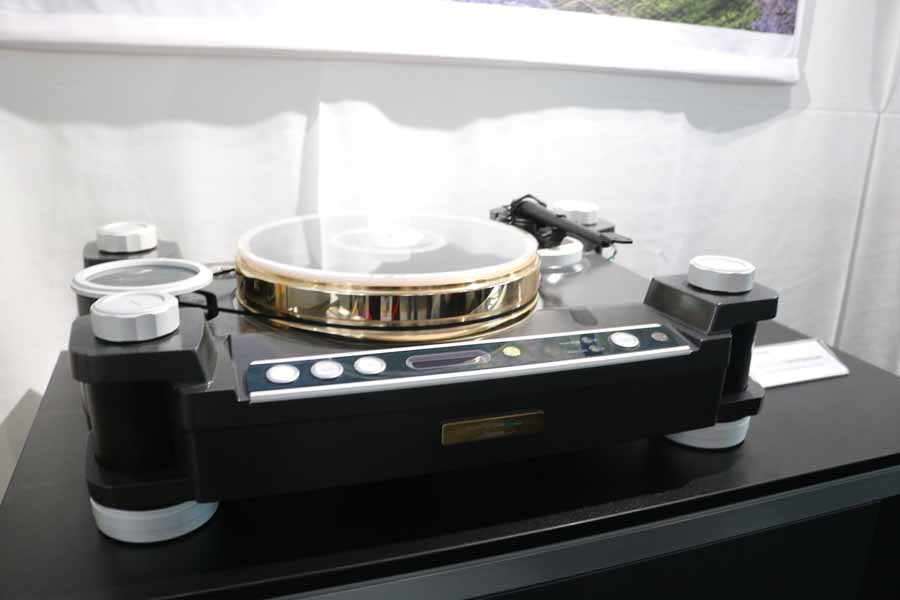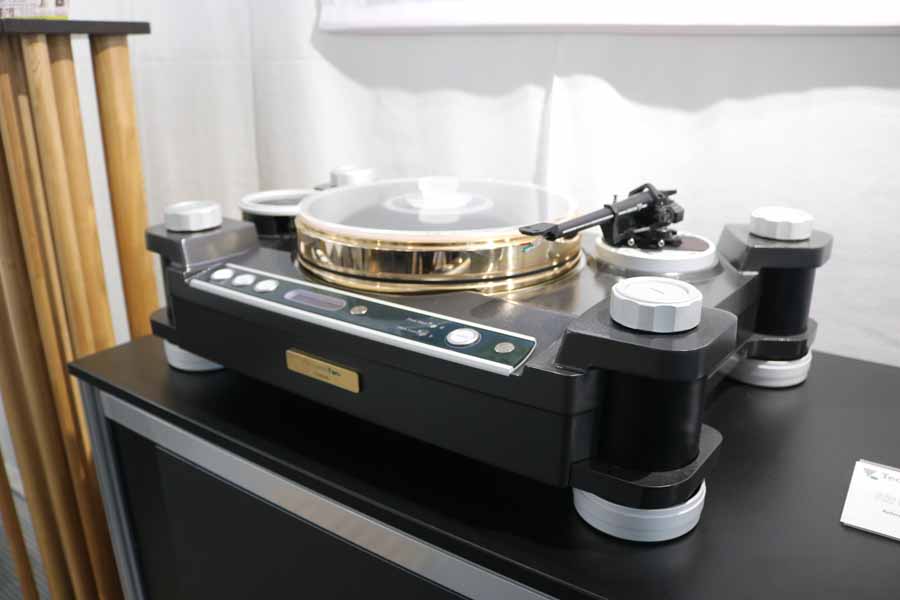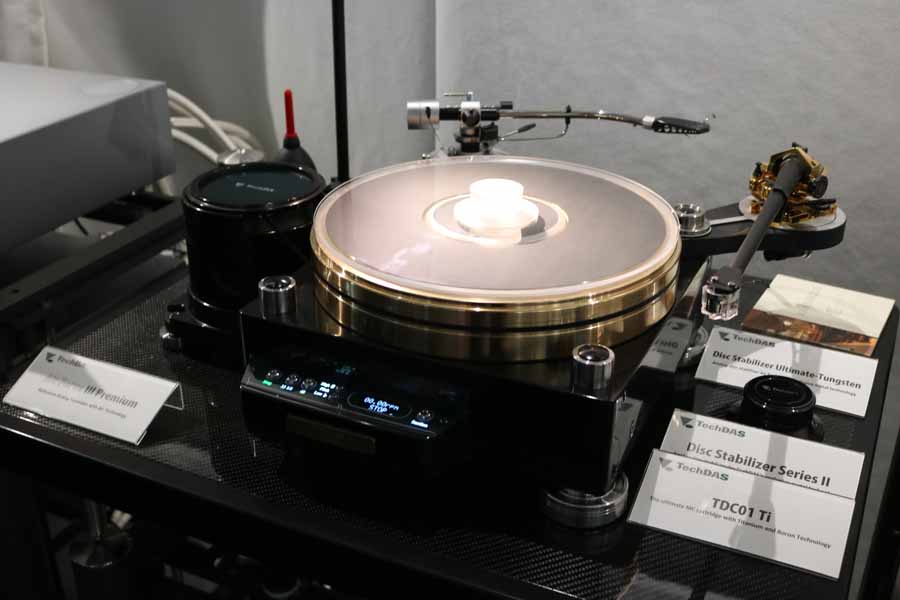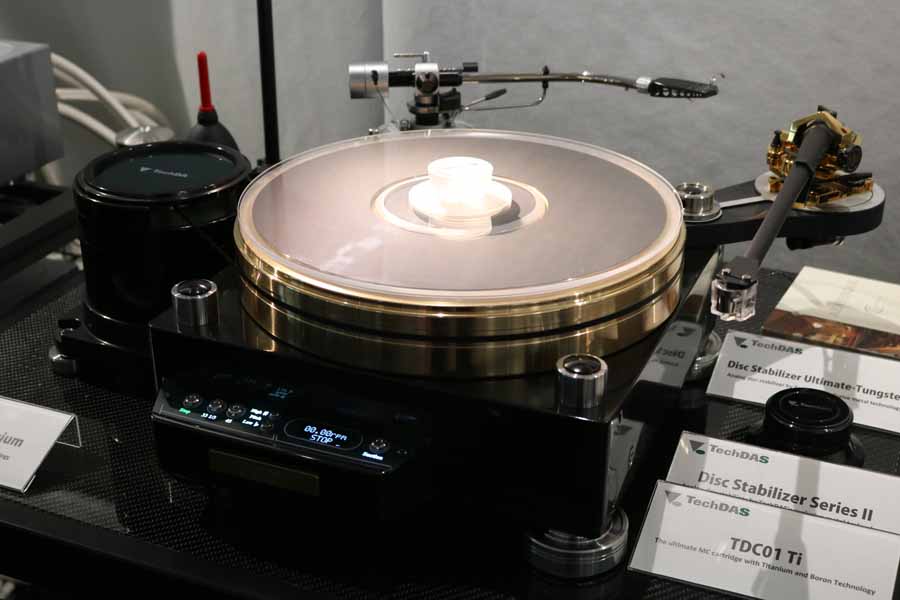 Hartvig from Denmark looking stunning.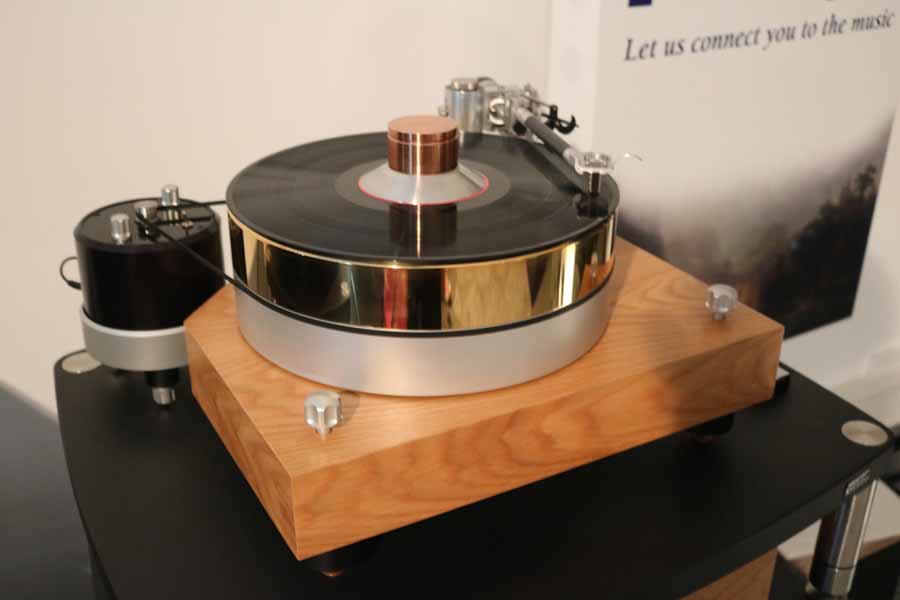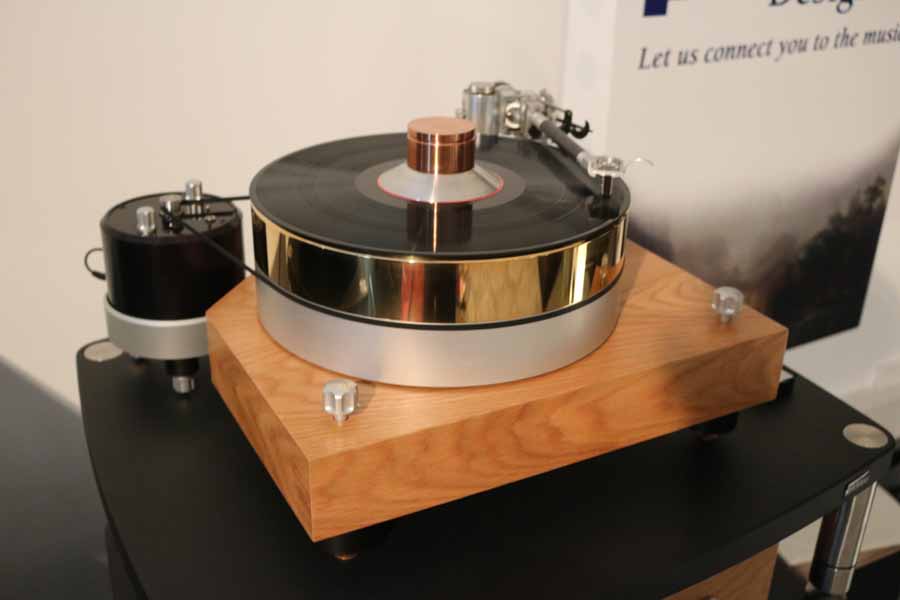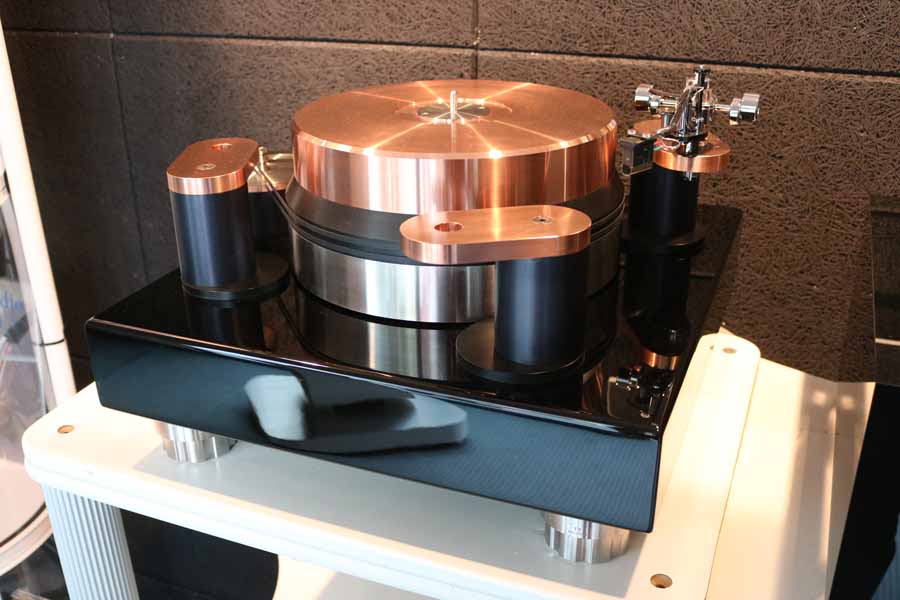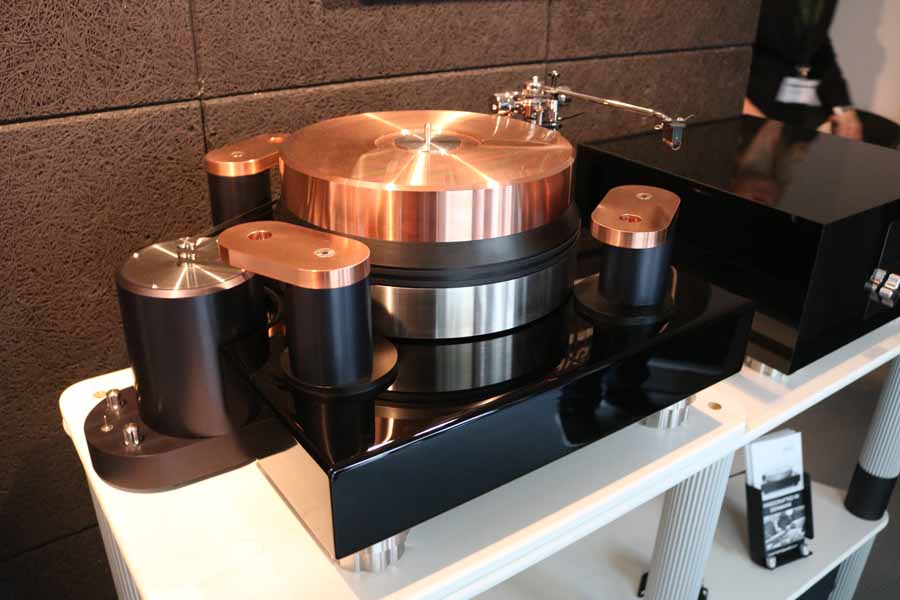 Murasakino Sumile MC Cartridge on a J. Sikora Reference Line turntable weighing in at 108Kg.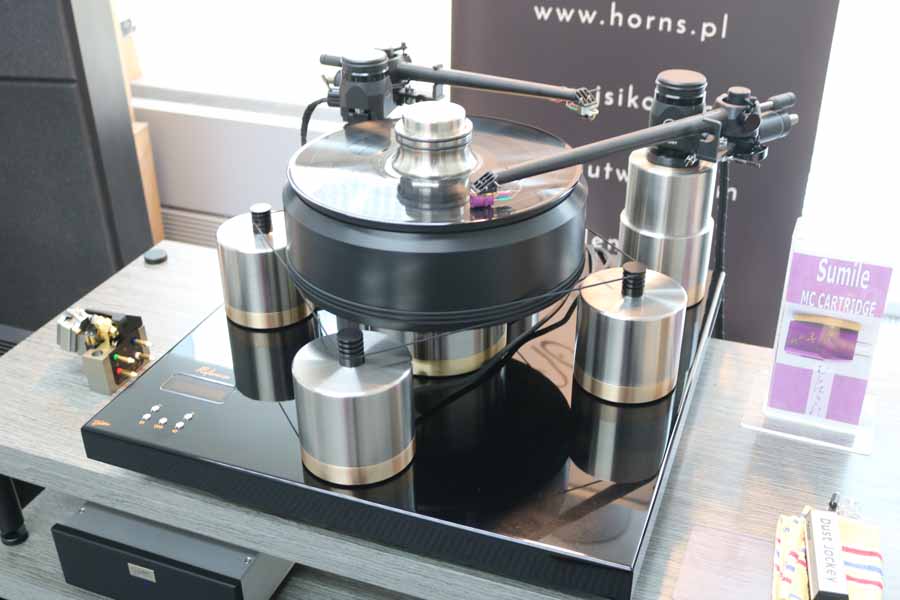 The Vertere Reference Groove with the Vertere Reference tonearm. Having heard this turntable several times all that can really be said is that it is stunning.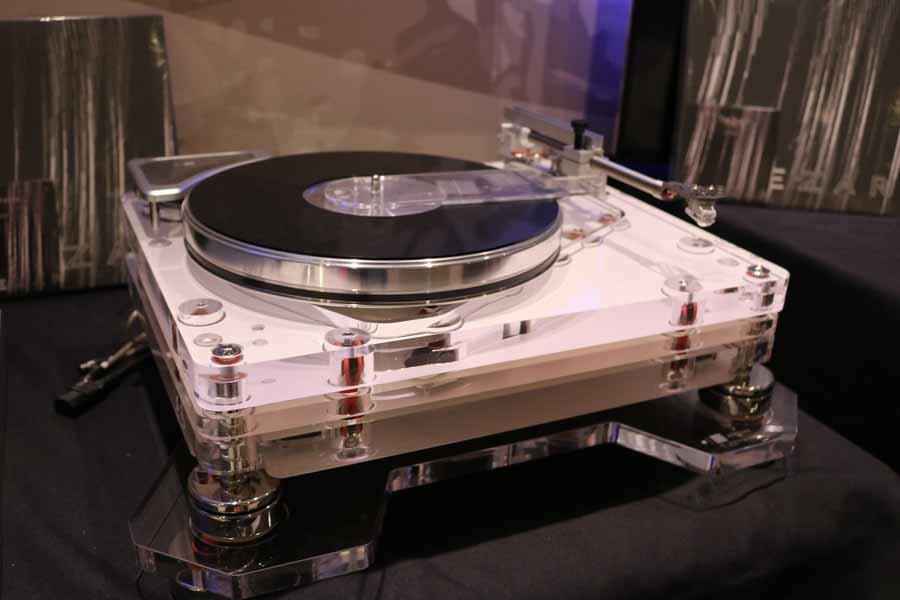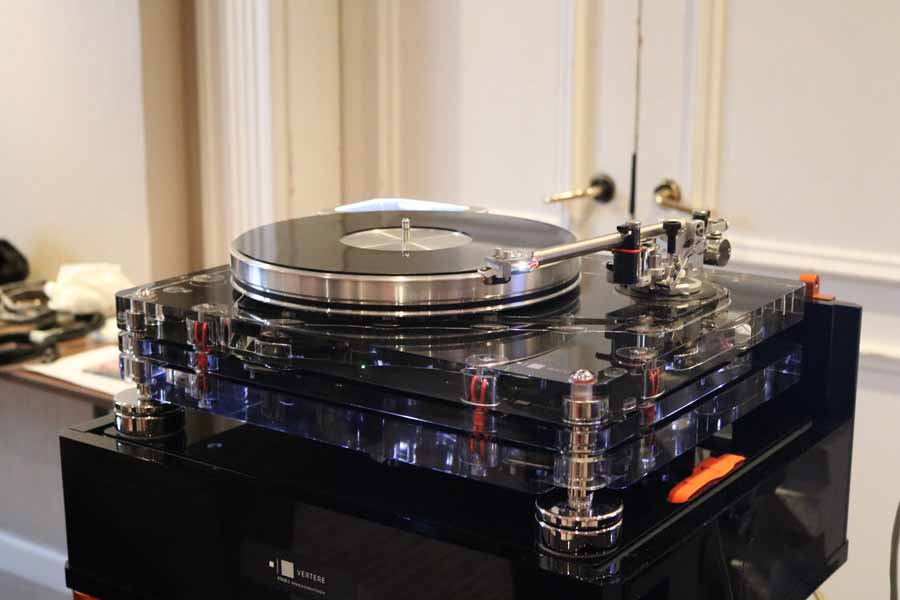 Why have one arm when you can have four. The Tafelrunde turntable from Italy with, we think four Lancellotto arms.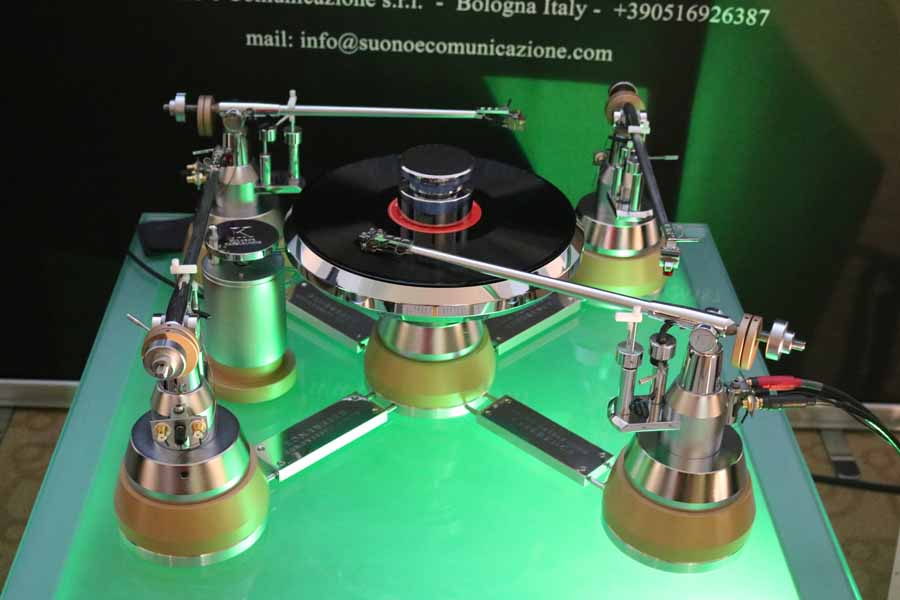 Te Pro-Ject Rolling Stones Record player comes with everything you need in the box and costs €375. A lot f people may say this is a bit gimmick, but I love the fact that this is relatively affordable, easy to set up and maintain and FUN…ooh, there's that word again.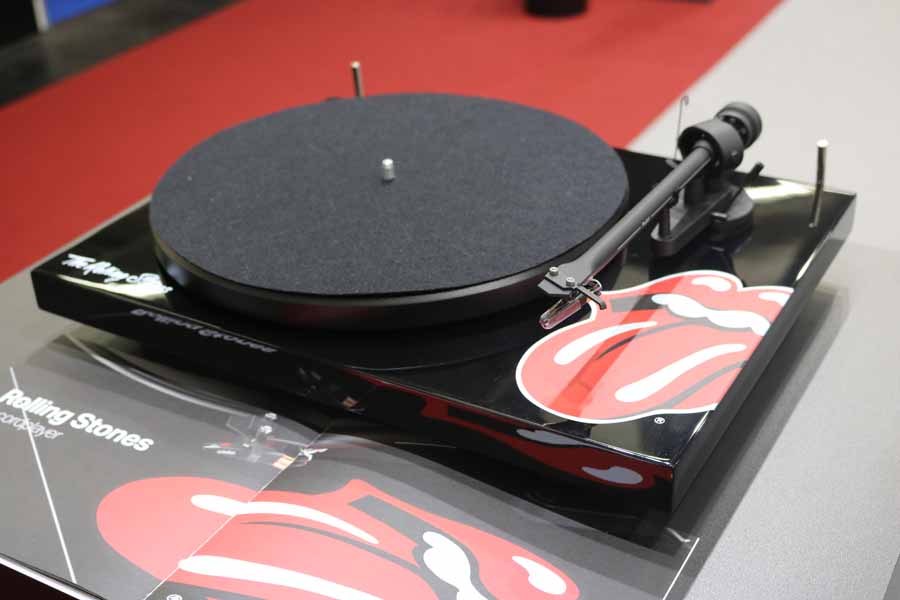 From Japan this is the Optora ORP-01 turntable. It's an optical, linear tracking turntable, meaning that no stylus touches your records, has belt drive and you can play, skip and fast forward through tracks. Not on the market yet but sure to cause a good deal of interest when it is.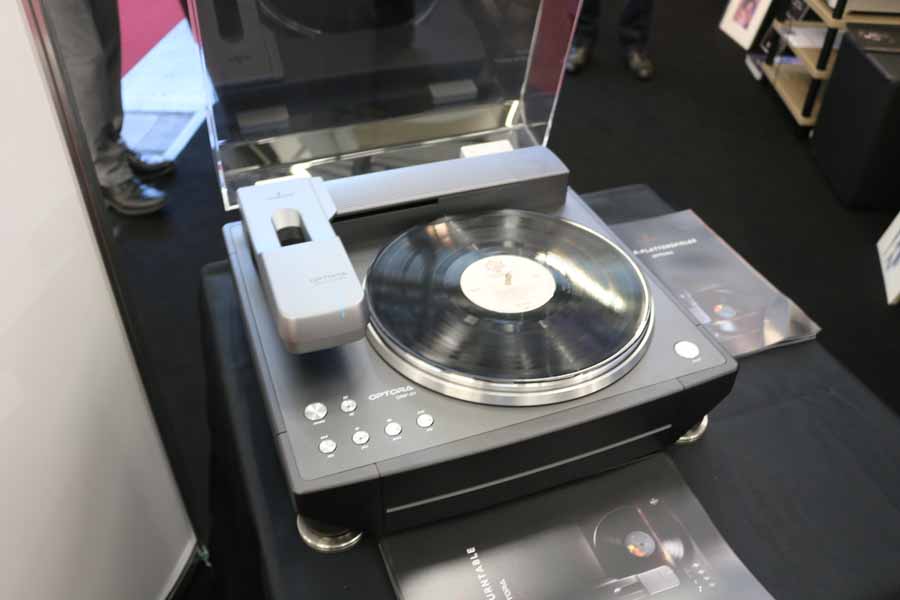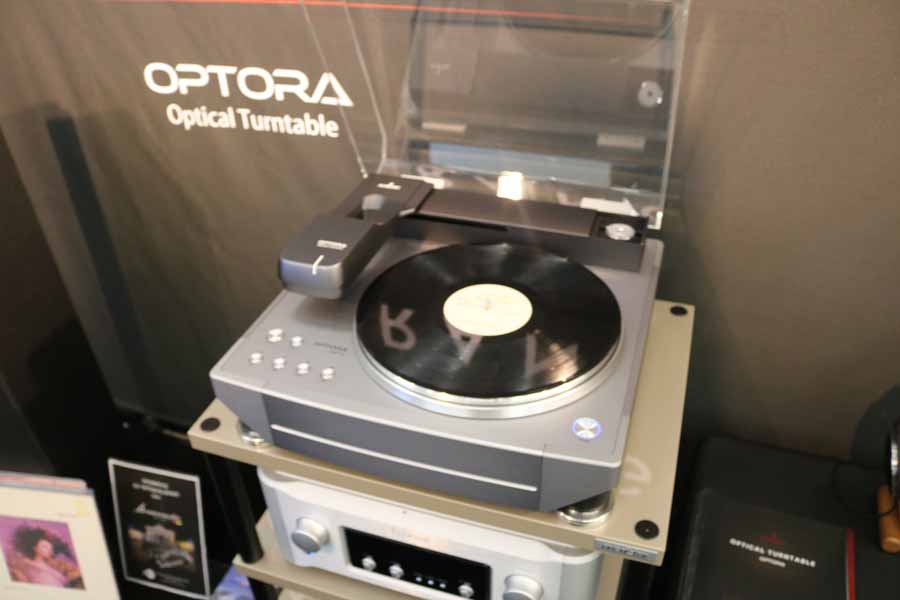 The Onkk direct drive turntable from the UK. More on this in the Newcomers feature soon.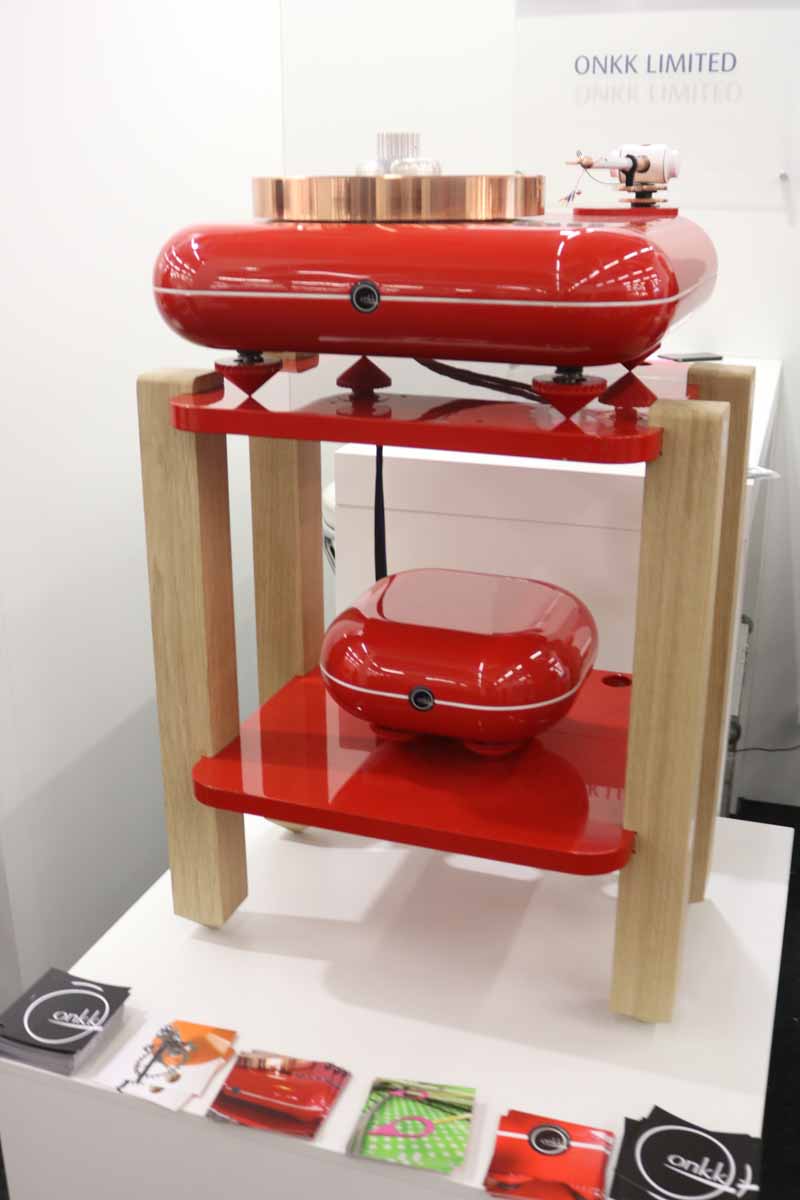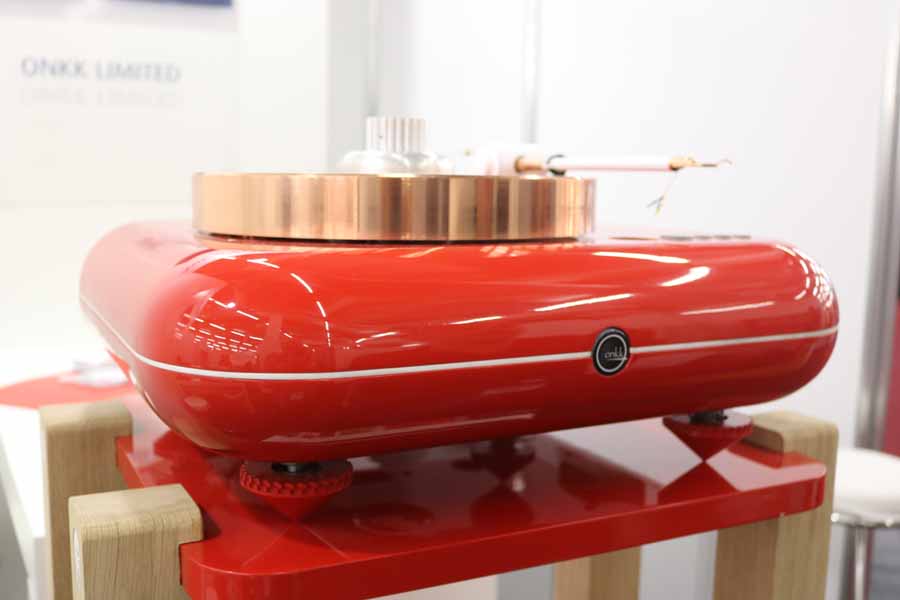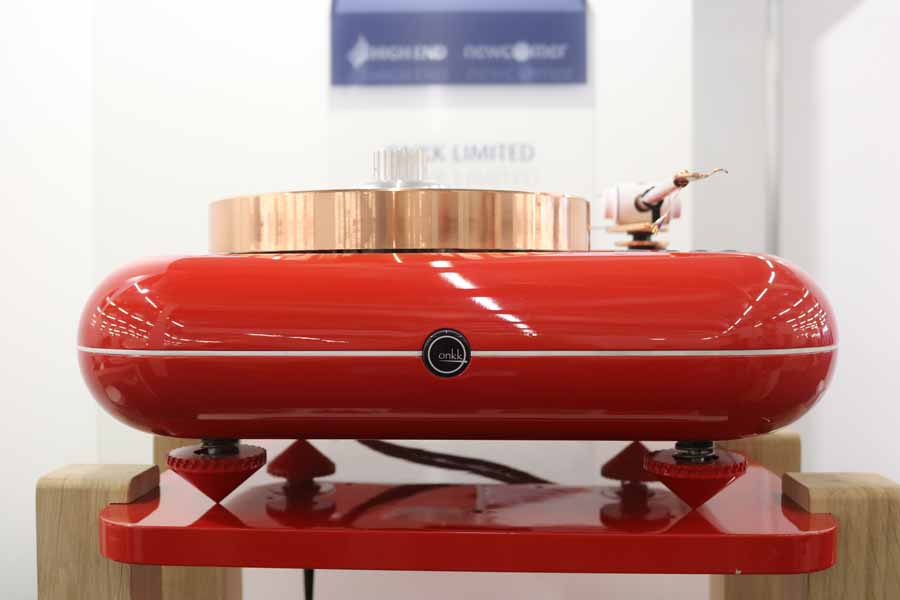 Holz Acoustic primarily make furniture bit this turntable certainly looked interesting. No prices as yet and no one manning the stand when we passed.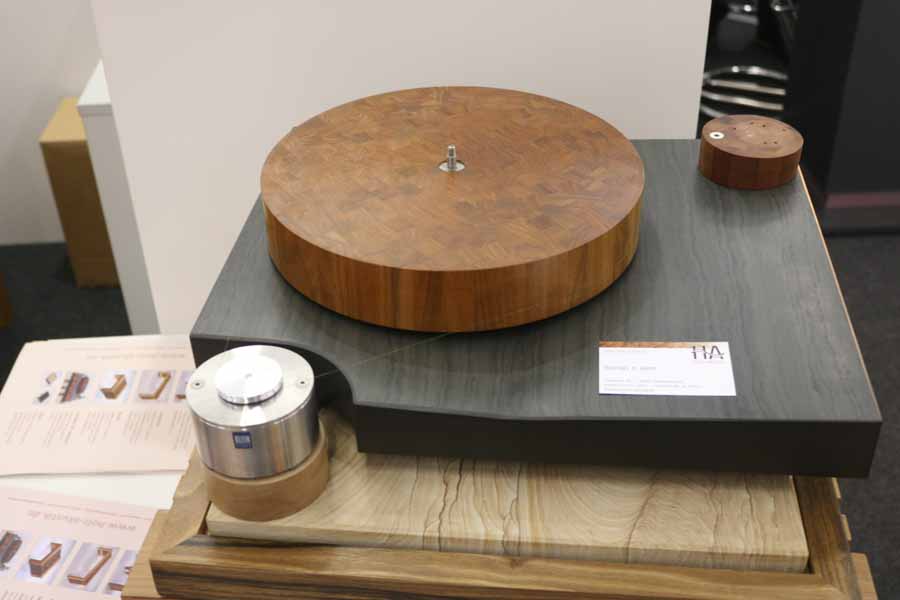 From Kostas MEtaxas and his company Metaxas and Sins (yes Sins) here's the absolutely stunning Phonographic Perambulator costing £35 000. It's sure to divide opinion but I don't care, I think it is a thing of great beauty!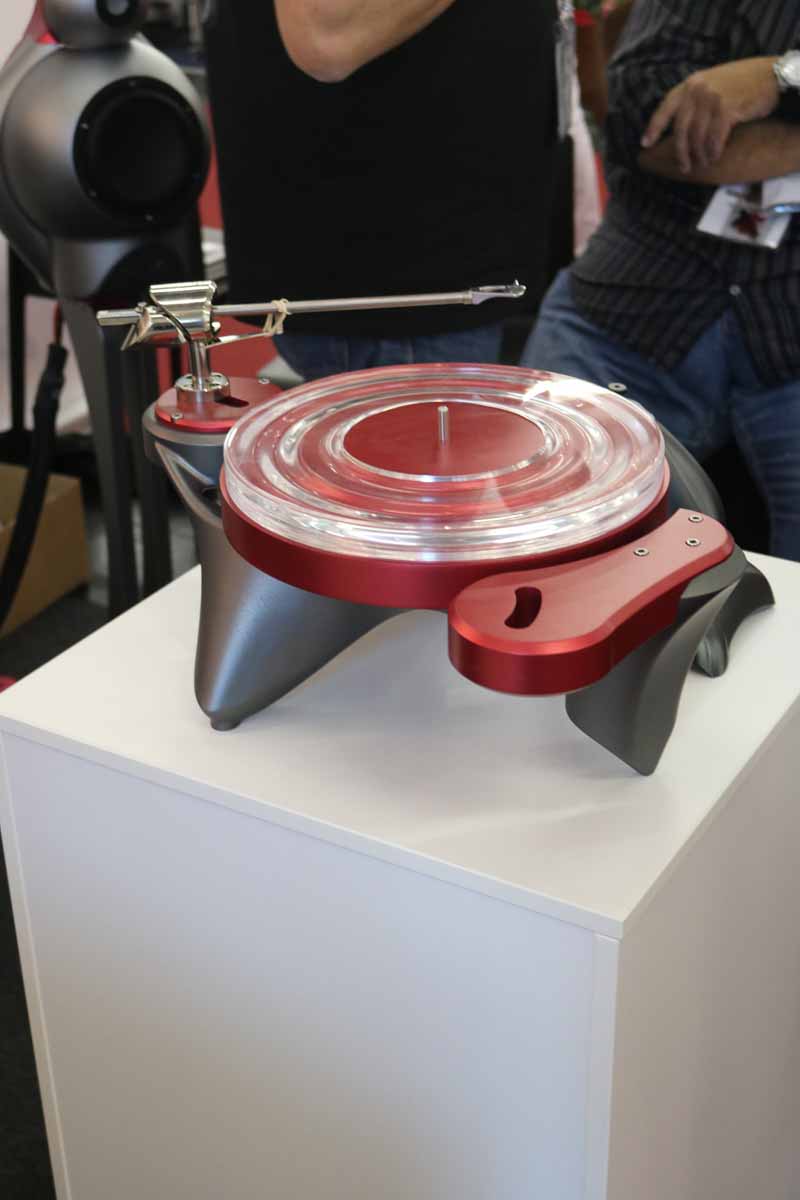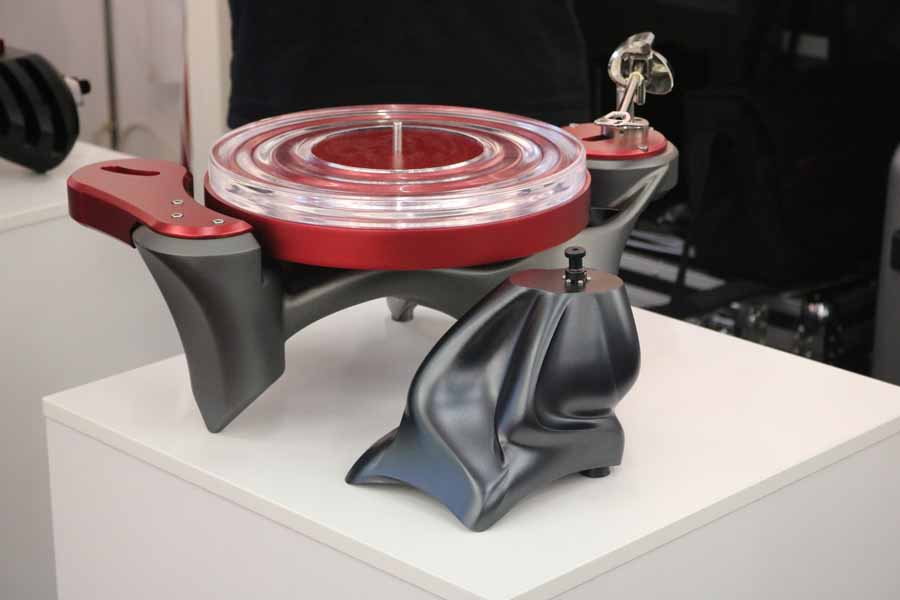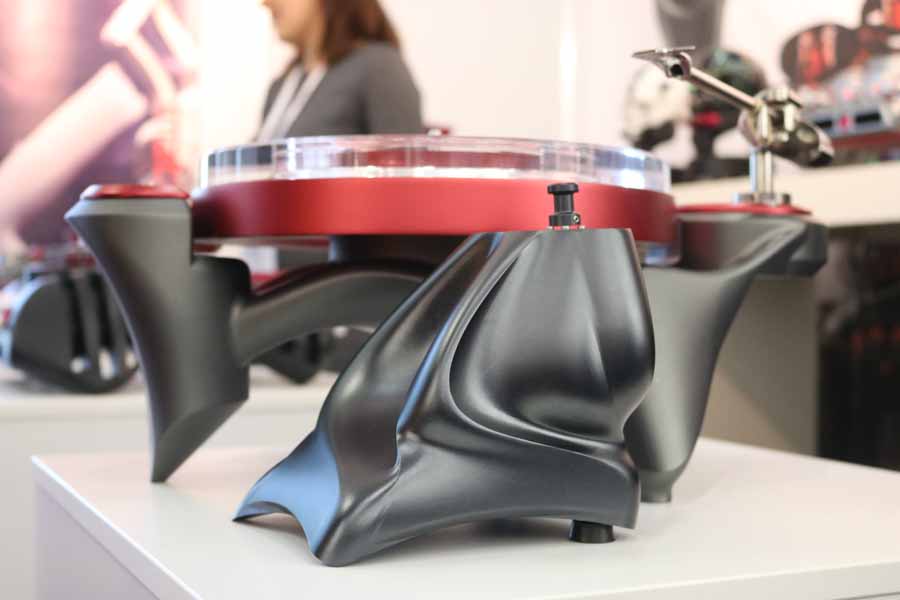 From Italy this is Reed and two very different looking turntables.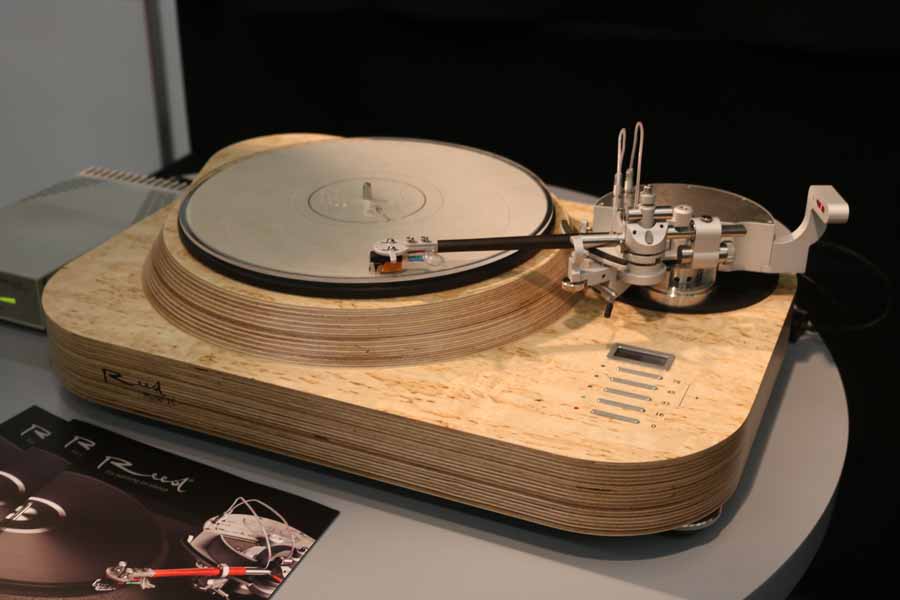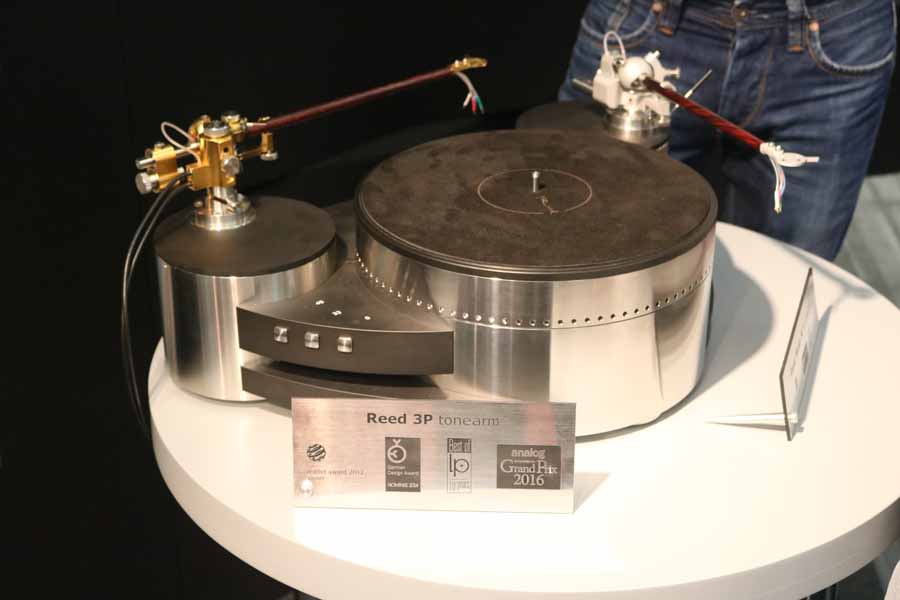 From Da Vinci Audio this is the new Grand Reference V3, Virtu tonearm and Grandezza cartridge. Swiss made and rather lovely looking.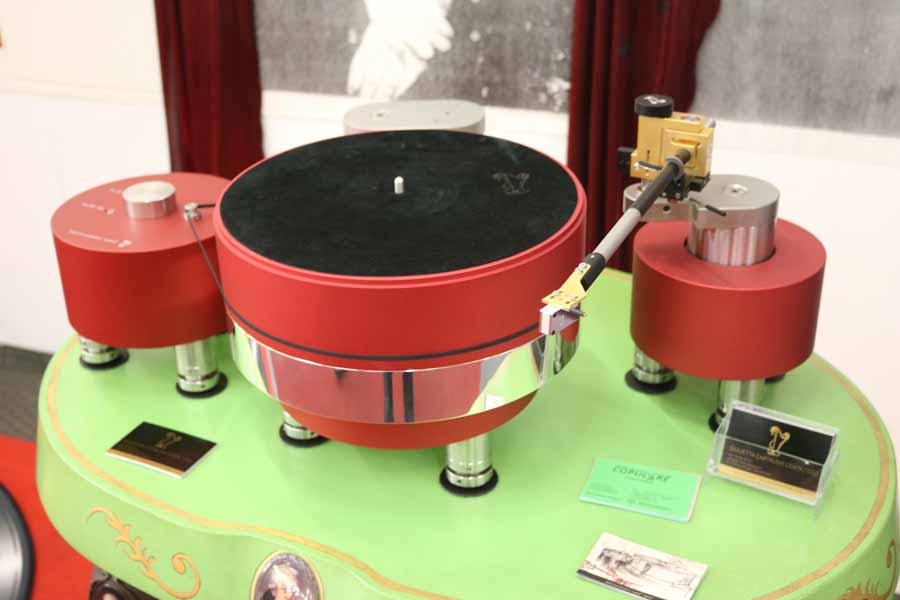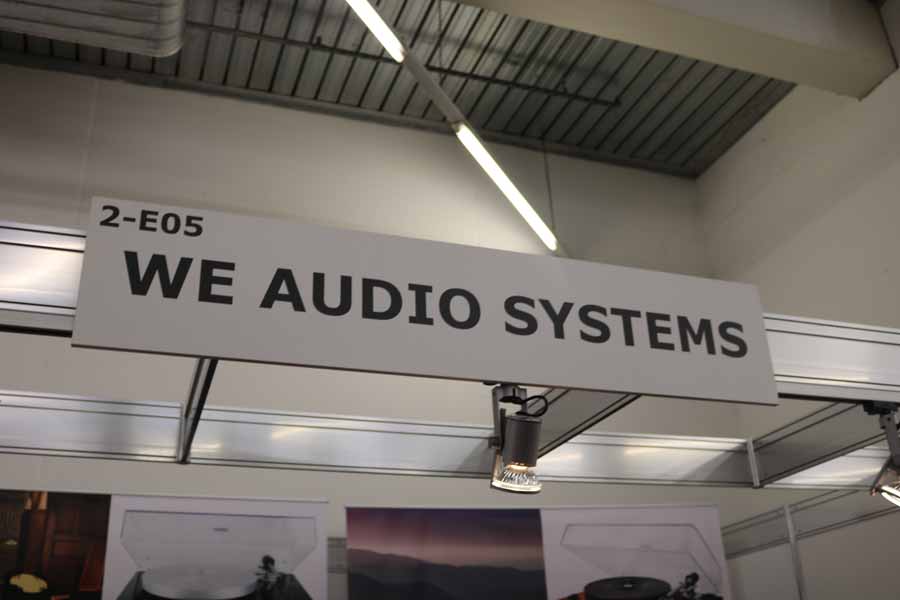 WE Audio Systems are made in the Black Forest Germany.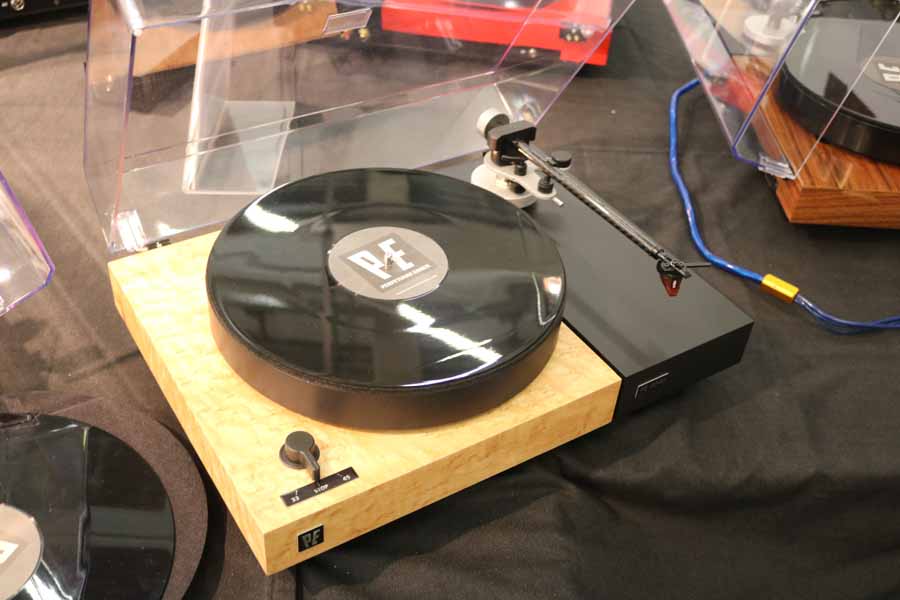 Music Hall.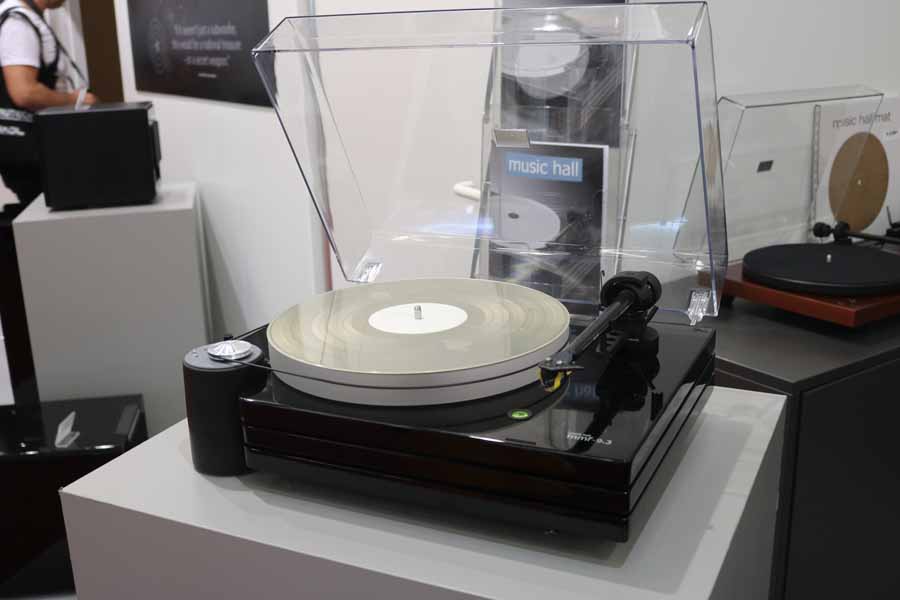 The Sovereign turntable and Conqueror arm from Origin Live. The Sovereign costs £5700 with the arm £2705 which, in my opinion is great value given the level of engineering that goes into these products. We currently use the Resolution turntable and Zephyr tonearm and you can read the review here…they won our Outstanding Product Award.
However, Mark from Origin Live was keen to tell us about the second turntable you see, The Gini, Analogue Drive AD-1. This is essentially an Origin Live turntable but interesting uses a pair of belts to turn the platter. Ver interesting conept and I'm very much looking forward to hearing this at the earliest opportunity.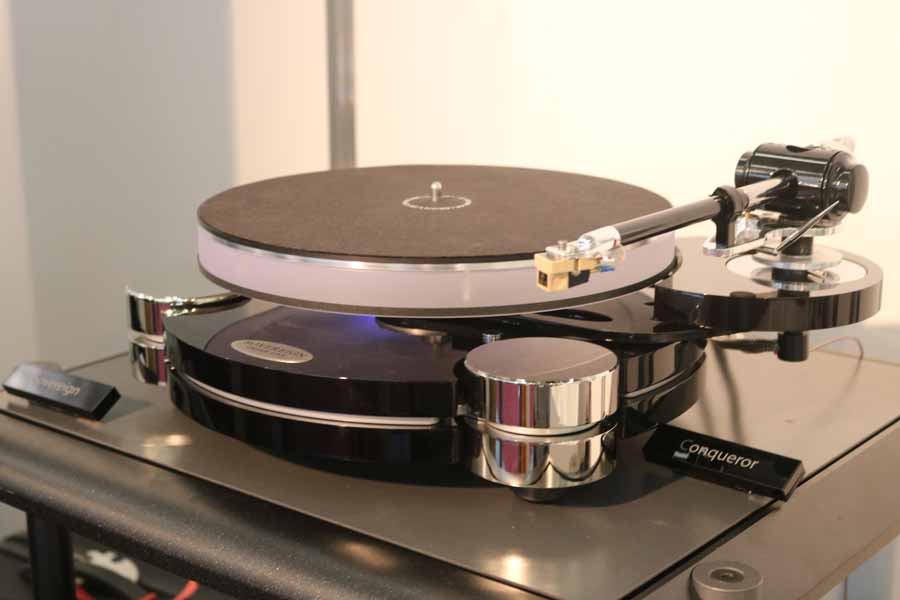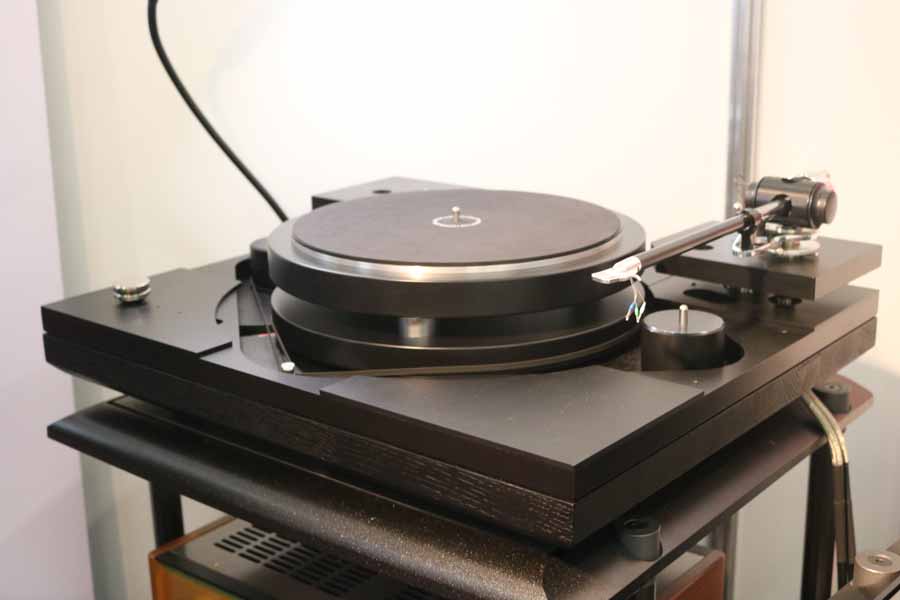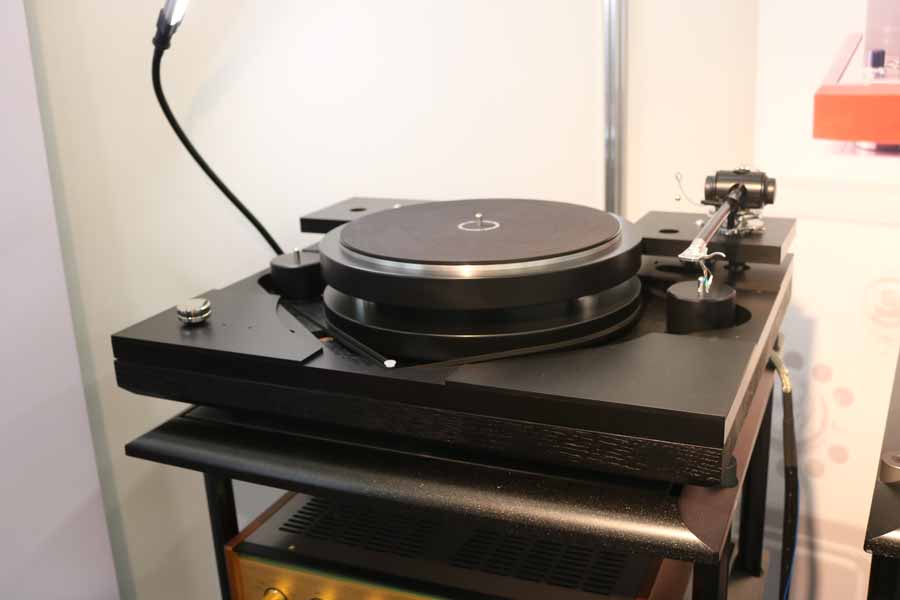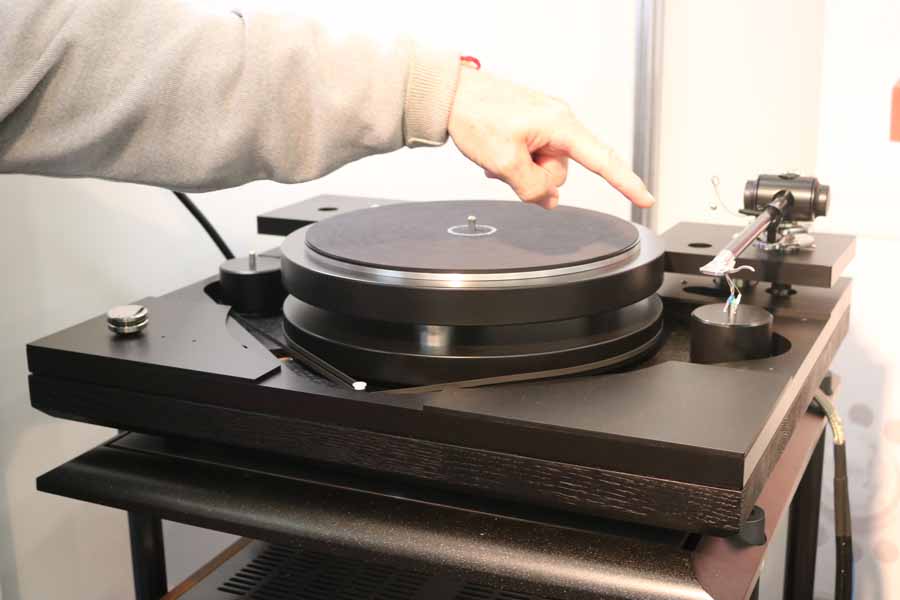 Well Tempered Lab.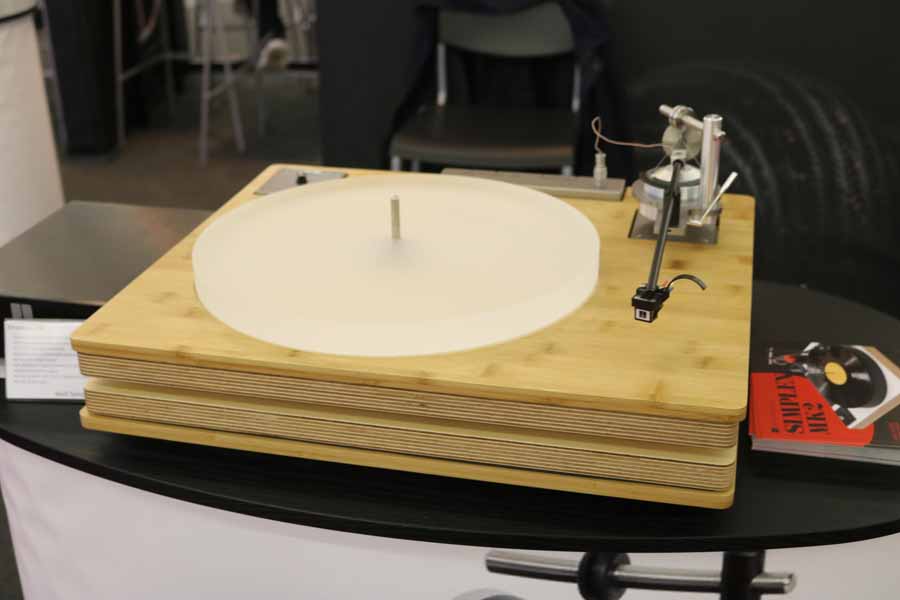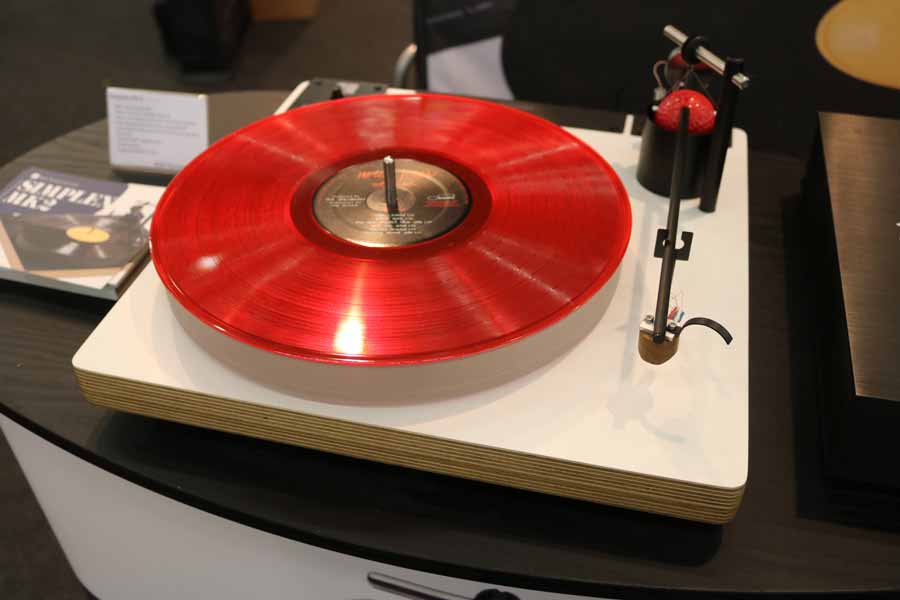 The Acoustic Signature Invictus at High End Munich. You will get €500 change from €70 000 if you nip out and buy this.
SemperSonu from Portugal and their first turntable, the TE1. It's an idler drive concept with an aluminium and acrylic platter weighing 3.3Kg but with the majority of the mass being on the edge of the platter. The platter rotates on an inverted bearing and has butyl rubber to stop ringing and on top they use rubber and cork. Everything ties together at an aluminium / acrylic composite X-frame with the frame itself being bolted onto a plinth made from steel reinforced cast concrete, where armboard, sideboards, power and control electronics are also bolted to. It comes with a Jelco SA-750EB arm and a choice of cartridges with an Audio TEchnica cart being shown here. It's available in a whole load of colour combinations.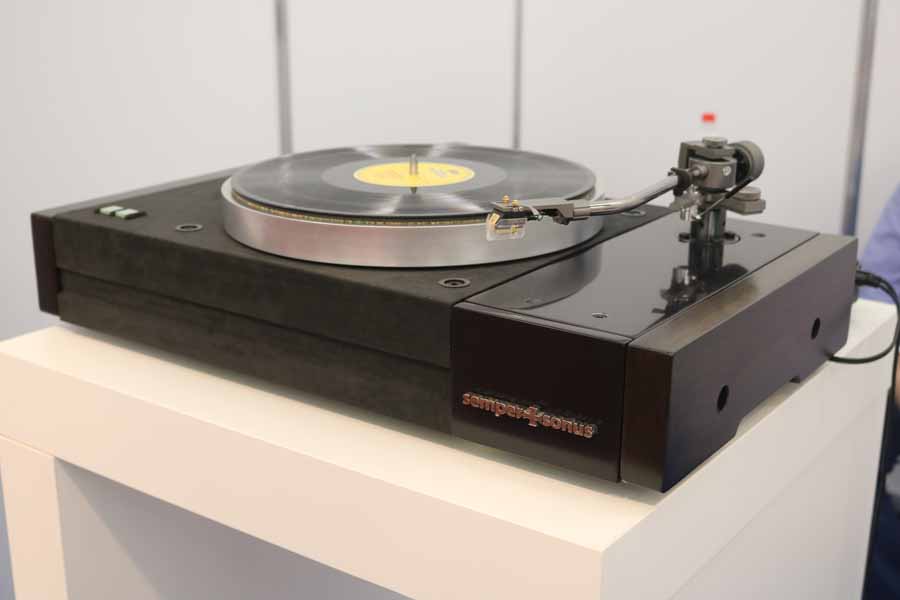 Not all turntables are expensive and difficult to set up as others have shown. This is the Elipson Alpha 100 ( Review of the BT version here )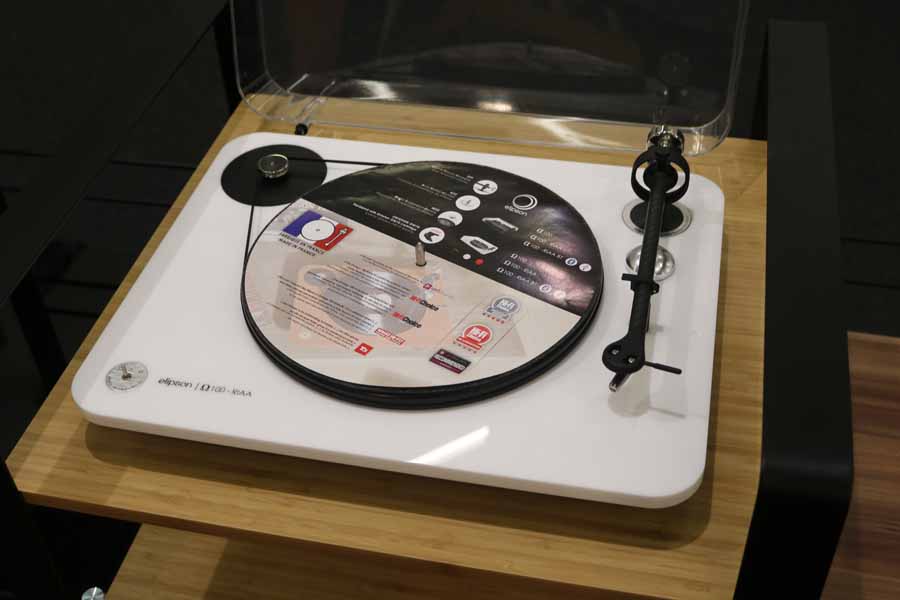 OK, i must accept my ignorance and say that Block is a whole new name to me and I was surprised to find that they have huge market-share in Germany. Their products look very well made and seem at face value very good value for money. The PS-100 shown is €1399.