Denon has announced a new addition to its recently introduced Denon Design Series. The DRA-100 Network Stereo Receiver (£799) has been created for listeners looking for a compact and high quality design. It features next generation music playback options including built-in Wi-Fi for high resolution music streaming, AirPlay, Bluetooth and a host of digital and analogue inputs.
The DRA-100 boasts a 2x 70W digital amplifier incorporating DDFA® technology for "superior audio fidelity". A subwoofer pre-out is at hand for adding more bass to the sound. Denon's original sound technologies such as Advanced AL32 Processing and Master Clock design developed for the company's premium Hi-Fi components are also included.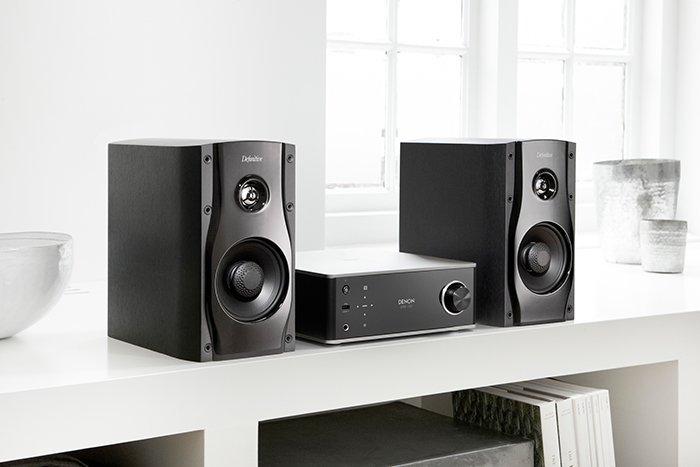 The DRA-100 features Bluetooth & Wi-Fi wireless streaming connectivity out-of-the-box. Once connected to the Internet through the home Wi-Fi network (or with a hard-wired connection via the RJ-45 Ethernet LAN port), music lovers can enjoy their favourite tracks from streaming music service Spotify Connect (where available). They can also choose from thousands of Internet Radio stations around the world. Thanks to the DLNA 1.5 compatibility, music file streaming from a local computer or NAS drive is possible too. The DRA-100 supports MP3, AAC, WMA, and high resolution audio tracks of up to 192-kHz/24-bits (WAV, FLAC, AIFF) along with DSD 2.8 MHz and 5.6 MHz files (DSD is the advanced digital audio coding system of SACD). The same file support is given through the front USB port, which in addition can directly play back music from an iDevice in best quality using the DRA-100's audio circuit. The Bluetooth connectivity features quick and easy pairing to connect and stream music from any compatible portable device. For even faster pairing, the DRA-100 comes with NFC (Near Field Communication). By activating an NFC-enabled Bluetooth device and placing it next to the N mark on the product's front panel, it's instantly paired with no need for manual passcode entry. The Denon Hi-Fi Remote App lets you easily control the DRA-100 with your favourite portable device and it's available for both Apple and Android devices.
There are multiple digital inputs (2 optical and 1 coaxial) for compatibility with digital audio sources along with two analogue stereo inputs for legacy analogue sources. A dedicated headphone amplifier circuit features a high speed ultra-low distortion wideband op amp that's paired with a fully discrete final output stage. In order to accommodate the widest range of headphone types, the DRA-100 features an adjustable headphone impedance control, with 3 settings for low, medium and high impedance headphones which provide proper matching of headphone impedance and amplifier gain.
The DRA-100 will be available in a black/silver colour finish starting in October.