Denon has announced it is expanding its soundbar lineup with two premium options, the DHT-S516H and DHT-S716H. With the addition of the new premium soundbars the Denon line-up now consists of four models with price points ranging from €299 for the DHT-S316 to €899 for the DHT-S716H.
The latest soundbars combine 4K HDMI inputs with ARC support for TV connection and operation,  DSP processing, amplification and Hi-Res capabilities with the ease-of-use and compact size of a soundbar.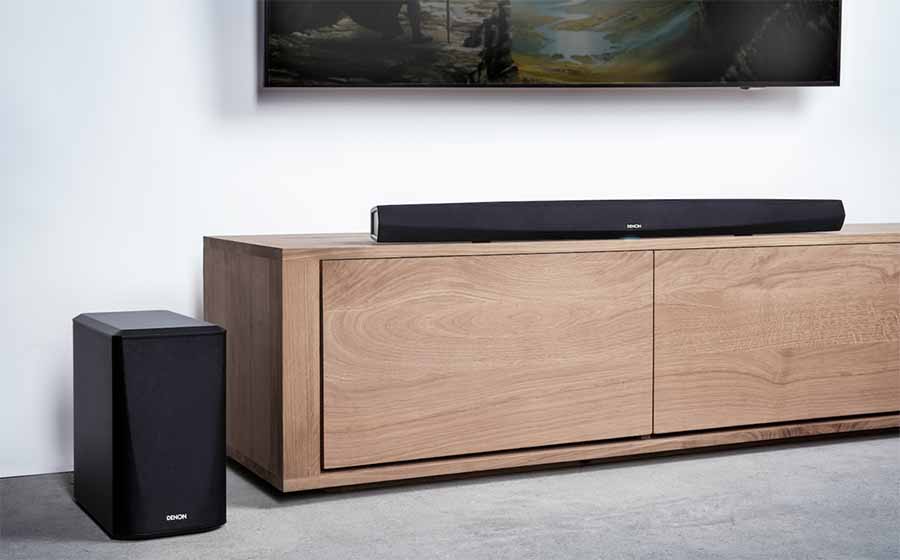 Voice Control
Building on the features found in the HEOS Bar and HEOS HomeCinema HS2 soundbars, the latest Denon soundbars both share several sound quality and connectivity improvements. Featuring Class-D amplification across a variety of performance-tuned drivers, the DHT-S716H and DHT-S516H ship with the latest version of HEOS Built-in music streaming and voice control (Amazon Echo or Google Home speaker required). The advanced DHT-S716H creates sound from just one unit, and optionally pairs with the Denon DSW-1H (sold separately) for even more bass in big rooms, while the smaller DHT-S516H ships in a set with a dedicated wireless subwoofer for balanced Denon sound. There is the ability to support DSD (2.8, 5.6 MHz), FLAC, WAV, ALAC (192/24), MP3, WMA and AAC (USB/Network) on both soundbars.
HEOS
Both the DHT-S516H and DHT-S716H allow users to experience wireless, whole-home audio with HEOS Built-in. The DHT-S516H also enables consumers to use Apple AirPlay 2. When paired alongside other HEOS built-in AV receivers, soundbars and speakers, users can play the same song everywhere or select different songs for each connected room. HEOS Built-in also enables access to music from several major streaming services, including Amazon Music, Spotify Premium and free, Deezer, TIDAL, TuneIn Internet Radio, and others.
Gaming
For the ultimate ease-of-use, both soundbars support major voice assistant platforms, including Google and Amazon. Advanced HDMI inputs allow for features like Auto Low Latency Mode (ALLM). As an added benefit, the DHT-S716H can leverage HEOS speakers, including the HEOS 1, HEOS 3, HEOS 5 and HEOS 7 as rear channels for immersive surround sound in a 5.1 set-up.
Prices
The DHT-S516H (£699/$799), DHT-S716H (£799/$899) and DSW-1H (£599/$599) are available now.